Courtney Peters had ordered her wedding dress six months ago, and the big day was finally approaching. As the seamstress helped her into the gown for her fitting, the two looked at each other in bewilderment. It wouldn't fasten. Thinking back, Courtney immediately identified the culprit: caramels. However, the issue wasn't that Courtney had been lazing around eating them—she had been hard at work making them.
"We were stirring all of our caramel by hand. We were pouring it all by hand. We were cutting it all by hand," she says, recalling the days before an electric kettle came into the picture. "My shoulders had grown at least a dress size. I call them caramel lady shoulders."
Courtney is actually one of two caramel ladies. The other is Celia Glowka. Together, they are the founders of Caramel Caravan Co., a craft confections business launched in 2017 in Redwood City. Operating out of a commercial kitchen, they make up to 30 large batches or 7,000 caramel pieces a week, selling them online and through customers like Farmgirl Flowers and nearly 100 specialty retail markets around the country.
Although both are graduates of Santa Clara University's Leavey School of Business, the pair came to the caramelizing sugar business in different ways. Raised in Morgan Hill, Courtney grew up stirring bubbling batches in her family kitchen. "My mom and I have been making caramels forever, probably 20 years now," Courtney says. "It was always bonding time with my mom."
Through numerous moves and living in four countries, Celia enjoyed the constant of baking—especially the German tradition of "kaffee und kuchen," afternoon coffee and cake. When she met Courtney in business school, they naturally bonded over their shared love of food.
After getting her MBA, Courtney knew exactly what she wanted to do. "I wanted to start a food business and build a brand," she says. "That was my big dream." And under the guiding principle of 'do what you know,' caramels came to mind. Courtney dove in and soon recognized that she needed help. That's when she ran into Celia at an event.
Here's how Courtney tells the story: "I don't really know how I got her to do it. I'm telling her, 'We're not going to make any money, we're gonna be slaving in the kitchen, it's going to be hot.' It's like the worst possible thing that I could ask her to do, but I somehow convinced her to do it."
This is how Celia remembers it: "I had decided before that event that I wanted to do my own business, but I didn't know what I wanted the business to be about. And then a few days later, Courtney walked into my life and said, 'Do you want to go into business with me?' And I said, 'Uh….yes!' I have to say, I got super lucky."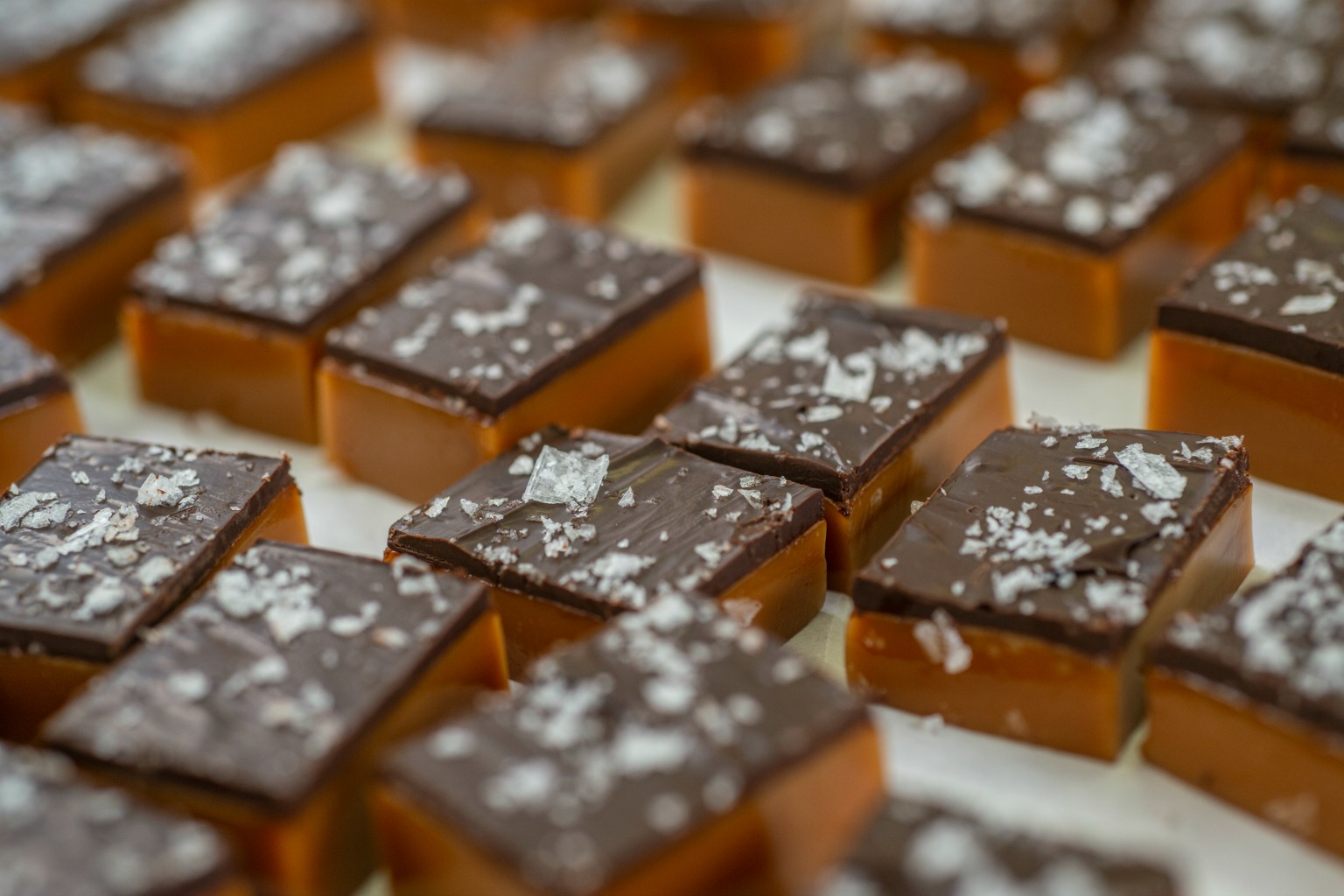 And although Celia would have described herself as more of a cake person, she happily embraced Courtney's favorite creamy confection. "I am definitely a caramel convert," she says. "It's rich and indulgent. I actually don't really eat candy, but you can just savor a little piece so it's more like a dessert."
With complementary skills, Courtney and Celia fell into natural roles building their new business, even as they found themselves expanding their own lives. Along with planning a wedding, Courtney, now living in San Carlos, took on production oversight and operations. Celia, now in Palo Alto, handled marketing, sales and content-related work—not to mention giving birth to her first daughter.
Given that they were bootstrapping their company, working out of a commercial kitchen made the most sense, but Celia and Courtney agreed they needed their own creative space. The answer came in the form of a renovated vintage 1957 Cal Craft trailer. "We've named our caravan Lucy in reference to the I Love Lucy episode where Lucy and Ethel are trying to keep up with a chocolate production line and they stuff their faces," Celia says. The vintage trailer also inspired another business milestone. "We rebranded and named ourselves Caramel Caravan to tie the trailer and the company together."
The two say to keep an eye out for Lucy at craft fairs, pop-ups, wineries and private events, but all the behind-the-scenes cooking happens in their Redwood City kitchen.  First, they start off with heavy whipping cream from Clover Sonoma and butter from Gilt Edge in San Francisco. Sugar, glucose syrup, a natural emulsifier and salt wrap up the six base ingredients. Courtney describes their giant electric mixing bowl as a magical copper kettle: "It helps us create a more consistent batch because it automatically checks the temperature."
It takes about an hour to cook up a batch—about 1,500-1,700 pieces—with the caramel bubbling and steaming a bit, before turning silky smooth. The caramel is then scooped out and poured into sheet pans where it is smoothed out with spatulas and left to set for four to six hours. Next, toppings are added—like Guittard dark chocolate and sea salt. After that, it's on to cutting, wrapping and packaging.
"We score all of our caramels so they are the correct shape and then we hand-cut all of them," Courtney says. "You get some resistance training when you're pushing the knife through over and over and over again."
The two also invested in a 1952 double-twist wrapping machine, which both sounds and looks like it comes straight from Willy Wonka's chocolate factory. Consistent with the company's vintage vibe, they've dubbed her "Betty." Freshly-cut caramels are dropped into the machine and within seconds, out pop perfectly wrapped treats.
Packaging comes next—into two-piece samples, four-piece bags, four-piece favor boxes and 10- and 20-piece variety boxes. Flavors range from coffee and cashews to seasonal offerings. "We like to think about California and what agriculture grows here," Courtney says. Examples include orange rosemary, honey lavender, strawberry basil and banana. "Banana isn't from California—I just really like bananas," she jokes.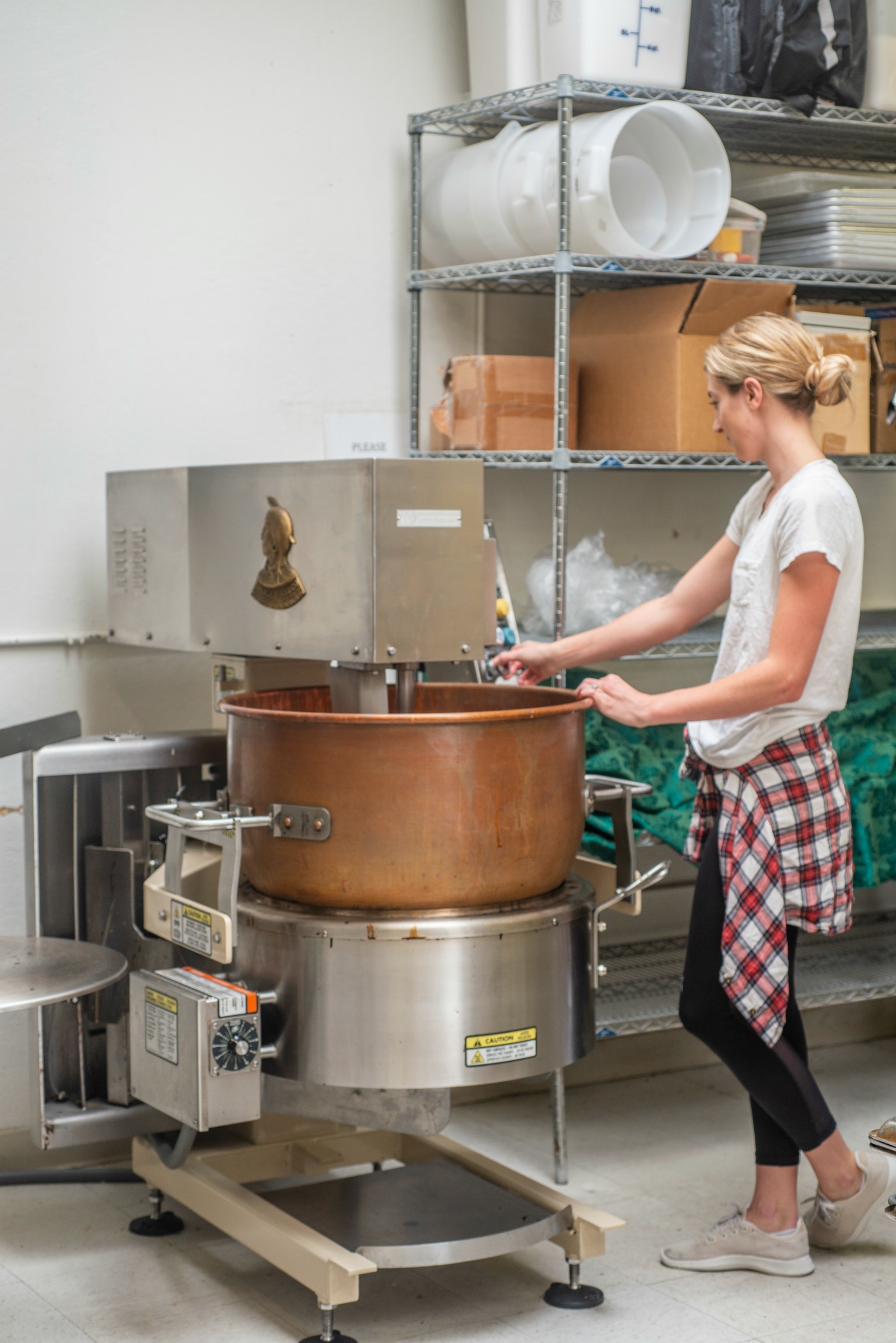 While starting a business is a thrilling venture, the two acknowledge that the caramel making lifestyle is inherently repetitive. Monotony sets in around the 1,000th bag made, and thus, 'Would You Rather (WYR) Wednesdays' was born. To spice things up, the team poses thought-provoking questions that stir heated debate, such as, 'Would you rather eat six teaspoons of salt or drink a whole bottle of soy sauce?" And no—you can't say 'neither.' Instagram followers of @caramelcaravan know to anticipate weekly highlights of their antics.
Even as good-natured banter is thrown back and forth across the kitchen, the partners are focused on growing sales and expanding their product line. The days can be long and tiring, but they've learned to keep their sights on the bigger picture. "We have a great crew, we're bringing something that consumers love, that we're passionate about and we're changing the way business operates," Celia says. "I'm so glad that we did this."
Courtney emphatically concurs. "I don't ever want to go back to a day job and I will work 14-, 16-, even 20-hour days to avoid that."
Plus, there's always that added perk—sweet, creamy caramels. How many do they eat?
"A decent amount," says Courtney. "It's hard to say," Celia adds, "because we only sample little pieces." Courtney ponders it some more. "I don't really want to know," she sighs. "Let's just say it adds up to one caramel per day," Celia suggests, and Courtney nods in agreement.
savor some sweets