Carmel Valley, just a little over 10 miles inland from Carmel-by-the-Sea, is often overlooked as a Monterey County getaway. But a recent three-day visit revealed its many charms.
The area was once Rancho Los Laureles, a 6,625-acre Mexican land grant given by Governor Juan Alvarado in 1839 to José M. Boronda and Vicente Blas Martínez, extending along the Carmel River.
It changed hands over the years as landowners sold large and small parcels, but a major development effort followed World War II when two brothers created the Airway Village. They planned to sell airplane hangars, and when that venture failed, they sold ranch-style homes instead, in what was to become Carmel Valley Village.
What did thrive was wine grapes, and the Valley was designated as an American Viticultural Area (AVA) in 1983. A surprise to many, there are more tasting rooms in Carmel Valley than any other area of Monterey County, mostly notably, Bernardus, Folktale, I. Brand and Joyce.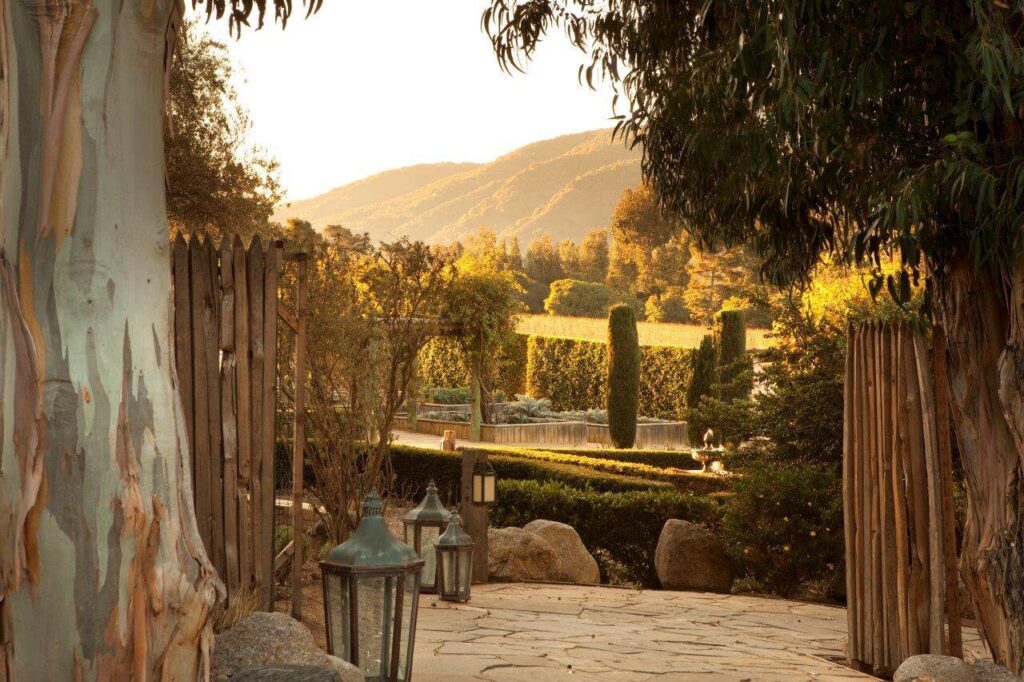 Enjoy luxury at the Bernardus Lodge & Spa
Vineyards greeted us as we pulled into the Bernardus Lodge & Spa. We'd heard that namesake Bernardus "Ben" Pon was an avid sports car racer who competed in the Dutch Grand Prix, and we couldn't help but imagine how he handled the twisty turns of the Los Laureles grade that descends into Carmel Valley adjacent to the Lodge.
Born in the Netherlands, Pon became interested in wine when his interest in racing waned. Discovering Carmel Valley, he believed that the area and climate were perfect for making the Bordeaux-style wines he loved. He opened Bernardus Winery in 1989 along with the area's first tasting room.
The 57-room Bernardus Lodge & Spa opened in 1999; the original 57 rooms were remodeled in 2015 and 14 villas were added in 2016. The onsite vineyard, named Ingrid's Vineyard after Pon's wife, was planted when the Lodge was being built.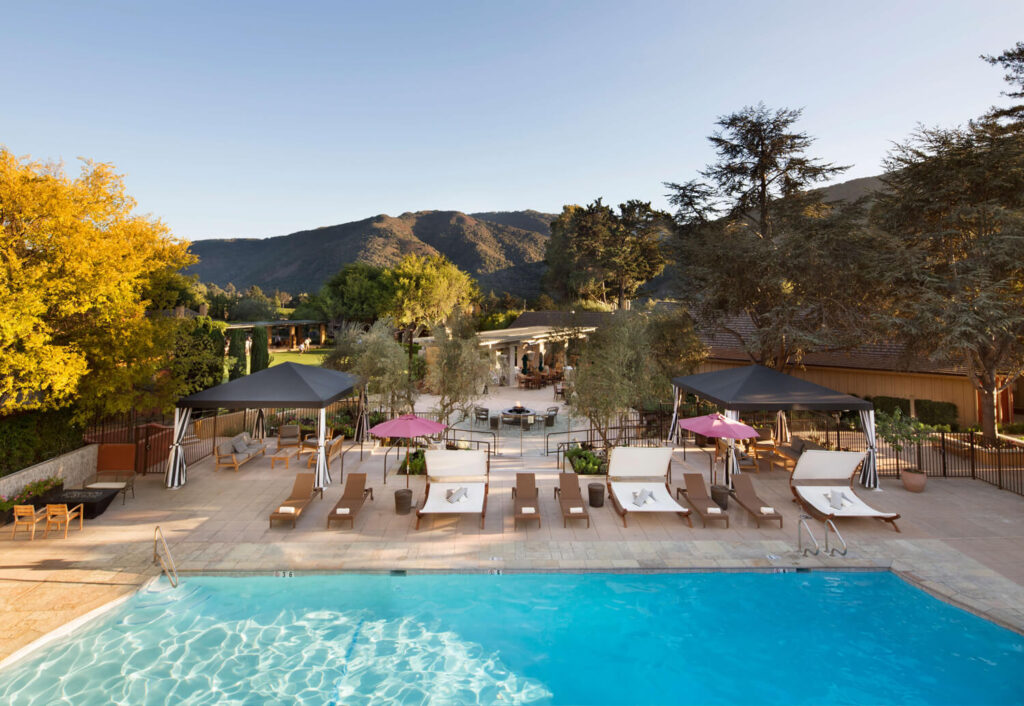 Pon died in 2019 after selling the Lodge five years earlier but keeping the winery. "He accomplished so much that his obituary requires footnotes, photos, detailed diagrams and addendums," wrote Mike Hale in the Monterey Herald. "He was 'the most interesting man in the world' before Dos Equis turned that quip into marketing gold."
Pon's legacy, his zest for life and his attention to detail permeate the property today.
Checking in, we entered our room in the Santa Lucia section of the 28-acre property. It's large, beautifully appointed and stocked with complimentary Bernardus wine. But that's not what got the travelling spouse's attention. "Look," he exclaimed. "There are two luggage racks!"
Think about it. How many luxury resorts—or hotels for that matter—have you entered carrying two suitcases, only to find one luggage rack? It's that kind of attention to detail that sets the Bernardus Lodge apart.
The rooms with fireplaces and balconies beg for settling in, but the property is designed for roaming. The expansive manicured lawn features both bocce ball and croquet, along with a putting green. The large swimming pool, we learn, is the one holdover from the somewhat rundown roadhouse that Pon purchased. Think of it as a gift from another era given its length and depth.
Executive Chef Cal Stamenov, who oversees the Lucia Restaurant & Bar, has been with the Lodge since it opened. Seasonal meals spring from the property's two acres of organic fruits and vegetables, honeybee hives and over 150 fruit trees, along with a half-dozen chicken breeds supplying eggs.
Meals are currently served al fresco on the main patio and the inviting front patio. A cozy Chef's Table is in the kitchen with initials of its many visitors carved into the surrounding wall, Julia Child among them. Fall special dining experiences include the annual Heirloom Tomato Lunch in September and the Bernardus Tribute Dinner in November.
While we didn't take advantage of any of the spa services nor the tennis courts, we can endorse the Bernardus Lodge as a bucolic escape to relax and unwind while eating and drinking, especially given the 30-page wine list.
Go hiking or play some golf
Sunny Carmel Valley with summer/fall temperatures in the mid to high 70s makes it a great outdoor destination.
The jewel of the Valley is dog-friendly Garland Ranch Regional Park. Established in 1975 when Southern California businessman William Garland sold 540 acres of his weekend "ranch" at a bargain price, it now encompasses almost 3,500 acres, offering options for hikers at all levels on over 50 miles of trails shared with equestrians. Note: Cyclists are only permitted on the 144-acre Coop Ranch Addition.
It's possible to take a nice level stroll along the willow-covered banks of the Carmel River, which is a popular inner tube destination for families. But for ambitious hikers, the payoff is the 360-degree views from atop the Santa Lucia Mountains.
That was our choice on New Year's Day a few years ago. It remains among the steepest hikes that we've ever done, gaining 1,600 feet in 1.3 miles up the Saddle Trail. Descending was also a challenge with the first half-mile on the Veeder Trail very steep and the second half-mile a bit less so. With the out and back along the Carmel River, it's 4.75 miles total.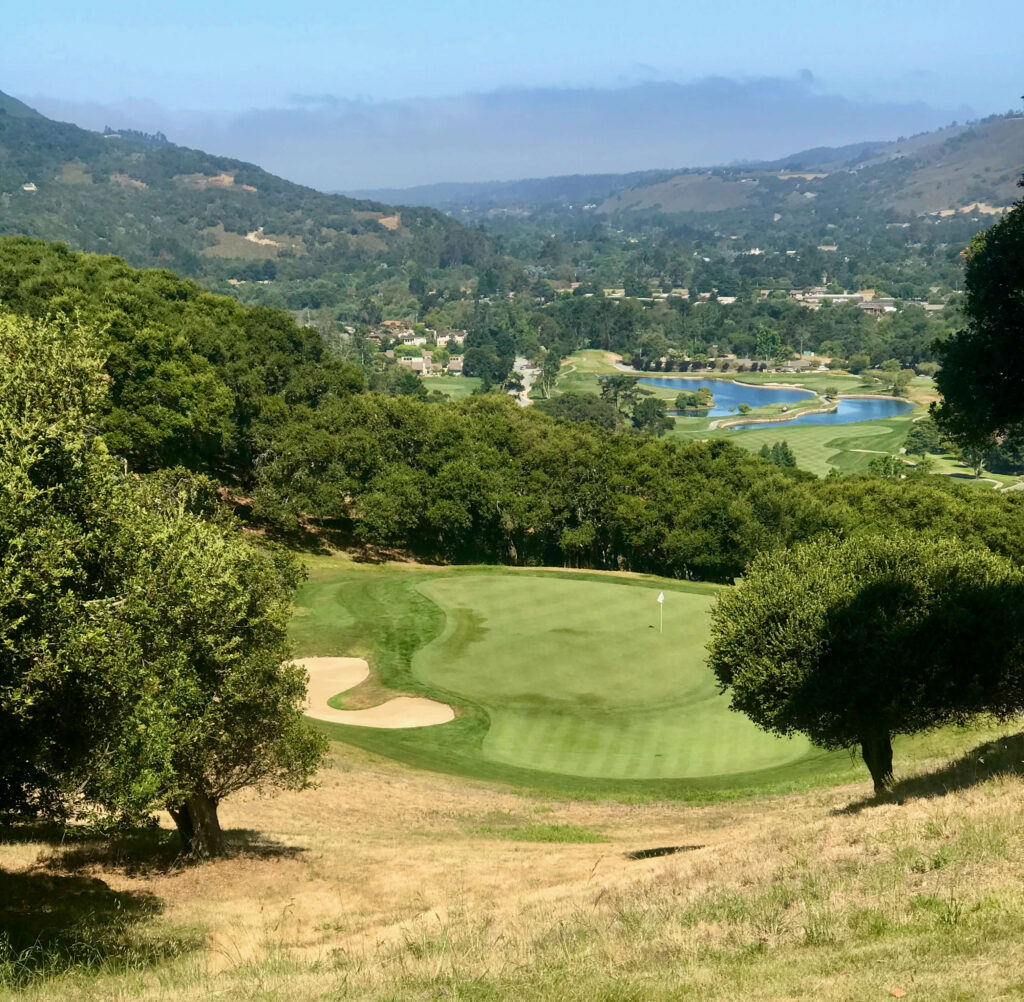 On our recent visit, we opted for an uphill hike following the Buckeye Trail, which includes a very good signed nature trail, before intersecting with the Mesa Trail upward to Mesa Pond. We headed down the Waterfall Trail, knowing we were unlikely to see the waterfall in the summer months. The plus: It's a particularly pretty trail. Total distance is 4.75 miles.
The Park's brochure cites it as the home to a variety of birds and mammals. We saw some of the former and none of the latter, but the big excitement came when I walked into one of the porta-potties installed at the currently closed Visitors Center. Greeting me was a California kingsnake, which I'm told are fairly rare and that I am "very lucky" to encounter one. The somewhat snake-phobic me did not think so, although I did have the presence of mind to snap a photo.
The golfing spouse encountered no reptiles playing 18 holes at the Pete Dye-designed Carmel Valley Ranch golf course, which opened in 1981 and was redone 10 years ago. It's a members and resort course with a use agreement with the NCGA that provides a discount on playing fees.
"It's a par 70, so it's not particularly long, although a bit challenging," he reports. "What makes it interesting is that the front and back nine are totally different experiences." Holes are spread out, he adds, so unless you are a serious walker, especially on the back nine, carts are definitely encouraged.
Visit noted glass artist at Masaoka Glass Design
Glass artist Alan Masaoka's studio is in Carmel Valley, although his roots are on the Peninsula where he was a classmate of ours at Menlo-Atherton High School.
Becoming an artist was not his goal initially. "My mother always said, 'You don't want to be an artist because you'll never make any money,'" he recalls. Heeding his mother, he studied to be a pilot at the College of San Mateo until he discovered that flying made him dizzy.
No longer in school and with the Vietnam War raging, Alan joined VISTA, a national service program. He trained in Denver before serving in Appalachia. Returning to the Bay Area, he married a local woman and they ended up in Seattle.
"I got caught up in the glass art movement led by Dale Chihuly, who became my mentor," he says. "I studied with him along with probably the best glass designers in the world. I opened a glass studio accepting commissions for private homes and public art. There were probably more glass artists in Seattle than Murano, Italy, at the time!"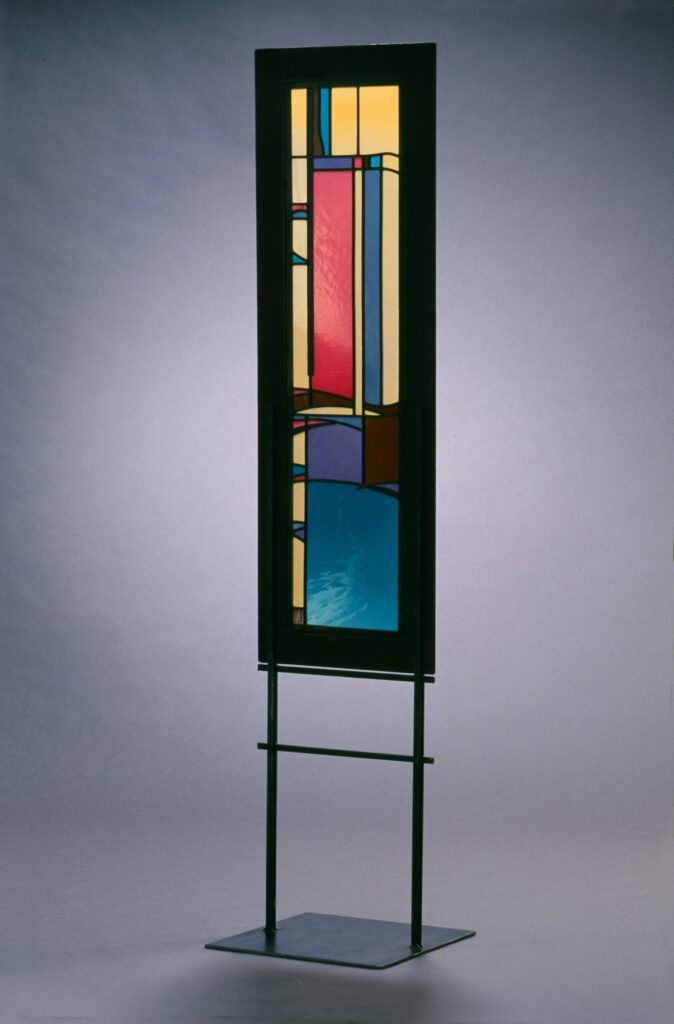 Eventually settling in Carmel Valley, Alan creates stained glass art that is contemporary rather than traditional. "When I started showing in galleries, I set up in an unconventional manner, putting port-holes into walls that when looked through, would reveal my glass windows back-lit," he says.
One notable recent commission was a piece for San Francisco General Hospital called River of Time. "Quite often, I walk along the Carmel River, and it occurred to me that water, with its healing effect, would be perfect for the hospital." Alan crafted the hand-blown glass with that in mind. "The light comes through the glass and reflects upon the floor," he says, "so patients and their families can have the experience of walking through water."
We encourage a visit to Alan's studio/gallery (13766 Center Street, Suite G2) for a friendly chat and to see what he's working on. Back on the Peninsula, if you stroll down Vine Street in Menlo Park, you may spot one of his pieces gracing a fellow M-A grad's home