Just an hour from the hubbub of Silicon Valley, Capitola is a delightful oasis on Monterey Bay overflowing with opportunities for enjoyment in a uniquely relaxed atmosphere.
Nestled at the end of a peninsula, bisected by Soquel Creek, the small, welcoming community of Capitola has maintained its distinctive character despite influxes of surfers, tourists and day-trippers thanks to thoughtful curation of local historical spots and landmarks.
Capitola Village by the Sea is one of the oldest vacation retreats on the Pacific Coast. Santa Cruz County pioneer Frederick Hihn bought the land in 1856, and in 1882, Hihn built cabins, a skating rink, a hotel, a theater and a bandstand. It soon evolved into a premier coastal resort.
Today, whether it's kayaking, surfing, paddleboarding, fishing, biking, beach volleyball or just doing nothing, Capitola Village offers something for everyone. Unique shops beckon everywhere you look. Jewelry, art, souvenirs, sports gear, funky swimwear and casual clothes mingle with bars, restaurants and coffee shops, with a helping of ice cream and saltwater taffy thrown in.
The boutique Capitola Hotel on the Esplanade is a great spot to base your stay. Just steps from oceanside eateries, this ten-room hotel features relaxed décor, comfortably sized rooms (the Martinique on the ground floor is pet-friendly), luxe linens and locally-made soaps and lotions. There's a flower-filled private terrace complete with a firepit where guests can enjoy complimentary breakfast, all-day coffee and tea, afternoon cookies and weekend cheese service. The hotel also offers wine and wellness packages. Alternatively, there's the Mediterranean-style Capitola Venetian Hotel featuring a variety of suite sizes, some with ocean views, intricate wooden carvings on each door and a history dating back to its construction in 1925 as California's first condo resort.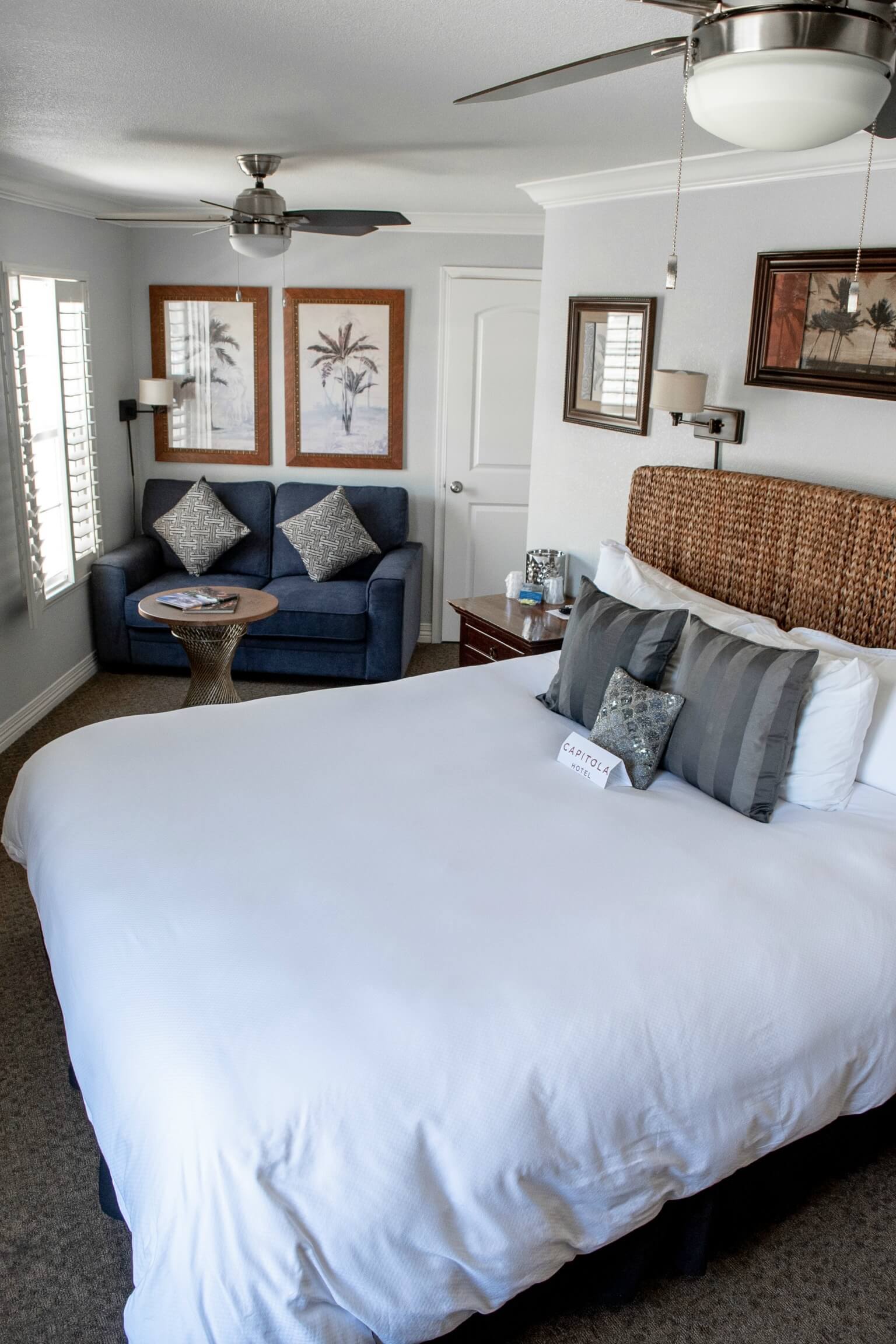 Drop your overnight bag and head out. Looking for a gentle hike? You can download a walking guide from cityofcapitola.org. Cliff Drive has stunning views of the Pacific where beginner surfers thrash about like seals and, for the fit and adventurous, several long flights of steps will take you down to the beach. If cycling's your thing, there are lots of places to rent a bike—the Family Cycling Center, Bicycle Trip Capitola or Capitola Beach Company (also rents surf and paddleboards) are just a few. Want to try your hand at surfing or paddleboarding? Capitola Surf and Paddle has you covered as well. Or go to O'Neill Surf or O'Neill Wetsuits to get kitted out by the iconic firm founded in 1952 by the legendary Jack O'Neill, inventor of the wetsuit.
Coming down from the cliffs, stroll out onto the Capitola Wharf to take in views of Monterey Bay and the jewel-like Venetian, or scan the horizon for whales. Fall is peak whale-watching season and it doesn't hurt that the weather is at its best now. Fancy fishing from the pier or a boat? Capitola Boat and Bait on the Wharf has all the gear plus a fleet of distinctive orange-hulled boats for hire.
Quench your thirst or have a bite at the character-drenched Wharf House Restaurant at the end of the pier. Specializing in seafood, this friendly and atmospheric restaurant is open for breakfast, lunch and dinner and also serves up stunning Monterey Bay views and seasonal live music.
There's so much to know about old-time Capitola. Entry to the Capitola Historical Museum at 410 Capitola Avenue, open Thursdays through Sundays from Noon to 4PM, is free. Download a pdf of the Companion to Capitola booklet from the museum's website or pick up a printed version onsite for a small donation. The museum's 2019 exhibition Capitola Obscura lifts the lid on 20 little-known facts about the village and is well worth a visit.
Your walking guide will take you to as many of the beautiful old buildings as your feet can handle. Or you might like to meander along the Riverview Pathway bordering Soquel Creek, taking you past historic cottages and lush greenery. After that, maybe it's time for a glass of something? Armida Winery showcases small-lot wines from Noon to 6PM at its Stockton Road tasting room. If beer is your preference, the Britannia Arms on Monterey Avenue or East End Gastropub at the Kings Plaza Shopping Center have you covered. For margaritas, look no further than Margaritaville on the Esplanade. In fact, you can find everything you want on the Esplanade: food, wine, beer, shopping, views.
In the mood for something a little different? Shadowbrook at 1750 Wharf Road is a Capitola landmark. Opened in 1947, the restaurant still reflects its beginnings as a home in the Swiss chalet style. It's been expanded multiple times over the years and today Shadowbrook's many dining areas cascade down the hill to the side of the creek. Shadowbrook offers a wide range of American dishes including vegan and vegetarian options plus an extensive wine list. But the food is almost secondary to the atmosphere. It starts at street level: a cable car takes you down the hillside, passing lush vegetation as you go. A giant Douglas fir grows through all levels of the restaurant; waterfalls and natural materials are everywhere. You'll need a reservation (apart from bar areas) as the place is always busy. Shadowbrook is open for dinner only Mondays through Saturdays and from 1:30PM to 10PM on Sundays. If you're staying in Capitola Village, the restaurant will send one of their vintage taxi cabs to pick you up and take you back free of charge.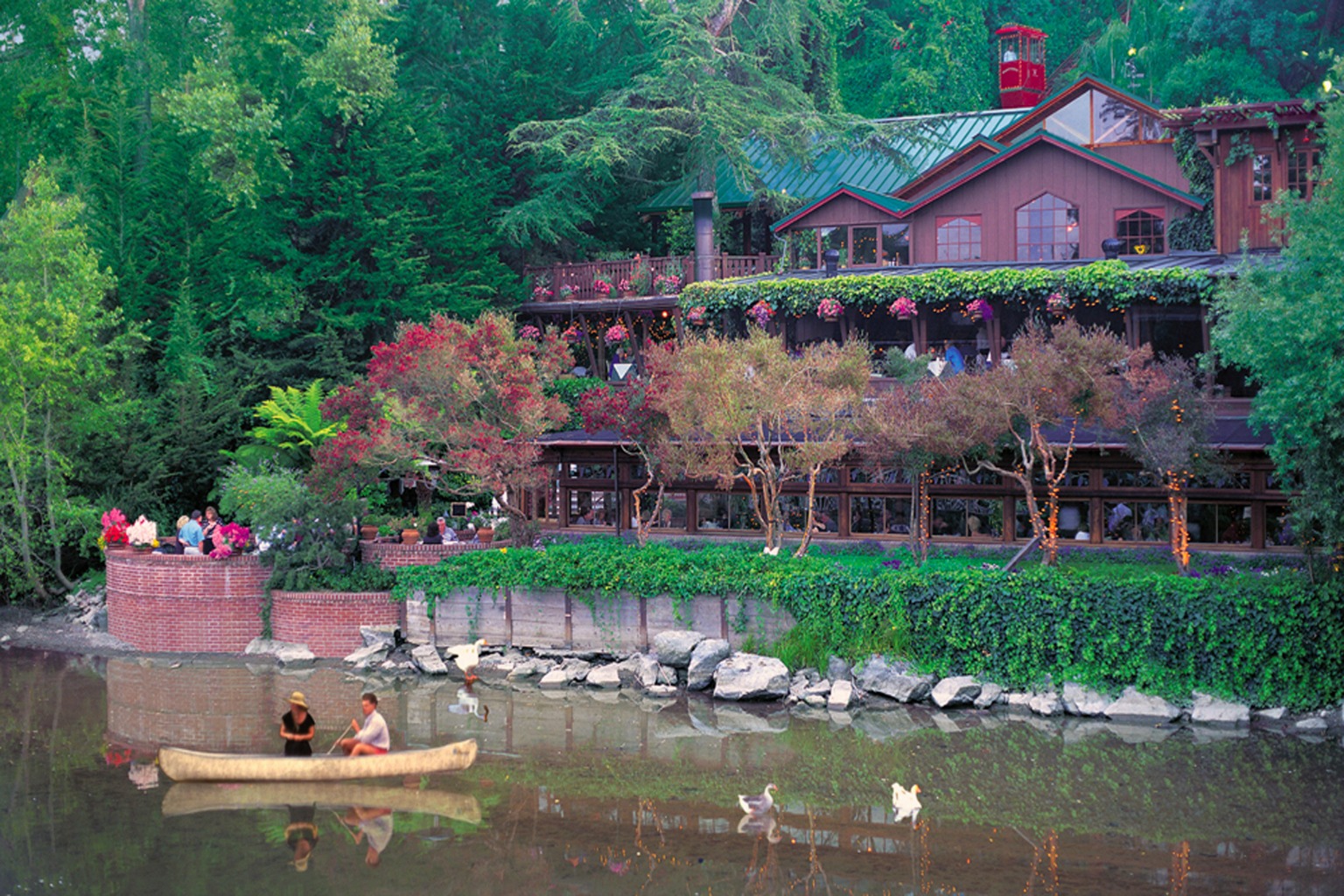 With so many dining options within a few paces of the Esplanade, you could be forgiven for staying put. But you can't visit Capitola without a trip to Gayle's Bakery and Rosticceria on Bay Avenue. This legendary all-day cafe provides a lengthy menu of sandwiches, salads, house-made bread and cakes, hot and cold blue plate specials, eat-in and food-to-go options. Take a number when you walk in and browse the long counters for savory (left side) or sweet (right side) delights. The super-efficient announcement system ensures that you'll hear when it's your turn. There's almost always a line, but the wait is worth it.   
If a little retail therapy appeals, browse nearby neighbors including Many Hands Gallery featuring works by local artists, Pacific Trading Company for casual women's clothing, Lina Floral Design for flowers and gifts, and Petite Provence with its colorful array of authentic French table linens and home accessories. Also found at Petite Provence, local artist Sally Bookman's visual memoir of the area, Sand Between Your Toes, effortlessly evoking every childhood memory of beach holidays and capturing real characters and landmarks in her distinctive watercolor style.
Capitola has a special, laid-back appeal. Compact though it is, somehow it makes space for everyone to enjoy the views, the sense of history and the opportunity to relax and revive.