words by Silas Valentino
The golf cart veers past the vines neatly lined against a rocky road dividing the venerable Chateau Montelena Winery into halves. Riding in the back, I'm careful not to spill a drop of the ruby red 2005 Estate Cabernet Sauvignon because it's too tasty to waste. And it's not like we're going to get those 15 years back.
My host, Olivia, wheels the cart to a lookout where the garden of grapes absorbs the sunlight in a cradle between the eastward Palisades mountain range and Mt. St. Helena. (Say "Mount Helena" five times fast and you might crush it into Montelena.)
 Located in Calistoga near the northernmost rim of the Napa Valley, Chateau Montelena is the ideal place to begin soaking up Napa Valley lore. After all, the winery made history in 1976 when its Chardonnay proved victorious at the international Judgment of Paris competition, thrusting California wines onto the global scene.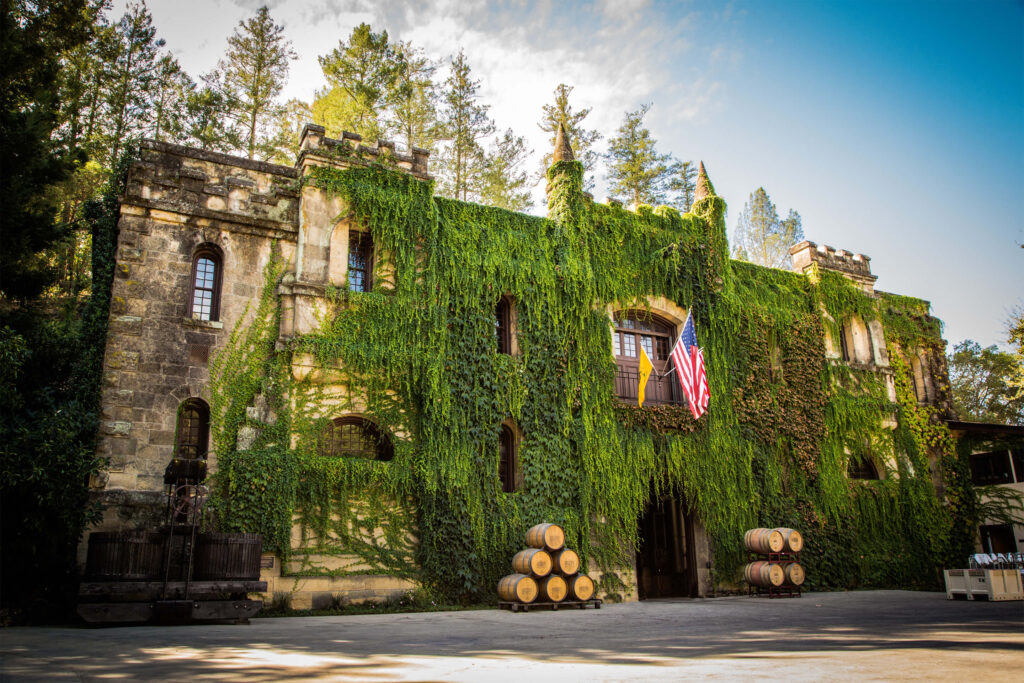 Some of this success is due to the composition of the soil that feeds the grapes. Some five million years ago, a vast volcanic field stretched across this valley and left ash residue in the terroir. When Montelena grapes are planted, they're forced to burrow deeper into the earth for water, which in turn, enhances the concentration. It's that grappling for life that produces the finest wine. "Too much water and the grapes will swell," Olivia explains. "We want our vines to struggle."
Perhaps no other metaphor better describes Napa Valley in its current state. In the same way perseverance produces high-quality wines, Napa found itself confronting setbacks in 2020, including back-to-back fires that ravaged parts of the valley during the critical harvest season. But if doomsday was on the calendar, then it was clearly disregarded given the resurgence of vitality now echoing through the valley. Fires retreated, Napa remains. 
 While the harvest months tend to attract a rush of visitors to the area, the crisper winter season is not to be overlooked. Unlike the mild climate patterns on the Peninsula, Napa experiences four seasons with frostier months that encourage toastier getaways. A mere hour-and-a-half stretch beyond San Francisco, it qualifies as the Bay's backyard—and now is the time to venerate the vintners.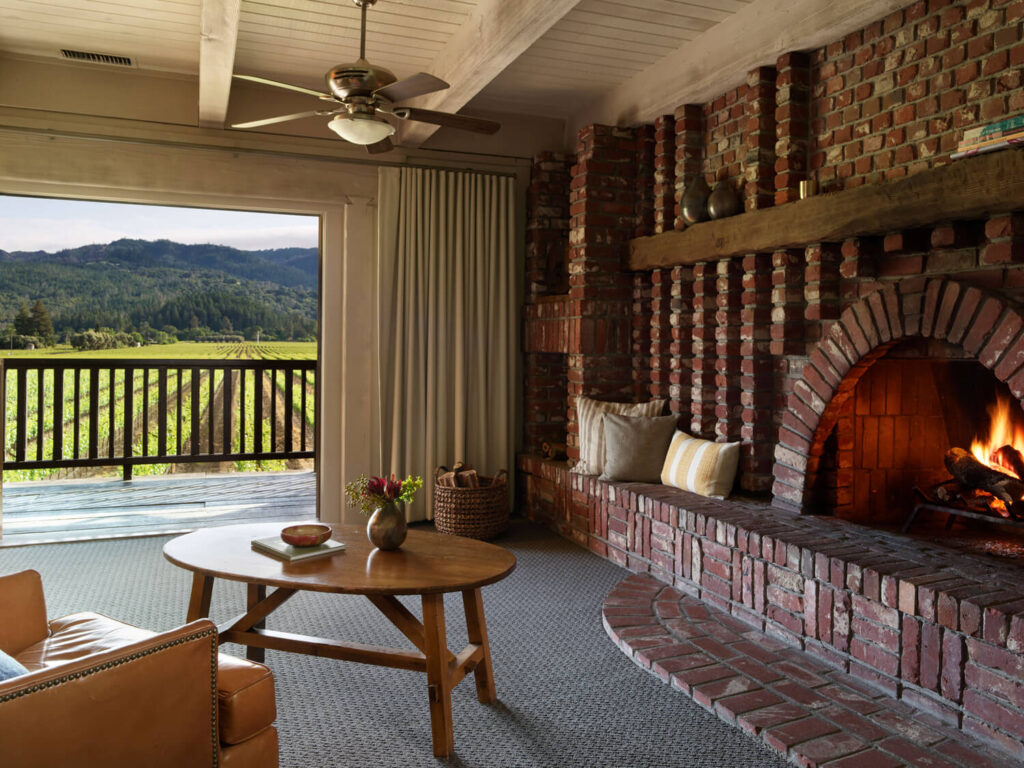 Come On Inn
First stop: St. Helena, the center of the valley, home to more than 150 wineries, a charming downtown and expansive vineyard views. The oak trees lining the main thoroughfare of Highway 29 lead straight to the Harvest Inn, an 81-room resort nestled within a redwood grove. A quick turn off the highway after passing through dual, spiraling brick columns reveals an almost mystical setting enhanced by Tudor-style design.
 More than 300 California redwoods planted in the 1970s tower over the pitched roofs of the timber-framed structures that are tucked into five unique "neighborhoods." The centerpiece of the eight-acre property is the manor, a two-story building flanked by vineyards against a backdrop of the western Mayacamas Mountains. Sprouting above the manor are several chimneys that twist towards the sky like monumental corkscrews, just one expression of the two million bricks that accent the property. 
Accommodations range from Vineyard View Collection rooms, with panoramic views of Whitehall Lane's Leonardini Family Vineyards, to Harvest Inn rooms featuring garden and fountain settings. The dilemma I face after check-in: the beckoning warmth of my room's brick fireplace or a soak in a private patio spa hot tub. A complimentary bottle of bubbly upon arrival further complicates the decision.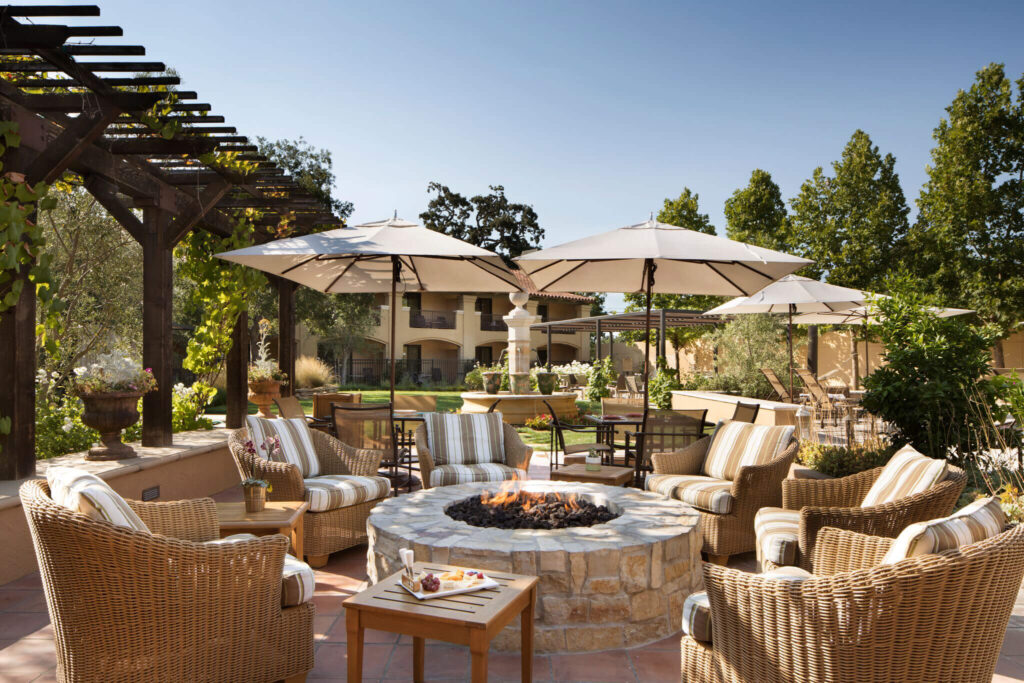 On to Yountville
For a different wine country perspective, I also set course for Yountville, another valley hub known for sublime dining, including the storied French Laundry and small-town favorites like the perpetually busy Bouchon Bakery.
I spend my second evening at the Tuscan-style Napa Valley Lodge. Clay roof tiles and Italian cypress pine trees create a relaxed atmosphere that's perfect for recharging following tasting tours and outdoor exploration. The 55-room boutique lodge offers a laid-back style of service that begins with a complimentary champagne continental breakfast buffet. 
A garden fountain provides the soundtrack as I walk to my room, where a wood-burning fireplace awaits, along with a private veranda overlooking vineyards stretching north. I make a note of the complimentary bicycles available for self-guided tours, while munching on chocolate chip cookies in a welcome basket courtesy of Annie the Baker, a treasured local confectioner who works down the street.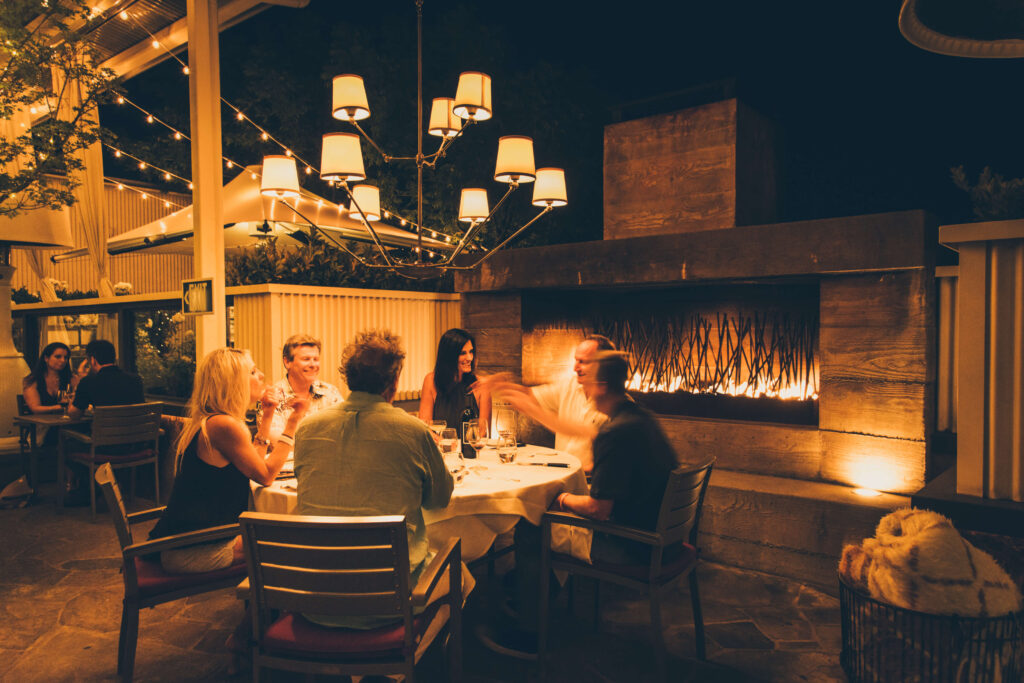 ImPRESS ive Eats + More
With nearly 150 restaurants spread across the Napa Valley, deciding what to pair with your wine is a process of discovery. 
A culinary gem at the southern end of St. Helena is PRESS Restaurant, a first-class chophouse with genial staff who genuinely want to share and celebrate their cuisine with you. If you can, ask for Greg, who has been with the restaurant for years and has never been more excited about the menu since the kitchen was assumed by the renowned chef, Philip Tessier.
PRESS is located in an airy, glass-paneled building with a majestic emerald-colored clock holding court above the kitchen area. Famous for its filets, PRESS's Wagyu ribeye is topped with charred onion and a chanterelle jus while the seasonal pumpkin raviolo features a sunchoke crumble. For dessert? Charred corn-cob ice cream served up with Meyer lemon curd, coconut butter mochi and an onion purée.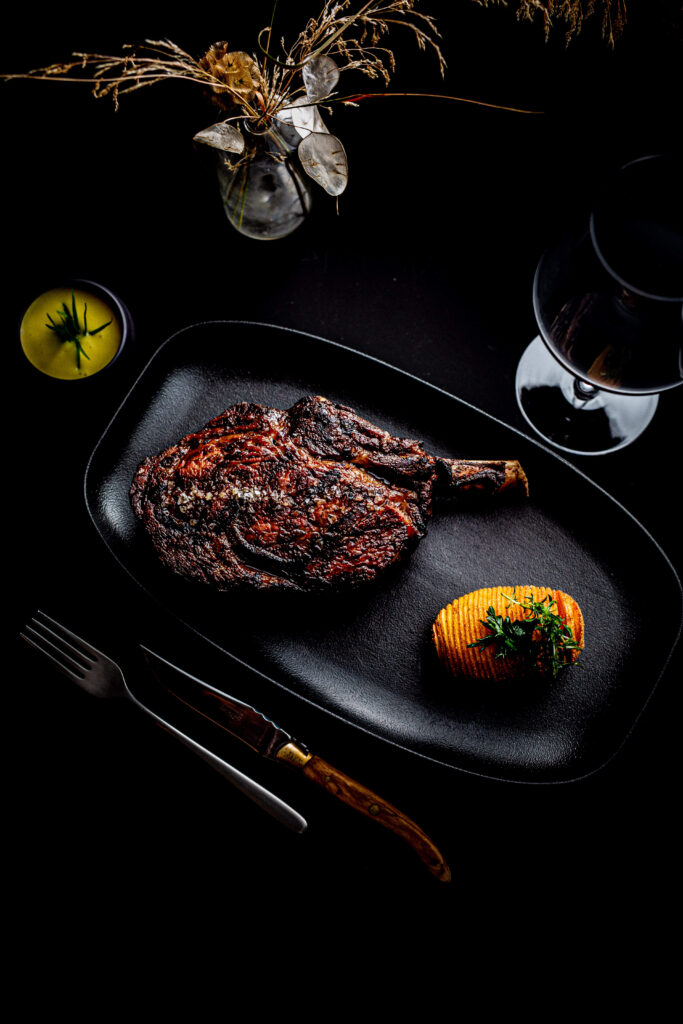 Back at the Harvest Inn, the on-site Harvest Table restaurant is run by chef Vincent Sanchez, who arranges a fixed, nightly menu that he modifies throughout the month. With ingredients locally sourced from small producers like Spitfire Farm and Hen Pen Egg Farm (not to mention their on-site garden), my two-course meal begins with chickpea fritters dipped in tzatziki followed by roasted chicken complemented by a ricotta raviolo with wild mushrooms and bacon lardons. Per the recommendation of my congenial server Todd, I went with a bottle of RAEN Royal St. Robert Cuvée Pinot Noir 2018, a selection offering a tantalizing aroma of wild strawberries and dark red cherries. A taste so impactful, I keep the cork as a memento. 
Nestled along the Napa River in downtown Calistoga is the casually charming Calistoga Inn Restaurant and Brewery, an excellent brunch spot with delicious Dungeness crab cakes and savory scrambled eggs topped in Vermont cheddar cheese. Also on the premises is the Napa Valley Brewing Company, which has been producing a variety of ales, including their smooth Palisades Pilsner, since 1987.
Like the confluence of two rivers, the Oxbow Public Market in downtown Napa is where locals and visitors unite under one rooftop. Following a tip from a retired local math teacher, I gave C Casa a try and was pleasantly impressed with its healthful and innovative approach to taqueria cuisine. The Bay Area micro chain uses sustainably sourced greens, fresh fruits, vegetables, artisan cheeses, meats and handmade tortillas.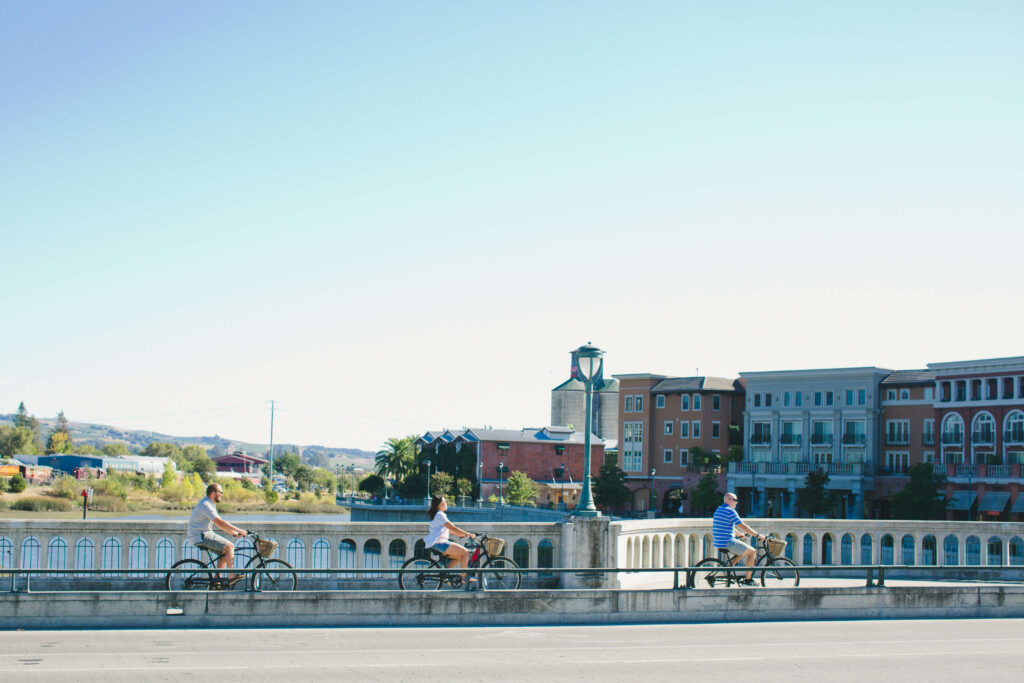 Embracing Wine

 

Country Life

 
In addition to the valley's now iconic hot air balloon rides, activities are abundant with the Napa Valley Train Tours returning to service and enough wine tasting opportunities to fill a few lifetimes. 
Napa is synonymous with sipping but you can also try your hand at crafting from the vine. Located just off the Silverado Trail, you'll find Judd's Hill, a winery that specializes in a bottle blending day camp experience. Through its microcrush program, Judd's Hill invites guests to become their own winemakers. 
The session begins with a quick lesson about grape growing from the engaging and colorful host, CJ, who has worked in the valley for the past two decades. She explains how Napa's precise and contained rainfall season allows for ideal growing conditions. Using four wines with various tannins to choose from and with help from a graduated cylinder and beakers, I concoct my own blend of red. Next, I bottle my own wine, cork it and then devise my own label and name. In honor of my host, I choose the moniker Caroline's Joy.
For a more traditional wine tasting, I stop by Chateau Montelena Winery, where the easy-going demeanor of the master winemaker Bo Barrett pervades. The winery features a distinct 19th-century stone structure resembling a castle with a small lake below the knoll. The winery dates back to 1882 when Alfred Tubbs built the chateau following a visit to France (inspired by none other than French winemakers). Another owner added the small lake (initially hoping to create a moat before hitting developmental snags) before the Barrett family took over in 1968. Less than a decade later, the winery prevailed in Paris, an event that ushered in the modern era of Napa Valley winemaking.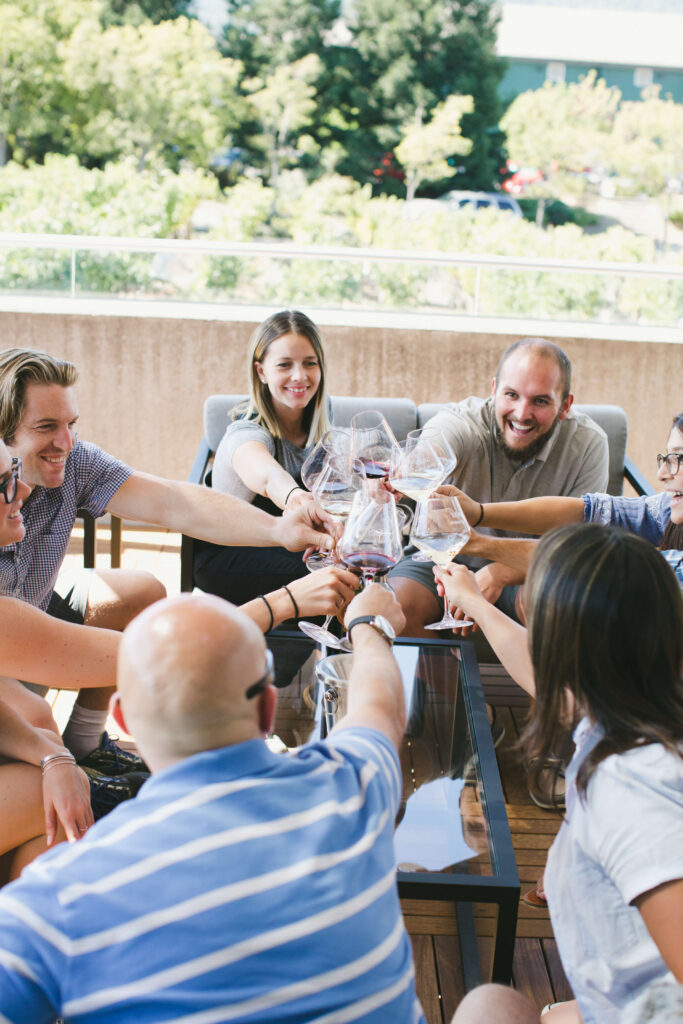 Following a weekend of wine tasting and lounging, it was time to sweat out the toxins. Offering easy-to-use rentals of bicycles or e-bikes is Napa Valley Bike Tours in Yountville, which is conveniently located in the middle of two routes: heading north for vineyard-focused adventures or a cool eight-mile ride into scenic downtown Napa. 
Riding along the Napa Valley Vine Trail, a smooth bike path with convenient free roadside bike maintenance stations, offers serene views of the valley. Once in Napa proper, I head to the Wildcat Vintage Store to flip through racks of cultivated styles, then venture by the town's Rail Arts District (RAD) Murals featuring local artists' urban artwork.
 As the Sunday sun begins to dip behind the western edge of the valley, it's time to return to Yountville to exchange my bicycle for a car and make the journey home as bottles of wine gently clink in the backseat.