Words by Silas Valentino
Arriving home from school during the 7th grade, Charlie Parker wasn't flipping on MTV like the rest of his generation in the 1990s. Instead, he was tuning into Great Chefs – Great Cities to find ideas.
"I'd walk home from La Entrada Middle School in Menlo Park, sit on a beanbag chair and turn that on," he says of the program that's part of the Great Chefs franchise on PBS. "Then I'd think, 'Okay, what can I do with hot dogs?'"
Charlie's culinary tendencies evolved and became both a passion and a chance for the youngest of three brothers to stand out. Once, Charlie joined his mom for a trip to Sigona's Farmers Market where a bag of free passion fruit fostered his proclivity towards gastronomy.
"I remember how the person at Sigona's didn't know what passion fruit was and thought they were rotten," he says now with a smile. "They gave it away to me for free and I went home to make a passion fruit tart for my family."
By the time he was at Woodside High School, Charlie secured his first restaurant gig working the dishwasher at A Tavola in San Carlos, which has since become TOWN. When he and friends returned home from a night out together, he would whip up gourmet grilled cheese sandwiches that went beyond buttering each side of the toast. And in between playing on various sports teams, Charlie helped John Bentley out when his restaurant was in Woodside.
Charlie's big break came when he landed a culinary externship at Manresa in Los Gatos, learning from David Kinch's singular style of American cooking and ingredient-driven technique. He became sous chef and his career took off, placing Charlie in lauded kitchens throughout the state.
His restaurant resume includes Freddy Smalls in Los Angeles, Haven in Oakland and Piccino in San Francisco before returning home to take the helm at Menlo Park's Flea St. Café and Mayfield Bakery in Palo Alto. When the circumstances of 2020 led to an upheaval in his industry, Charlie chose ambition over lethargy.
What began as informal meals that he'd cook for family and friends soon evolved into Charlie Parker Provisions: made-to-order unique dinners for pick-up or complimentary delivery available three days a week.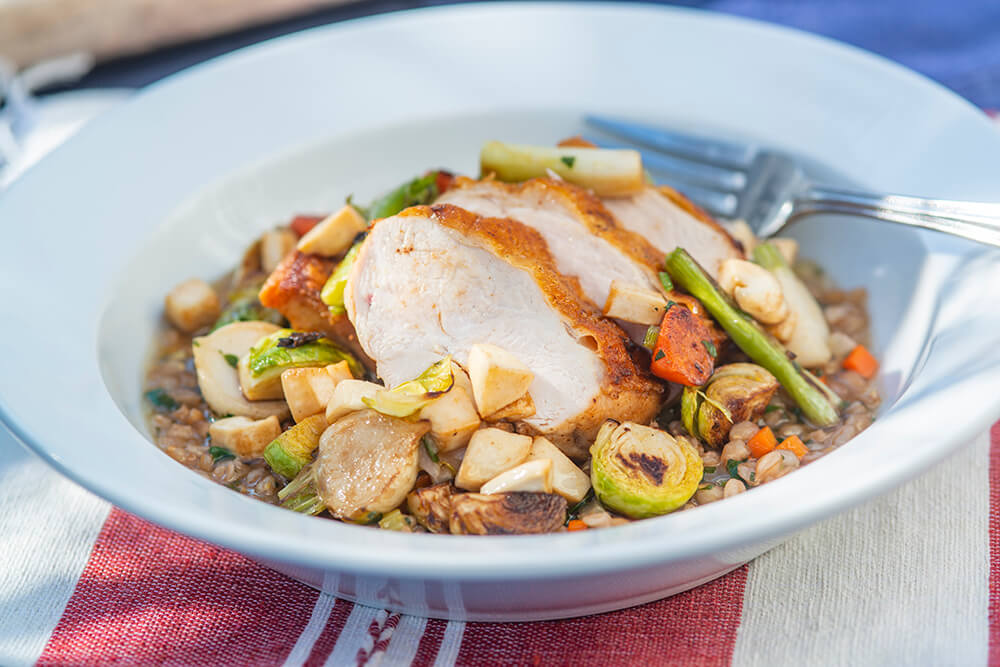 The menu adapts with Northern California ingredients. Charlie is prone to French- and Italian-based dishes that he tailors with what's in season. For instance, this time of the year is heavy on seafood, truffles and mushrooms.
In early winter, Charlie was in his element, alone in his satellite kitchen putting together orders all by his own hand. He devised a Winter Green Salad (persimmon, ricotta salata, pomegranate, almond, avocado honey vinaigrette and mint) as well as an Alaskan halibut entre complemented by cauliflower, caper salsa verde, pickled celery and beet with a navel orange finish.
He works out of a shared kitchen inside Menlo Park's Namesake Cheesecake. He met the owner Cherith Spicer through family right after her caterer split. Charlie took on the sublease and the two work independently but are fully supportive of each other.
"Her cheesecake is amazing—please write that in there," Charlie urges. "It's been a change to work independently and I can get hyper-critical of myself. Cherith is very good at lightening the energy and helping me focus on the bigger picture."
For any chef, opening a brick and mortar restaurant is the ultimate crave. However, ask a chef about their work-life balance and they'll likely guffaw. The woes of running a restaurant have intensified in the past year as help becomes harder to hire. Charlie's provisional enterprise affords him autonomy in the kitchen like he's never had before, answering only to his own creativity—as well as his nine-year-old son.
"I'm so happy to say that I have a great job where I can create my own hours so I can still find time to spend with my son and not feel like I can't leave the ship," he beams.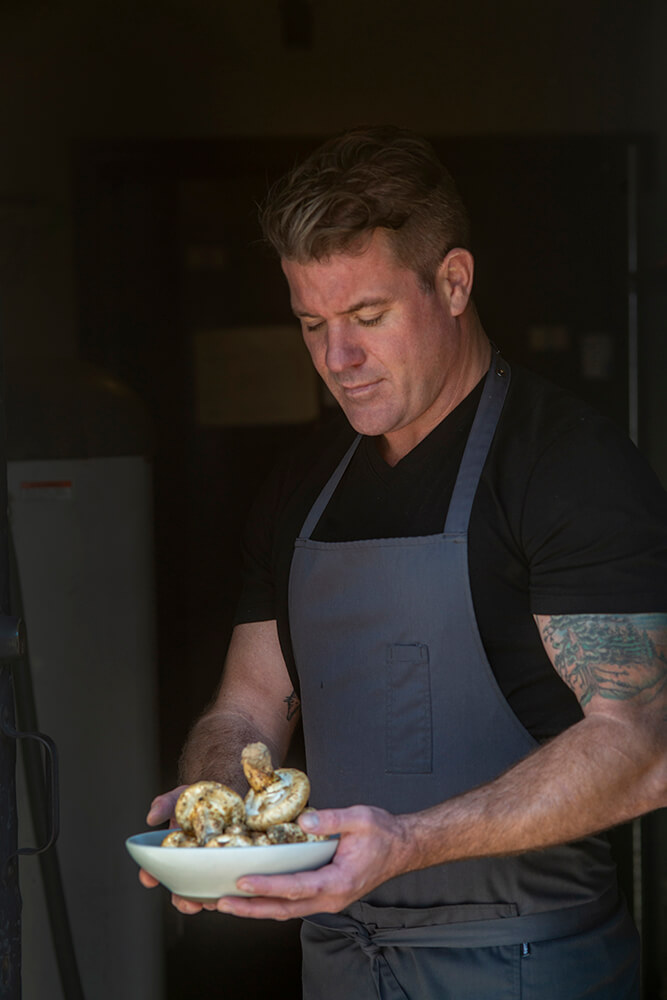 Charlie reserves Mondays for his day off. Otherwise, he's up at 5:30AM and at the gym before the start of the hour. If he's lifting weights, he's likely listening to records from the Golden Age of Hip Hop (he cites The Low End Theory by A Tribe Called Quest as an all-time favorite) but when he's back home perusing a cookbook, Charlie opts for jazz giants like Miles Davis and John Coltrane to play in the background and help him focus—after all, it's all in his name.
Even as Charlie nurtures the growth of his take-out business, he's simultaneously branching out into catering small events. He'll serve as a personal chef for house parties that can range up to 25 plates. It's good for business but more so a chance for him to escape the kitchen and embrace the front-of-house side of his craft.
"I know how to cook but what can I do to make this a heightened experience for the guests? The food is flawless but you also have to be an entertainer," he resolves.
"I can be introverted and I'm not a showman but I provide guests with an education about where the dish came from. When I go out to eat, I love the confidence when someone describes the dish but I don't like to feel bombarded. When it comes to talking about food, it's natural for me."
Charlie may detail for guests how he's transitioning into traditional cooking that embraces simplicity. Whereas a younger chef might overdo garnishes to create a plate that inspires a showy photo, Charlie instead is exploring more soulful food with depth to flavor.
"It's nice to slow everything down and bring it back to a more primitive state, if you will," he says. "Doing this for people helps bring me to the truth. It's what I like to do most—it's good for the soul."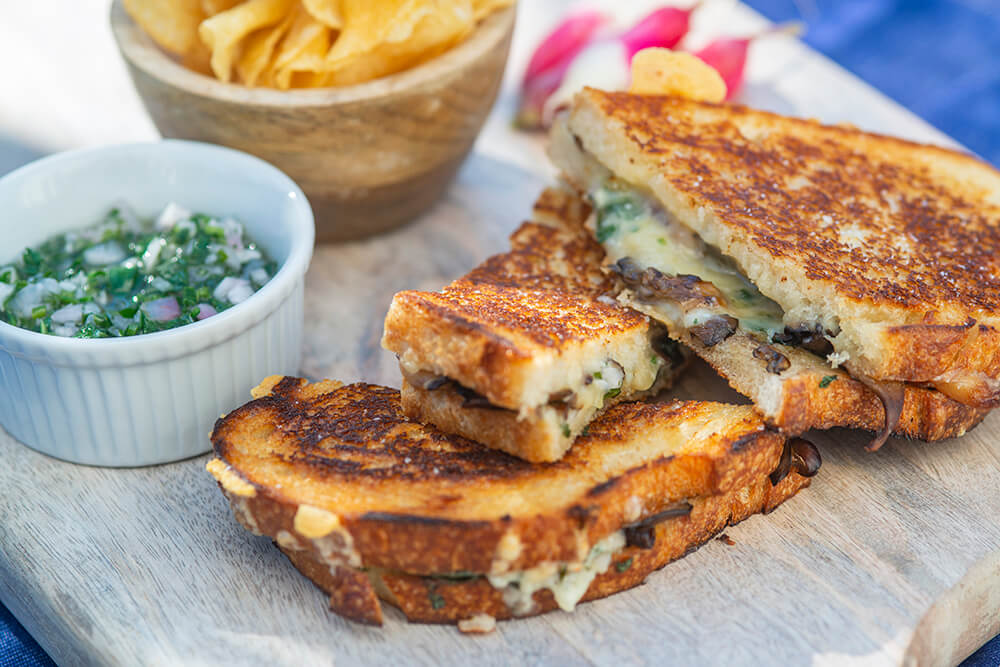 Grilled Cheese on Sliced Sourdough with
Maitake Mushrooms and Meyer Lemon Pistou
Ingredients
2 large slices sourdough
1 maitake mushroom
(Remove the foot of the
mushroom and saute cap
with 1 Tbsp olive oil and 1 clove minced garlic until
the mushroom is golden
brown. Season with salt.)
½ cup grated Fontina cheese
½ cup grated white
cheddar cheese
½ cup grated Monterey
Jack cheese
2 tabs room temperature
butter
1 bunch Italian parsley
(stems removed, blanched
and minced)
1 large shallot (minced)
1 Meyer lemon (the zest)
½ cup extra virgin olive oil
1 Tbsp champagne vinegar
Salt and black pepper
to taste
Directions
In a small mixing bowl, mix together the blanched and minced parsley, minced shallot, the Meyer lemon zest, champagne vinegar and extra virgin olive oil. Season with salt and black pepper to taste. Preheat the oven to 325F. Heat a medium-size saute pan over low heat. Spread the butter over the sliced sourdough bread. Mix the three cheeses together and assemble the sandwich with the buttered bread side facing outward: sliced sourdough, cheese mixture, sauteed maitake mushrooms, pistou, cheese mixture, black pepper and sliced sourdough. Lightly season the sandwich with salt and saute until each side is golden brown. Finish the sandwich in the oven for four minutes to make sure all the cheese is melted and the mushrooms are warmed through. Let the sandwich rest for a minute before serving. Slice into three pieces and serve with more Meyer lemon pistou on the side.