words by Anni Golding
"I did not want a brick and mortar," says Siska Silitonga, chef-partner of Redwood City's Warung Siska, who had spent seven years building her culinary career through pop-up dining events. Then again, she notes, "'Why not?' is always my thing."
Born and raised in Jakarta, Indonesia, and part of the Batak tribe of North Sumatra, Siska learned the business of food from her mother, a professional cook and caterer. "I always had that in my life," she recalls, "but I never liked it, to be honest." As a teenager, Siska worked for her mother and learned to cook for a crowd, but she envisioned a different future.
After attending university in Beijing and earning a degree in Mandarin Literature, Siska arrived in the Bay Area in 2002 to pursue a media studies degree at the University of San Francisco. She considered becoming a journalist, but instead she says she "took the Silicon Valley route," leaving USF for a career in corporate media.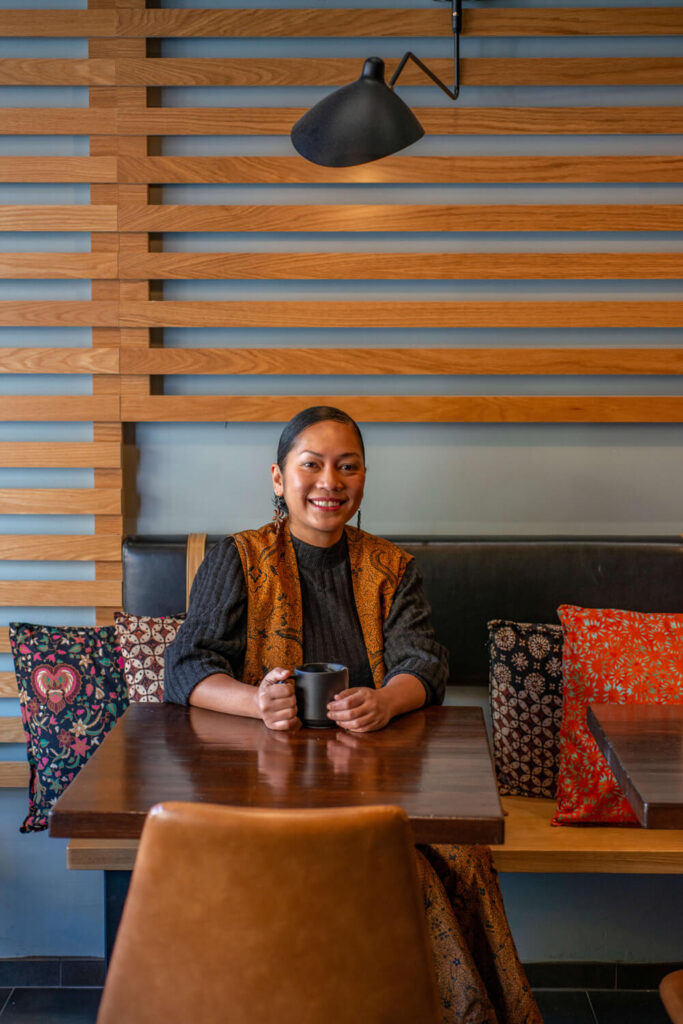 In 2015, after more than a decade in the Bay Area without a community of compatriots, Siska deeply missed Indonesia's food, language and culture. While searching the internet for Indonesian eateries, she discovered Eatwith.com, a website for immersive in-home dining experiences. Why not create her own Indonesian dining experience through Eatwith? Siska designed a meal that presented Indonesian flavors in a way that would be approachable for her guests. The event was a success and a turning point. "When I look back," she says, "it was such a freedom. I realized that I could create Siska food. It doesn't have to be 100% my mom or my grandmother."
She started a pop-up side hustle, which became a full-time business when she was laid off from her corporate job. She named her venture ChiliCali, because, as Siska says, "Chili has to be with everything in Indonesia, and Cali is for California."
Her modern Indonesian cuisine, based on bumbu—spice mixes or sauces made with fresh components like red chilis, lemongrass, galangal and makrut lime leaves—combined with local ingredients, was a hit with diners. To reach a broader audience, Siska created a line of cooking sauces in 2017, financed through Kickstarter, and won a Good Food Award for the Sambal Red Hot Chili Base.
Off the Grid reached out in 2018, encouraging her to apply to Instrucktional, their rigorous food truck incubator program. A food truck wasn't part of Siska's plan, but it could get her food onto more plates, so she applied. The program gave her a stipend, access to a truck and an immersive hands-on education. At the same time, she was becoming an ambassador for Indonesian cuisine.
Siska described her Instrucktional experience, including the challenges of driving a food truck, in a 2019 essay for Bon Appétit. (Spoiler alert: She may have sideswiped a FedEx vehicle.) The essay also touched on the politics of food and how gastrodiplomacy could help illuminate Indonesian food in the U.S. The piece caught the attention of the Indonesian consulate, and they reached out to Siska to brainstorm ideas.
Pandemic shutdowns brought Instrucktional and pop-ups to a halt. Adding insult to injury, ChiliCali's commercial kitchen was destroyed by a fire, putting takeout meals on hold. "Why not?" was turning into "What next?"
Serendipity intervened in 2021, bringing Siska together with restaurant-industry veterans Ervan Lim and Anne Le Ziblatt. Ervan, who is from Jakarta and has managed operations for M.Y. China and Live Fire Pizza, noted the dearth of Indonesian restaurants among the Bay Area's diverse food scene. He wanted to change that. He knew Siska and her food through pop-ups and social media and shared her goal of elevating their homeland's cuisine.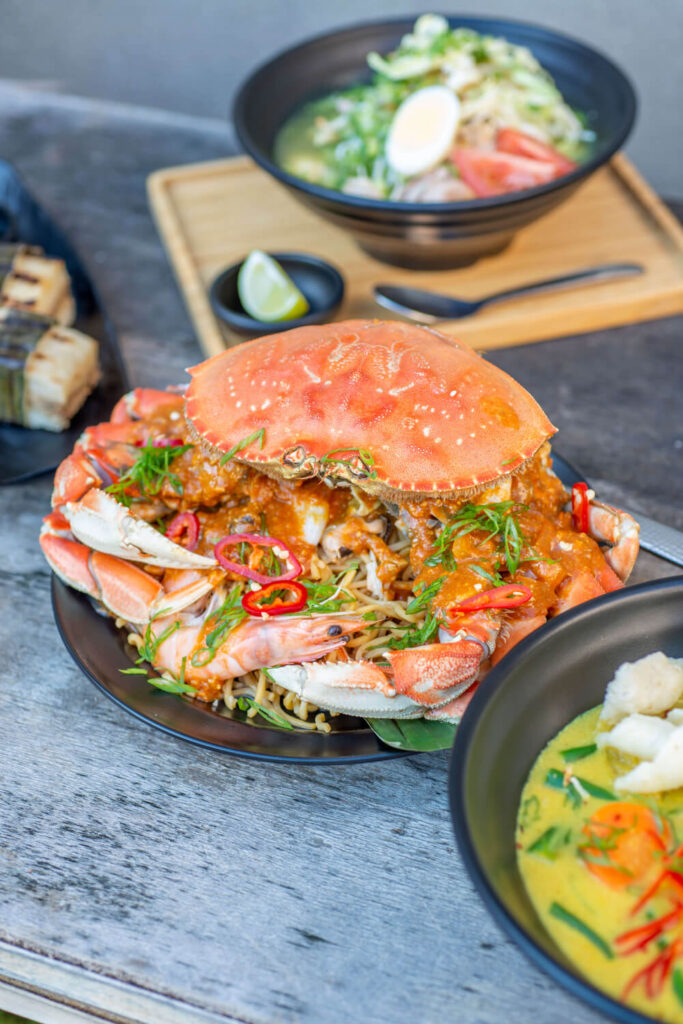 Restaurateur Anne (formerly of Tamarine and Bong Su), who knew Ervan professionally, was at a transitional point with Nam Vietnamese Brasserie, the modern-casual spot she opened in February 2020. "I was just planning on a wholesale change," she says, when she and Ervan met to discuss his idea for a brick-and-mortar Indonesian eatery. She was interested. "I've always had a soft spot in my heart for Indonesia," says Anne. Her family spent a year in a refugee camp there after leaving Vietnam, and her parents spoke often of the generosity and kindness of the Indonesian people.
By May 2021, the new restaurant project was a go, with Anne as principal partner, Ervan as managing partner and Siska helming the kitchen. Warung Siska (a warung is a small, casual eatery) opened in July 2021 in Nam's place. "It was madness for two months," recalls Siska.
They made only minor modifications to the restaurant's original design by Anastasia Contakos, adding Indonesian details to the wall murals and cushy batik pillows, sewn by Ervan's mom, to the window and wall banquettes. Counter service maintains the friendly, fast-casual vibe.
The compact menu offers a dozen or so seasonally-inspired small plates and mains, plus a couple of light desserts. Chicken Lemper, an Indonesian snack of steamed rice stuffed with shredded chicken that takes more than 24 hours to prepare, is presented musubi-style. Siska's take on bakwan (corn fritter) incorporates makrut lime leaf and okra and is served with kecap manis, a sweet soy dipping sauce. Main plates include Otak Otak, a steamed, ground fish dish with lemongrass relish, two types of satays and Gulai Sayur, a flavorful vegetarian curry.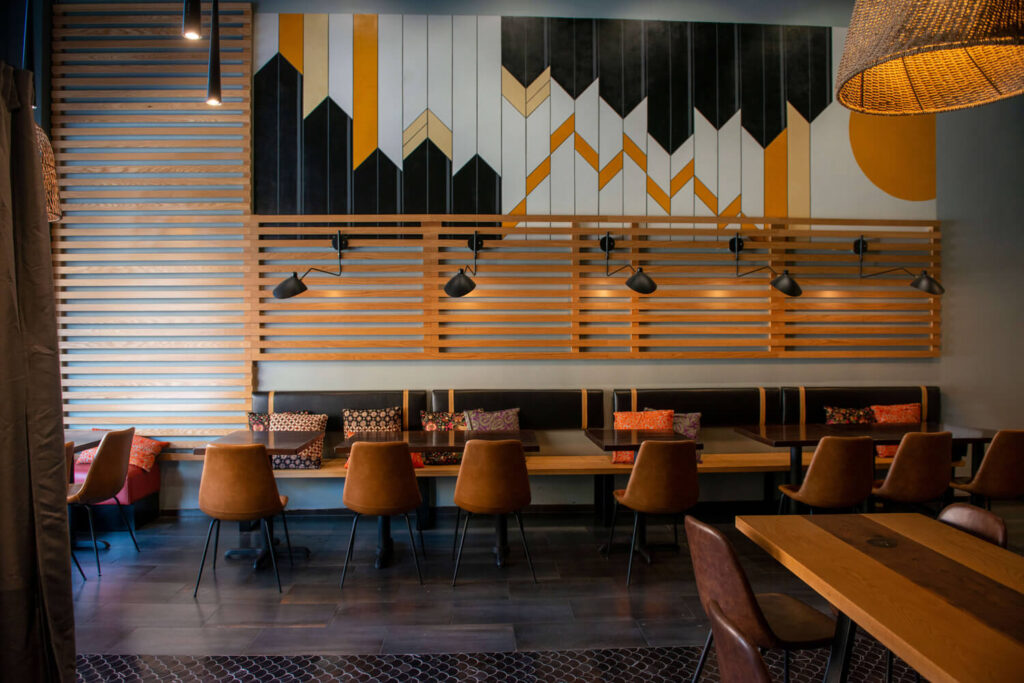 The beverage program, under Ervan's purview, includes several nonalcoholic options, like the pretty, cheerful Soda Gembira (translation: "happy soda"), in addition to beer, wine and sake. Coming soon are cocktails and a custom-blended red wine, all crafted to complement Siska's dishes.
The restaurant has already received kudos from the local press and the Michelin Guide California. And as for the Indonesian community Siska was missing? "You should see all the Indonesians who come here!" she exclaims. "The Indonesian community has been so, so supportive."
Asked about what's next, she says, "If I truly want to make Indonesian food known in the Bay Area and beyond, I can't just be glued to one place. While I'm here, it has to be the best. But I have dreams, and my vision is bigger than just one place."
That comment would prove prescient. Siska recently announced her departure from the Redwood City restaurant, which will maintain the Warung Siska name as well as its Indonesian concept and menu. Siska has a new culinary venture in the offing in San Francisco and will continue to produce her ChiliCali brand of cooking sauces. Continuing the trajectory of her career, she's already making a quick transition and optimizing opportunity. But then again, why not?