Words by Christina Chahal
Marriage proposals, weddings, anniversaries, birthdays and babies. For Burlingame custom jewelry designer Christine Guibara, these milestone events fire up her imaginative expertise with gems and precious metals. "I feel very grateful that I have had the opportunity to connect with clients during their most special moments," she says, "whether it's a simpler wedding band for a small ceremony or an exquisitely bespoke piece celebrating decades of marriage."
Christine's process usually starts with a client coming to her with a general idea, picture or purpose—like a proposal. Then she walks them through the options and together they hone in on a design by perusing her myriad sample settings, compiling inspirational photos, sourcing stones and finally combining preferences and details into something cohesive. Christine relishes utilizing all of her skill set in order to bring her pieces to life.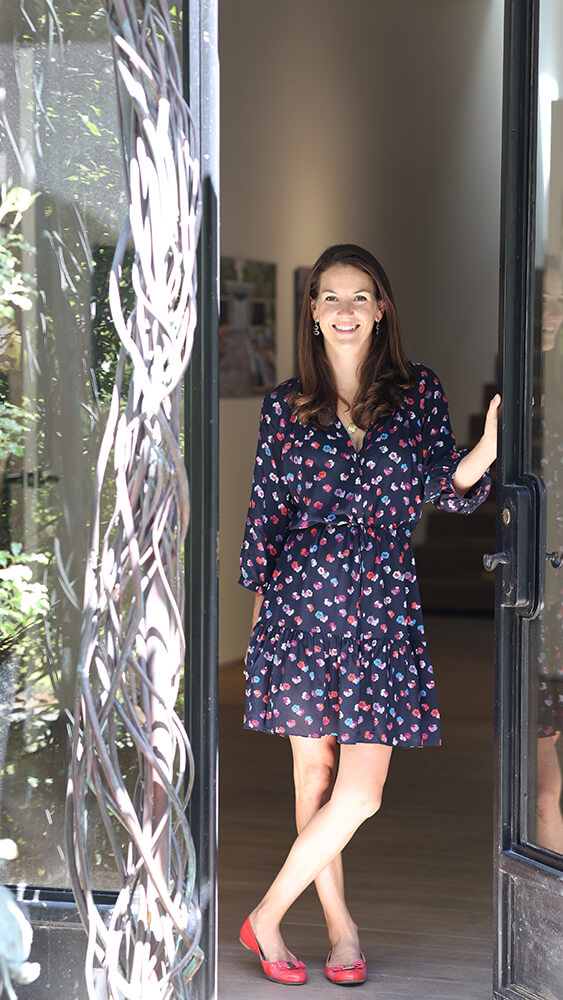 "I am very appreciative of my very traditional and 'old-school' jewelry training that I have been able to augment with high-tech CAD and laser welders," she notes. "I like to say that if it's made of gold, platinum and gemstones, I can figure out how to make it."
Most of her clients come through word-of-mouth, which is a critical factor in her line of work. Just consider the cost of an engagement ring. "When you're buying something that's the price of a car, trust is important," she underscores.
Christine describes her style as classic, often with an antique or organic twist. She loves the unique, quirky and imperfect and is drawn to gem dealers who "can look at a stone and try to see what it's talking about." One of her favorite professional moments was when a man came to her with a treasure trove of stones and asked if she'd like to take a look. "He said, 'My father was a jeweler' and I uncovered this box and the box had some really beautiful stuff in it. They were a great fit, antique-cut and irregular, which is what I love. I bought a lot of moonstones from Afghanistan from the early 20th century."
A key component of the Christine Guibara jewelry experience is visiting her studio for design appointments. Not a Neverland, Christine's atelier is an Alwaysland, where dreams are transformed into reality by her skillful hands. Plus, there's a bonus perk: getting a peek at the work of her talented neighbor, who just happens to be her dad, renowned bronze sculptor Albert Guibara. "My studio is a fun place to meet because it shares a lot of my history," she reflects.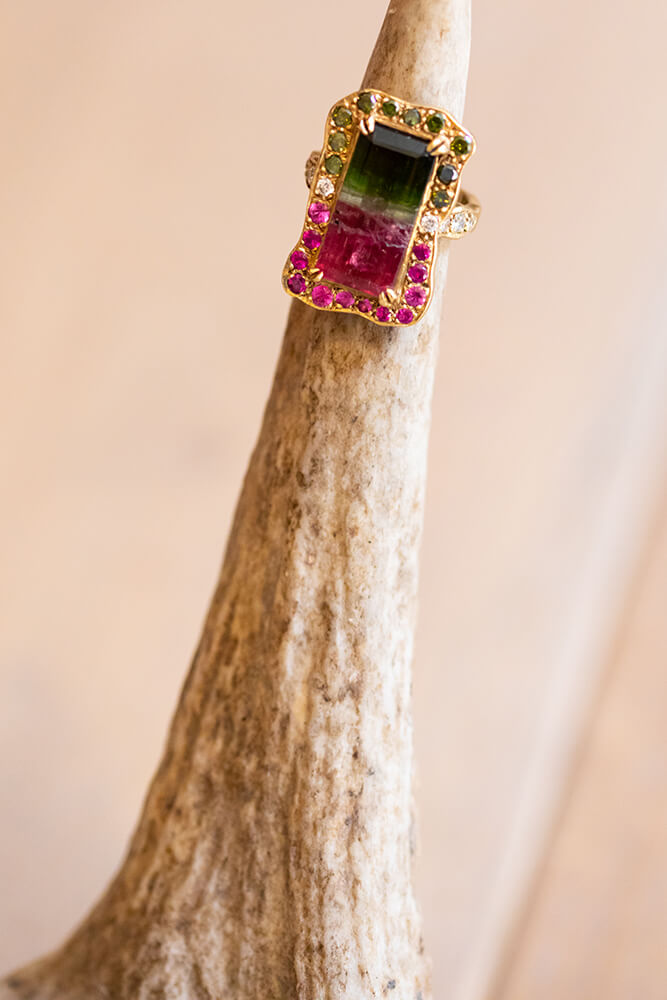 Christine grew up painting and playing where she now has her studio alongside her father's sculpture garden and showroom. "We collaborate in funny ways," she explains. "I don't know if we'll ever design a piece together but sharing a studio space means that we can connect and bounce ideas off of one another and give one another feedback. That's been really great for both of us. When his sculptures get small he asks my opinion and when my jewelry starts to get big, I ask him more questions." She adds, "I think of my pieces as mini-sculptures."
Christine's artistic pedigree also extends to her mother, a former interior designer. "I have really good memories of going into San Francisco and doing the treasure hunt of going through fabrics. I learned a lot about color and texture by tagging along," she recalls. "It's always been nice to have both of my parents in a creative industry—it opened the door to me that it was possible; it gave me that confidence. And I was always around people who respected the arts and made their living from the arts and that was so inspirational."
Initially interested in fashion as a career, Christine changed her mind to focus on jewelry not only because it was more collaborative but because of its sustainability. "Fashion has come a long way, but when I was starting out, there was so much waste," she recalls. "I couldn't see myself doing that, whereas jewelry was sustainable. No one throws precious metals and gems away."
Most of Christine's favorite gem vendors are Bay Area-based, with some in LA. "California is a special place where people in the industry think about where the stones are coming from. I've always been drawn to that, thinking about how they are being mined," she says. "Many local dealers are trying to get involved with source countries and working on industry-wide standards of sustainability."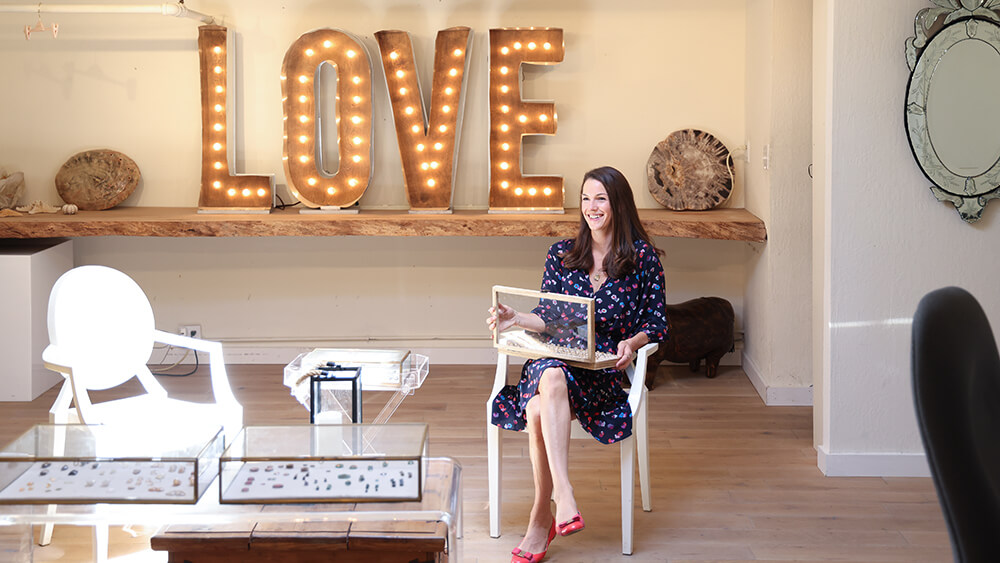 A true Peninsula native, Christine was born at Mills Hospital in San Mateo and grew up in Hillsborough. She graduated from Menlo School and then UCLA, earning her bachelor's degree in business economics. She also received graduate degrees from both the Fashion Institute of Design and Merchandising in Los Angeles and the Revere Academy of Jewelry Arts in San Francisco.
Christine credits her business degree for making her acutely aware of her balance sheet, overhead and expenses. "It really transformed my business into a sustainable career. So many artists and creators have a tough time making their art a sole income," she observes. "I focused on how to make this my way of life and breathe this for decades to come and have a career from it."
Living on the Peninsula with her husband and three children, Christine weaves her family life into her professional passion. Her children, aka her "mini-assistants," are well-versed in diamond lingo, not to mention which vendors have the best candy.
In addition to her custom creations, Christine also has a studio collection, which she plans to expand over the next year. "My strength as a designer is my flexibility to try new things," she reflects. "I have a deep sense of design in jewelry throughout history and also what's current. My passion leads me to look at new ideas and all the possible ways to do things."
Custom Creations