Words by Johanna Harlow
For holiday hunters seeking the glow of the season, the hundreds of thousands of LEDs of an amped-up Christmas light neighborhood summon like a homing beacon. Among the Peninsula's most brilliant displays is Dewey Street, an unassuming Redwood City block that transforms with fairy godmother-like magic into twinkling Candy Cane Lane every December.
It started in the early 1950s with a handful of decked-out households. Today, the entire street dazzles with a congregation of snowmen, santas, reindeer and other colorful Christmas characters rallying en masse across lawns and rooftops. "We're crazier than most people with Christmas decorations," concedes resident Derek Wolfgram. "But I still feel like we're several levels below people who do the Great Christmas Light Fight TV show. Those are the people who basically spend year-round preparing their houses for Christmas!"
Regardless, Candy Cane Lane doesn't skimp on revelry. Derek and his neighbors hold their own against spirited contenders like Christmas Tree Lane on Palo Alto's Fulton Street and Eucalyptus Street in San Carlos.
"I always really liked decorating for the holidays at our previous house, but realized that I needed to step up my game a little bit here," states the Redwood City Public Library Director by day, Christmas light wizard by night. Derek moved to Candy Cane Lane/Dewey Street with his wife back in 2016. "It was actually in the real estate disclosures because of the traffic impact," chuckles Derek. "For me, it was a selling point."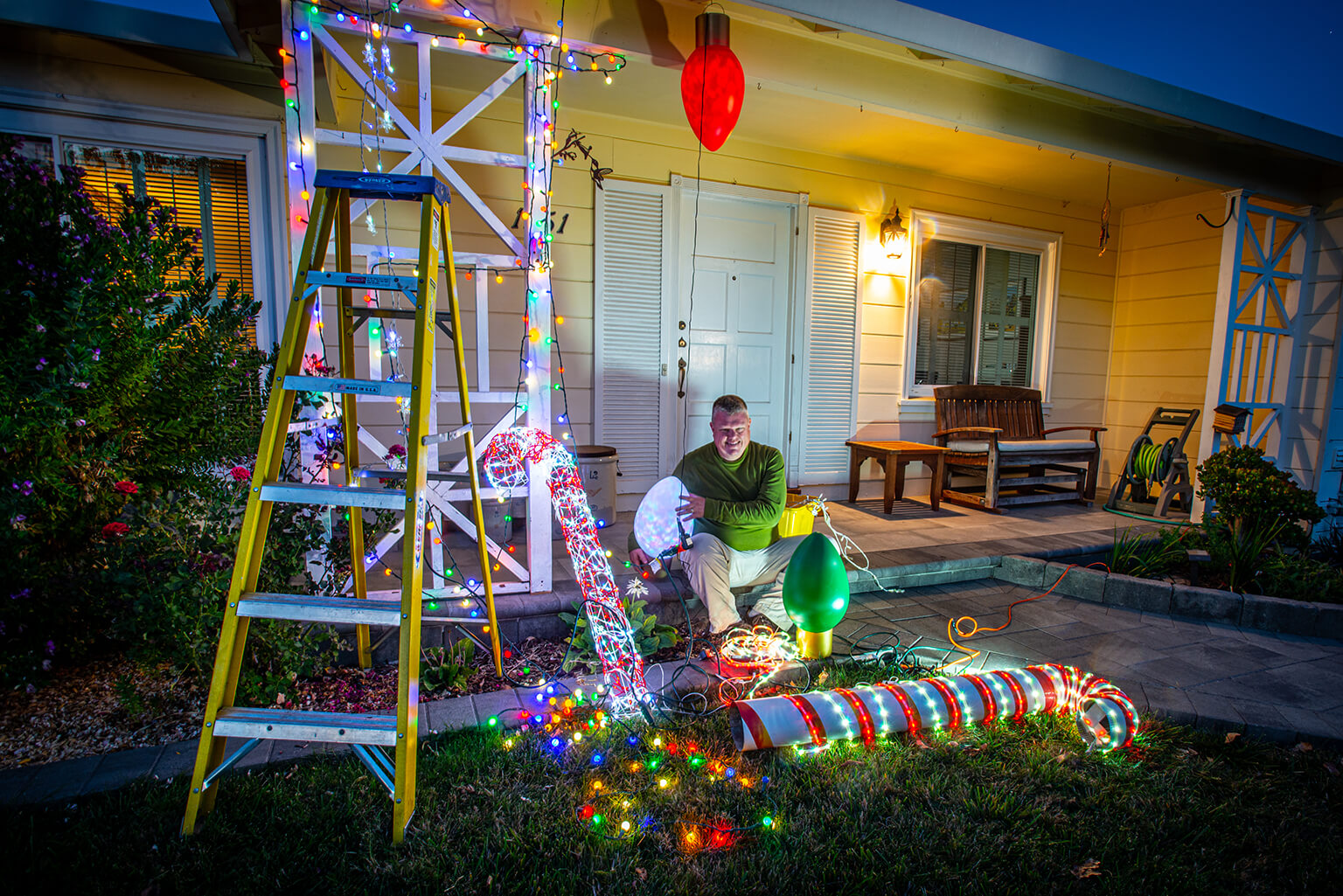 Photos: Gino de Grandis, Derek Wolfgram, Bob Harrington and Philip Liu
Leading up to Derek's first Christmas on the block, one of his new neighbors invited him over to create the sweet signature decoration that marks every Dewey Street home. "They had all of the supplies so I could build my own stovepipe candy cane," he recalls. "I used duct tape to put the red stripe on mine."
Another unifying thread throughout the neighborhood are the banners over garage doors, wishing visitors a Merry Christmas in different languages. "We have Finnish because my wife's grandmother was Finnish," Derek notes.
These harmonizing elements are part of the charm of Christmas light neighborhoods. Over at Palo Alto's Christmas Tree Lane, everyone agrees to post six-foot noble firs in their front yards, transforming Fulton Street into a magical forest. The City assists with changing the bulbs of the street lights to red. According to resident Bob Harrington, "One tradition is that when a house is sold, those decorations are passed from the selling homeowner to the new buyer."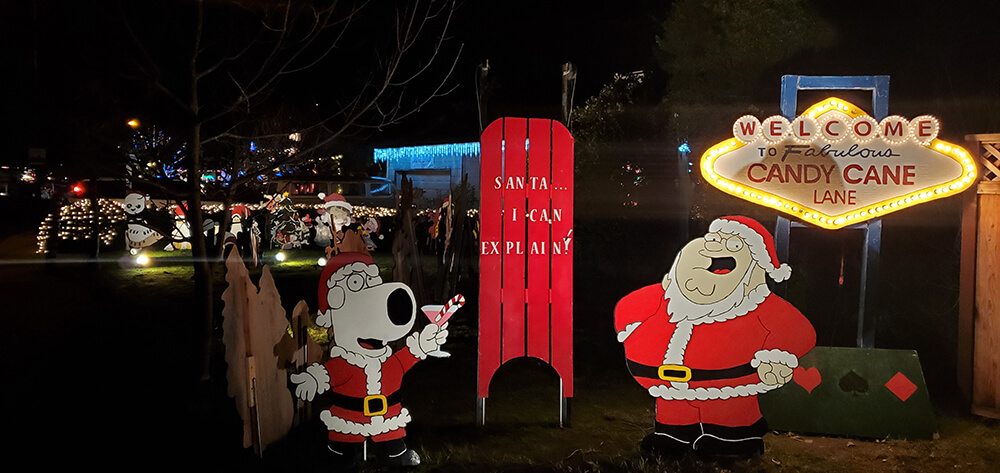 Creating a Scene
Back in Redwood City, Derek shares a behind-the-scenes perspective on his elaborate setup process. "It's a lot of work and it's a lot of fun," he says, remarking that while his wife offers support, "It's sort of my baby." String lights are wound around windows, woven across the roof and framed around the home's borders. Cutouts and blowups are staged. Candy cane stakes planted. "I've got dozens of things to plug in," Derek remarks.
"Mapping out the network of extension cords that run all around the yard to get everything connected is always challenging. And then every time I add something, that puts a new twist on it." Derek estimates it takes about 30 hours to set everything up.
A six-foot blowup of Snoopy holds a special place in Derek's heart. "It's the Christmas decoration I've had the longest," he explains. "I think it's the only thing that carried over from our previous house." These days, Snoopy has plenty of friends to keep him company. Nearby, Schroeder pounds on his piano while Lucy leans against the lid. "There's about eight of them that I've seen online," Derek says of the Peanuts characters. "They kind of went deep—there's even Marcie and Peppermint Patty–but they are a little pricey, so I add them slowly."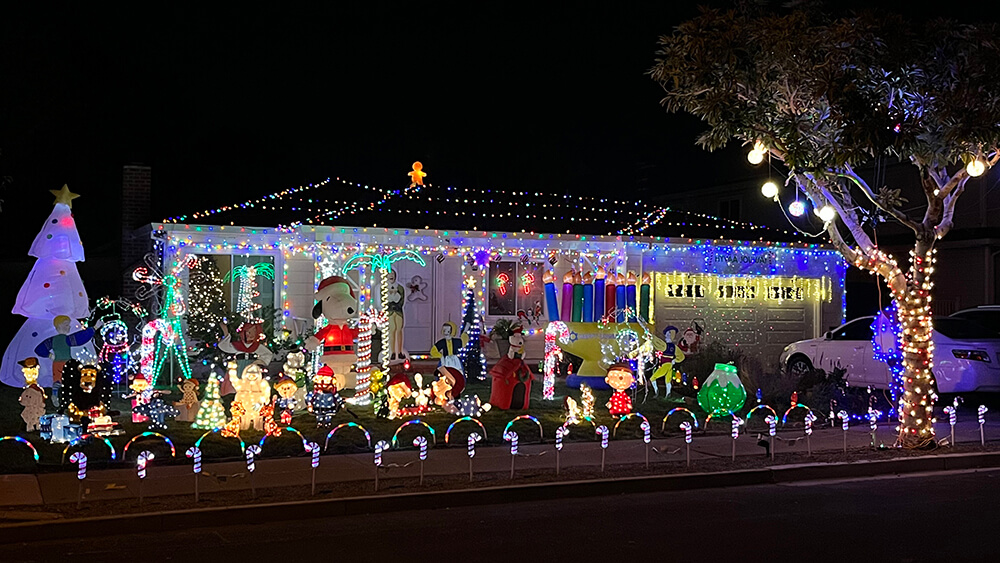 But Derek didn't stop with the Charles Schulz universe. "I have a pretty comprehensive collection of all of the characters from the Rudolph the Red-Nosed Reindeer special," he continues. "There's a company that keeps making more and more obscure misfit toys every year. Last year, I added the cowboy riding an ostrich. I've also got King Moonracer, who is a lion, the Charlie-in-the-Box and the train with square wheels." For the younger kids, he's included Buddy the Elf.
Always evolving his artform, Derek says his holiday setup is far from finished. "There's several websites that I look over every year to see if they've added anything new," he grins. Just consider his spinning candy cane windmill. It's from a site called Christmas Done Bright, although Derek calls the piece "modest" compared to some of the other animated light displays the company sells. "It's for people who really want to take it over the top and have decorations that cost thousands of dollars," he explains. "If you've ever driven through Vasona Lake Park in Los Gatos at Christmas time, it's those commercial-style, giant lighted things. You can buy them yourself!"
Over in Bob's neck of the woods, standout Palo Alto homes include a star atop a lofty redwood tree, a book-themed yard with a sleigh photo op (created by the founder of Bring Me a Book Foundation) and elaborate cutouts ranging from snowboarders on the slopes to Santa and his reindeer having a pool party. Christmas Tree Lane also features a yard with dancing children from around the world, channeling "It's a Small World" spirit. Bob notes that this is fitting, considering the crowd the event draws. "I think I heard at least four or five different languages as I was just walking along," he says of the previous year.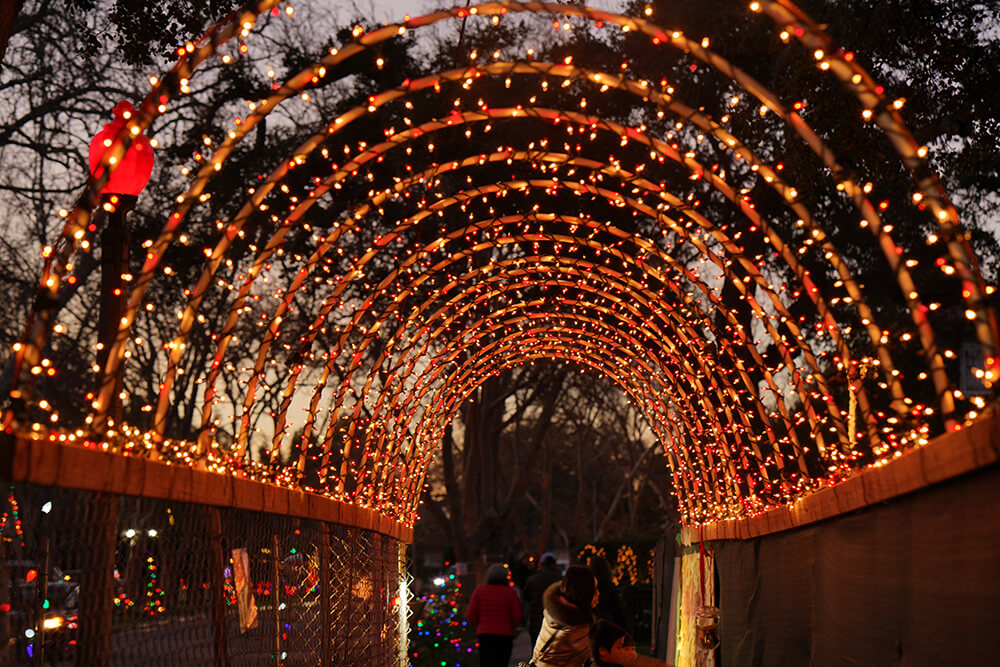 Naughty and Nice
Let it be known that Christmas decorations aren't all fun and games. Challenges arise and even a gusty storm can wreak havoc. Derek recalls the year his Candy Land-themed neighbors got hit: "They have a lot of big inflatable candies that sit in the front yard. There was one year we had really severe wind and their candies were distributed all across the neighborhood."
Then, of course, there's the electricity bill. Though LEDs have thankfully lowered costs, blowups aren't so cheap. "I would say that our electrical bill probably quadruples for the month," Derek confesses, unabashed.
But the anticipation and excitement of the season is… well, electric. "It's spreading joy," Derek remarks. "I love hearing kids laughing and people reminiscing about either the decorations or their experiences in the past. I'll talk to people who haven't been to Candy Cane Lane since the '80s, and they're so excited that it's still here."
"For me, there's an element of nostalgia to it for sure," continues Derek, who grew up with traditional winters in the Midwest. "The juxtaposition of all the brightly colored lights and the snow—there's something super magical about that. But even in the Bay Area where we don't typically have that kind of weather, I think it's unexpected and pretty. People have this very visceral, happy reaction to something that's pure fun."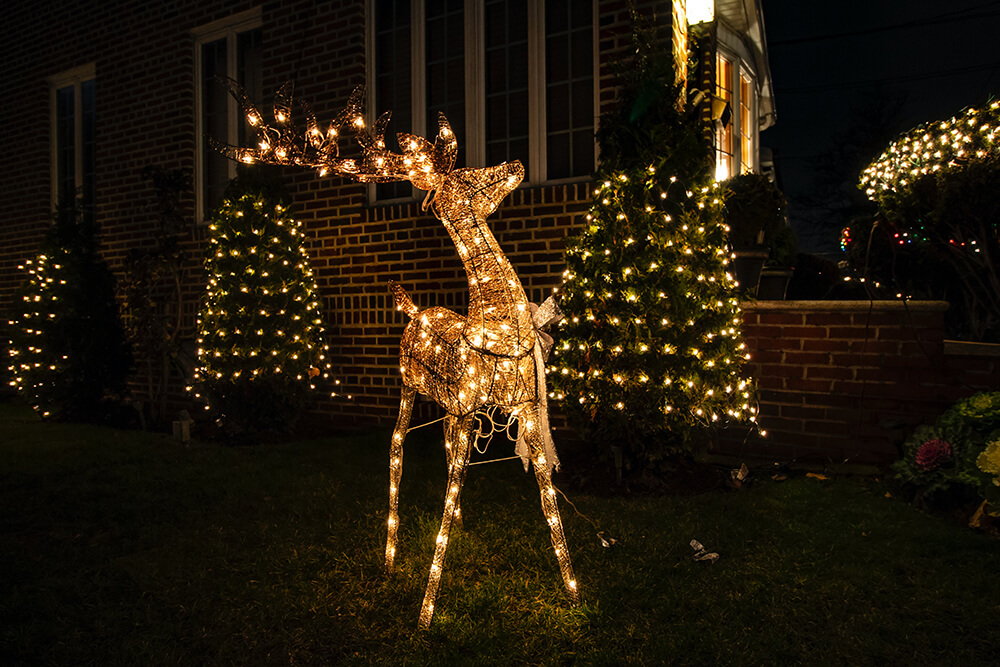 Beyond just pretty lights, performances also make the season bright. For the past 45 years, dancers from Redwood City's Studio S Broadway twist and twirl along the road (this year, on December 9). A saxophone ensemble from the Peninsula Wind Symphony has also performed in recent years (watch them on December 20 & 22). "They've actually played in my driveway," Derek says of the musicians. "A friend of mine offered, she has this group that she's part of and she asked, 'Can we come do a show?'" What's more, Derek's librarian friends come for story time, reading crowd-favorites like Merry Christmas, Big Hungry Bear.
At the heart of it though is the fellowship these festivities garner. "We're doing it in the name of spreading happiness. Everybody gets out and walks up and down the street and gets a chance to catch up," Derek summarizes. "I've never lived on a block that felt as close-knit a community as what we have here."