words by Silas Valentino
Christopher Childers pauses on his backyard patio to take a well-deserved break. WooShi, one of his two rescue dogs, sits at his side as the nearby eucalyptus grove shelters them from the afternoon sun and ocean breeze.
This year has been unusual for the dancer and choreographer because he's had to actually abstain from activities—a function of both 2020 and recovering from knee surgery.
When tracing his career, an escalating routine is revealed; Christopher soared alongside pop music luminaries as their backup dancer, earned the lead in the largest contemporary circus in the world and is fresh from releasing his debut film.
However, the Foster City native and current Half Moon Bay resident is allowing himself a respite today as he rests his right knee following a torn meniscus. He's five weeks into an eight-week recovery and can admit he's feeling rather antsy about his sedentary status.
"I've had a little arthritis and injured my knee a few years ago, but I feel so lucky," he says, before cracking into a smile. "But, of course, I'm stupid and still pretend like I'm 25."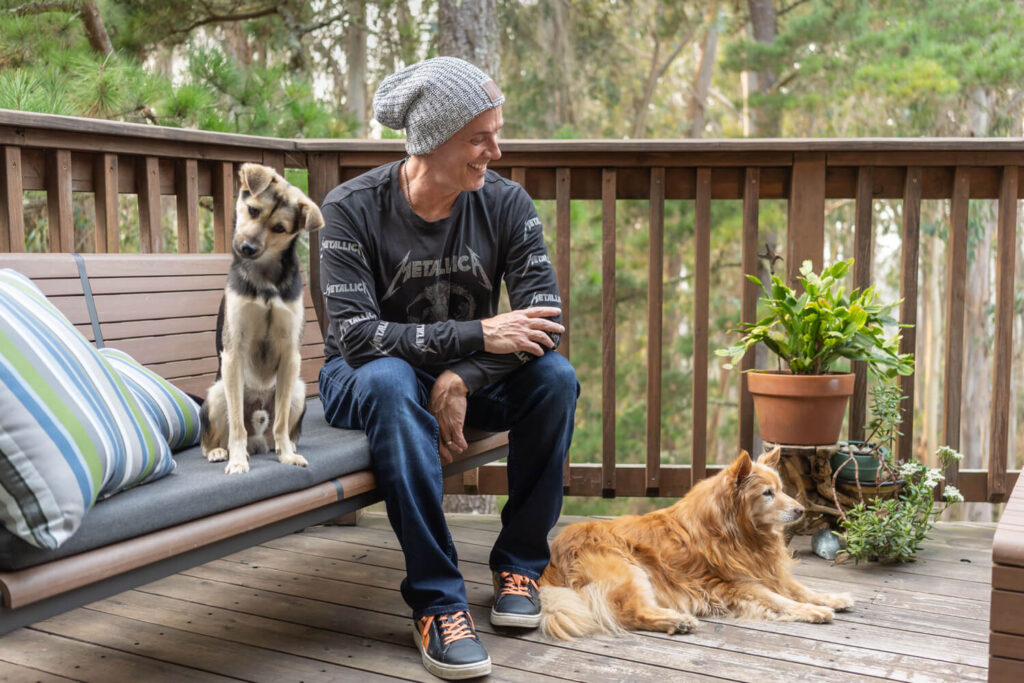 Having hung up the lavish leotard he donned as the Red Bird in Cirque du Soleil's "Mystère" show years ago, he hankers to return to leading cardio dance classes at the FIT Studio in downtown Half Moon Bay. He describes these classes as his lifeblood where he imparts passion onto fellow dancers by fusing hip-hop, country, Bollywood, Broadway and club dance choreography into a single hour.
Christopher was raised inside a dance studio, joining his mother at her dance troupe by age three, and he's reached the point in his arc where he's focused on mentoring. "I'd rather share my experiences with other people," he says. "It's all about helping each other. That's what happened with Carnival of Wonders."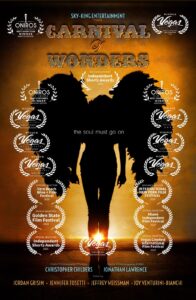 Released earlier this year, Carnival of Wonders is Christopher's first foray into moviemaking. He's appeared on screen as a dancer in several Hollywood features including Mel Brooks's Robin Hood: Men in Tights and Showgirls, and he choreographed movement for 2002's Spider-Man, but Carnival of Wonders is a new venture into creating and choreographing a film.
The dazzling short is directed by Cristopher's longtime friend Jonathan Lawrence and follows a young and wayward dancer who finds herself in a purgatorial town of lost souls who've betrayed their dreams by refusing to pursue them. Elaborate dance sequences were shot locally at the Long Branch Saloon & Farms with a scene at Seal Cove Cypress Tree Tunnel in Moss Beach. The film is a celebration of dance and movement while further serving as motivation for any viewer to pursue their innermost ambition.
"When teaching my classes, I mostly have women of an older age and a common theme I heard was that 'I always wanted to do this.' Some of them have stories like, 'I was going to be a dancer but my parents said there was no career in it.' I thought about why there are so many people who did not pursue their dreams," Christopher explains of the film's genesis.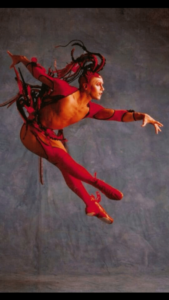 His own dreams of dancing were hatched not long after Christopher learned how to walk. Growing up in Foster City as the youngest of five children, he was closely nurtured by his family.
"My mom was 44 when she had me and said because it was later in life and my siblings were older, I was their super love baby," Christopher shares. "Everyone's attention went into this new surprise in life. I've always felt that love. My older brother is still protective and I tell him, 'You know I'm over 50 now, right?!'"
Christopher's mother, Sabina, was a dancer during World War II for the USO where she met his father Sherman, who was a pilot for the Air Force. Sabina taught dance inside the Wells Fargo bank lobby in Foster City during the late 1960s and later established the Foster City Dance Theater School with Christopher's sister Suzanne in 1983. Christopher is naturally flexible and although his mom was strict in class, the payoff came when Christopher began professionally dancing before even becoming a legal adult.
He left home at 17 to work for Disneyland in their "Show Biz Is" production, performing on the stage underneath Space Mountain. He later took a job dancing in Lake Tahoe, where he was spotted by a young, up-and-coming choreographer from Los Angeles.
Paula Abdul was shooting a video in town and after noticing Christopher, told him that she had never seen a guy kick his legs like he can. She was choreographing for the Tracey Ullman Show and encouraged him to come to Los Angeles.
"I was so excited. I was one of those dancers who couldn't wait to show off. I was in the train of thought of wanting to take every audition and every job," he says. "My first job was for a benefit and it was free. I never said no to a job. A month later, I was shooting with Tracey Ullman."
After seeing Madonna on her Blond Ambition World Tour 90, Christopher hatched a new goal and would go on to dance for the megastar, later backing the likes of Michael Jackson and Whitney Houston on stage. For 1989's Batman, Christopher danced in the music video helmed by Prince.
"He was the first famous person I met who took the time to remember every single dancer by their first name," Christopher says of the Purple One. "The fact he knew our names by day two blew my mind! And he also carried around a clear trash bag for all of his high heels."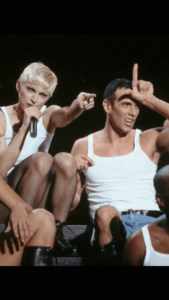 Leaving Los Angeles for Las Vegas, Christopher began choreographing and coordinating for shows such as "Le Rêve – The Dream" at the Wynn Hotel. On a whim, he sent an audition tape to Cirque du Soleil and nine months later, he received a call back for the Red Bird role in the "Mystère" show.
He also coached choreography for other Cirque shows such as "O" and during one afternoon in 2004, while vacationing at a hotel in Palm Springs with other cast members, Christopher looked across the pool and locked eyes with a man named David.
"We talked in the pool and decided to meet later," Christopher says, "and that was it." Coincidentally, both were living in Las Vegas at the time, not too far from one another. After getting married, the couple took a year-long, cross-country road trip in an RV to scout where they'd like to live.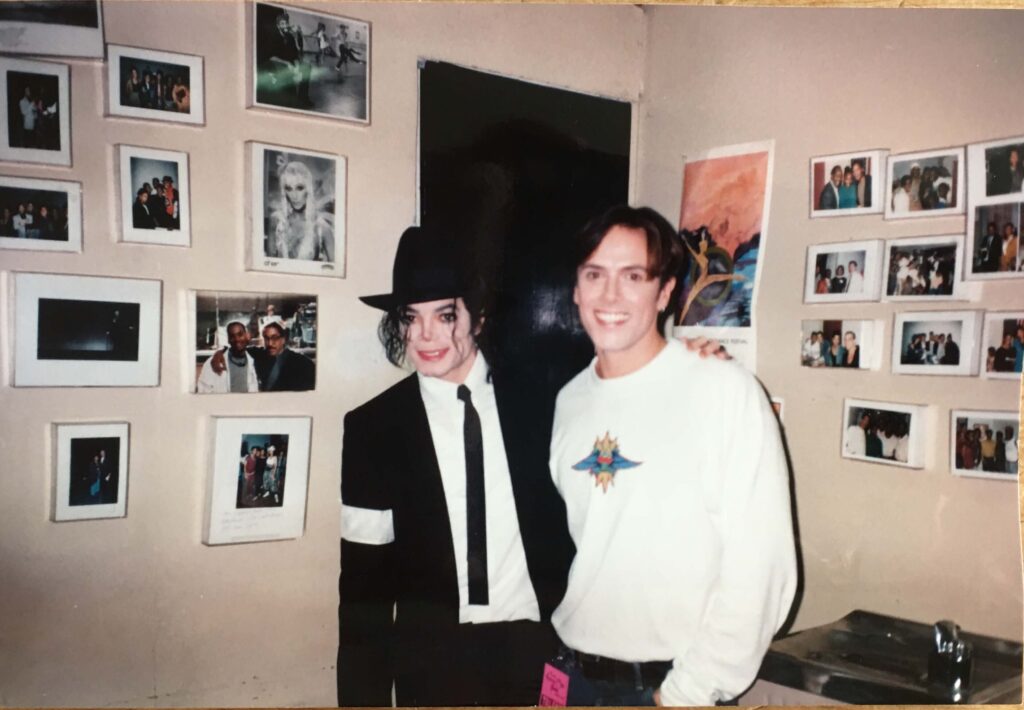 After a flirtation with Miami, they landed on the Peninsula, which brought Christopher home for good. Their house is perched on the mountainside above Half Moon Bay and reflects their mutual admiration for Eastern spirituality and Christopher's lifelong cultural passions: Star Wars and Marvel and DC Comics. An original print of the grandiose superhero artwork In the Light of Justice by Alex Ross is signed by the artist and hangs above the couple's headboard.
The recent downtime indoors is an opportunity for Christopher to continue expanding the reach of Carnival of Wonders as he applies to film festivals worldwide. The film is appearing at festivals across the globe including Cannes International Independent, Tokyo Lift-Off and LA Shorts Fest and has already nabbed multiple awards including best costume, story and producer from the Oniros Film Awards.
The film's acclaim continues to humble its creator but the success should come as no surprise; after all, the film's tagline reminds us that "the soul must go on," a credo that Christopher never forgets.