Words by Katie Shiver
For Chris Kummerer and Emilie Blase of Menlo Park's residential design firm, CKA Architects, careers in design were clear from the start.
Chris' love of skateboarding sparked his journey into both the design and administrative elements of architecture. In high school, he designed and proposed a public skate ramp, which was funded by the Saratoga City Council. Navigating the politics, build and eventual destruction of the ramp due to noise—ironic because Highway 85 opened in the area shortly after—was a lesson that has served him well into today, giving him poise and making the public hearings that are involved in some architectural projects a familiar environment.
Coming from a Chicago family of mechanical and electrical engineers, Emilie knew from a young age that she didn't want to join them on that path. Instinctively drawn to design, she grew up "making floor plans out of Legos." Admiring Emilie's early recognition of a creative calling, Chris refers to her as "one of the few people that did what they wanted to do."
The couple met at the University of Oregon (architecture degree for Chris and interior architecture for Emilie) then moved together to the Peninsula.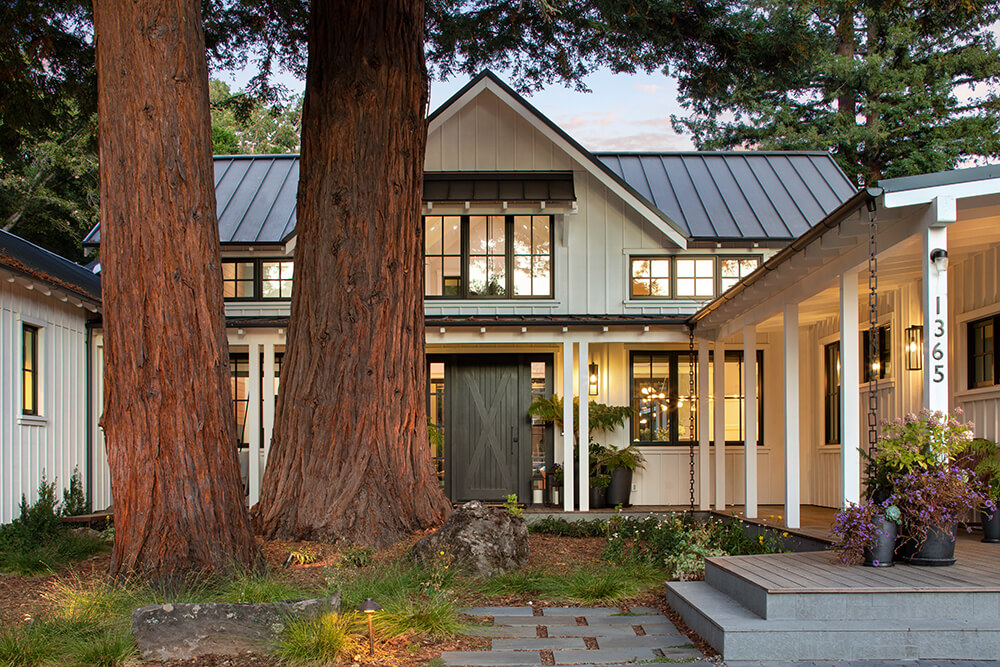 Two majestic redwoods in the front yard were a defining feature of this Menlo Park house and also its biggest challenge. The basement and first floor were kept far enough away to protect the trees. CKA's design allowed for optimal tree viewing from various points in the house, including through the windows of this dramatic two-story entry.
After college, Emilie took a job in lighting design, then joined an architecture firm. Chris initially worked as a framer in construction, which gave him an appreciation for the complexities of building. "It's 'easy' to design something," he says, "but to turn the ideas into reality requires a respect for the construction process." It's a concept Chris has embraced throughout his career. "Be creative with your design but make it buildable at the same time," he summarizes.
A back injury put a damper on Chris' body-intensive construction work, so he started designing small projects like bathroom remodels for family friends. In 2001, at age 27, he started his own firm, CKA Architects. Entrepreneurial and eager to build his business, Chris auctioned off hours of work for the school his mother taught at in Saratoga, which turned into a larger project and then referrals for more projects.
In 2005, when CKA grew to the point where Chris needed help, he joined forces with Emilie, working out of their home for several years until getting an office in 2010. Based in Menlo Park ever since, they walk past many of their projects on a regular basis. In what Chris describes as a natural progression, CKA tackles everything from remodels to complete tear-downs and new construction.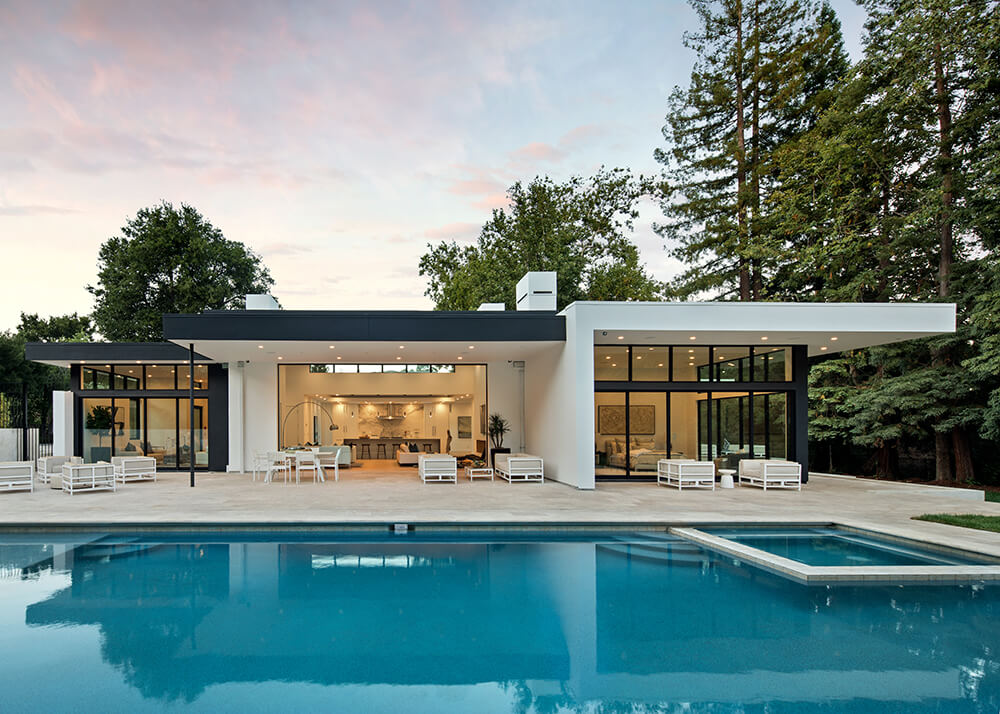 The goal in this new construction: delivering the optimal West Coast indoor/outdoor living experience. Located just blocks from urban downtown Saratoga, the result is a private oasis overlooking a creek.
How does a married couple also maintain a successful business partnership? They utilize their long history of solving design problems to reference what works and what doesn't. Emilie cautions that designers can be myopic, but the husband-and-wife team pull each other "into a more unified design that becomes a better whole." The boutique firm specializes in serving the local community—collaborating closely through each project's life cycle—from concept design to permit coordination to construction.
Instead of prioritizing a particular style, CKA's philosophy is to do the absolute best they can with each client's vision. "At the end of the day," Chris says, "it's their house." In line with this philosophy, Emilie taps into her expertise in historic preservation and her passion for "keeping the history and being true to what you have." For a project in Palo Alto, CKA used antique stair banisters as the foundation for a kitchen island. Intricate ironwork delivered the desired effect for an artist homeowner in Menlo Park.
In the case of a recent Menlo Park project, CKA worked with an overseas couple moving here to live closer to their children and grandchildren. The challenge: design a two-story house that works for different generations. "Thinking about if a caretaker were to help, where would they be?," explains Emilie. "And when the grandkids come, where do they go?" Solutions included primary suites on both floors, ramps instead of stairs anticipating any mobility issues and a pool to keep the grandkids entertained. "We've heard the pool is a big success," smiles Emilie, recalling a recent conversation with these clients-turned-friends.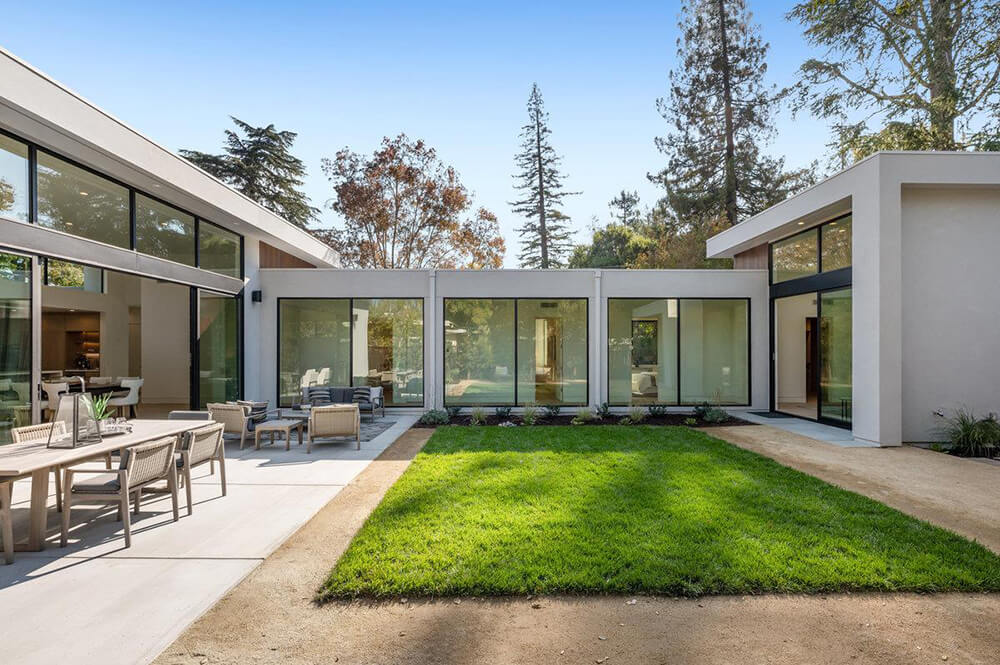 A deliberate design feature, the central courtyard creates an organic connection throughout this Menlo Park home. Not only does it pull focus away from a busy side street, it also adds an intimate outdoor living space.
They take this hands-on collaborative approach with all of their projects. "When you come out of architecture school, you want to draw and you think it's all about you," Chris says as they both laugh, "then you learn quickly that it shouldn't be." Instead of sending design sketches to clients for feedback, Chris and Emilie sit with each client and sketch during live, working sessions. Staying "involved from the beginning all the way to the end" is a priority, says Chris. "And making sure that what we drew and what we talked about actually happens."
When it comes to remodels, Emilie says you have to be ready for the unexpected. "You don't know what's behind the paint sometimes," she points out. "You have to think on your feet during construction." Chris credits his hands-on experience with helping streamline the process—he closely collaborates with builders instead of mandating what needs to be done. "Clients can get on with their lives," he says, "and they don't have to micromanage the construction project."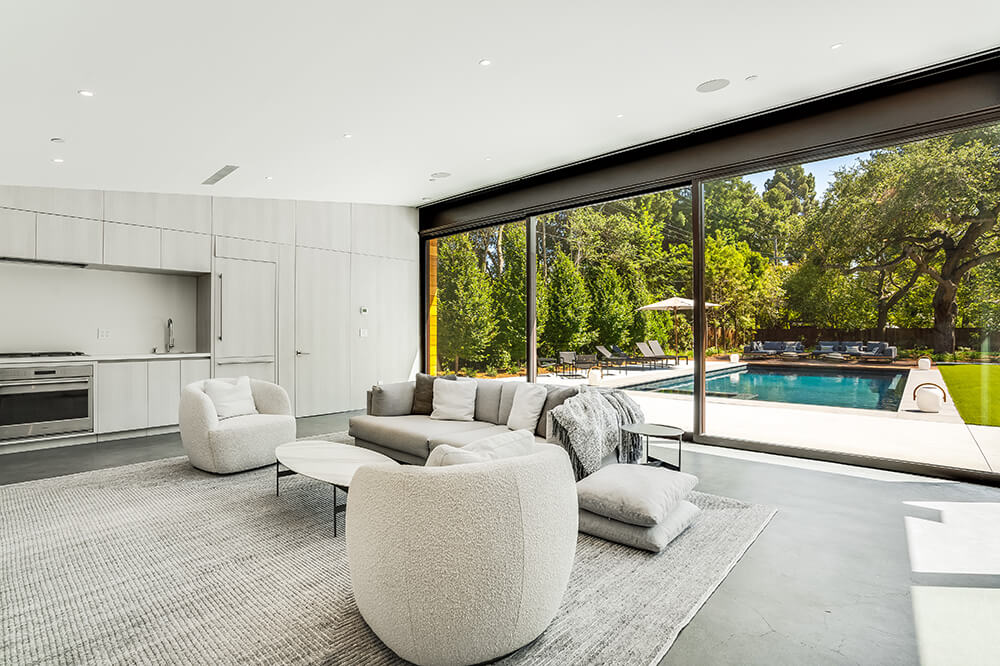 Featuring clean contemporary lines, this Atherton ADU (accessory dwelling unit) is an independent structure that doubles as a pool house and a guest house. ADU design and construction is on the rise and gives clients compact yet flexible space. CKA designed the ADU, pool and patio to seamlessly integrate with the existing home and gardens.
With remote work becoming the norm, CKA is seeing an increasing emphasis on thoughtful home office design, along with homeowners seeking spaces that offer reprieve—like meditation and exercise rooms. Whatever the desired outcome, fostering a successful partnership is always the foundation for Chris and Emilie. "Our work reflects the people who make up the design team, and that includes the client," says Chris. "With collaboration, we get better ideas than any one person could think of themselves. Working together, we create a space that becomes someone's home and that has lasting value."
collaborative approach