In her San Mateo dental practice, Dr. Chrystle Cu heard every possible explanation. Time and time again, before patients flashed their teeth for exams, they opened their mouths to make excuses: "I know I should be flossing more, but…" 
Fill in the blank: "I ran out of floss," "I went on a trip and forgot to bring it," "I'm too tired at night."
Whatever the reason, the result was the same. Even as she counseled that toothbrushes alone can't reach 35% of the teeth's surfaces, Chrystle found herself filling cavities that could have been prevented—with regular flossing. No matter the tutorials, no matter the guidance, the behavior didn't seem to change. "For a culture that cares deeply about having a big, bright, white smile," Chrystle says, "it's amazing how few people actually floss daily." 
To get to the root of the problem, she began to ask questions. She discovered a genuine disdain for the dull task of flossing. And even her patients who did floss weren't getting great results. "Slippery flosses can dislodge some food particles but they don't remove the stinky, sticky plaque," observes Chrystle. "They don't really work."
That's when Chrystle had her lightbulb moment. Rather than blaming her patients, maybe the real culprit was uninspired, underperforming floss. She became obsessed with figuring out how she could design a dental floss that was both effective and more enjoyable to use.
Enter Chrystle's younger sister, Catherine "Cat" Cu. Cat had worked in investment banking after college, before joining a startup and eventually setting out on her own. Cat had always dreamed of starting her own business, and when her sister started tossing around disruptive floss ideas, she agreed to pivot into dental mode. "I've always been most excited about building a fun and positive brand, and we're doing that with Cocofloss," notes Cat. "I'm so glad that Chrystle convinced me to help her make oral care a lifestyle—not a chore."
After tireless marketing and manufacturing research, the sisters self-financed their idea and launched Cocofloss in 2015. Since then, they've grown from 2 to 15 employees. "Our floss is really scrubby, like taking a shower with a loofah; it can work in tight spaces," says Chrystle. "It's very satisfying to remove all that plaque."
The secret to their growth? "In the oral care space there really wasn't a brand that people could relate to," relays Cat. "Our mission is to help people keep their teeth for life by making oral care fun."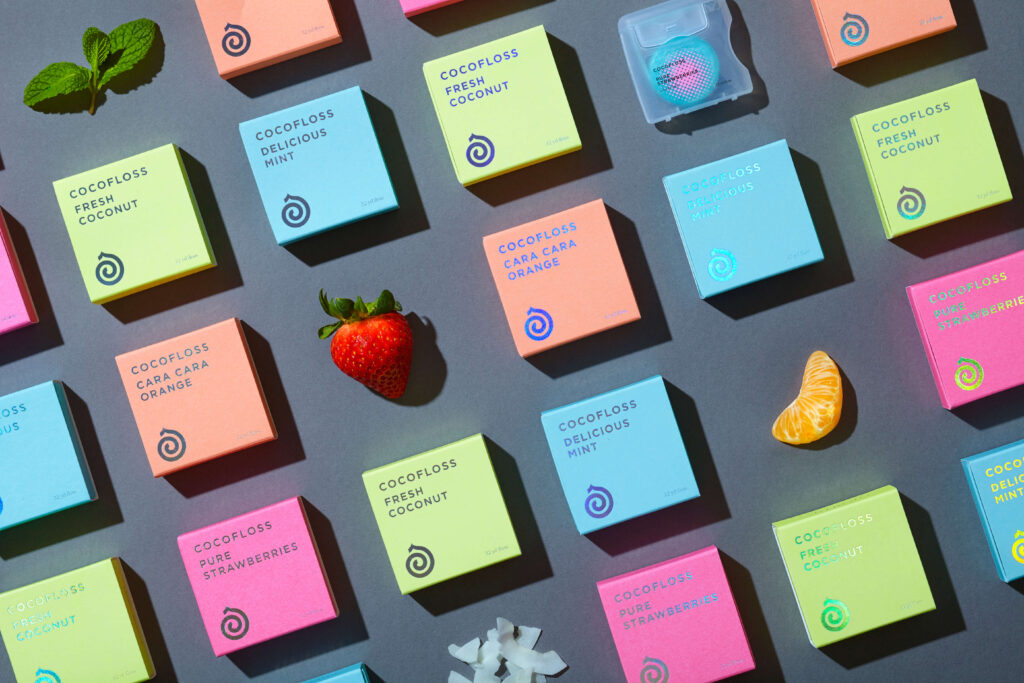 And the two have had fun in the process. The sisters' research took them to Northern Italy—not just to taste wine and eat pasta—but to find the family-owned factory where Cocofloss is manufactured. With strands made of 500+ loosely-woven polyester fibers, their product is infused with coconut oil, which puts the 'coco' in the floss. They chose the ingredient for its antimicrobial properties as well as its growing popularity with consumers.
To further incentivize regular use, Chrystle reflected on the high points of visiting the dentist. "In my dental practice, one of the most delightful moments for patients is when they choose what flavor of polishing toothpaste we use to finish their professional teeth cleaning," she says. "I have so many flavor choices that I had to create a menu for my patients to use as a reference." 
With that inspiration, the pair connected with a fragrance supplier, also Italian, to create 'flavors' (aka fragrance) that you won't find in mainstream brands. Like Fresh Coconut, Cara Cara Orange and Pure Strawberries. "Our flosses are scented with aromas that make flossing a fun, refreshing treat," says Cat. Their hottest seller? Delicious Mint. Cat and Chrystle justify the $9-10 retail price with a savvy calculation. "Your time is better used with Cocofloss," reasons Chrystle. "One roll is enough for one adult to use daily for two months."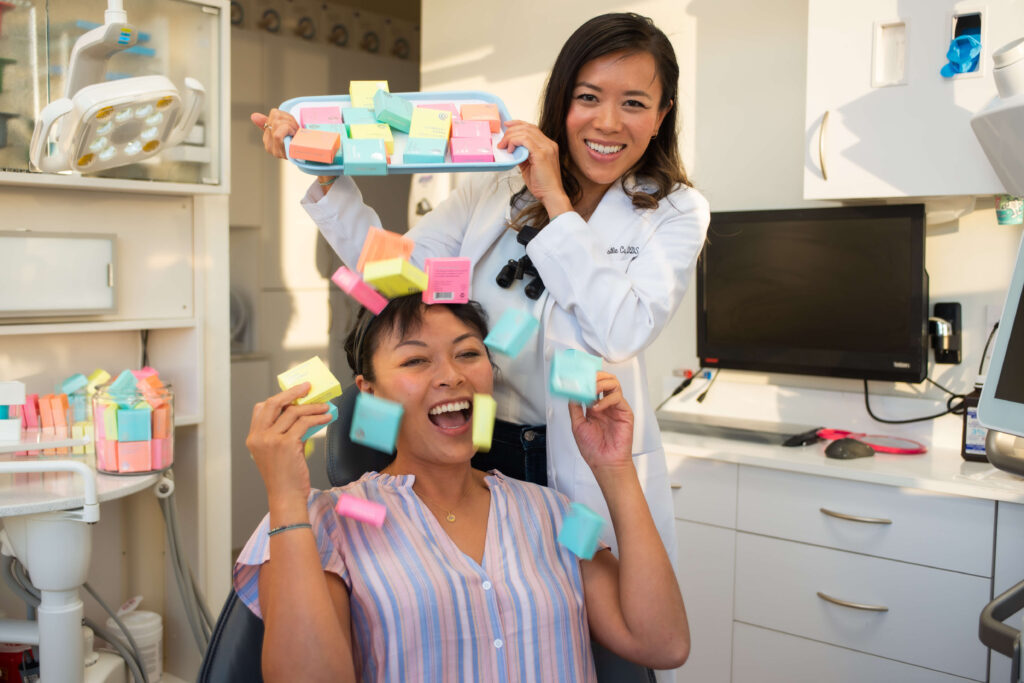 Now sold on Amazon, Sephora and through the (ahem), word-of-mouth of a growing network of dental professionals, Cocofloss is also attracting attention from the media and celebrity world. Touted by the likes of Ellen Degeneres and Gwyneth Paltrow's Goop, the eco-friendly product has been featured in publications like Vogue, Fast Company, Real Simple and Forbes. 
If a woman-owned startup with a social conscience taking aim at a traditional market sector sounds like a very Silicon Valley concept, that's because it is. The co-founders grew up in Foster City and Hillsborough, attended the Nueva School and graduated from Crystal Springs Uplands School in Hillsborough. "Growing up on the Peninsula, entrepreneurship is like second nature for us," says Cat. "It's in the water here." 
Big sister Chrystle went on to Wellesley College in Massachusetts, and Cat stayed here, graduating from Stanford University. Chrystle now lives in Burlingame with her husband and new baby, and Cat recently moved from San Francisco to Huntington Beach for a change of pace. 
The sisters already had a close relationship before they started the company and working together has only enhanced it. "We're having a blast," says Cat. "You can be open with each other in a way that you couldn't with someone else. The founder relationship is one of the hardest pieces of the puzzle and we've learned how to communicate with one another professionally. It's an evolution."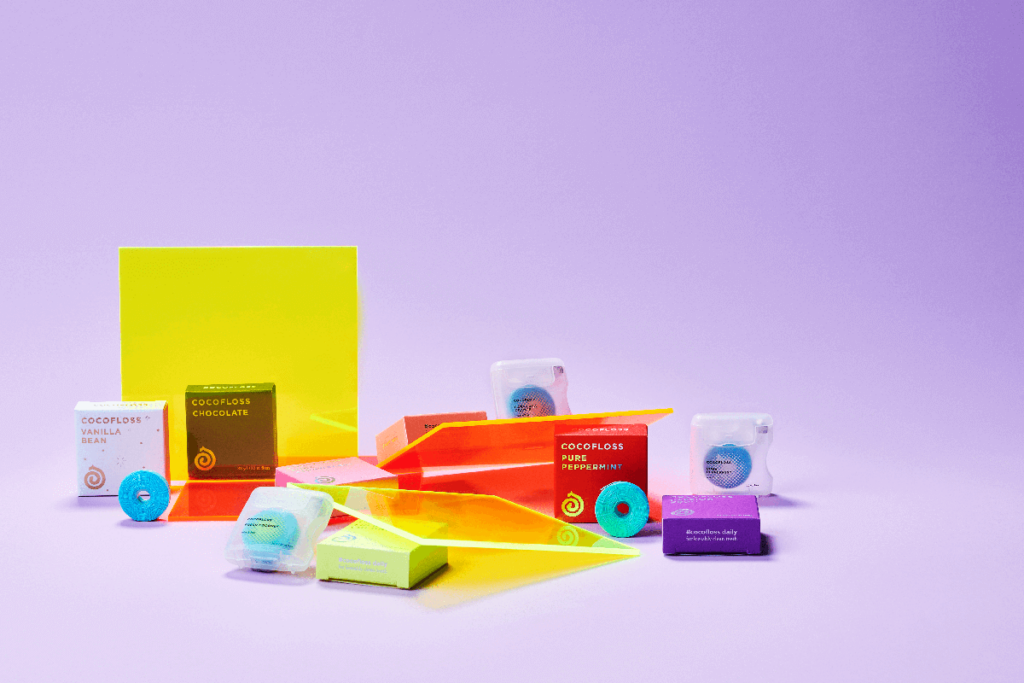 Evolving with the Cu sisters means more big plans ahead. Even as Chrystle maintains her practice with Young Dental Group, the business partners are launching the company's first toothbrush, Cocobrush, in May. "Like Cocofloss, it's super soft and ultra-cleansing, with over 6,000 scrubby filaments," says Chrystle. 
"We're committed to making Cocofloss a household name," adds Cat. "Right now we're riding a wave, and our goal is to make sure we are prepared and equipped to get there."
Dr. Cu's Pro Flossing Tips

+ The best time to floss is at night before bedtime.
Flossing additional times throughout the day is great too!

+ To start, unspool about 18 inches of your favorite floss. Take a deep breath—this is your time to relax and kindly care for your smile. Twirl the floss one to two times around your middle finger on one hand. Twirl the floss one to two times around your middle finger on the other hand.

+ Hold the floss with your pointer fingers and thumbs close together, no more than one inch apart.

+ Gently slide the floss between your teeth. Give each side of each tooth a "C"-shaped hug with the floss. Shimmy the floss up and down the sides of the teeth, scrubbing away plaque. 

+ Move to a clean new section of floss for each tooth space. (Reusing the same section of floss could spread plaque from one space to another and make the floss more likely to shred.)

+ Floss behind the back molars! Tucked all the way in the back of your mouth, that last space is easy to forget and is hard to reach with a toothbrush.