Words by Kate Lucky
Nobody likes a snob: not when it comes to cars, clothes or wine, and not when it comes to coffee either. The partners behind the Coffee Lab are determined not to create more of them.
"You make your coffee the way you like, and we're here to show you how to brew it," says Matt Baker as we sit in the lab's sunny space in downtown Menlo Park, gleaming with the metal and glass of scientific instruments and state-of-the-art brewing apparatus. You can forgo a fancy espresso machine. You can even pour in some of that chemical French vanilla creamer. Matt won't judge. The Coffee Lab, which offers classes and tastings for corporate groups and individuals alike, is meant to be fun, not fastidious, innovative, not intimidating.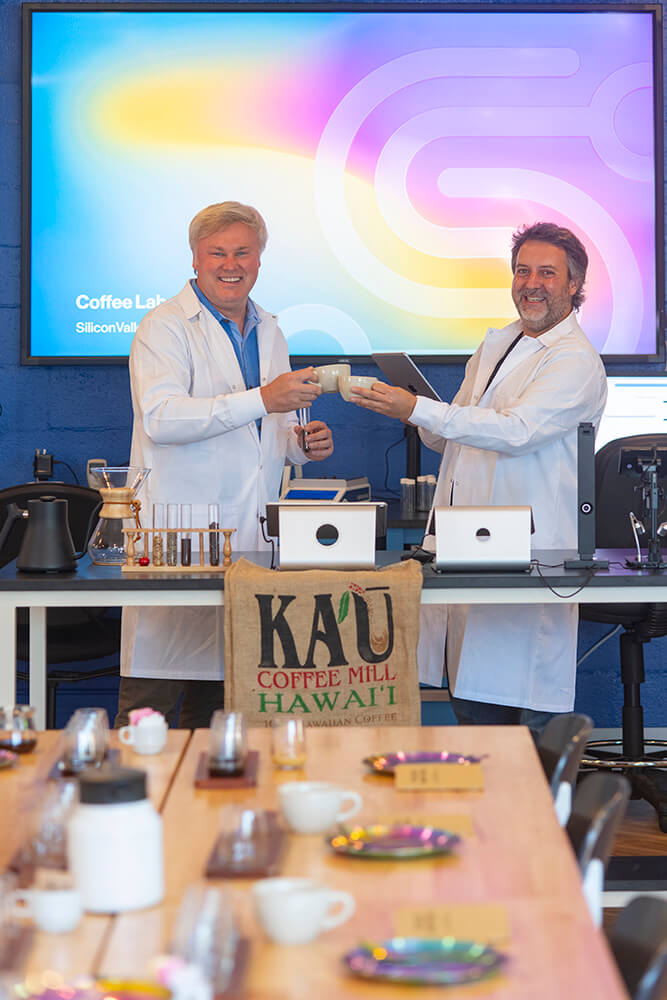 And though the classes teach the science behind each cup—offering lessons on water and oxygen, projecting coffee concentration charts and demonstrating some of the most sophisticated makers on the market—Matt and his partner, Vance Bjorn, understand that coffee isn't, first and foremost, a chemistry experiment. It's a beloved ritual. "A lot of people wake up to the smell of coffee," says Matt, who grew up in an Italian family with a moka pot always on the stove. "It's nostalgia for me."
That said, the chemistry is very cool. Vance gives me an introduction to some of the lab's equipment. A water sensor measures the moisture content in "green" beans, coffee that hasn't yet been roasted. An electronic nose tracks how coffee's aroma changes as those beans age. And a total dissolved solids meter measures what percentage of a cup is coffee versus water, plotting values on a graph to see if the brew falls within standards set by boards like the National Coffee Association.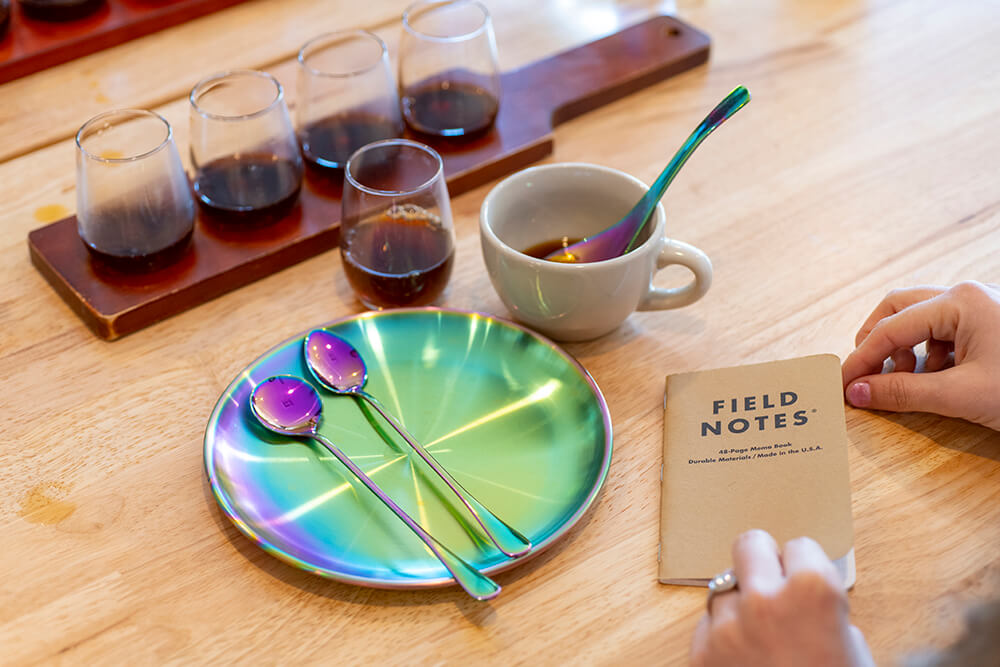 The Coffee Lab's curriculum doesn't focus exclusively on the finished cup. Moving around the space in white lab coats, participants learn how coffee is grown and harvested. They examine leafy coffee plants from Hawaii, watch a video of crimson coffee "cherries" being shaken from branches and sniff green beans that arrived through the Port of Oakland (or via Matt and Vance's suitcases after a trip to the Big Island). They learn the difference between coffees from Sumatra, Ethiopia and Colombia, and how respective growing conditions impact the final product.
Matt and Vance also roast beans during class and demonstrate nifty brewing technology. Espresso machines with thermal blocks go from hot to cold in five seconds. The Ratio, an hourglass-shaped contraption, artfully automates the pourover process. Then there's the xBloom, a just-released product from former Apple engineers that scans a QR code on a compostable pod to get the profile of the coffee beans inside. It adjusts the grind size, water temperature and other factors accordingly. "All the techniques we teach by hand, this can do automatically," marvels Matt.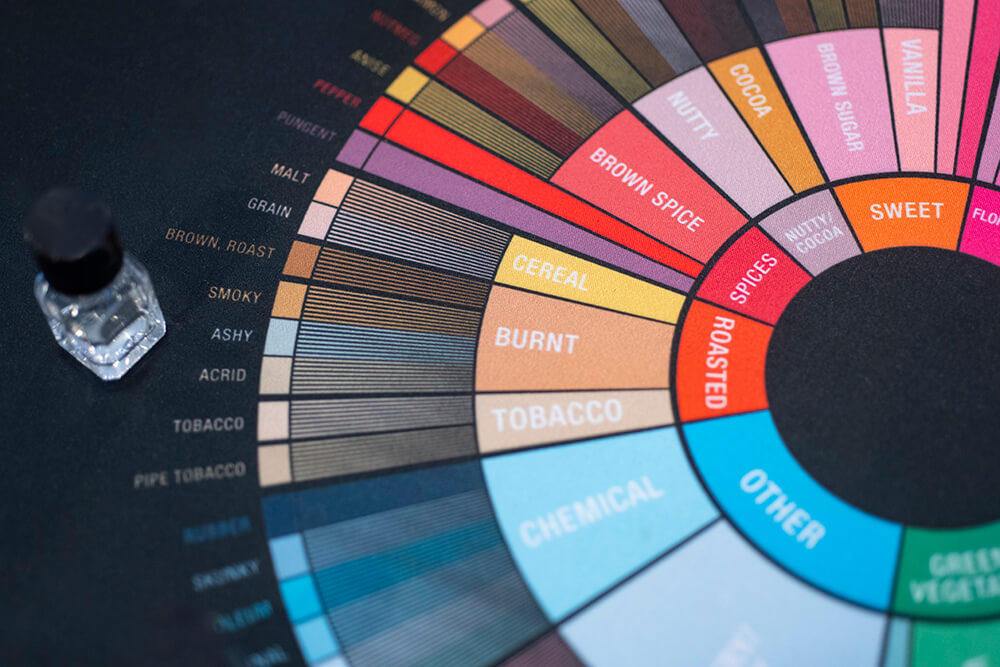 I feel no temptation to put French vanilla creamer into the xBloom-made cup Vance pours for me. It's delicious. We consult a rainbow-shaded flavor wheel in order to describe its smooth, fruity taste. After scanning the vocabulary—which ranges from "cocoa" and "cardboard" to "butyric acid" and "basmati rice"—we finally settle on "red raspberry" and "bubblegum" with help from the pod's tasting notes. Vance places a few drops from the xBloom cup on the total dissolved solids meter, and reads out a perfect score of 1.36.
But again, no need for fanciness. "I can't stress this enough," says Matt: "People will get a better cup of coffee just using a simple $15 Mr. Coffee, but with an excellent grind, and freshly ground coffee." Buying a bag in the grocery store? Look for a "roasted by" date. Coffee won't spoil, but if it has sat on a shelf for too much time, it will be damaged by oxidation. Matt and Vance speak from experience. As co-founders of SiliconValley.coffee, they also own a roastery in San Carlos, and won't ship anything that's more than a week old. "I equate it to a fresh chocolate chip cookie right out of the oven versus Chips Ahoy," says Matt.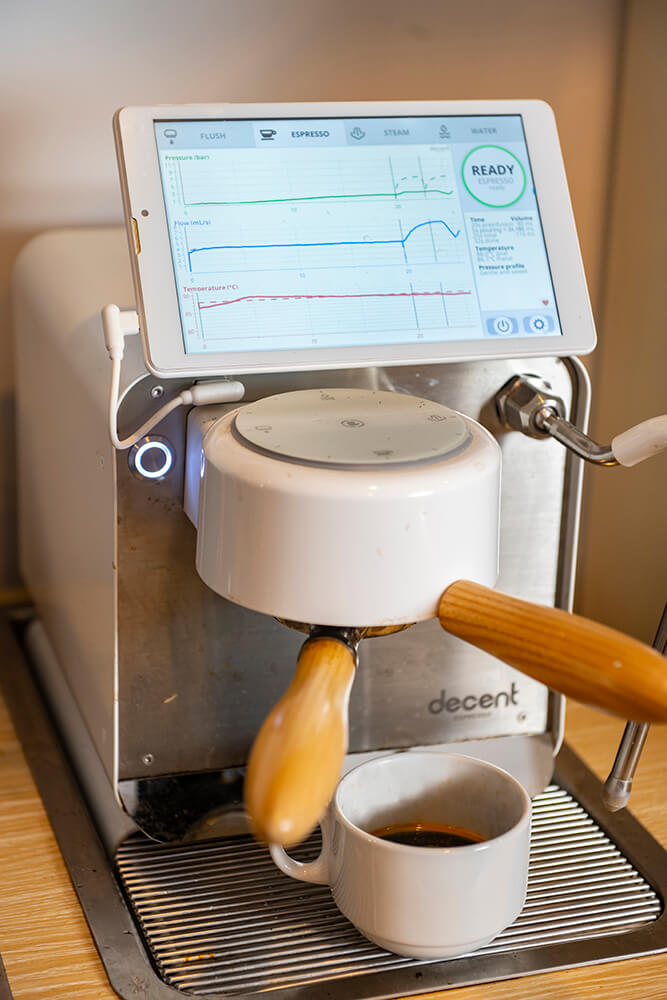 So, freshness is essential. But that leads to plenty of other coffee questions. How hot should the water be? Does it need to be filtered? Does flow rate make a difference? Should you store ground beans in the freezer? You'll have to come to the Coffee Lab to find out.
The lab currently offers Saturday sessions that anyone can sign up for, though their focus is on weekday team-building classes for corporate groups. Companies can bring in their own catering, and make use of the space's movable desks and multiple screens for a day of collaborative work before or after a coffee class. They've held classes for tech companies, startups and VCs. Matt notes that the Atherton Police Department even signed up for a session (chuckling, he says he might have to provide doughnuts for that one).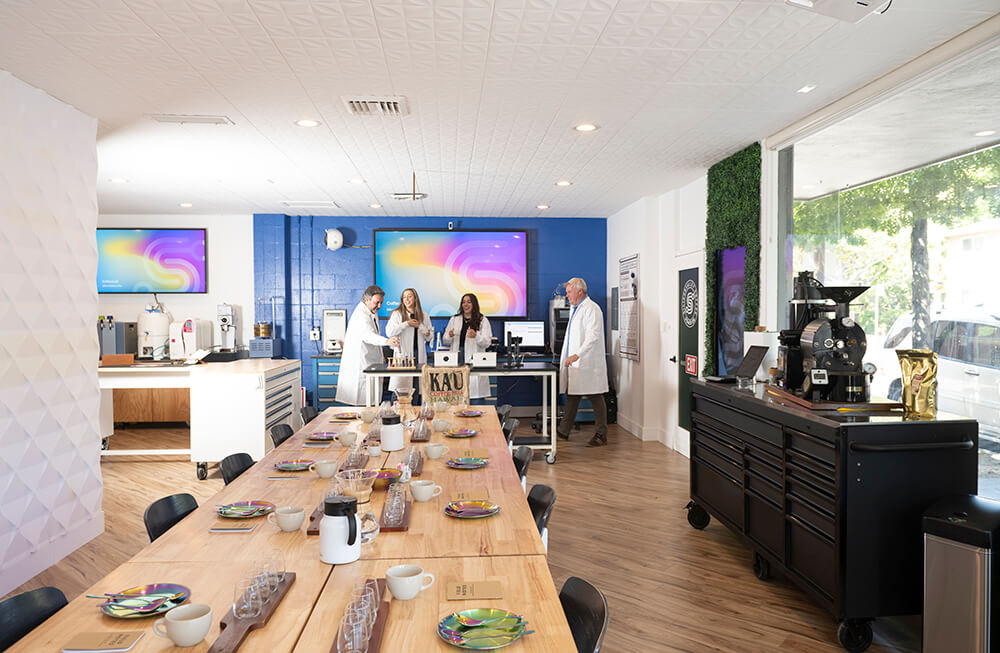 It only makes sense that this lab, focused on discovery, would serve professional innovators. Matt worked at startups in communications and product management; Vance founded his own biometrics company. The lab space, a converted print shop that they flipped themselves, features a greenery wall, teal and cerulean accents and technicolor flatware. It's filled with furniture sold off from Facebook and Google. "We wanted to be uniquely Silicon Valley," Matt assures. Between their coffee roastery, CloudBrew cold-brew technology and the branded bags they produce for corporate events, grown-up birthday parties and weddings, the pair has been part of the region's coffee community for years. The Lab is just their latest experiment.
And there might be more to come. Matt and Vance dream of expanding the lab on the model of a winery's tasting room and club, offering coffee flights and a Coffee Explorers club, which would source bags of beans from around the world. There's even the possibility of incorporating AI technology into the mix, using "sensory science" to customize cups by individual taster.
Ideas aren't in short supply at the Coffee Lab. Fortunately, caffeine isn't either.
What's Brewing?