words by Silas Valentino
In a turn of coincidence, monumental life moments always seem to happen for restaurateur Geoffroy Raby during the month of October.
 He first stepped foot in the Bay Area, which would become his adopted home after growing up in France, in October 2001. Ten years later, in October 2011, he and his wife welcomed twin boys just as he debuted his first restaurant: Cuisinett in downtown San Carlos.
This fall, as his restaurant celebrates a ten-year anniversary, Geoffroy takes a pause. The last two years brought challenges that forced him to reimagine everything: the menu, the space and the overall experience of dining at Cuisinett. Survival required a swift overhaul while deploying tactful direction to care for his employee roster. Geoffroy had to make sacrifices and rethink the confines of what his sunlit space on the corner of San Carlos Avenue could offer this community.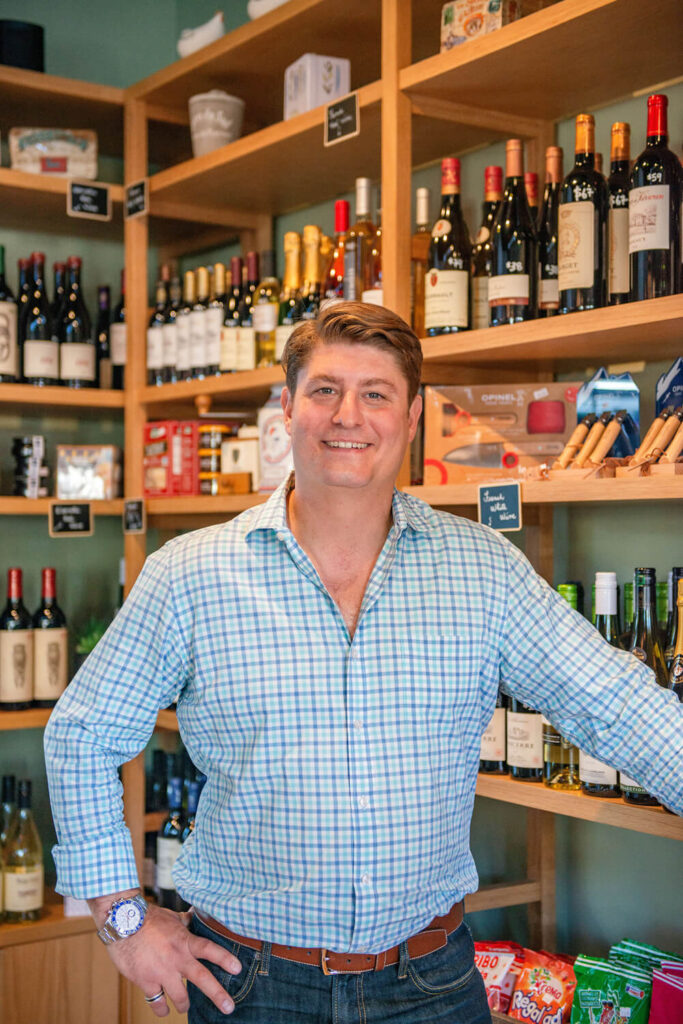 First was the adoption of a strategic to-go system, which proved difficult because scrumptious French comfort food doesn't really lend itself to a take-out box. The Croque Madame (French ham, cheesy sauce and egg) doesn't have the best life expectancy if the distance from kitchen to fork requires miles of travel.
"So we started to rethink our menu. What would travel well, taste good and look good?" Geoffroy says, and found success by directing customers to use their website for their delivery orders as opposed to relying on a third-party business. Then he created what was essentially a pop-up restaurant he called La Terrace and built a parklet dining area out front.
"It was only open at night and we began doing service at the table by reservation only," he says. "It was fun to do a pop-up inside of Cuisinett, a restaurant that had been around for nine years."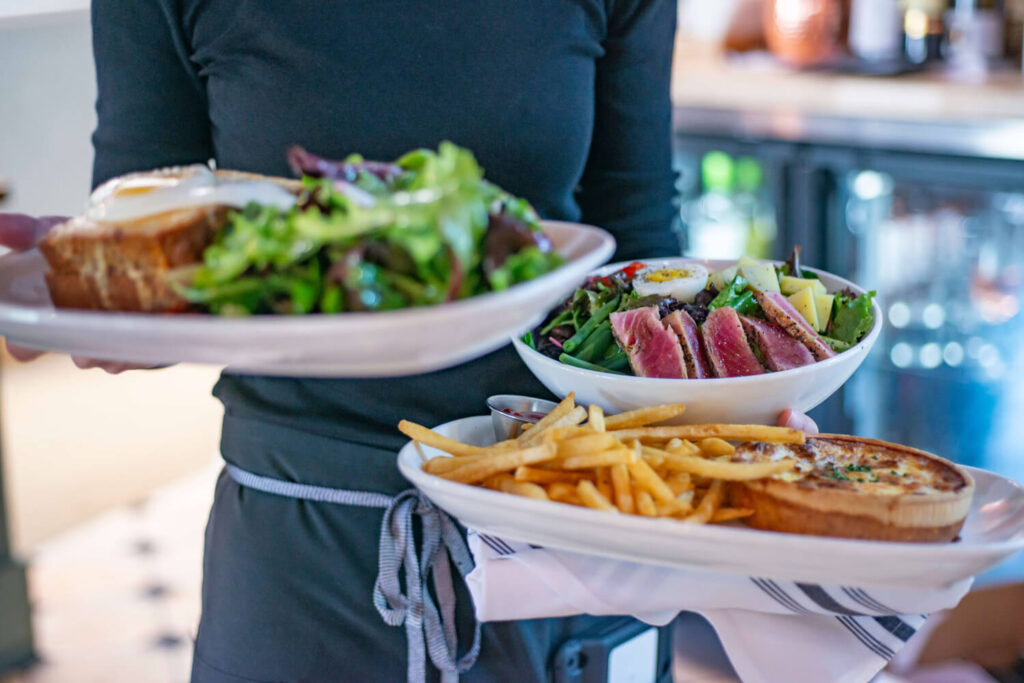 The rotisserie chicken is Cuisinett's biggest seller thanks to a careful process involving a two-day brine to juice the flavor. Before the impact of COVID, they were selling 700 pounds of chicken a week as well as 300 pounds of mussels. The menu celebrates comfort with quiches and sandwiches among entrees of beef bourguignon and ratatouille. Wine and beer complement the menu. 
As folks began to return to the physical space, the menu went through a calculated rebuild. There is now a lunch and dinner selection instead of offering the same items throughout the day and items are carefully selected by popularity to save on costs. 
"We knew we wouldn't be able to please some people," Geoffroy says, noting that mussels and steaks are now reserved just for dinner. "But we have to go with the numbers."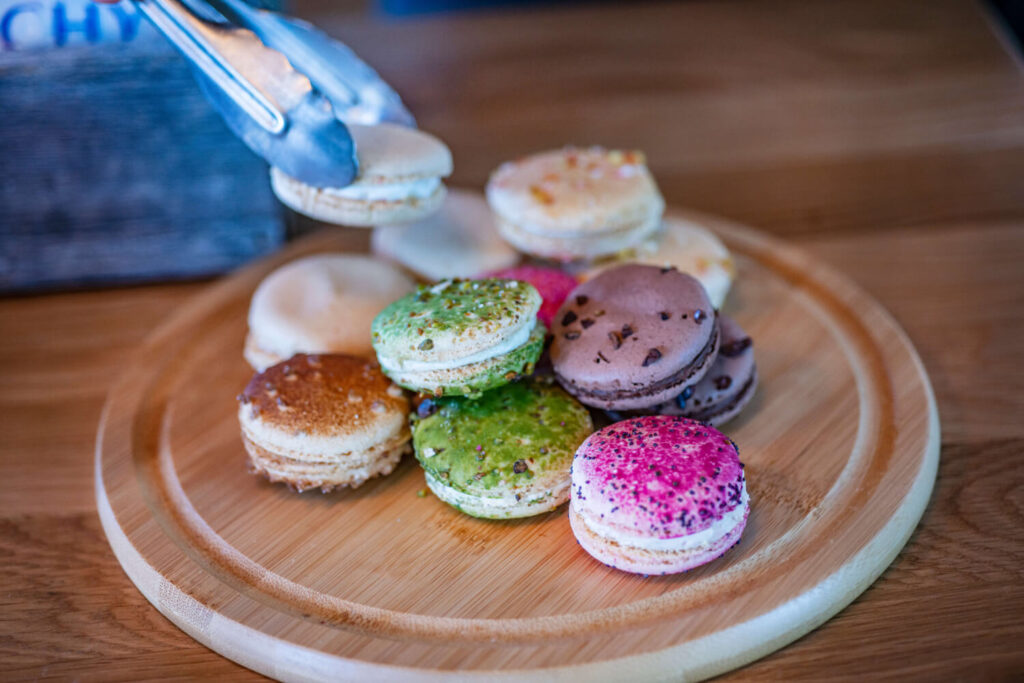 The biggest revamp is the creation of a full-time market inside the restaurant dubbed Épicerie, an outpost for imported French wine, cheese, charcuterie and delectable sweets such as galette, Pépito cookies and macarons. Not to mention a few French magazines to peruse such as Valeurs Actuelles and Notre Temps. Customers come for a meal and then leave with a unique import in tow. 
Due to addressing the challenges it has faced, Cuisinett has evolved from a fast-casual café to a versatile bistro and market just in time for its ten-year anniversary. "This was my answer for how I can use a commercial space in a different way," Geoffroy says. "Instead of just one type of income, like a restaurant by itself, it now has three streams."
During a recent midweek afternoon as the lunch crowd gradually morphs into the dinner crowd, Geoffroy is in his prime. He attentively checks in on diners while exchanging pleasantries with several of the other restaurateurs who stroll by. He knows them all by name, from owner to cook to server, and treats them with genuine interest.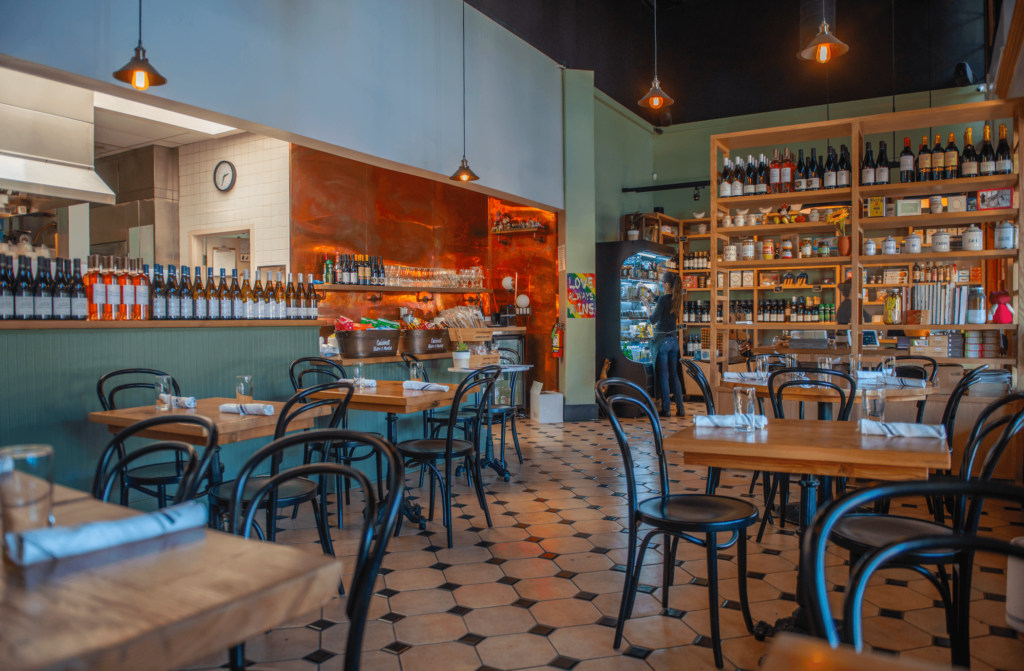 Cuisinett shares the avenue with Delizie Cucina, Drakes, La Corneta Taqueria, Red Hot Chilli Pepper and several more eateries, creating a diverse block of global cuisine. Geoffroy wouldn't have wanted it any other way. He dreamed about coming to America to relish in the cultural diversity and business opportunity as a boy in Lille, France.
He'd go on to study marketing and finance at San Francisco State University and, to support himself through school, he worked in restaurants both in SF and on the Peninsula. While working for a variety of locations including Station 1 in Woodside and the Mayfield Bakery in Palo Alto, Geoffroy recognized his passion for this business. 
He approaches it not from a chef's perspective (although he knows his way around the kitchen), but with a focus on creating an experience and managing in full efficiency.
"I came up with this concept during a marketing project at school where people discover French food that's from throughout the country. I hired a chef and the menu is based on traditional, everyday French food—it's the everyday part that counts," he says before breaking into a laugh. "Some people think that French food is just French onion soup. If you ask any French person when was the last time they ate that, they wouldn't know!"
He devised Cuisinett as a neighborhood joint where it was fast and casual but with a reinforced commitment to establishing a sense of community.
"Some people go to Starbucks but in France, we go to a little bistro in the afternoon," he says. "I think there was a need for a French restaurant that broke stereotypes and was casual, friendly and easy to bring your family."
The location in San Carlos was ideal as Geoffroy lives in Redwood Shores with his wife and sons and can take them to their French-immersion school in Palo Alto. The balance between work and family is crucial for Geoffroy and although he's flirted with the idea of opening a second location, he's not ready to give up on those precious family hours.
Instead, he follows a prudent process of ensuring that Cuisinett takes care of its employees, distributors and ultimately, the customer.
"I love the multiple hats I have to wear. I don't look at it as 'This is my baby.' This is my business. It's numbers," he says, and then elaborates by pointing out in real time some other examples of running a restaurant that he continues to adore. "We have people laughing, having a glass of wine while a baby cries a little bit. It's this whole aspect of life."
Geoffroy excuses himself to check in with his staff and as he walks by a family with a young boy, he stops to see how everyone at the table is doing. Without skipping a beat, the lad tells him that his lunch is "the best thing in the whole world." Geoffroy beams, and returns to work with a grin for the rest of the afternoon.