"PALEO?!? You don't mean that CAVEMAN thing, do you?"
Using catchy cartoon drawings, Michelle Tam breaks down Paleo 101 in the cookbook, Nom Nom Paleo: Food for Humans.
Confronted by a skeptic in a restaurant, Michelle's comic strip likeness explains, "The caveman's just a mascot. For me, Paleo's not about historical reenactment. It's a framework for improving health through real food."
From her family's home in Palo Alto, the self-described "foodaholic" is now a nationally recognized banner carrier for the Paleo diet and whole, nutrient-dense cooking. Michelle is the co-founder of Nom Nom Paleo, an educational guide to the diet that is based on foods similar to what could be obtained by hunting, fishing and gathering during the Paleolithic Era. What was on the menu 10,000 years ago? Think lean meats, fish, fruits, vegetables, nuts and seeds.
Whether you call it Caveman, Stone-age or Paleo, from Michelle's perspective, the point is less about following a strict diet than getting people to enjoy eating real, unprocessed foods and cooking for themselves.
"Anyone who starts Paleo, or a new diet that makes them feel good, can become evangelical, crazy and annoying," she jokes. "After doing it for a while, all I really want is for people to cook their own meals and pay attention to how food affects them—and to make mindful choices of what they put in their mouths and find what works for them. Everyone is different."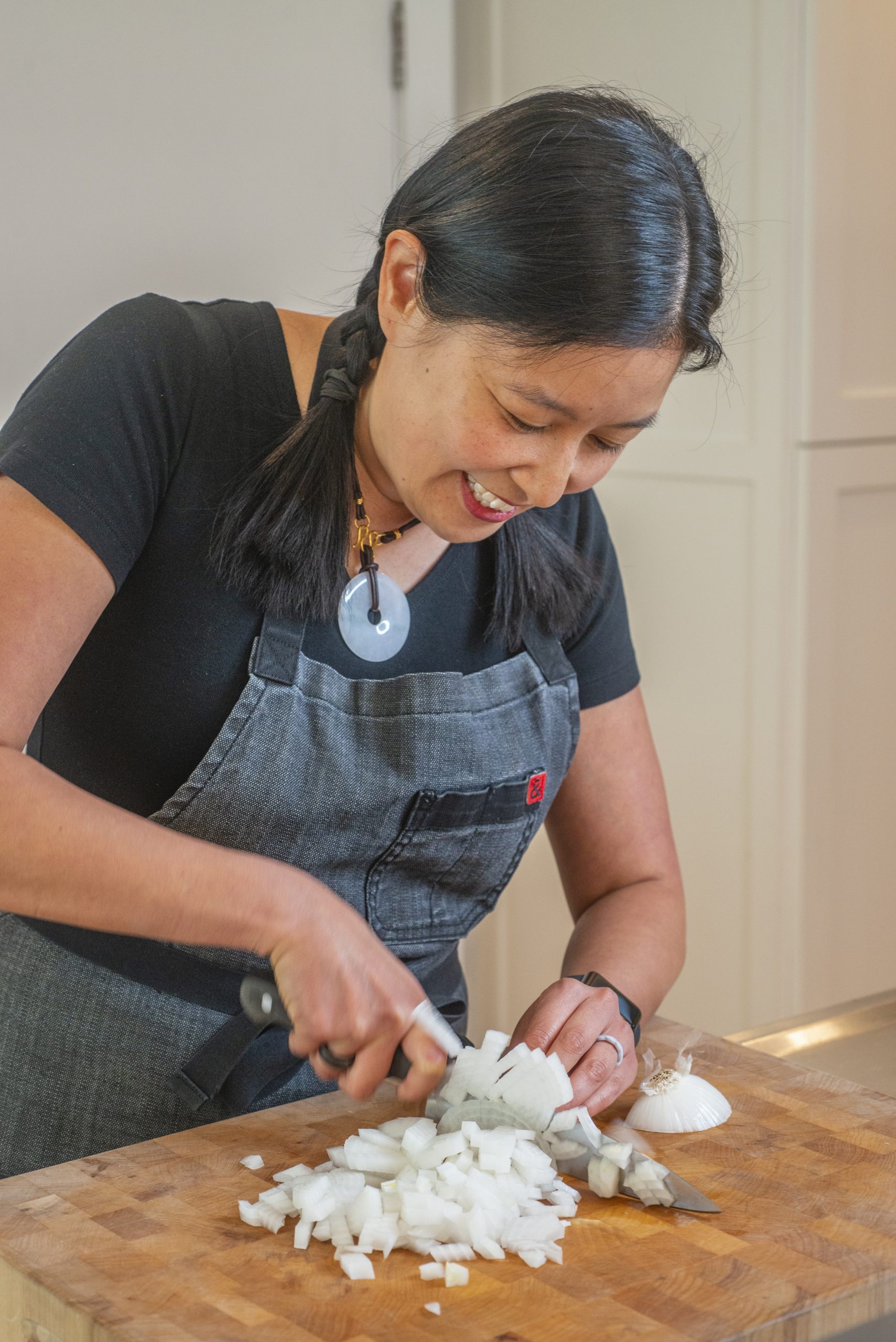 Originally from Menlo Park, Michelle grew up with the Cantonese expression "wai sek," or "living to eat." Michelle, a hospital pharmacist, and her husband Henry Fong, a lawyer, have two boys, Owen and Ollie. In search of a healthier lifestyle, the couple discovered the benefits of Paleo eating. Combined with CrossFit workouts, their fitness and energy increased, while digestive issues faded. They realized they were not only on to something for themselves, but also for their children. They decided to share their discoveries with others.
In 2010, blending Michelle's cooking prowess and Henry's creative chops, the couple initially launched Nom Nom Paleo as a website. Delicious food was always at the core. Thus, the name "Nom Nom," or as Michelle describes it, the expression we say when eating "mind-blowing food." Nom Nom Paleo was created to offer "shortcuts to deliciousness," explains Michelle. "Cooking should be a non-negotiable life skill."
Michelle handles the shopping, cooking and food inspiration and Henry is the photographer and illustrator of the incredibly affectionate cartoon depictions of the family, harkening back to his college comic strip Dorkboy in UC Berkeley's student newspaper The Daily Californian. Michelle was one of his original characters. "It really is mom 'n pop," Michelle notes. "We learned on the fly, and if we love it, we'll put our all behind it."
Seeing the positive response to the website and evolving with the times, Michelle and Henry created an app version of Nom Nom Paleo in 2012. Both a user and critical success, the app won two Webby Awards. Given the ever-changing nature of smartphone operating systems and maintenance costs, they decided to write a more traditional cookbook. Nom Nom Paleo: Food for Humans was published in 2013, followed by Ready or Not! 150+ Make-Ahead, Make-Over and Make-Now Recipes by Nom Nom Paleo in 2017. Both landed on The New York Times bestseller lists.
In a review, Robb Wolf, an optimal health expert and author of The Paleo Solution, summarizes, "Nom Nom Paleo's lip-smacking recipes, zany humor and eye-popping style will prove to you that Paleo won't just make you look, feel and perform better, you'll eat better, too."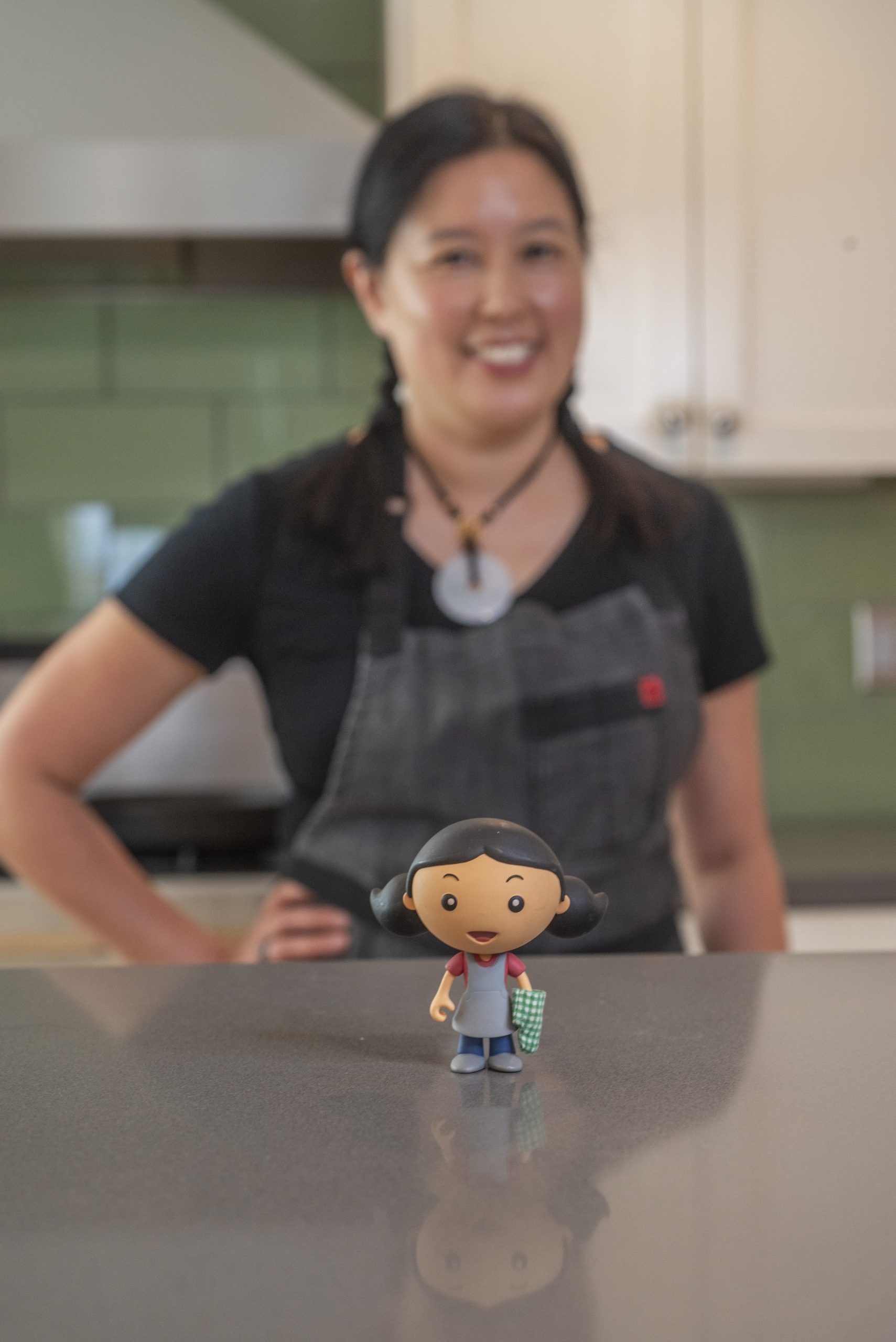 Featuring a distinctive step-by-step, comic strip layout and animation that's both captivating and kid-friendly, Michelle and Henry have now offered up over 250 Paleo recipes between their two cookbooks.
Michelle left her hospital pharmacist job in 2014 to completely focus on Nom Nom Paleo. Whether you're already a fan or new to the Paleo diet, you can find a variety of options to source your next meal. In addition to the website, app and cookbooks, Michelle and her boys share weekly recipes on Facebook Live video (Wednesdays at 5PM). She also distributes a bi-weekly email newsletter and has a passionate base of over one million social media followers.
Intrigued by the idea of ancestral eating? Michelle's advice is to start with one Paleo dish, learn how to cook it with fresh, natural ingredients and, most importantly, notice how you feel after your meal.
Nom Nom.