Against a bluebird sky that skiers dream about, I strap on my gear and begin striding through a stunningly picturesque frosty white meadow, before ascending a tree-lined trail up into the woods. A longtime downhill skier, I've always been curious about the cross-country experience, and with the sun sparkling off the snow, I register each breath of fresh air as I propel myself through an Aspen forest, lost in the beauty of my surroundings. Hoping for a great workout, I discover a backcountry immersion I rarely find on downhill skis. Well-marked trails keep me on track and eventually lead me back to civilization from my wilderness experience.
If you are longing for an easy, uncrowded escape to snow country, consider the benefits and tranquility of cross-country or Nordic skiing. Having originated in Norway out of necessity (think: efficient way to travel over snow-covered land), cross-country skiing is now considered one of the best all-around fitness sports with the bonus upside of blissfully peaceful scenery. If gliding for miles and miles sounds appealing, here's a sampling of nearby winter getaways.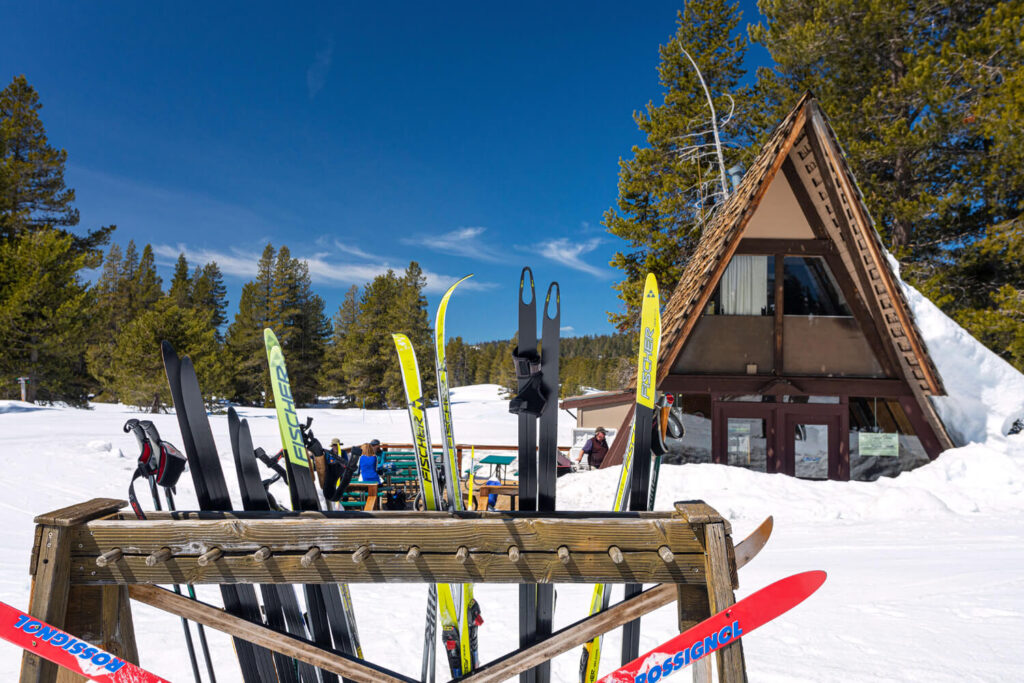 Bear Valley Bound
In just three hours on scenic roads through gold country, Peninsula snow seekers can arrive in Bear Valley's white-blanketed mountains with acres of cross-country trails to explore. Recently ranked number two among the top cross-country centers in North America by USA Today, Bear Valley Cross-Country Center is a hidden treasure.
With over 3,000 acres and 38 trails, Bear Valley offers something for every level and age. "One of the unique aspects of Bear Valley is that it starts in a meadow, so all ability levels will be successful right out of the gate," says Bear Valley Adventure Company manager Aaron Johnson. "We have one of the best trail systems in the world and I feel very fortunate to be looking after it."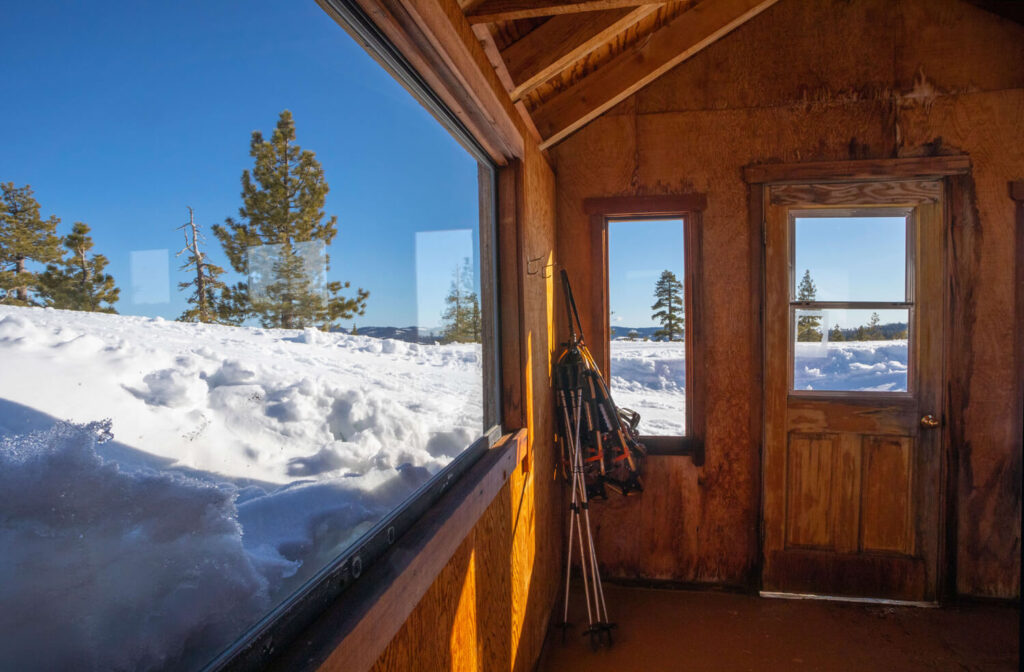 Nordic or cross-country skiing is a bargain at Bear Valley with day passes running at $35. Families can purchase inexpensive rental and lesson packages at the Bear Valley Adventure Company and spend the day exploring, then break for a warm nibble and local wines on the deck of the Meadow Cafe. Skiers can also opt to grab a picnic lunch from the cafe and enjoy the views trailside at one of the picnic tables or warming huts (pending restrictions). In addition, many trails are dog-friendly with the purchase of a $5 pass.
Snowshoers and sledders will also find plenty to do at Bear Valley. Snowshoeing has gained popularity with the ease of new lightweight equipment and access to cross-country trails. "If you can walk, then you can snowshoe," explains Aaron. "Winter sledding enthusiasts flock to Bear Valley as well where they can sled and tube in a managed area but with many of the hazards mitigated." 
Accommodations at Bear Valley are abundant in charm but limited in offering as many are Airbnb cabins with snowmobile service required due to unplowed roads. Just 15 minutes away in nearby Arnold, you'll find Black Bear Inn, offering five well-appointed guest rooms with a full sit-down breakfast included daily. Further down Highway 4, the popular destination town of Murphys blends high-end western and wine country style with a mix of accommodations, galleries and tasting rooms.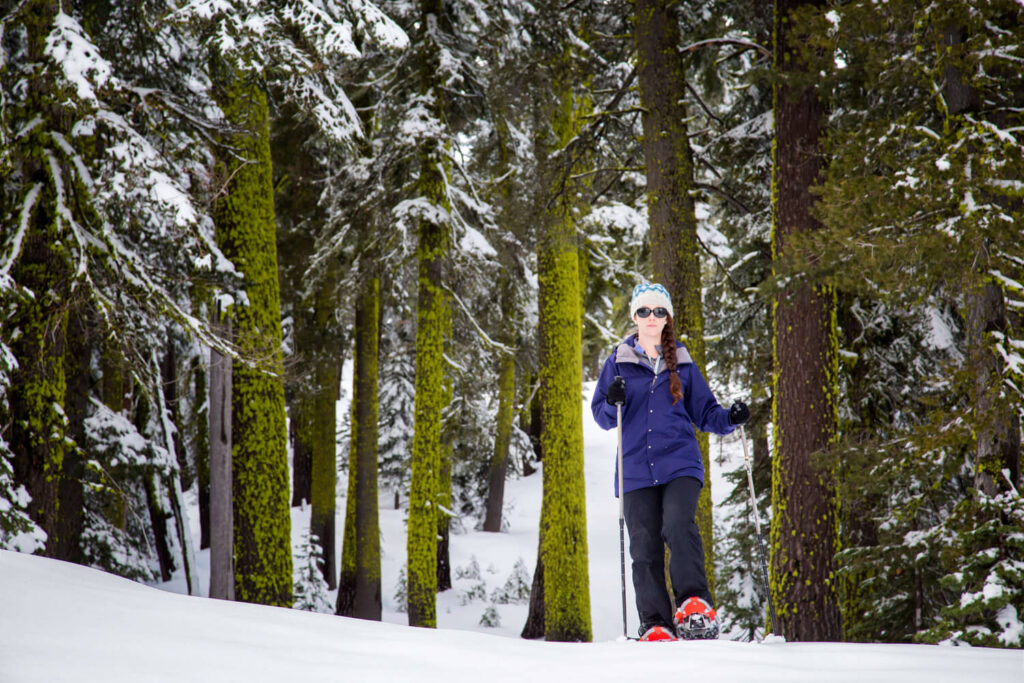 Royal Gorge Retreat
Just before Donner Summit on Highway 80, Royal Gorge Cross-Country Resort offers an alternative to the more populated Tahoe basin with 137 trails and a surface lift carrying cross-country skiers to the edge of the backcountry. As the largest cross-country ski area in North America, Royal Gorge's groomed and tracked trails provide views and varied terrain that take skiers through meandering forests and past sweeping vistas. With warming huts (pending restrictions) peppered along the way, daily groomed tracks cross over 9,000 acres of Sierra wilderness.
"With the network of cross-country trails and the views available of pristine lands, you can be completely on your own and not see another skier," emphasizes Jon Slaughter, Royal Gorge's director of marketing. "One of our popular trails, Razor Back Ridge, takes you to a lookout over Castle Peak where you can see the actual Royal Gorge."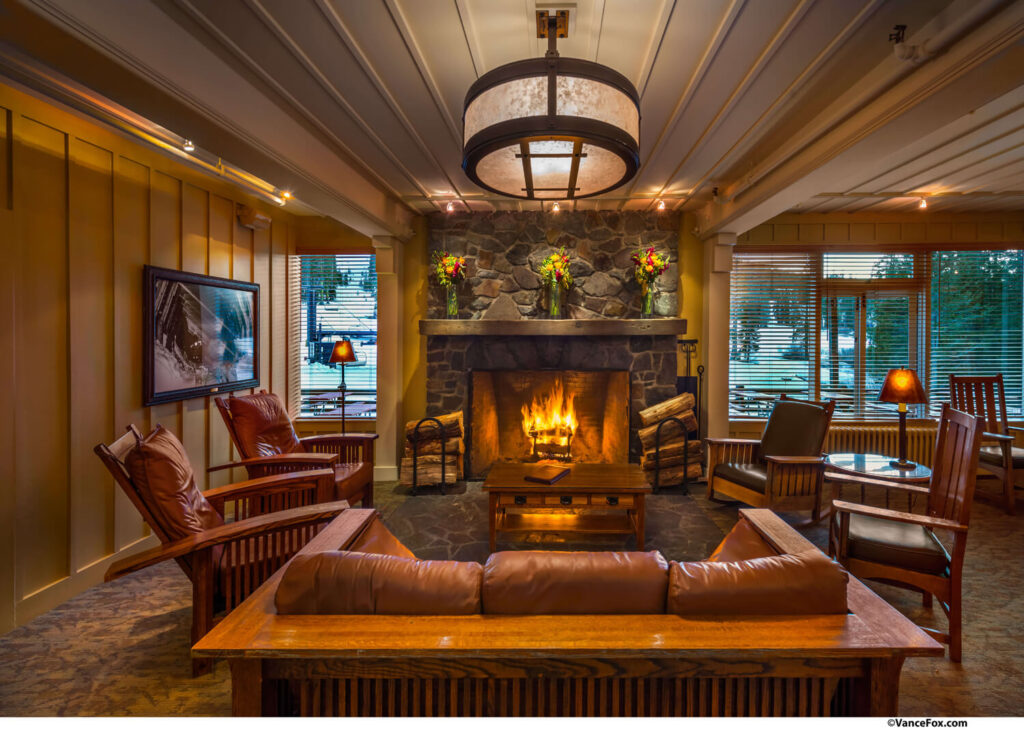 For a breezy day of exploration, start your ski trek at Summit Station at Royal Gorge Lodge. Ski across Van Norden Meadow for six kilometers and you'll arrive at Sugar Bowl Ski Resort. Enjoy lunch on the sun deck—pack along a picnic or pick up to-go items—before returning across the meadow. With 30 kilometers of dog-friendly trails, Royal Gorge also welcomes canine companions.
Snowshoeing is another popular and entry-level way to enjoy and explore this winter paradise. Royal Gorge offers 60 kilometers of dedicated snowshoe trails. Guests can rent equipment and do same-day trade-in for skate skis, a more advanced form of Nordic skiing, or snowshoes for no additional fee. The Hotel at Sugar Bowl offers nearby slopeside accommodations for Royal Gorge skiers. Located at the foot of Sugar Bowl Ski Resort, the classic high-alpine lodge is a great choice for both convenience and ambience.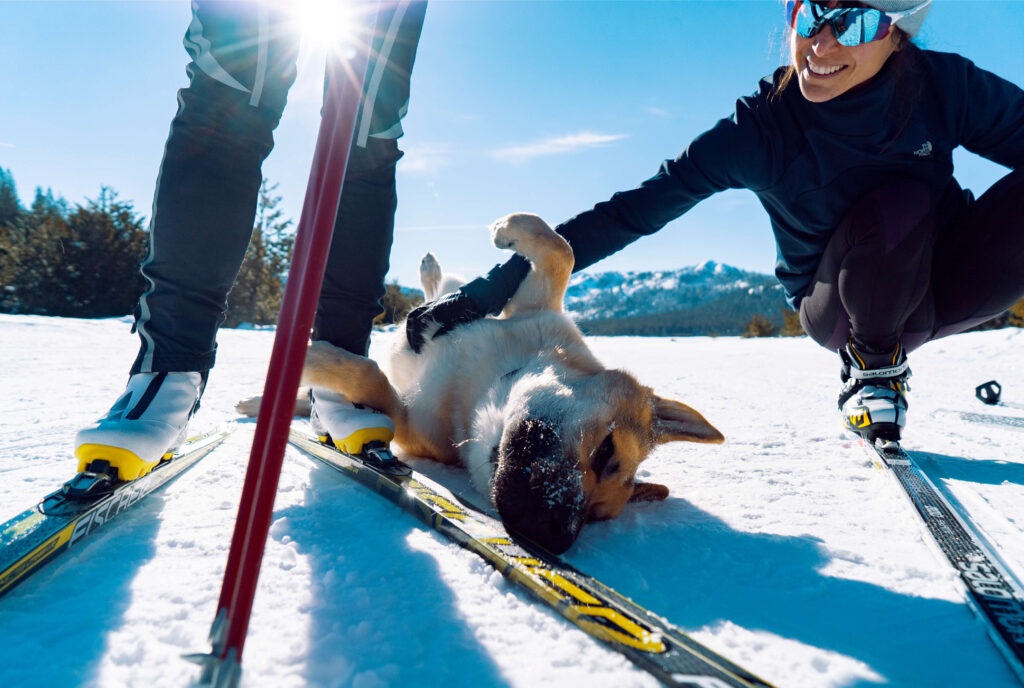 Kirkwood: Off the Beaten Track
Peninsula adventurers can take the road less traveled and journey on Highway 88 to Kirkwood Mountain Resort, known for its abundant snowfall and located 45 minutes south of South Lake Tahoe. Just down the road, Kirkwood Ski and Snowshoe Center is nestled next to one of the last undeveloped meadows of its size in the Sierra. With over 60 kilometers of groomed trails, Kirkwood's cross-country trails access the expansive Kirkwood Meadow ringed by mountains towering 2,000 feet above the valley floor. Skiers can bring their dogs on one of the designated dog-friendly meadow loops and stop for lunch at Kirkwood Village. The daily groomed two-mile loop trails are perfectly suited for beginners and afford stunning views and glimpses of Pyramid Peak in the distance.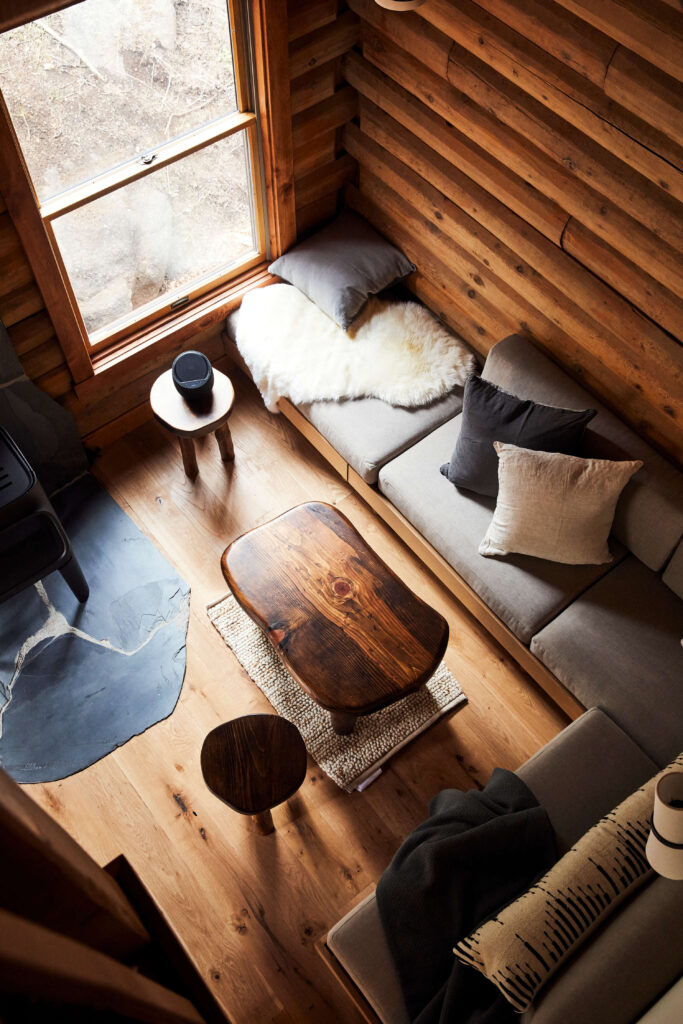 Skiers can pick up day passes at the Ski and Snowshoe Center, which offers rentals, lessons and affordable day packages. The trails range from easy, flat to varied terrain in a large network of three different trail regions and typography. The Caples Creek system, for example, provides peaceful trails along creeks where outdoor enthusiasts can get a glimpse of winter wildlife.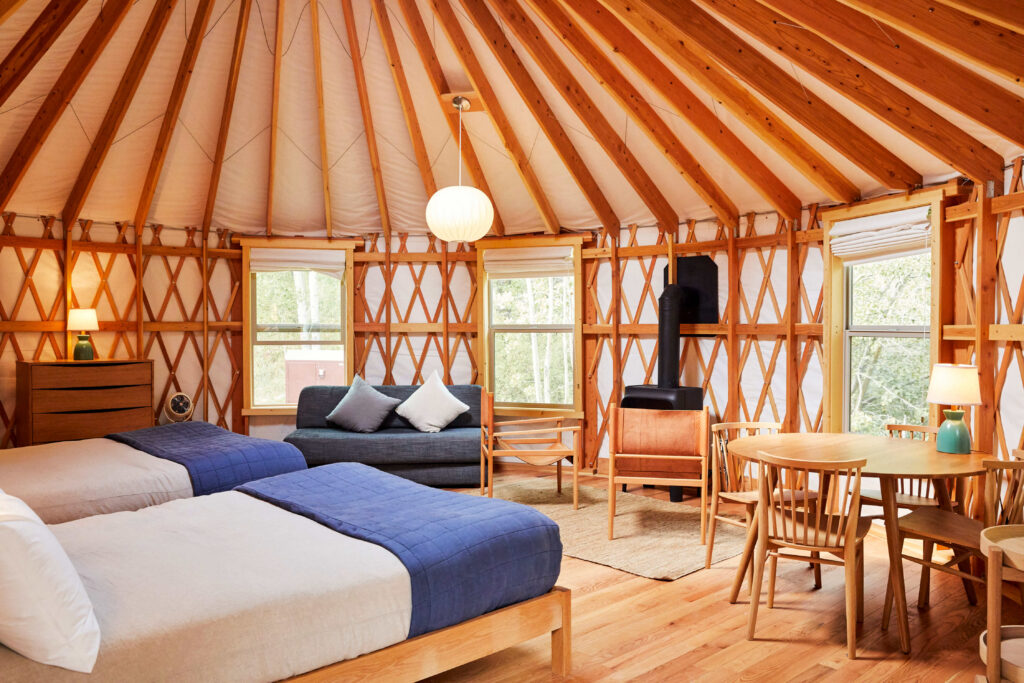 Just five minutes up the valley, the Lodge at Kirkwood offers a classic ski lodge experience with alpine-style residences in the heart of the village. Unfortunately, the 140-year-old former stagecoach stop, the Kirkwood Inn, will be closed this season, but be sure to catch this historic dining spot on a future trip. About 15 minutes from Kirkwood, the recently renovated Wylder Hotel Hope Valley (formerly Sorensen's Resort) offers a mix of accommodations including bungalows and cabins, yurts, campsites and even a vintage Spartan. This popular destination offers tented, heated dining and take-out and their own network of cross-country trails steps away from the hotel.
Central Tahoe City Trails
If you are staying in North Lake Tahoe, the Tahoe Cross-Country Ski Area is nestled in the terrain above Tahoe City just two miles out of town. This community-based ski area offers 22 trails with 50 kilometers of Nordic skiing through pine forests and with views of Lake Tahoe. Many of the trails are groomed daily and all of the cross-country gear and lessons you need are available at the ski area—along with snowshoe rentals. In addition, parents who want to add extra fitness to their ski day can rent pull-behind sleds that tow young children behind them. Three warming huts will be available along the trails this season. However, you won't find the usual beverage services, so it's a good idea to carry supplies on your trek. Grab-and-go lunches are the current offering at the Free Heel Cafe at the lodge and guests can warm up next to newly installed outdoor fire pits.