Treat yourself this holiday season. Find a reason to drive just south of the 84 junction on El Camino in Redwood City and look for a neon sign on the east side for La Biscotteria. Roll down your window, too. If you're lucky, you'll be greeted
by an aroma of freshly baking pastries so alluring, so foodie- fabulous—don't be surprised if your car pulls itself over so you
can purchase some treats. Believe me, you'll want to. La Biscotteria is an Italian-American family-owned business specializing in the most delectable biscotti and Italian bakery items this side (or even inside) of Naples.
Well-traveled regulars tell baker and owner Augustine Buonocore that his goodies are even better than what they've had in Italy, and one bite confirms it. His secret? Augustine credits his late grandmother's recipes, chock-full of authentic, original ingredients. "All the recipes I have are over 100 years old. What makes my product unique is that I use pure essential oils for flavoring, like anise, lemon and orange, which are very expensive," he says. "The heat doesn't bake away the flavors, the aromatics." It sure doesn't. Biting into one of Augustine's many flavors of biscotti, such as the white chocolate-dipped lemon, will spoil you from eating anything less. You can actually taste the lemon! And see the almonds! Heaven. Here, ingredients aren't hidden, they are celebrated. That's because they have nothing to hide.
La Biscotteria is proud to offer classic biscotti made with both good flavor and good nutrition in mind. In Italian, biscotto means twice (bis) cooked (cotto). Their fruity biscotti line features dried fruits, cranberry hazelnut, lemon verbena, among others, along with a serious crunch. They contain no preservatives, trans-fats, artificial flavors or GMO ingredients. You'll find that their delicious, hand-crafted biscotti are a great après- shopping treat or stocking stuffer, the perfect dipping companion to a steaming cup of tea or a "tazza di caffe" in the morning. They even make a raisin biscotti, which pairs perfectly when savored with a glass of wine.
Cookies, cakes, cannoli—they've got all the good stuff, including homemade panettone. La Biscotte- ria suggests toasting this traditional sweet bread with butter or using it to make a unique and delicious French toast or bread pudding on Christmas morning. They also carry panforte. This chewy dessert is baked with fruits, nuts, spices, honey and a touch of cocoa powder. Sliced in wedges and served with coffee or after meals, it's perfect for holiday parties and guests.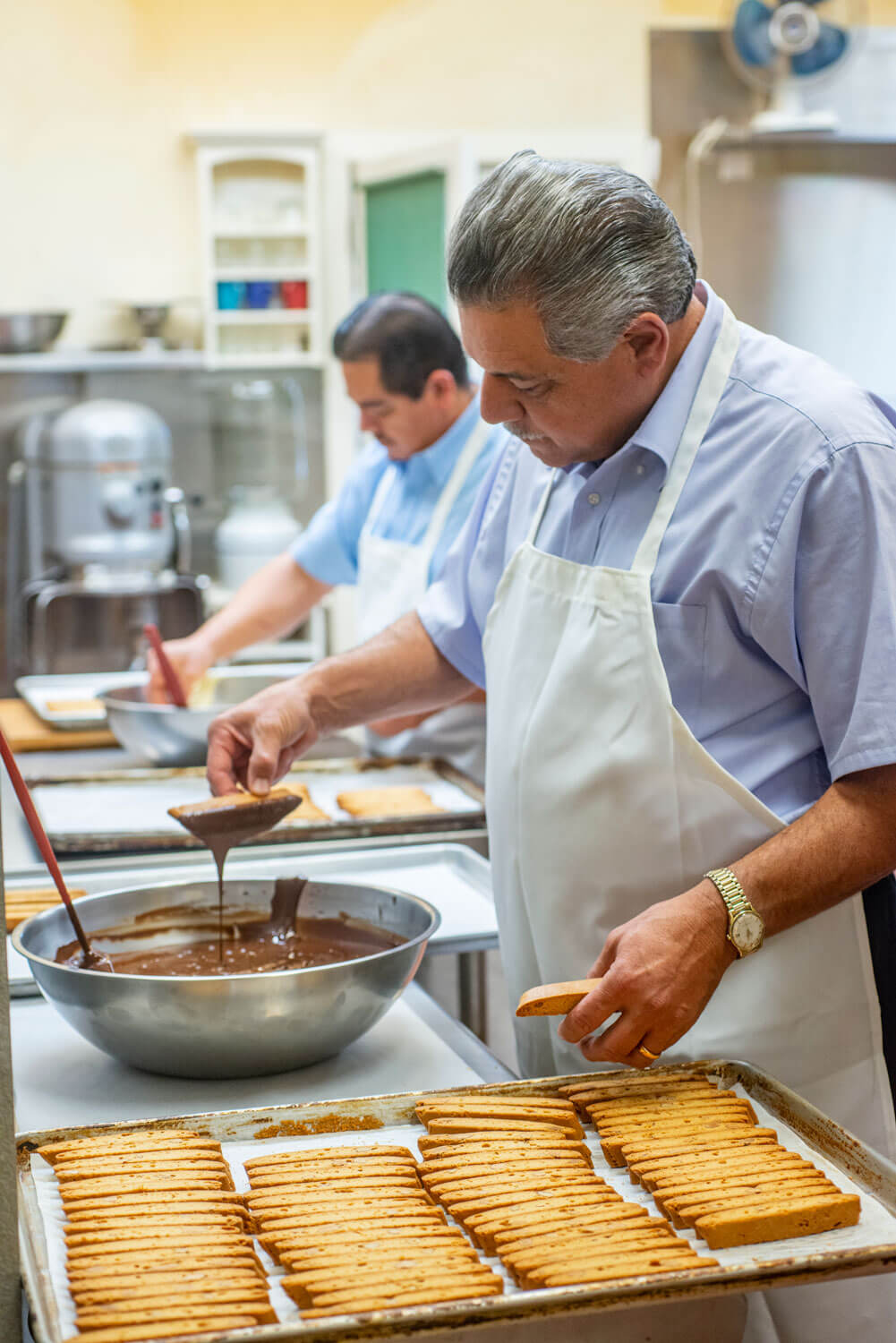 And there's more.
La Biscotteria produces a few items only around the holidays, and you've still got time to place your orders. Ready to learn a little Italian?
First up, struffoli. According to Augustine and his wife and co-owner, Angela, struffoli are a Neapolitan tradition eaten around Christmastime that are basically little balls of dough fried, cooled and mixed with sugar, honey and a little lemon zest. "We put them in a little mound on a dish and eat them on Christmas Eve and New Year's," says Augustine. "No other bakery on the Peninsula makes struffoli. I haven't seen them anywhere." Crunchy on the outside and light inside, in Calabria, they are also known as "scalilli," and in Abruzzi, "cicerchiata." Take Angela's advice and serve them warm.
Next, cuccidati cookies. These are traditional 'pasta frolla' or 'short pastry' cookies stuffed with figs, dates, raisins, orange and lemon peels, citron, roasted almonds, hazelnuts, pecans, walnuts, imported amarena cherries in syrup, honey, Italian spices, cocoa powder and dark chocolate. Whew! The filling is soaked in fine liqueur—Cognac and Grand Mar- nier—glazed with lemon sugar and sprinkled with nonpareils. Yum.
Another holiday treat are the special spiced 'gingerbread' brown biscotti called 'stomatico.' This nut-free biscotti is made with cinnamon, cloves, raw sugar, honey, ginger and allspice, formulated from Ange- la's Calabrese Nonna's recipe, and according to Angela, is traditionally known to soothe stomach ailments in both children and adults.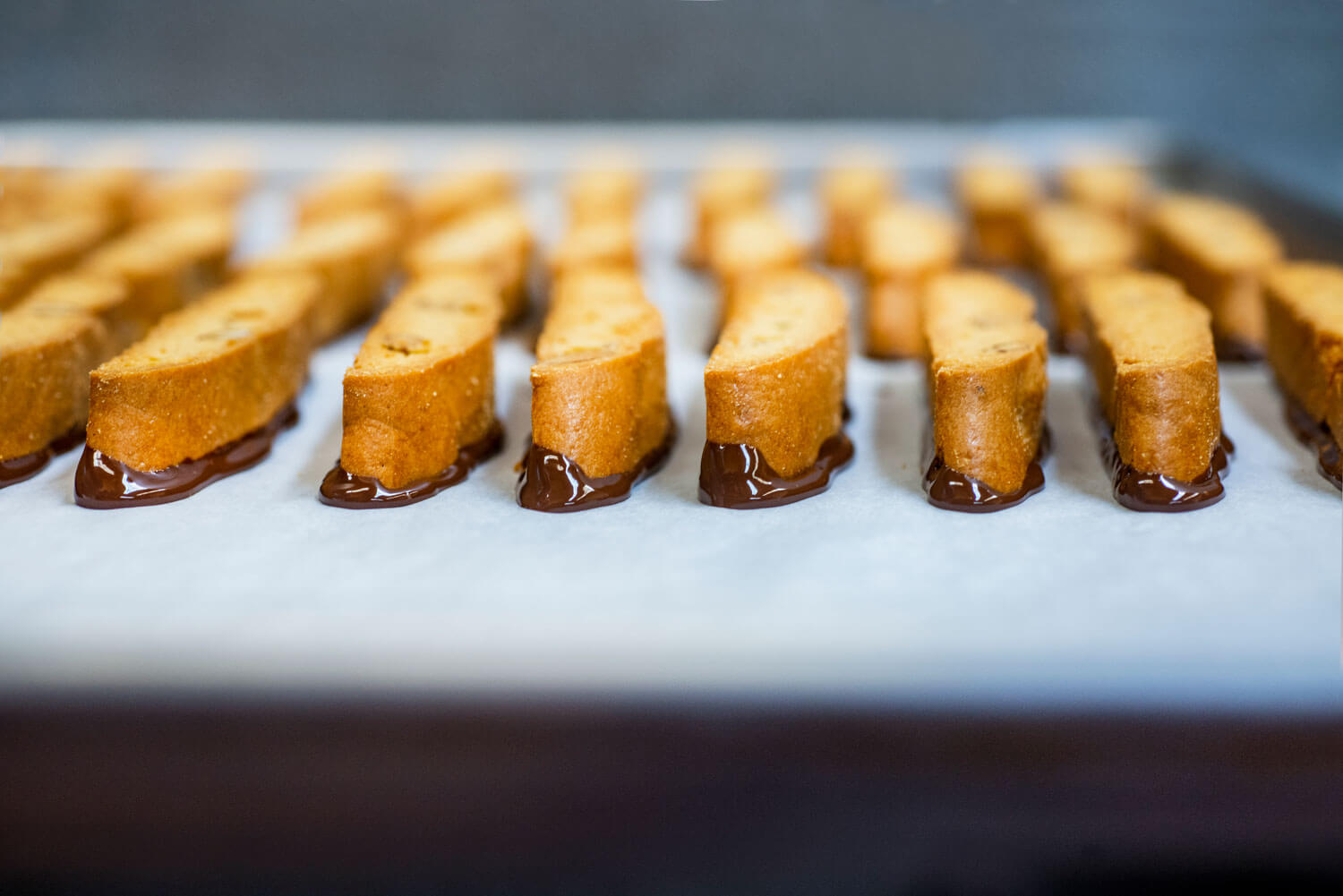 Torrone, the classic Italian nougat candy made of honey, sugar and egg whites, is also a holiday item. Augustine even makes a pumpkin biscotti and a pumpkin cannoli for the holidays, which he says was the first one around when he started making it 18 years ago. Augustine opened his bakery in Belmont in 1989 before moving it to Redwood City in 2003. He is a proud Redwood City native, with three generations in San Francisco's Italian-American community. "My grandfather Ciro Di Palma came here from Naples at the turn of the century. He arrived in 1900 and was here during the 1906 earthquake," Augustine shares. Augustine's grandfather eventually became co-owner of the California Macaroni Company in San Francisco. "He lived in San Francisco and in the 1930s this was all country here in Redwood City. He would come here on weekends and he had his rabbits and his chickens and his garden and then he retired early and stayed here in Redwood City and I was born here."
According to Buonocore family history, as a young boy, Augustine was often left in the care of his maternal grandmother, "Nonna Maria," who ran the home, organized the social calendar and baked and cooked traditional family recipes from Naples. Nonna Maria's family recipe book was passed down to Augustine, who follows the details of ingredients and preparation meticulously. Truly a beloved scrapbook, bulging with loose pages, tattered and worn, it is a compendium of family favorites, overflowing with authentic recipes. This journal of artisan baking is at the heart of La Biscotteria.
Augustine's family emigrated from the Province of Sorrento, just south of Naples. Almond and citrus trees, grapevines and anise hedgerows are indigenous to the region and produce was available in abundance. Save yourself the airfare and set a course for Redwood City. Support your new biscotti habit and better yet—support a family-owned local business. Order online or show up early on Saturdays and take your chances.