A dining room table is transformed into a culinary artwork overflowing with artisanal cheese varieties, multiple shades of sliced breads and crackers, vine-ripened fruits and crisp vegetables. Vases of fern-wrapped pink, red and white flowers lend color and sweet scents to the decadent spread. Delectable treats dot the foodscape—a handful of dark chocolates here, meringue and gingerbread cookies there. The grazing table, a wonderland of gastronomic discovery, awaits soon-to-be oohing and aahing party guests.
The creative hands behind this sumptuous soirée centerpiece come from Menlo Park-based Feast and Floral. The grazing table mavens include founder Ashley Higashi, co-owner Kim Cassingham (Ashley's sister) and florist Akemi Gertz (Ashley's sister-in-law). Launched in 2019, Feast and Floral focuses on grazing tables and picnic-sized grazing boards. Currently working out of a friend's newly renovated backyard cottage, Kim and Ashley spend hours prepping food to fill spaces measuring anywhere between dining room size to 16-foot event tables.
The sisters are well aware that the role food plays at a get-together goes way beyond filling stomachs. The placement and flow of food could make the difference between sticking with the familiar or mixing it up to uncover rewarding results, like making a new friend or discovering a taste sensation. Grazing tables help bring about these additional benefits by encouraging folks to mingle and nibble.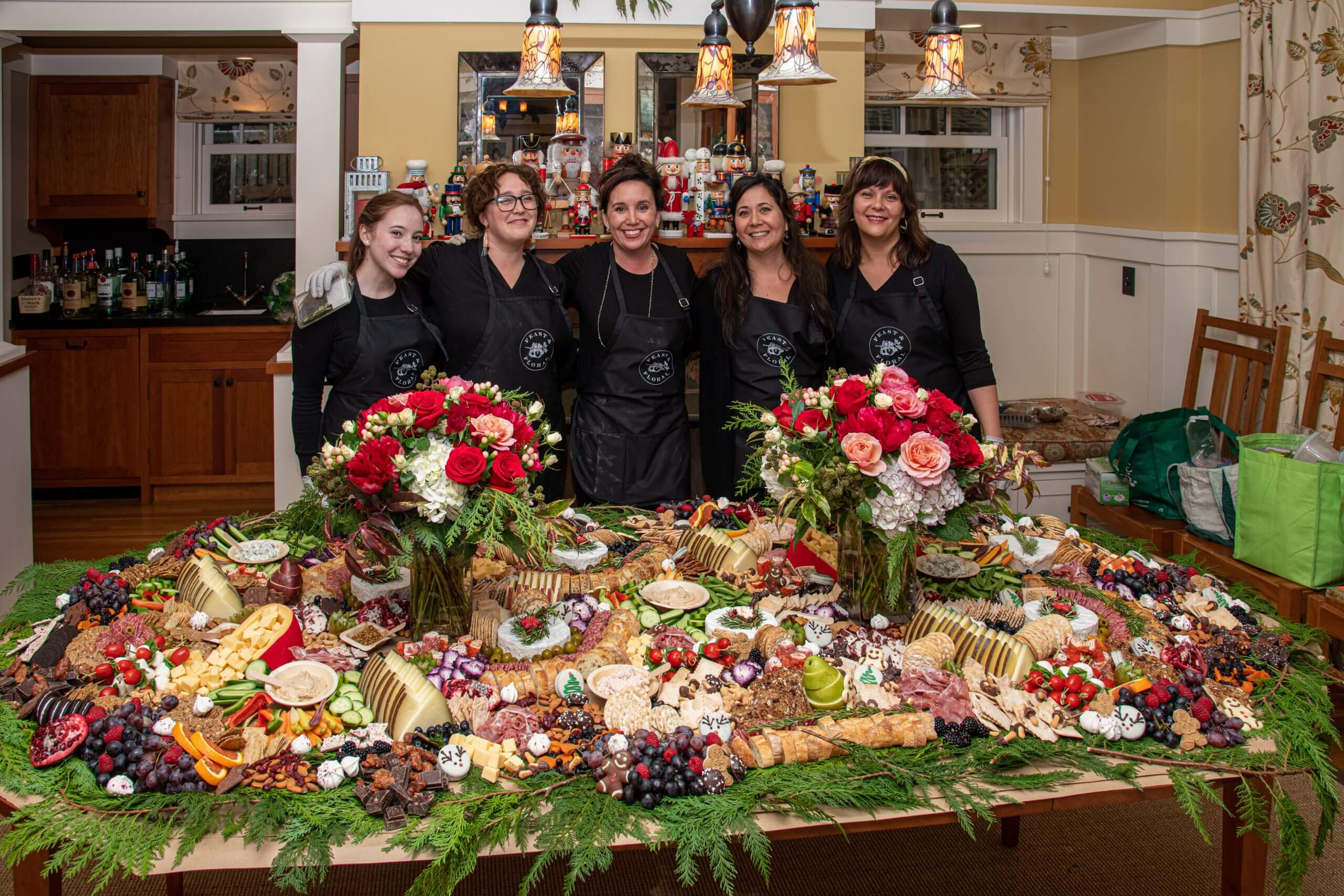 "A grazing table is a gathering place that is so different from passed hors d'oeuvres," says Ashley, as she slices triangles of Manchego cheese at the cottage's kitchen island. "Passed hors d'oeuvres sort of forces you to stay in your little clique of people and you don't have to move because someone is going to bring you the food."
"Same with a buffet because you're going down the line," adds Kim, from the opposite side of the counter. Her knife clips against the cutting board as she slices an English cucumber. "You go up to the table and get what you need, whereas at a grazing table, we set it up so you can move around it." Plus, the stigma of grabbing seconds is eliminated by the continual noshing nature of a grazing table.
Feast and Floral has honed in on what makes a grazing table aesthetically pleasing, streamlining its food presentation techniques around party theme and color palette. However, even the sisters' first over-the-top attempt at creating a grazing table was a party hit. Pictures of the "bountiful, beautiful table full of food" caught fire on Instagram. "People who didn't go to the party were talking about it. We called it our epic cheese board," says Kim.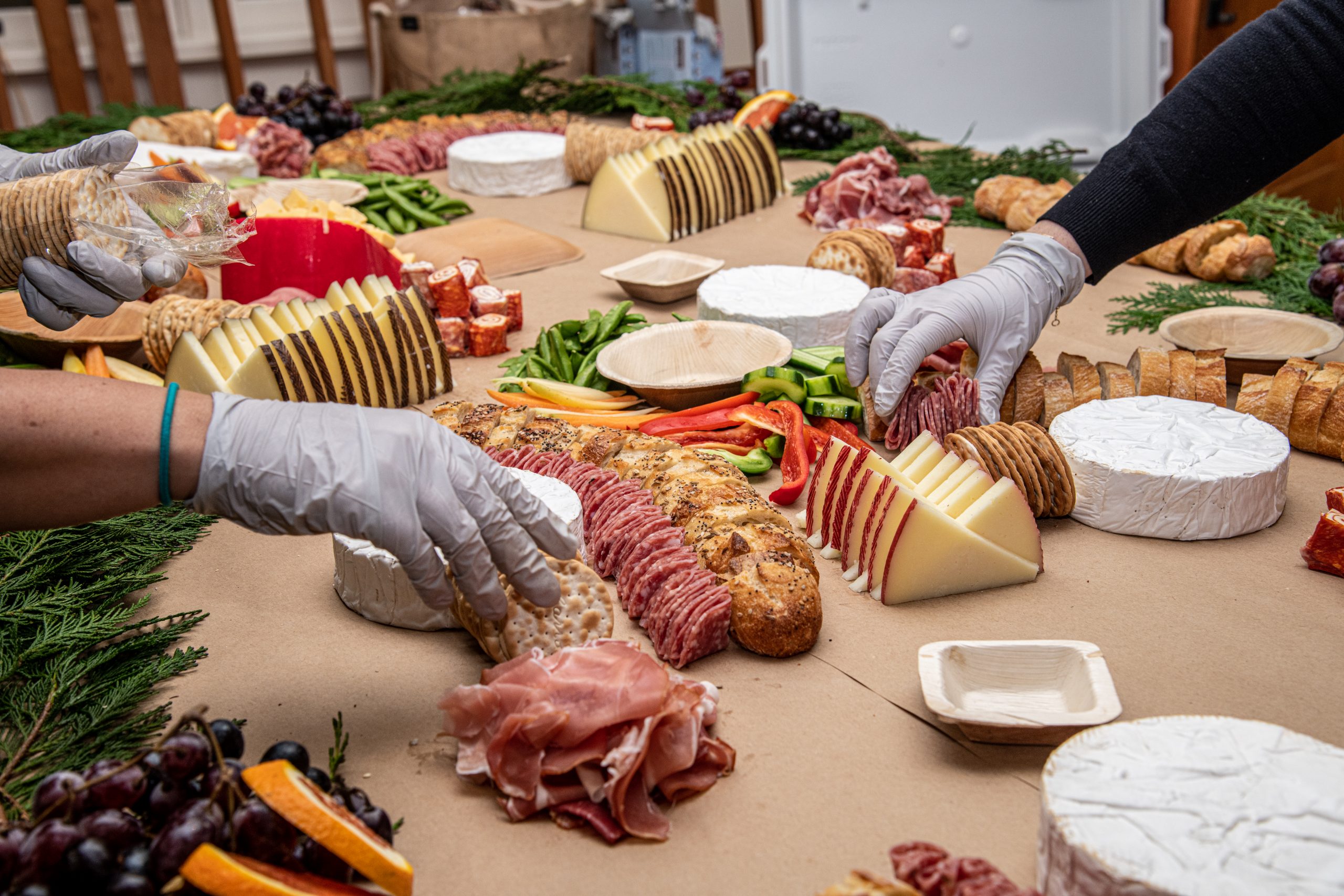 The piling up of positive reactions for Ashley's party hosting skills from friends, family and strangers on social media convinced her that she had what it takes to turn her passion into a business. "Some people get really anxious about hosting a party. For me, it's the opposite," she says. "I get energized by it. I love hosting people. I love making them feel welcome. I love making it beautiful for them." After routinely hosting six parties a year for 20 years, Ashley decided to up her hosting game for her sisters' bridal and baby showers. Over the last three years, fueled by Pinterest photo inspiration, she turned her hand to perfecting the art of crafting custom grazing tables.
Feast and Floral offers three types of grazing table styles and can customize them to fit the theme and color scheme of any celebration. Classic Graze incorporates floral arrangements and dimensional props like cake stands into its design. The Flat Lay takes over a portion of a countertop or table and the artistry flows from the placement of locally sourced cheese board fare. The Brunch Graze dives into bagels, pastries and smoked salmon. Grazing tables come with a 20-person minimum, but Feast and Floral has smaller parties covered with its "Graze on the Go" Picnic Box and Grazing Board.
Feast and Floral creations have transformed corporate conference rooms into banquet halls and the dining rooms of private homes into cozy gathering places. In consultation with sister-in-law and full-time florist Akemi on the color palette for a retirement party, Ashley pulled together a striking purple- and burgundy-colored spread with in-season pomegranates and deep purple grapes. The "wow" factor generated by the artfully arranged food draws guests in. "It's like a little treasure hunt," says Ashley. "People are always finding something new and they talk about it together. To me, a successful party brings people together."