Although she always felt a calling for design, Celeste Randolph found herself being steered in a different direction. Cautioned by her parents that design wasn't a practical choice, she became a court reporter instead. However, Celeste's love of design never wavered. "I always had a copy of Southern Accents or Architectural Digest tucked in my drawer so when the judge and the lawyers would go to the bench, I could peek at the latest design trends," she says.
Originally from Livermore, Celeste moved to Los Altos in 1995, and in 2005, she connected with Heidi Menard from Palo Alto's Ambiance Interiors and seized the chance to finally pursue her dream career. "Heidi took me under her wing and she taught me so much over eight years," Celeste says. As demand for her services grew, Celeste realized that it made sense to open her own business. She launched Celeste Randolph Designs in 2015, specializing in both interior design and decor. From accessorizing with pillows to implementing full construction design, Celeste now works with a team of eight, taking on "rebuild, remodel or refresh" projects from San Carlos to Los Gatos.
Whether it's designing spaces for living, dining or sleeping, Celeste does it all, but she says the true heart of the home is the kitchen. "The family definitely lives in the kitchen and we want to entertain in our kitchens as well. That's where all the activity takes place. It's where we find out about our children's days or what happened at work and it is probably the most popular room in the house," Celeste notes.
That wasn't always the case. When Celeste gets called in to consult on older Peninsula homes, she frequently encounters "galley" kitchens. Designed to be functional, like a galley on a ship, these isolated spaces had one sole purpose: preparing food. That shifted in the 1990s, and now when Celeste encounters a galley kitchen, "the first thing we do is try to open it up to family rooms." With so much focus being given to this hub of the home, we asked Celeste to summarize what's heating up in the kitchen.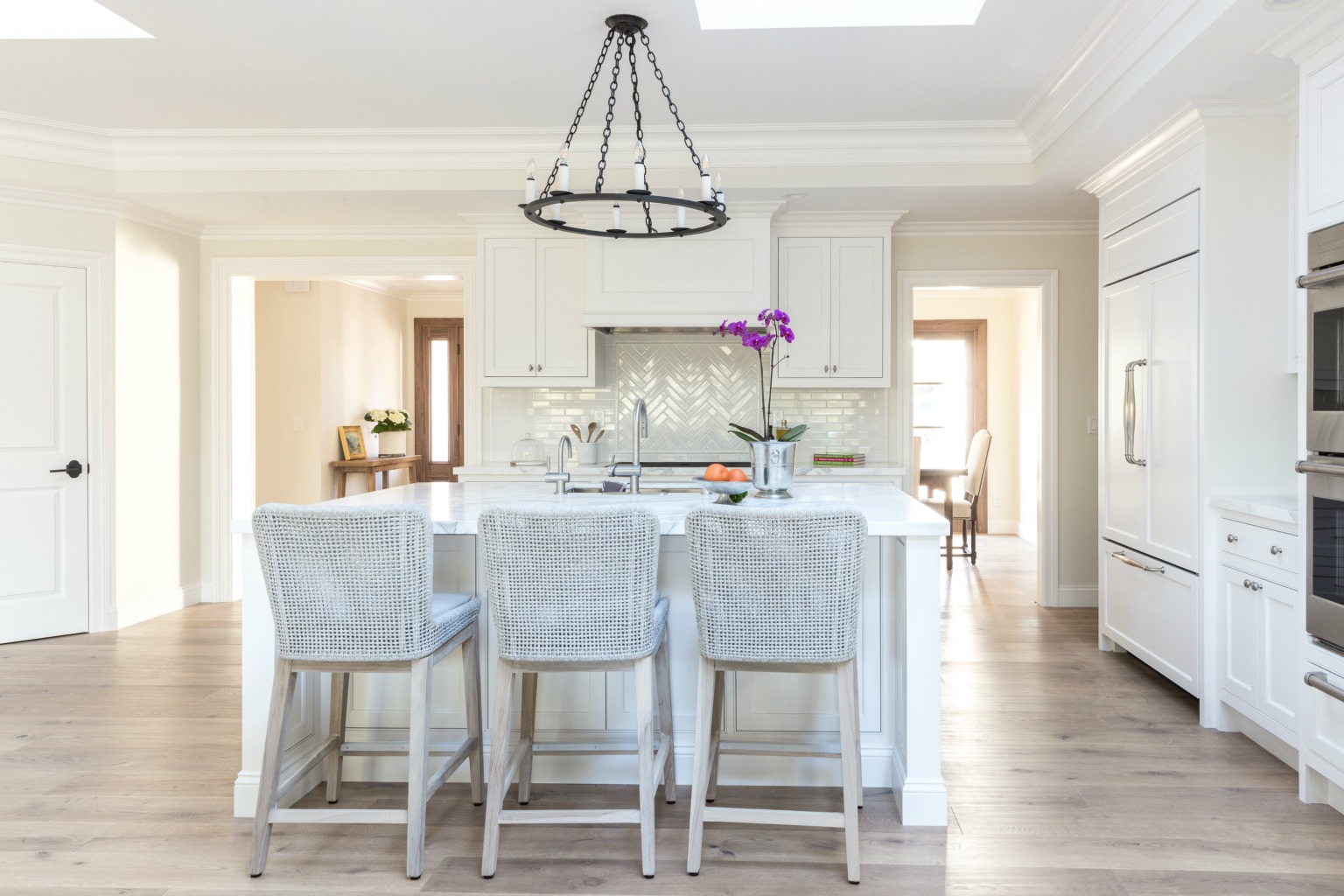 COLOR: Whites and grays are still the craze but saturated colors like teal blue, navy or aubergine are making a splash on islands, barstools and accessories. Celeste thinks we'll see more kitchens with saturated jewel-tone painted cabinets in the future. "People are getting bolder. We've seen a lot of white and we want something different," Celeste says. "But you have to marry a balance of saturated color with light."
COUNTERTOPS: While marble is always a classic choice, its popularity makes it more expensive and harder to come by. That's why quartz and Neolith are quickly gaining traction. "Neolith is a sintered surface made with a combination of natural minerals using heat and pressure as binding agents and it looks so real and beautiful," Celeste says. "It's also a family-friendly product. It's very durable, so you don't have to babysit it." According to Celeste, six out of eight recent projects chose Neolith and price was a definite factor: "Instead of $8,000 for a slab of Calcutta, you can get Neolith for $1,700." For clients who prefer natural stone, trends are honing, leathering or texturing the granite.
FURNITURE STYLE: "We try to take any opportunity we can in a kitchen to give it a furniture-like presence," Celeste says. Appliances are integrated and paneled, which creates a visually seamless look. The other advantage of paneling? You don't have the constant fingerprint cleanup you get with stainless steel. (Although stainless is still the go-to choice for ultra-modern style.) Other tips: Bring cabinetry down to the counter in some places and accent with antique mirror and glass insets. Celeste also likes to play with toe kicks, the space between the base cabinet and the floor, bumping up to five inches and even adding leg detail to make cabinets look like furniture.
LIGHT AND LIGHTING: Kitchens are going big when it comes to light fixtures. By selecting the right chandelier, Celeste creates an eye-popping statement to ground the space and add a little glamour. She also recommends introducing as much natural light as possible: windows, French doors and skylights. "We love skylights in our kitchens," Celeste acknowledges, "but how do you illuminate that at night?" That's where a little ingenuity comes in—cabling through skylights to hang smaller pendants.
ISLANDS: Islands are a gathering place and a workspace too. And with everyone trying to get rid of counter clutter, they conveniently house microwave ovens, wine and beverage refrigerators and ice makers. "Islands are perfect for concealed storage space, especially for tucking away appliances," Celeste says. And whether it's two stools or four, bypass the backs "so you can tuck them in" if you need more space. Waterfall the counters to boost durability and give the island a more interesting look. And if you want a splash of color, this is a good place for it—consider navy blue, gray or a dark stain wood—steering clear of white will also reduce the nicks.
OTHER TOP TRENDS: When it comes to hardware, Celeste points to big and bulky cabinet pulls. She likes clean, European sleek lines on kitchen faucets and simpler, squared-off range hoods. And while white apron–front sinks are seeing a popularity surge, durable stainless steel is always timeless. For under the feet, Celeste is a big fan of wood flooring. "What we're loving is 7" European white oak plank with an oil finish because it's easy maintenance and gives you that farm-like look," Celeste says, and she suggests topping it off with a hand-knotted antique runner. For enduring style, Celeste recommends transitional design: "I like fresh and new, so what we do is take the classic and modify it to reflect the client's personality. And I'm always looking for ways to clean the lines a bit."
refresh
Goal: Update kitchen with brown granite counters, tired wooden cabinets and a heavy Tuscan hood.
Design Choices: Painted cabinetry white and island navy. Selected herringbone marble backsplash and white quartzite counters. Installed new faucet and bold hardware. Replaced hood with cleaner, wooden design. This kitchen looks like a new kitchen for a fraction of the cost.
rebuild
Goal: White kitchen with a modern feel.
Design Choices: For a contemporary look, used espresso rift-cut oak floating shelves to match the island finish, mid-century-looking marble backsplash and waterfalled the Neolith counters on one side of the island. Note the cool light fixture hanging from the tall ceiling.
remodel
Goal: Client wanted traditional and loves anything French.
Design Choices: Used Neolith that looks like marble for island, added a pair of crystal chandeliers as well as more traditional hardware in brass. Shaker cabinets with an extra bead detail also add to traditional look. Large windows over the sink bring in natural light.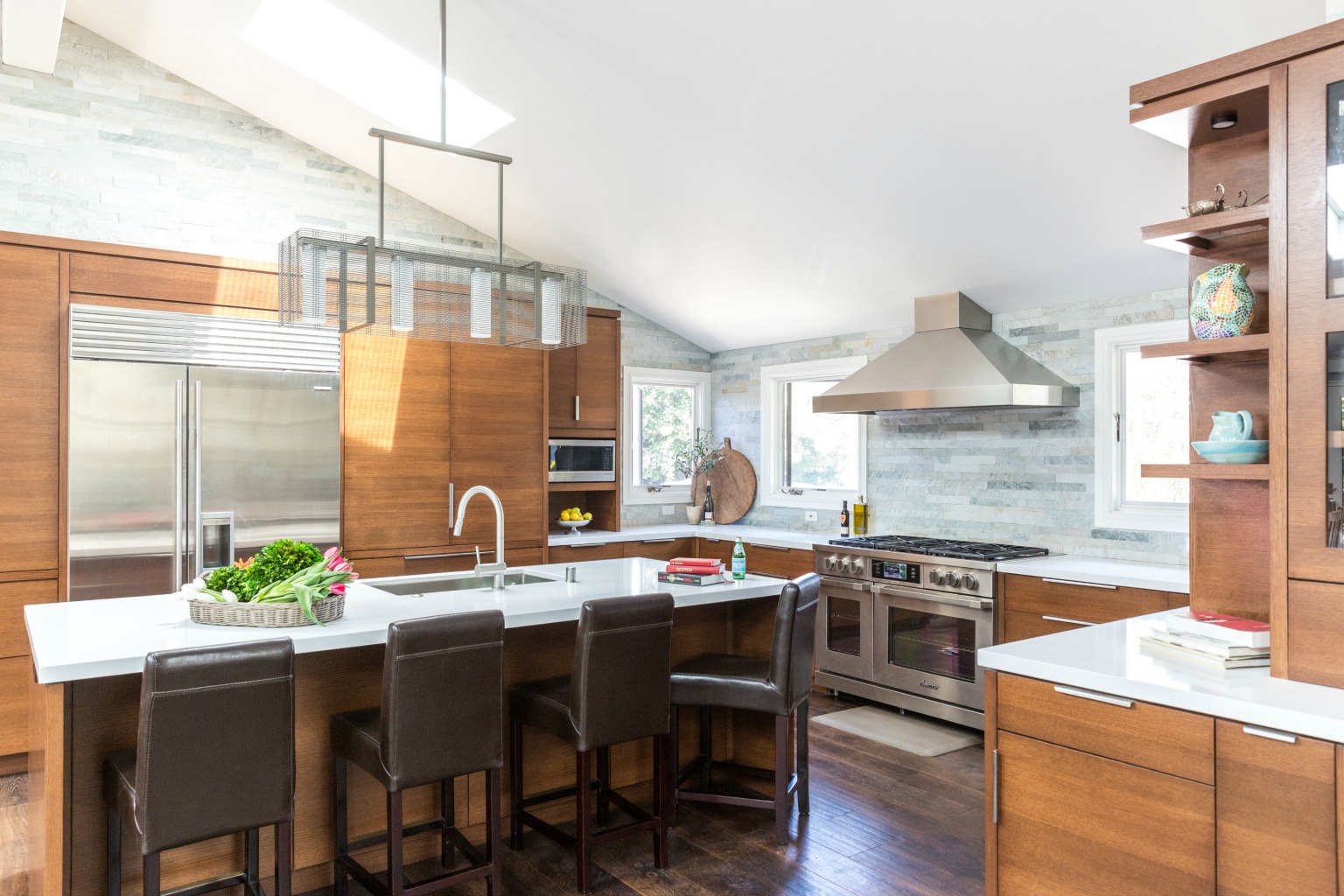 remodel (assisted by Ginger Case)
Goal: Update and open up original galley kitchen with beige cabinetry.
Design Choices: Removed wall to connect kitchen with family and dining spaces. To set a natural and organic tone, used rift-cut horizontal oak wood for cabinets, natural stone strip cladding for backsplash and sleek hardware. Designed cabinetry to conceal all appliances and keep counters clear. Kept windows from original plan and added skylights.
rebuild (assisted by Ginger Case)
Goal: Create a contemporary feeling utilizing as much storage as possible for the space.
Design Choices: Selected textured quartzite (Grigio Quartzite Flannel) for the island and chunky appliance handles for the hardware. Hung pendant lights from a cable inside the skylight to address lighting challenges. Squared-off range hood creates sleeker look.
remodel (assisted by Ginger Case)
Goal: White kitchen with a Santa Barbara feeling.
Design Choices: For backsplash, we used hand-thrown glazed subway tile for a timeless look. For lighting over the island, we installed a heavy iron chandelier that used to hang outside the original home, which ties in with other light fixtures. Woven bar stools add texture to the white kitchen.