Words by Sheri Baer
A few dates into our budding relationship, my new beau invited me to venture down from San Francisco to explore his homebase—the Peninsula. In good (but not cycling) shape, I gamely tried to keep sight of Doug's sleek road bike as we pedaled up Sand Hill Road on a route he referred to as The Loop. Over the course of the next 15 miles, I lost track of how many times I got off to walk my bike. "This guy is never going to want to see me again," I fretted, between heaving gasps for breath on yet another grinding climb. 
I must have had other redeeming qualities because Doug not only kept seeing me, he married me. And to underscore the man's intelligence, he never again pushed for a repeat attempt of our disastrous ride. 
As it turns out, 26 years later, it was my suggestion. And this time when we cycled up Sand Hill Road, I passed him. And no, it wasn't because I had become a hard-core cyclist. 
The game-changer can be captured in a single word: e-bike. 
Packing a built-in motor and battery power, e-bikes look similar to traditional bikes with the added ability of putting some wind into your sails. I'm clearly not the only one to discover the wonders of "pedal assist." According to the NPD Group, U.S. bicycle sales soared during the pandemic—up 65% between 2019 and 2020—with the electric bike category skyrocketing 145%.  
Longtime Peninsula cyclist Jeff Scanlan watched his wife catch the e-bike bug in early 2020. "She loved it so much, she said to me, 'Jeff, maybe we should open an e-bike store.'" After a career in financial services and the nonprofit sector, Jeff was ready for a change. He did his research and in November 2020, he opened Pedego Electric Bikes in Menlo Park. "I decided that this is going to be a great wave to catch and jumped in," he says.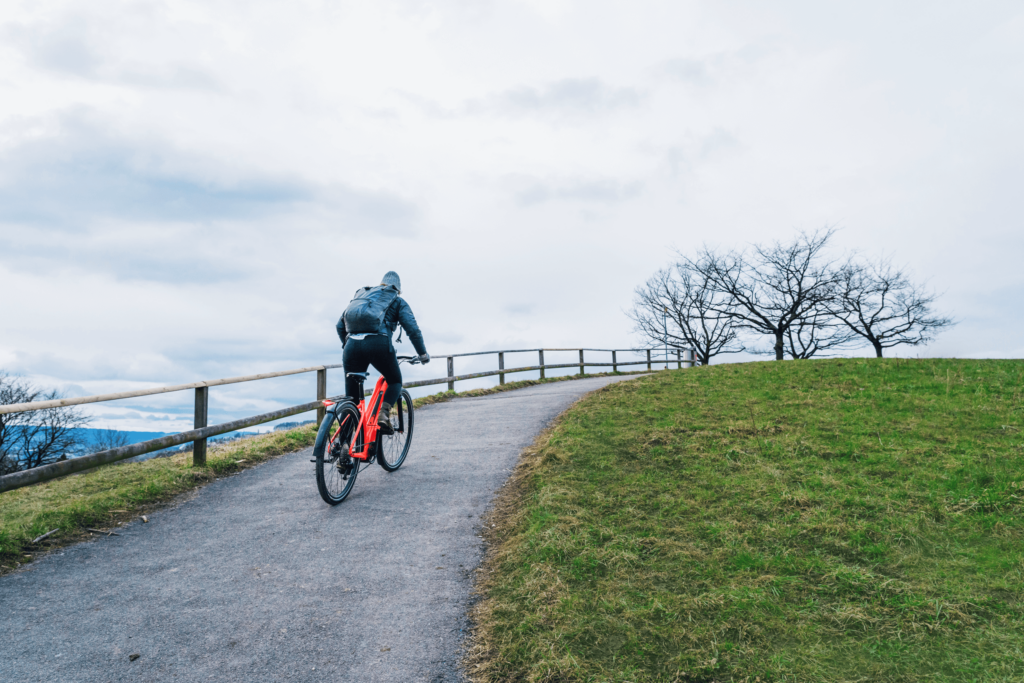 Most e-bikes rely on pedal assist—meaning that the motor won't kick in unless you're pedaling—although the brand Jeff carries also has a throttle/no-pedal option. "The original adage when e-bikes started hitting the market was, 'Oh, you're not going to get any exercise on them,'" notes Jeff. As he watches customers in their 50s, 60s and 70s rediscover cycling, he refutes that premise. "What we're finding is that people are getting more exercise because these e-bikes are allowing them to get back out there—it's easier for them to ride and to go places that they might otherwise not go."
At Cognition Cyclery in San Mateo, general manager Ben Jones estimates that e-bikes make up about 25 to 30% of overall sales. "Originally, it was a lot of older people," he says, "but we've watched the age range get lower and lower and lower." Ben sees customers embracing the exertion flexibility—whether it's couples "trying to equal things up" or a young parent looking for extra help hauling toddlers. "You still have to put in energy, you still get a workout," he says. "But you also have the option of choosing what level of workout you're going to get. At the end of the day, it lowers the bar for more riders to be able to get into the sport."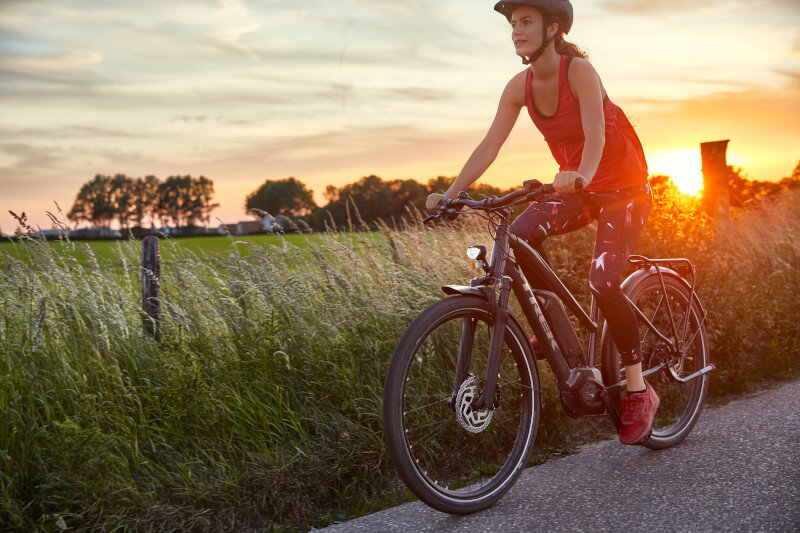 As Doug and I wheel out of our driveway on our second (26 years later) go-round of The Loop, he quickly gets ahead of me on the flats. Fully under my own pedal power, I catch up at stop signs and traffic lights. As we dig into our first long ascent, I shift to lower gears and then begin to experiment. With the push of a button, I switch into Eco mode. My ears hear a light whirring sound, and I feel an extra kick in my speed. When the pedaling begins to feel tougher than I want, I flick into Sport mode and find myself narrowing the distance to my husband up ahead. 'Do I dare?' I ponder, even as I trigger Turbo mode. No holding back now, I check for cars and then zip past my husband, feeling a rush of exhilaration and adrenaline. "Go Greased Lightning!" is the soundtrack playing in my head. 
"That feeling of empowerment on a bicycle is universal," says Ben. "We call it 'Turbo Face.' People come back from these rides and they have these massive smiles on their faces because they're doing something they never thought they could do before—whether it's a certain distance or a hill they never thought they could climb."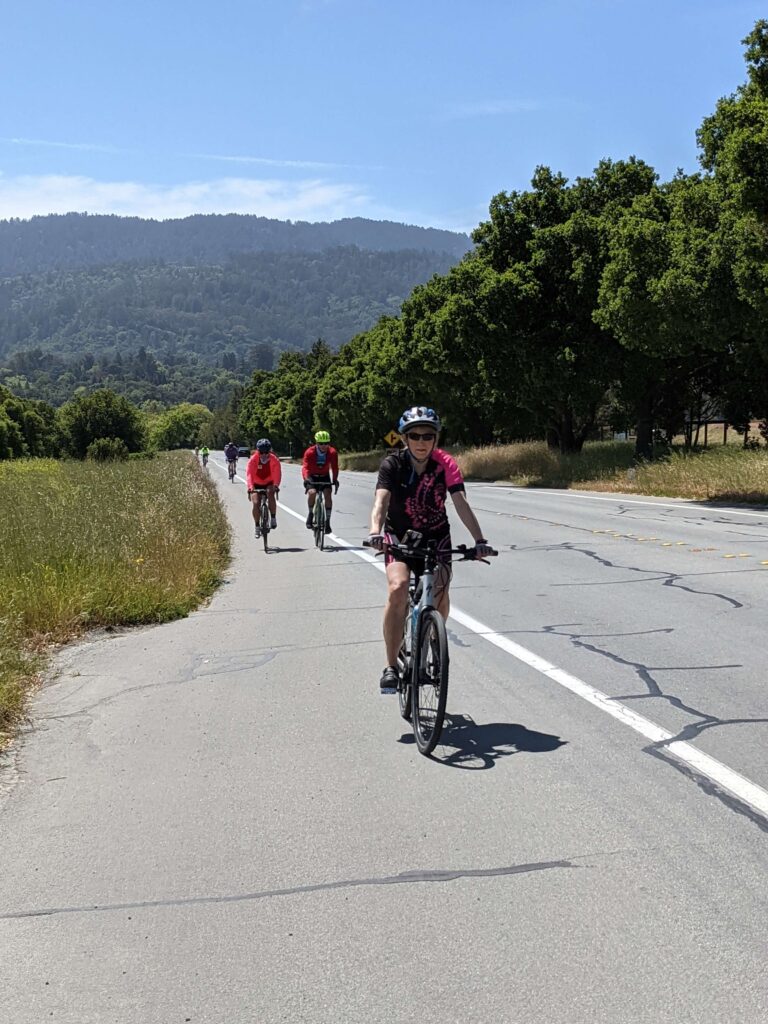 If an e-bike is on your radar, Jeff recommends test rides—or even a rental—as a good way to start. "Check out your positioning on the bike and the geometry of the frame," he advises. "Make sure you're comfortable with it." Ben ticks off questions that are helpful to consider: "What are your goals? How far do you want to ride? Do you ride with other people? How much of a workout do you want to get? Do you have any physical limitations? What's your budget?" 
Depending on the style you select, $3,000-$5,000 is a good ballpark range for wheels that let you zip up the hills. The other price you pay for power is weight with models ranging from the mid-30s to 60-plus pounds. What you get for free is the cycling wonderland known as the Peninsula. "We're in an epicenter of almost perfect cycling conditions," boasts Ben.
"We have great weather. We have beautiful scenery. We have hills if you want them and no hills if you don't."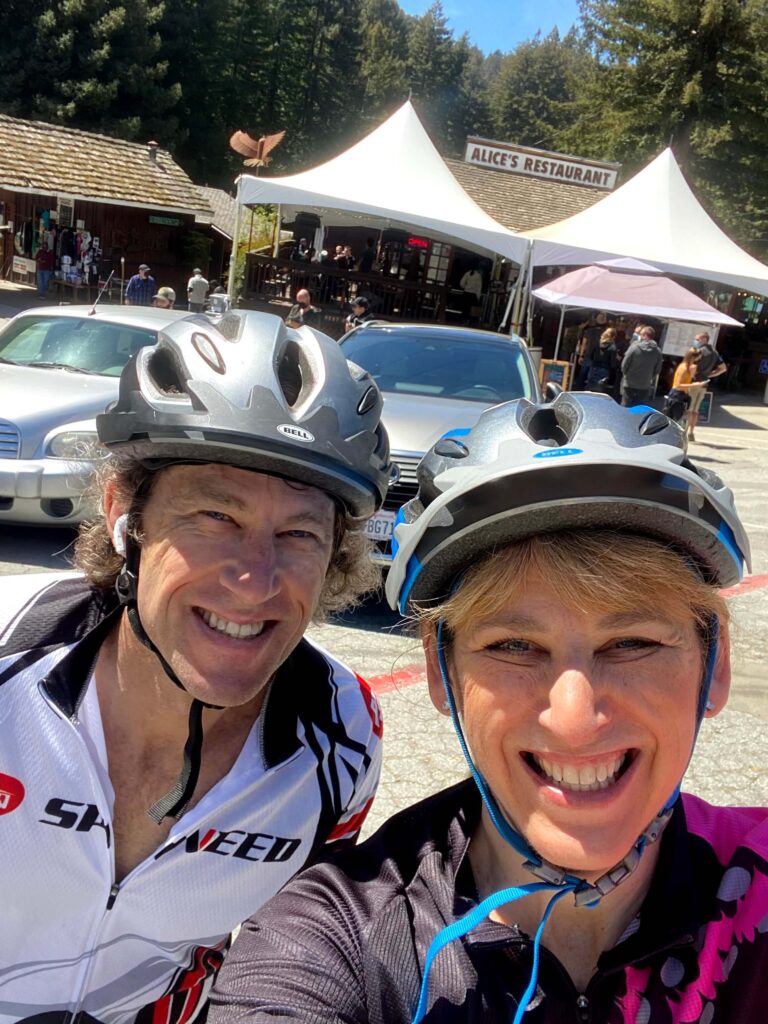 The Loop is now a frequent outing for us. In the category of "never thought I'd do in my lifetime," Old La Honda Road is a regular ride as well. I've developed my own rhythm. Downhill—no assist. For the level stretches, it's optional—am I feeling a need for speed or to catch up? On the long climbs, I start with the lightest assist and shift gears accordingly. If I'm feeling too much "grit," I know I can easily tap into my bike's superpowers. 
"It's almost this dance that you get with the motor, where you're giving at your end and the motor is giving at its end," summarizes Ben, "and at the end of the day, you have a great ride because of it."