Words by Kate Daly
Linda Jackson is proof that you can be called a living legend even if you're only in your 60s. She may split her time between homes in Menlo Park and Pescadero, but this summer you will find her on a global sprint as she accompanies the team of elite professional women cyclists she founded after ending her own competitive career.
A member of Cycling Canada's Hall of Fame, Linda inspires women cyclists every day, especially the swarm wearing bright pink helmets and jerseys emblazoned with the EF Education-TIBCO-SVB logo. Her team is one of just 15 licensed to compete at the highest level, the UCI WorldTour, which is presenting the women's Tour de France in July 2022—the first in more than 30 years.
In another first, Linda's team will be earning what men do at the WorldTour level. Although women's WorldTour teams are only obligated to pay women a predetermined minimum salary, team sponsors EF Education, TIBCO and SVB are matching the men's significantly higher minimum. From July 24 to July 31, the Tour de France Femmes will be televised live, following cyclists as they race from the iconic Eiffel Tower, past charming medieval towns, through Champagne country and all the way to the summit of La Planche des Belles Filles in the Vosges Mountains.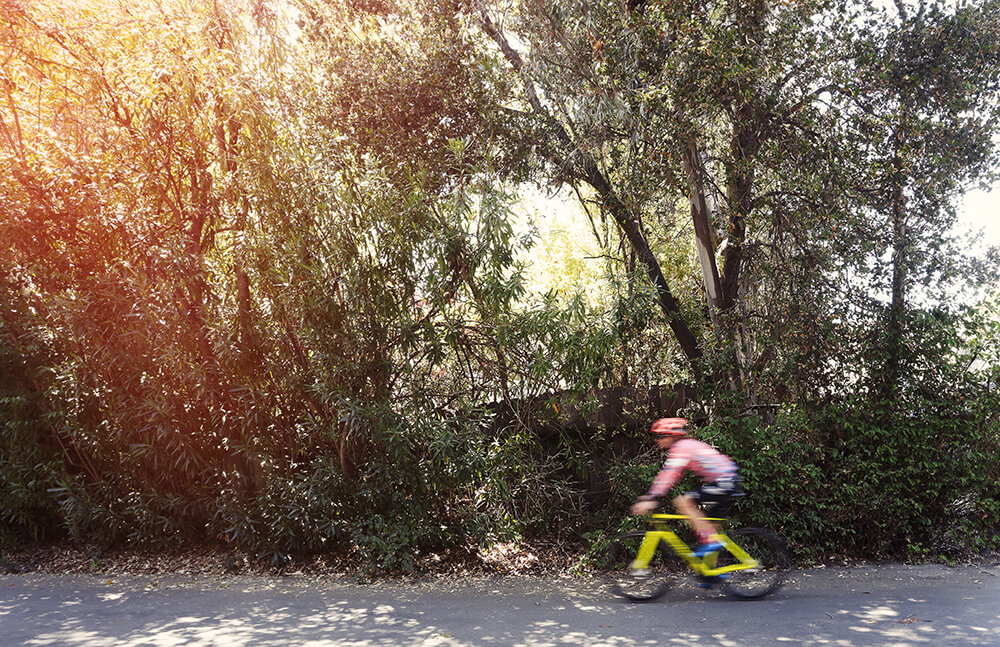 Bringing the women's Tour de France back "is a game-changer for women's cycling," Linda says. And she should know based on her own experiences of competing in a similar event, Tour Cycliste Feminin, back in the '90s. However, Linda acknowledges that she wasn't born to ride—in fact, it happened rather unintentionally.
Born in Nepean, Ottawa, Linda swam in high school and college, but after working at Morgan Stanley and then earning her MBA at Stanford, she switched to biking as an easy way to get around town. "I didn't drive at the time," she says. "At age 28, I commuted on my bike in jeans and running shoes." Then, during a ski trip to Lake Tahoe in the early '90s, she lost control on the slopes. As Linda slowly and painfully recovered from an ACL and meniscus tear (which required bone-to-bone reconstruction), cycling became a major part of her rehab routine.
As she grew stronger, she proudly remembers biking with a group of friends up Old La Honda Road in Woodside and being the first one to reach the top using flat pedals as opposed to clip-ins. After riding well in her first official race in 1991, Linda was hooked. By then, she was working for an investment bank, and her training included regular rides through the Los Altos hills to her office in San Francisco.
In 1993, at 35, she gave up her finance job to take a run at the 1996 Olympics. Initially training on her own and then with a few different teams, she earned a spot at the Summer Games in Atlanta. However, the international competition resulted in a heartbreaking outcome. "My parents were there to watch, and on the first lap of the road race, a woman wiped out and it was the domino effect," she recounts. "I went flying into a mailbox." Unable to shift gears with one arm, Linda had to pull out of the race and burst into tears during her trip to the hospital. About a week later, she competed in a time trial and came in ninth. Linda continued to rally back and won bronze later that year at the World Cycling Road Championships in Lugano, Switzerland.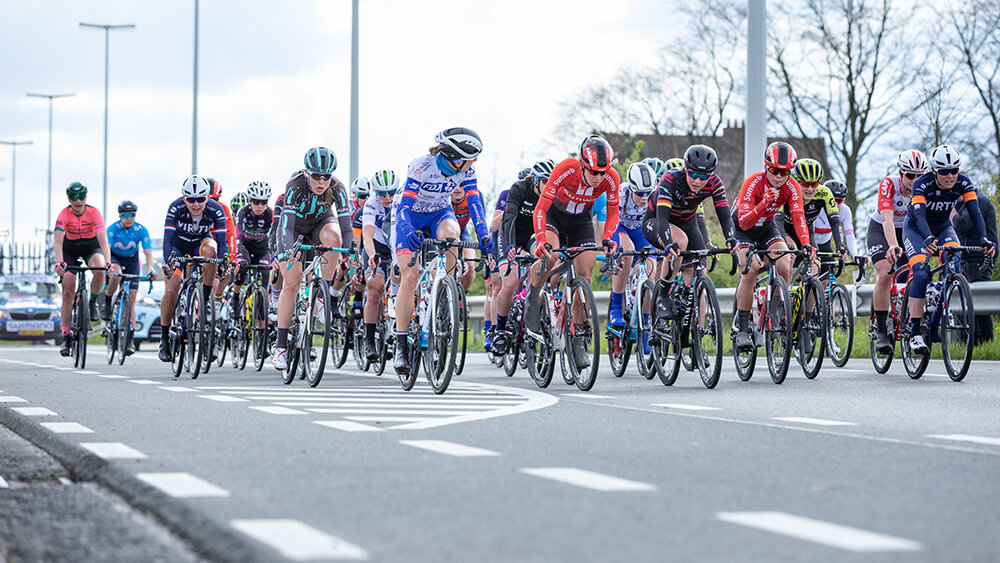 The year 2000 ushered in big changes for Linda—she retired from pro cycling, got married and returned to a banking career. When a group of young women cyclists reached out to Linda to coach them, she decided to give up her six-figure salary and fully embrace her passion. Linda searched for team sponsors and organized galas and auctions at various clubs and private homes on the Peninsula to raise funds.
Today, Linda oversees a team of 14 women from six countries, and a staff that includes a director, high performance director, two mechanics, two soigneurs who provide massages and general care for the riders and a part-time nutritionist. With the exception of a 17-year-old junior road and cyclocross world champion from Great Britain who just signed up to join the team as a trainee, the cyclists range in age from 19 to 36 and include a doctor, a concert pianist and what Linda describes as "well-educated, well-balanced individuals who are interested in something other than cycling."
Many of the women are based in Europe, but at the start of each season, they come together to train as a team with Linda. Last February, they spent two weeks in Spain, and Linda rode with them on what she calls the "easy day." After getting hit by a car on Skyline Boulevard back in 2013 and suffering multiple injuries, she is understandably more cautious. "I swore I'd never ride again—it was too dangerous," she says. But, within a month, she was back on a trainer. "I didn't give it up but I was really afraid, especially on the descents."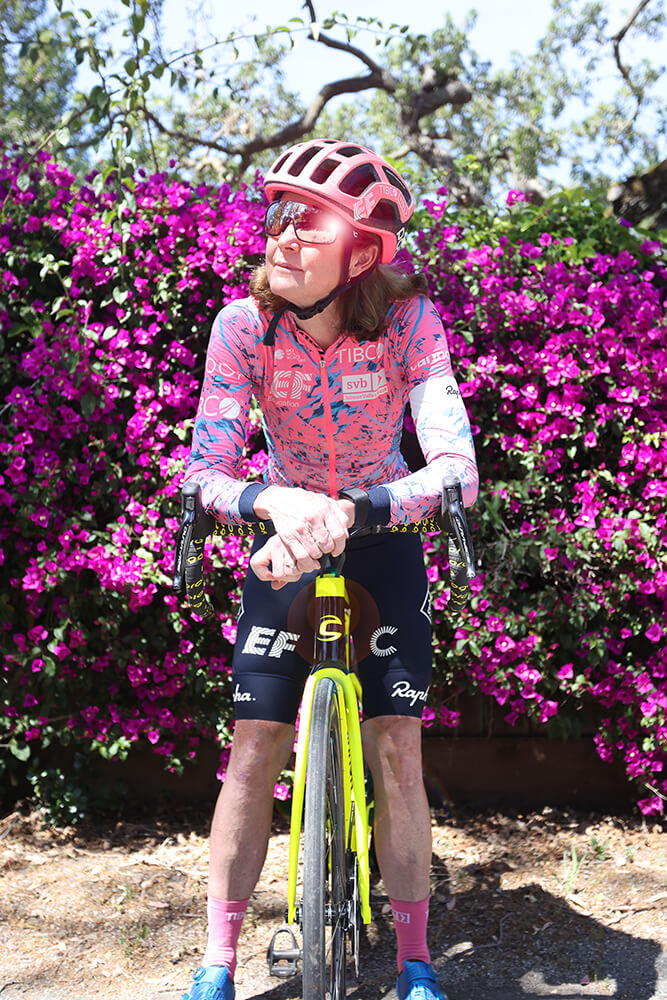 These days, Linda rides about 300 miles a week to keep in shape and admits to being a bit frustrated that she can't do what she used to do, such as ascending Old La Honda in just over 16 minutes. Nowadays, it takes her more like 20. But rather than dwelling on her own performance, Linda finds fulfillment in discovering and supporting female athletes. Through her Silicon Valley Cycling Foundation, for example, she sponsors a development team in Seattle.
As Linda looks to the future, she believes that with women finding increasing equality in sports, "little girls can aspire." Linda and her team will keep blazing that trail with their feet on the pedals and their eyes on the prize.