Words by Sheri Baer
Draped in a dreamy white dress with flowing sleeves and a plunging back, Aira Bubnelyte glides across the floor in the arms of her partner, Tomas Atkocevicius, impeccably attired in black tux and tails. "This is so Fred and Ginger—I love it!" enthuses the announcer as the couple twirls to the rise and fall of Count Basie's "One Mint Julep." "So smooth—the epitome of grace and formality," the commentary continues. "They are doing the classic essence of ballroom."
The setting: the PBS-televised Ohio Star Ball in 2005. And it was just one of many stops—or steps—in the extraordinary journey that's swept Tomas and Aira from their hometown of Kaunas, Lithuania, to the elite ranks of competitive DanceSport, and ultimately to the Peninsula, where they channel their shared aspirations into San Mateo's Dance Vita Ballroom.
Waltz. Jive. Cha Cha Cha. Salsa. Quickstep. Samba. Whether students opt for competitive, social or fitness dance—group lessons or private—the couple describes the outcome as uplifting, strengthening exercise. "When you dance, every muscle group of the body is working," notes Aira, "and it's also really therapeutic. You have to think a lot when you dance—doing the steps, listening to the music—so people forget their daily struggles."
As lifelong dancers and teachers, Aira and Tomas credit education with playing a vital role in their success. Before they can guide the fast directional changes and staccato movements of the tango or the slow-quick-quick rhythm of the foxtrot, they have to entice feet onto the floor. "People here don't know about ballroom dancing," explains Aira. "Dancing with the Stars helped a lot, but that's also not quite the same. The biggest challenge is for people to find out about it."
That's hardly the case in the couple's home country, where dance is deeply embedded in Lithuanian culture. Dance competitions draw enthusiastic fans, and ballroom dancing is promoted on buses and regularly broadcast on TV. "In Lithuania, ballroom dancing is very popular as a sport," affirms Aira. "It's almost right after basketball."
Aira herself began taking lessons at the age of six and can barely remember a time before dance. "I slowly fell in love with it, and then it became my passion," she recalls, describing the discipline and training that led to winning major titles including World Youth Ballroom Champion and Amateur World Cup Ballroom Champion. "It's always a battle inside you to fight with your butterflies," she shares. "I loved the competing part of it, I loved the travel and I loved the community itself."
Tomas started dancing at eight, but he admits it was far from love at first step. "My family made the decision, and I went along with it," he recounts. "I was always at the bottom of the field because I was competing against kids who started at six and seven." At 13, Tomas got his first taste of winning and finally succumbed to dance's allure: "When you get a good result, it feels fantastic. It feels very rewarding." At one point ranked first by the International DanceSport Federation, Tomas became a four-time Lithuanian Amateur Ballroom Champion.
Although they grew up in the same hometown, Tomas and Aira didn't find themselves in a two-hand-hold position until they were older. At the ages of 26 and 20, they became dance partners—which also led to becoming life partners. "It was very natural because we spent a lot of time together, and our goals were the same. Eventually, we started to develop feelings for each other," says Tomas. "First, it was just dancing and then little bit by little bit…" smiles Aira. "Even though I said I will never marry a dancer."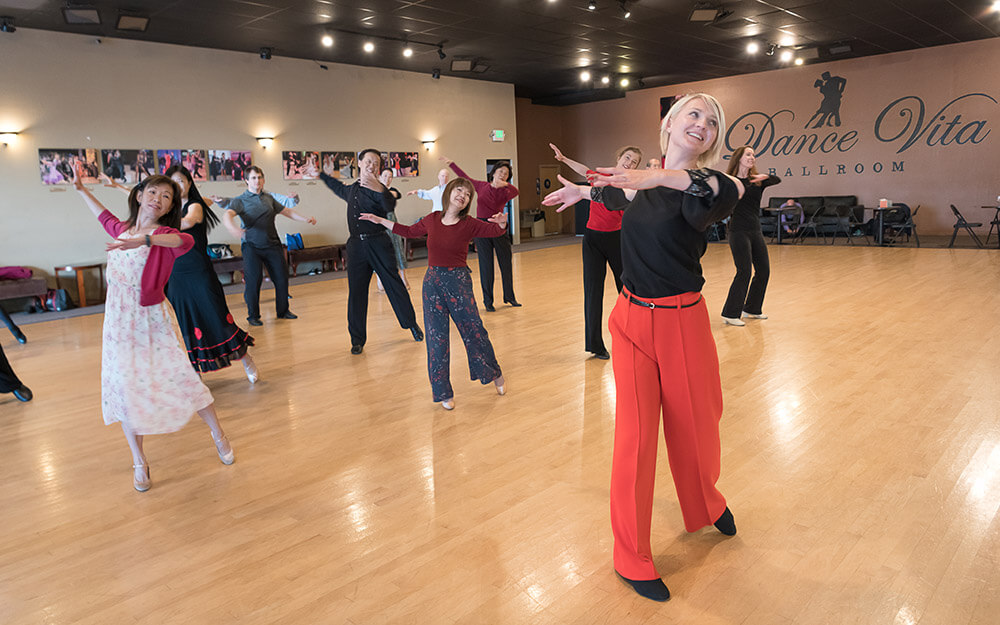 After competing in the World Championships in Miami in 2003, the couple accepted a course-altering invitation to visit a friend in the Bay Area. Struck by "how beautiful life is here," they envisioned a future for themselves on the Peninsula. "At that time, it was a lot of social dancing here, not a lot of competitive dancing," Tomas says, "so we felt we could build something."
Initially competing and teaching in studios all over the Bay Area and beyond, they realized their dream when they opened Dance Vita with two dance friends in 2011 (they are now solo owners) and settled in nearby San Carlos.
With a teaching staff and 7,200 square feet of ballroom space, Dance Vita's schedule is packed with offerings. West Coast swing, bachata or salsa? Latin cardio? Friday Social Party? Argentine tango? Recognizing how overwhelming the choices can be, the studio offers a free group lesson and a 30-minute private lesson for new students, who range in age "from four years old to 80-something." "That way, if they don't know what they want to do, they can come in and try different things," says Aira. "For people who feel like, 'I have two left feet,' I always say, 'Just come and try.'"
In Ballroom Fitness, instructor Razmik Papian leads students through tango steps to Ed Sheeran's "Bad Habits." "Right foot forward, arms up," he instructs, as the class progresses through basic elements of five ballroom dances. "You don't partner up. You follow the teacher, the moves, and it's nonstop," describes Aira. "It's mainly for stamina, for cardio, so it's more like a gym type of workout." While the fitness classes skew heavily to women, Aira and Tomas were surprised to see group social dancing classes (which rotate partners) filling up with men. "Engineers love to dance," Aira observes. "In dancing, you have to think about how to do things, figure out the directions, the steps. They feel like they are in their own niche with that."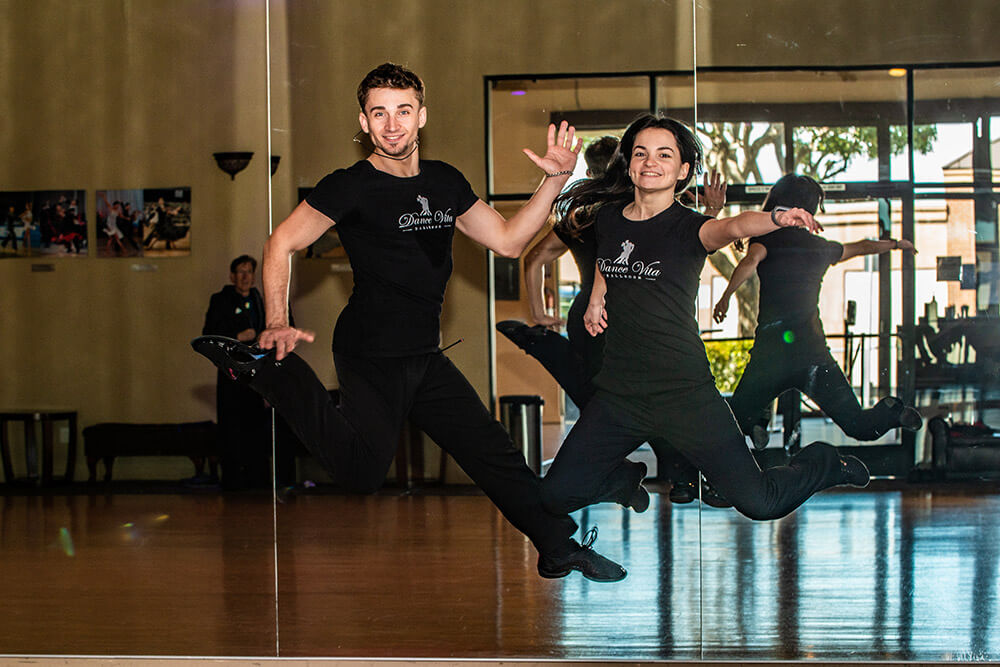 Another popular offering is Dance Vita's wedding package, which prepares couples for their first dance. When Aira and Tomas first opened the studio, they didn't even know that was a thing. "So we said, 'Okay, let's start it,'" says Tomas, "and it took off." In four lessons, couples learn a small routine choreographed to their favorite song. "It feels more special," adds Aira, "and they don't feel as awkward with all the guests watching them." On the competition front, the couple takes pride in Dance Vita's reputation and what their students achieve. "We have national champions at all categories—from the pre-teen to the senior level," reports Tomas. "Some of them are world champions or world finalists as well."
With their six-year-old son Oskar added into the mix, the quickstep has become a way of life for the couple. Some days, they say it can be midnight before they finally find a chance to talk. Despite the breathless pace, they are grateful to be partners in this particular dance. "I love coming to work every day," reflects Aira. Tomas nods in agreement: "It's nice to go to work because it doesn't feel like work. The studio feels like an extension of our home."
Cha Cha Cha