Words by Johanna Harlow
Seeking a day trip to de-stress? Find respite just south of the Peninsula with a quick jaunt to Saratoga, an idyllic town nestled along the emerald green foothills of the Santa Cruz Mountains.
You wouldn't guess by its real estate these days, but back in its frontier youth, the area functioned as a gritty industrial town with seven saloons. Over time, farmers coaxed fruit orchards and vineyards to bloom across its fertile soil. Edwin Sidney "Sunshine" Williams launched Saratoga's annual Blossom Festival in 1900 to celebrate its bountiful harvest of cherries, apricots and French prunes. In recent years, a number of well-known creatives have called the area home, and big names like actress Olivia de Havilland, Men in Black screenwriter Ed Solomon and director Steven Spielberg furthered the city's association with the arts.
With plenty of outdoor activities and no shortage of enticing restaurants, you're sure to find your visit to Saratoga revitalizing.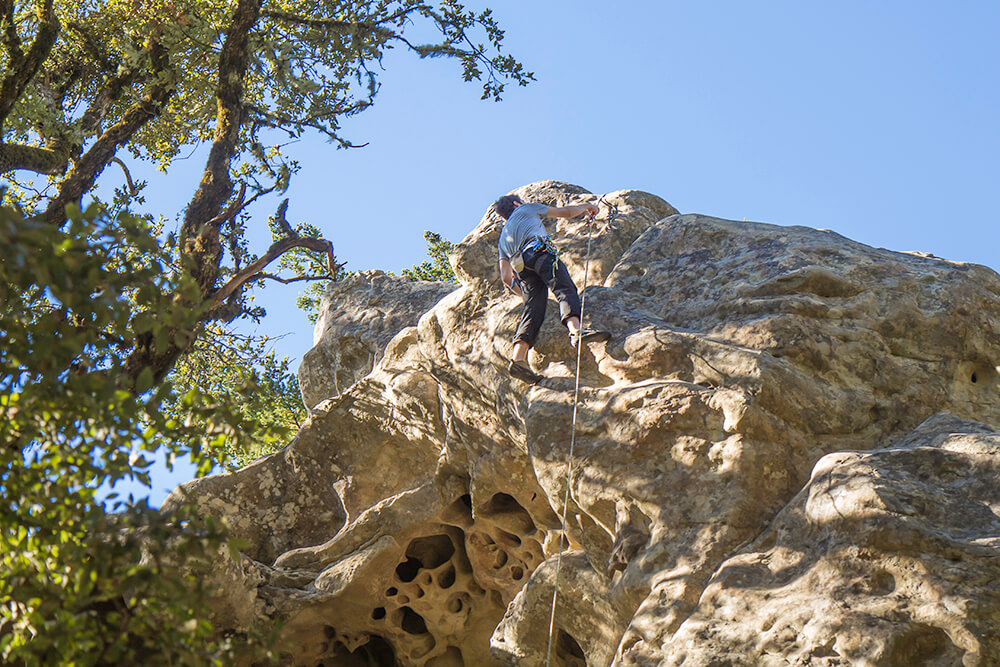 Photography: Robert David Siegel
Hike
Get a strong start to the day by zipping up your jacket, grabbing a piping hot thermos, then setting out for an invigorating morning hike at Castle Rock State Park. As you wind along its woodsy trails, you'll spot massive boulders peeking between California black oaks, knobcone pines and redwoods—almost as if tossed there long ago by some playful giant. Needless to say, it makes for quite the surreal landscape. Be prepared for steeper terrain—but also fabulous ridge-top vistas.
For a shorter hike, we suggest the mile-long Castle Rock Trail loop, which includes the park's namesake, a hulking stone formation. For something a little longer, set out on the narrow but well-traversed Saratoga Gap Trail and make a right onto Ridge Trail where you'll encounter the slowly eroding Goat Rock. If you're lucky, you'll spot a climber or two scaling the area's Swiss cheese-like formations (also called tafoni).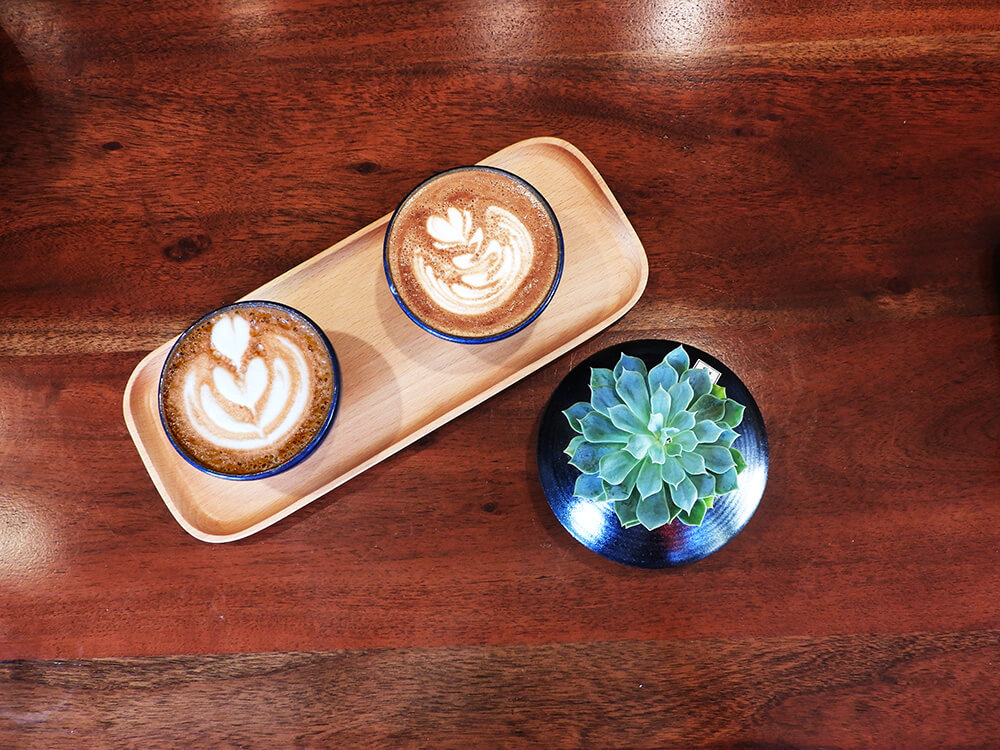 Sip
For those looking to seize the day with a caffeine boost, stop by Tea Lyfe. With Vietnamese-Mexican fusion drinks that reflect the heritage of the couple who own the store, the menu features adventurous drinks like the Vietchata (Vietnamese coffee with Mexican horchata) and the Strawberry Lychee Mojito.
Alternatively, savor the sun-saturated patio of Sue's Gallery Café with a cappuccino served in a glazed ceramic cup (crafted by Sue herself). If you'd like to take Sue's handiwork home, rows of her museum-worthy plates, vases and oversized teacups are available for purchase. While Sue handles the art, her husband orchestrates the shop's artful blend of Guatemalan coffee beans.
If you're in a mind to unwind, forgo the espresso buzz and drop by one of Saratoga's notable wineries. At Savannah Chanelle Vineyard, a glass of pinot noir pairs nicely with live music and foggy forest views. For a show with all the stops, The Mountain Winery boasts a spacious amphitheater and robust concert series. Upcoming performances include Fitz and The Tantrums, The Beach Boys and Smokey Robinson.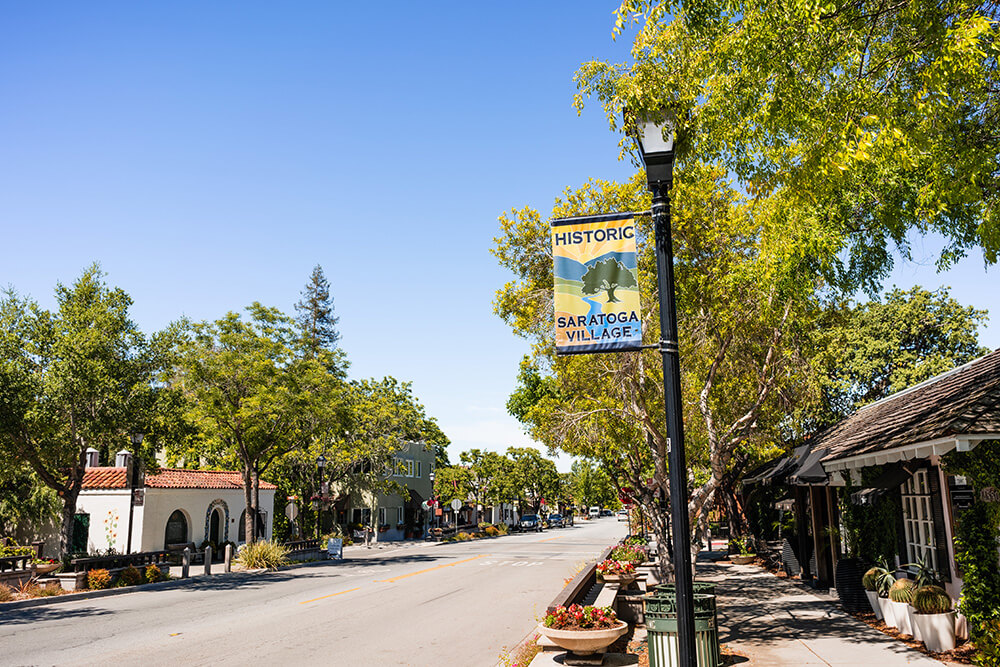 Wander
Not all who wander are lost—so let the paths guide you at Hakone Estate and Gardens. Spend a peaceful afternoon peering up at the thin, long shoots of the bamboo forest, ducking beneath wisteria-laden trellises, studying granite stone lanterns and lingering by star-leafed maples. If you take your time, you might even spot a koi or two drifting under the Shinto-style bridge or a blue-tailed skink sunning itself in the rock garden. To immerse yourself even more deeply in the experience, sign up for a tea ceremony and learn the graceful art and mindfulness of serving and drinking tea as well as the principles of wa kei sei jaku that guide it.
Villa Montalvo, a 175-acre park and arts center, also merits exploration. There's an air of grandeur about this place—starting with the century-old mansion presiding over the estate and overlooking the two-acre Great Lawn where picnickers, sunbathers and bookworms fan out across its immaculate grass. The Italianate garden features statues, hedges and a classic column gazebo. Beyond lies the Lookout Point trail, progressing through majestic stretches of redwoods to a panoramic vista of Silicon Valley. Remarkable not just for its grounds, Montalvo Arts Center boasts the third-oldest residency program in the U.S. Montalvo has served as muse to artists, composers, performers and writers—and in turn, they contribute their disciplines to the park's packed schedule of concerts and creative events.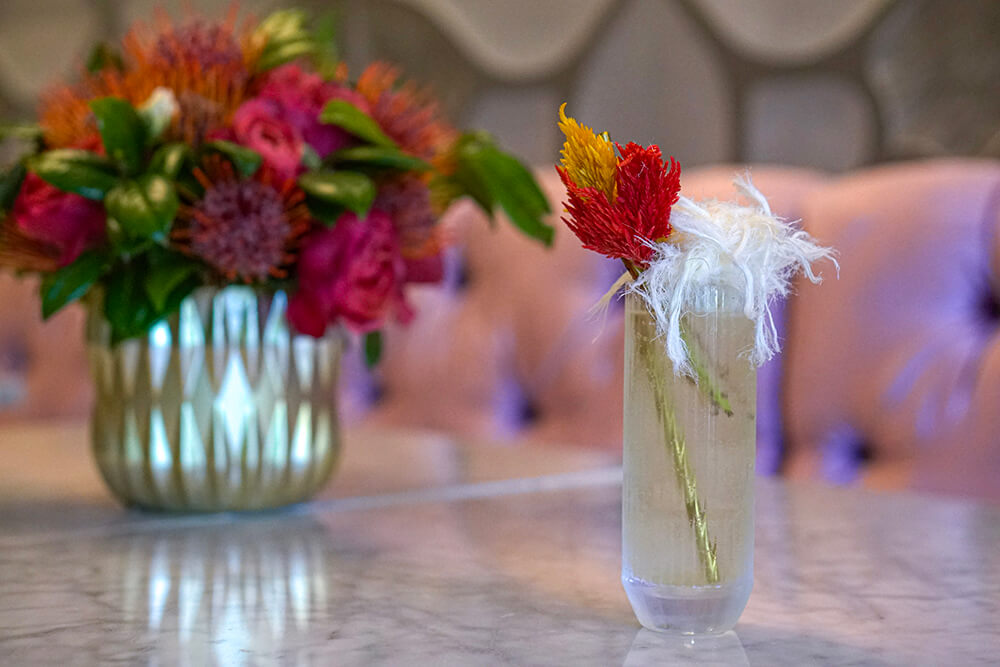 Dine
As the sun starts to set, make your way over to Saratoga Village. The area's historic downtown features a number of delectable dining opportunities, so we recommend taking a leisurely lap around the block to scout your options before committing.
Go bold at Flowers Saratoga, a place with powder-pink velvet booth seats and dramatic food presentation (think shortcake served in fishbowl globes of ice and Hummingbird cocktails sprouting a flurry of feathery plumes (not to worry, it's actually pulled Turkish cotton candy).
In the mood for tom yum soup and pad kee mao noodles? For Thai cravings, you can't go wrong with either Bai Tong or Mint Leaf Cuisine. Both are dramatically decorated: Bai Tong with intriguing artifacts and oil paintings; Mint Leaf with zebra print chairs, swaths of decorative curtains and a bold red ceiling.
To take it up a notch, pull out all the stops at the Plumed Horse. Enjoy your striped bass and souffle in a crocodile print chair near a cozy indoor fireplace or lounge under the chandeliers in the tent outdoors. The real showstopper here is the restaurant's transparent corridor of wine, its glass floor revealing not one, but two stories of vintage bottles stacked floor to ceiling.
For a hands-on meal, visit La Fondue to dip skewered morsels into heated pots of cheese and chocolate. Matching the novelty of the dining experience, the eclectic ambiance includes Moroccan lamps, geisha murals, funky chandeliers and pop art wallpaper.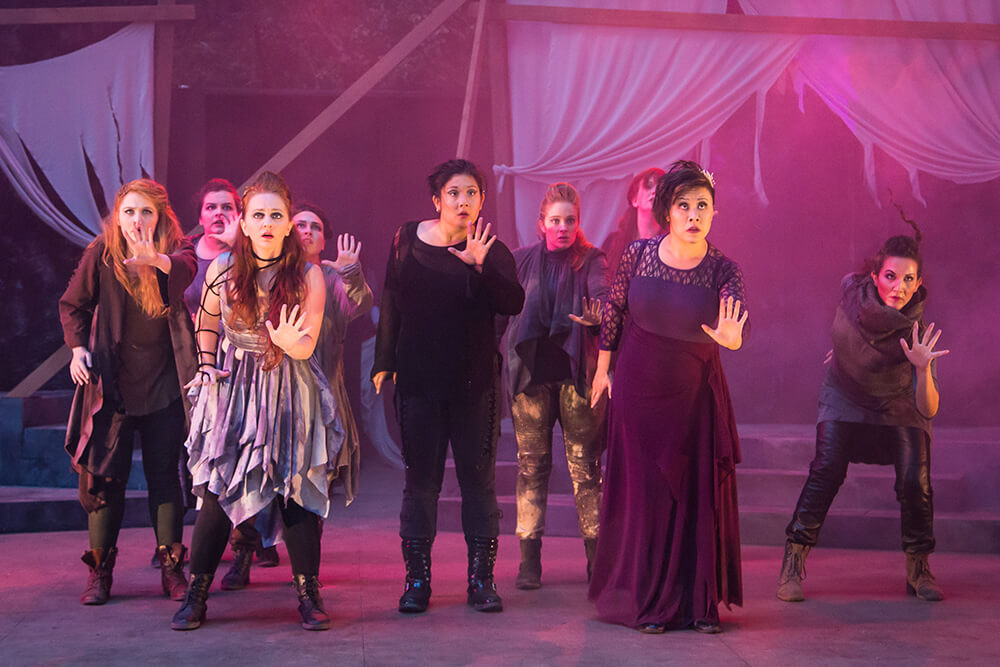 Photography: Courtesy Silicon Valley Shakespeare
Watch
For evening entertainment during the months of July and August, attend a Silicon Valley Shakespeare performance in Sanborn County Park's tree-fringed amphitheater. To keep things fresh, this troop of thespians often adds contemporary twists to the bard's Old English. Past playful themes have taken The Taming of the Shrew to the Wild West, The Tempest to the tropics, and Pericles: Prince of Tyre to outer space (light sabers and blasters included). They've even brought a '90s battle of the bands to Love's Labour's Lost (think NSync vs. the Spice Girls). Productions take place under the stars—poetic, but also cold—so pack layers or a snuggly blanket.
After the applause fades away, it's time to bring the night to a close and head home. Until next time, Saratoga.