Transforming Filoli into a Holiday Wonderland

 
words by Sheri Baer
Walk up Filoli's grand staircase (only staff are allowed above the first floor), and you'll pass a 17th-century French tapestry depicting a battle scene from the conquest of Alexander the Great. Continuing down the second floor hallway brings views of former family and guest bedrooms (currently used as offices)—including an en suite bathroom with opulent Carrera marble and a deep soaking tub. Other sights include the lady-of-the-house's octagonal dressing room, attached to an expansive bedroom, and a small kitchen and dumbwaiter, once used to prepare and deliver food to the second floor. Up one final narrow staircase with a low ceiling (Watch your head!), and you arrive in the attic, which on this cloudy October morning looks like Santa's workshop—if it was transported into an early 20th-century 54,000-square-foot Georgian Revival-style mansion. 
Bookshelves brim with rolls of ribbons and trimmings—shades of red, pink, green, blue and purple. There's metallic gold and shiny silver. Shimmery, striped, patterned, lacy and woven. Countless bins and cartons. Glitter-filled plastic containers. Festive miniature houses. Garlands hang densely in floor-to-ceiling rows, draped over bars.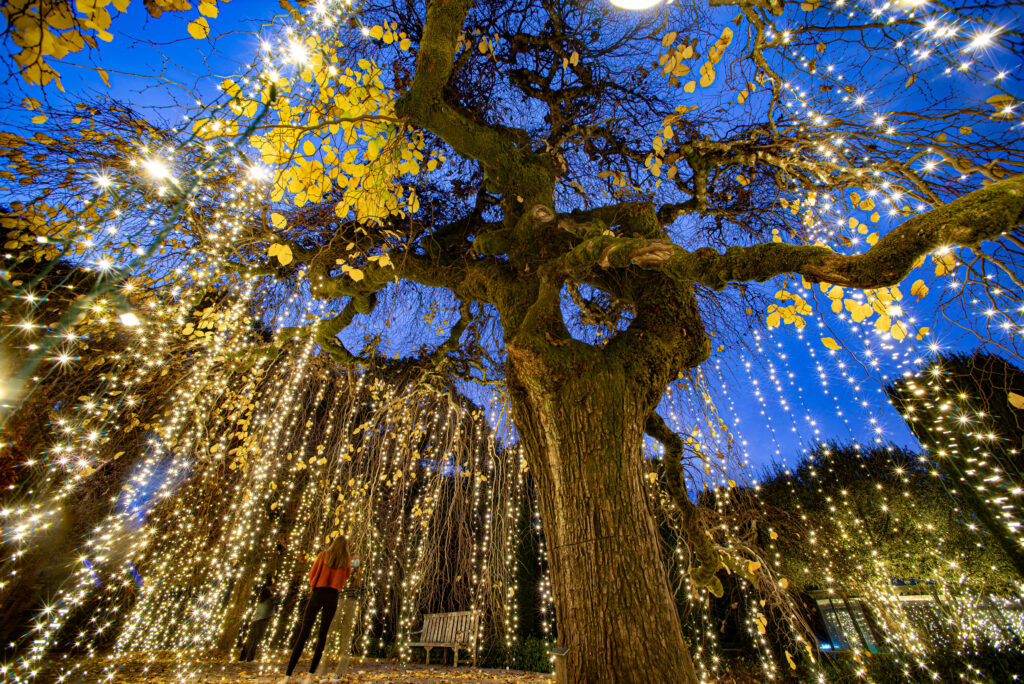 Tucked in the back, beyond the displays of mounted wreaths, agile hands transform empty boxes into elaborately-wrapped gifts. Filoli database specialist Lisa Chai looks up from the bow-making station, where she is expertly weaving ribbon around dowels. "We've been told gold and gold," she says about the day's color assignment, nodding to the other elf in the attic, human resources coordinator Jenifer Beswick, who crisply cuts through ornately-patterned paper with sharp scissor blades. How do they know if they've done their job well? "When you leave," smiles Jenifer, "you're covered with glitter."
Anyone who decks the halls of their own home knows what it takes to capture the festive spirit of the season. Thus, it's not surprising to learn of the colossal effort involved in producing the glorious scenery, scents and sounds that have come to define Holidays at Filoli. "Filoli was always a place of gathering and celebration," says Filoli CEO Kara Newport, "and so that's our inspiration when we think about how to share Filoli." 
Holiday Traditions at Filoli

 
Completed in 1917 and nestled into 20,000 acres of preserved land in Woodside, Filoli represented the culmination of a dream for William and Agnes Bourn, who worked with architect Willis Polk to design a "country place" to retire. "This was their grow-old together home," shares Filoli CEO Kara Newport, "and they used it heavily for family and holiday parties." In particular, much has been noted about the Christmas gathering of 1918, which also marked the end of World War I. "That was one of the first big party celebrations in the house, and their daughter and son-in-law came. It was a really special time for the family to get together." Those early years at Filoli pre-dated commercially produced ornaments, Kara points out, and the decor reflected that. "It was very much about collecting greenery from the gardens and doing more natural displays."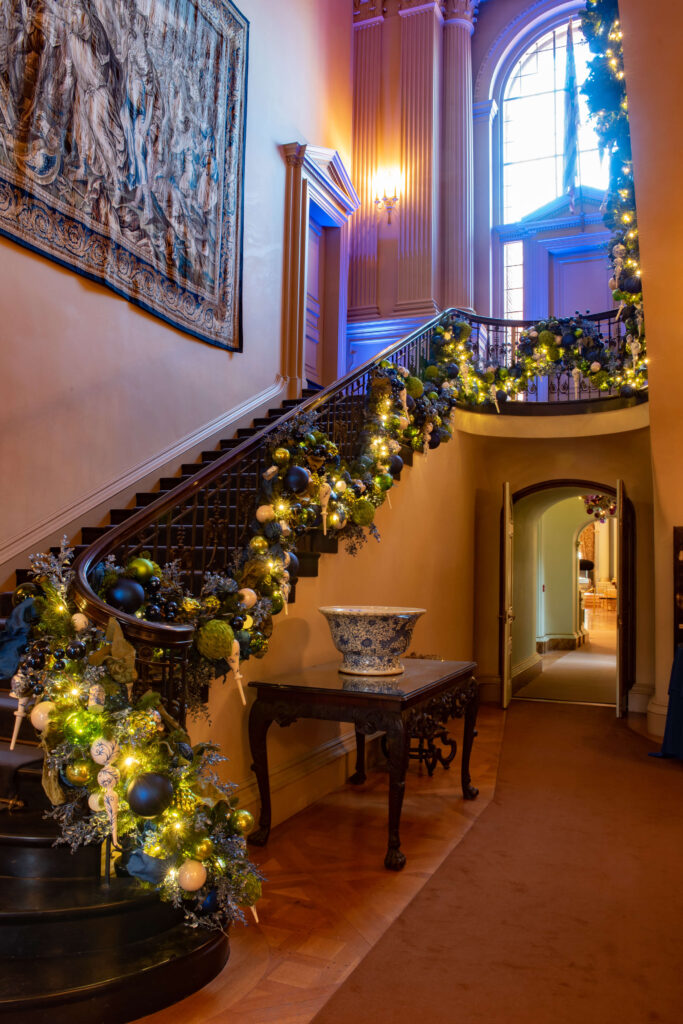 After the Bourns passed away in 1936, the Roth family took ownership of Filoli. William 'Bill' Roth and Lurline Matson Roth and their three children embraced an active, vibrant lifestyle on the estate, especially around the holidays. "The Roth family really used the house for celebrating," recounts Kara. "Everyone would come in for the big family parties, and in the '50s and '60s, it had this whole mid-century modern feel to it. It was cutting-edge—they'd use the ballroom and the reception room, and it was Tony Duquette-planned parties and funky centerpieces and tinsel and silver."
After her husband's death in 1963, Mrs. Roth lived by herself at Filoli before donating the estate to the National Trust for Historic Preservation, inspired by her belief that "Filoli is too beautiful to be private." 
Getting the Party Started Again

 
When Kara Newport became Filoli's CEO in 2017, she embraced Mrs. Roth's intent to make Filoli more accessible to the public. For decades, Filoli's holiday festivities were limited to a seasonal shopping experience that ran for 10 days every December. "Other than that one week, we were basically closed from the end of October through mid-February," she explains. "And so we were missing this opportunity to share Filoli at what is really a beautiful time of the year."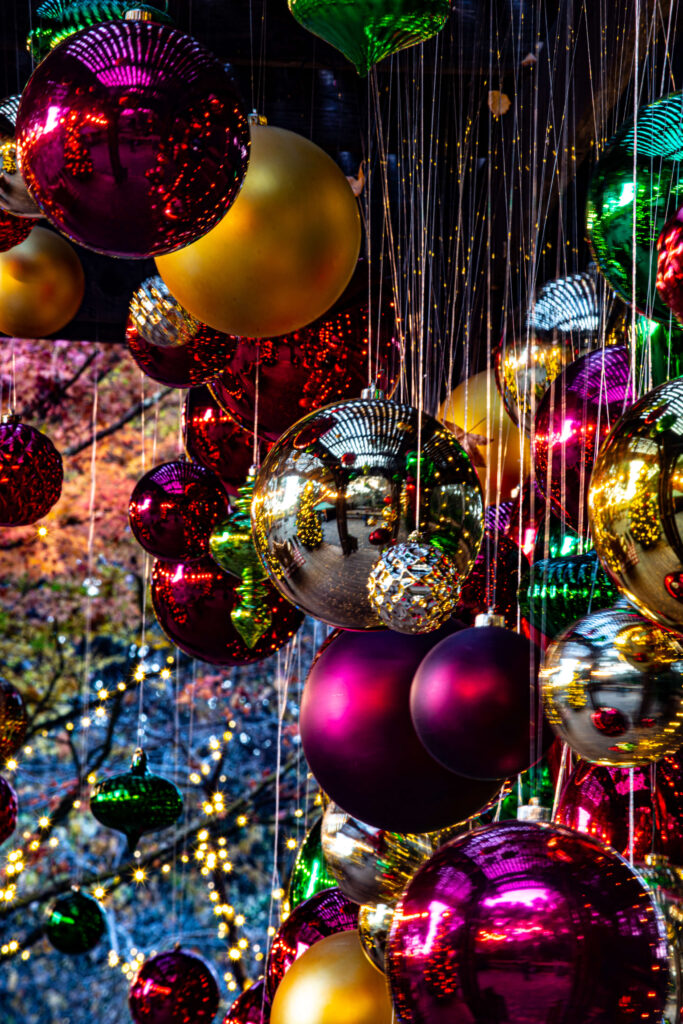 Originally from Ohio, Kara earned an undergraduate degree in botany (with a minor in American history) and a master's in public horticulture administration. Equipped with a wealth of experience gleaned from other public gardens and houses, she arrived at Filoli with a vision for enhancing Filoli's holiday offerings. "It was a big task—we had staff who had never done it before," she recalls of the first extended season in 2017. "We hadn't decorated the house with period art and furnishings, as the families might have done. We had never done lights in the garden. And we had never been open for this long." 
Over the last five years, what began as Thursday through Sunday evenings multiplied into, "Let's just be open every night." And that initial "Let's just do what we can," approach to decorations and lighting evolved into a year-round exhaustive undertaking to deliver an immersive holiday experience. "It feels like an old-world European Christmas," describes Kara. "It's transportive—like you've traveled to a faraway place for this fantastic celebration."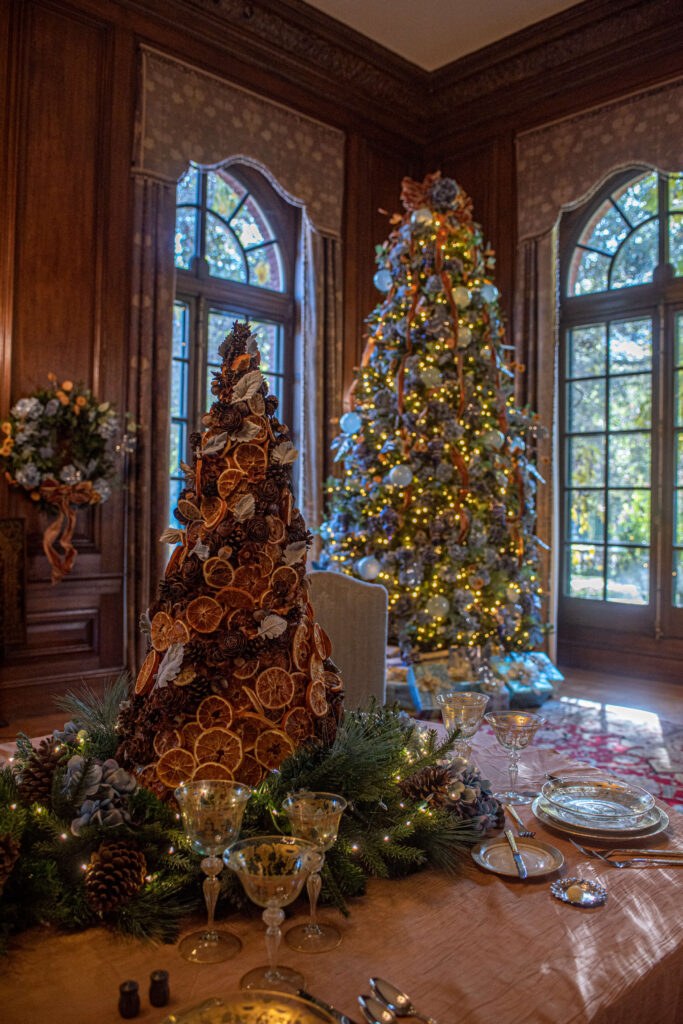 Bringing the

 

Holidays to Life
In a tireless loop, even as one holiday season wraps up, planning for the next season officially begins. "Every year we use some of what we already have and add in some new," Kara says, which requires careful assessment and review. "We have to make decisions about what we're doing the next year by January," she explains, "because the ornament sales and retail sales that we use for our planning are in January." 
April marks the kick-off of more granular planning—that means scheduling and timing, what's happening behind the scenes and in front of the scenes, who is doing what and when. Filoli's head curator and collection manager Julie Bly DeVere takes the lead with the house decor and every aspect of planning. "We try to change it up every year, so that it feels different," Kara says, "and Julie does a really wonderful job of choosing things in the house, in the historic decor, as inspiration." For example, the mixed metals, browns and greens of the estate's 17th-century tapestries influenced the color scheme for the reception room's great tree. 
Meanwhile, Filoli's horticulture staff actively engage in planning for the garden. "We try to do something fresh and different—change the color palettes, change the experience," Kara notes. The lighting contract is wrapped up by summer, and all the holiday planning by August 1, so that ticket sales can get underway in late August. The head curator produces a massive planning document with a detailed inventory for each room—outlining trees, ornaments, wrapped gifts, historic decor and other custom touches.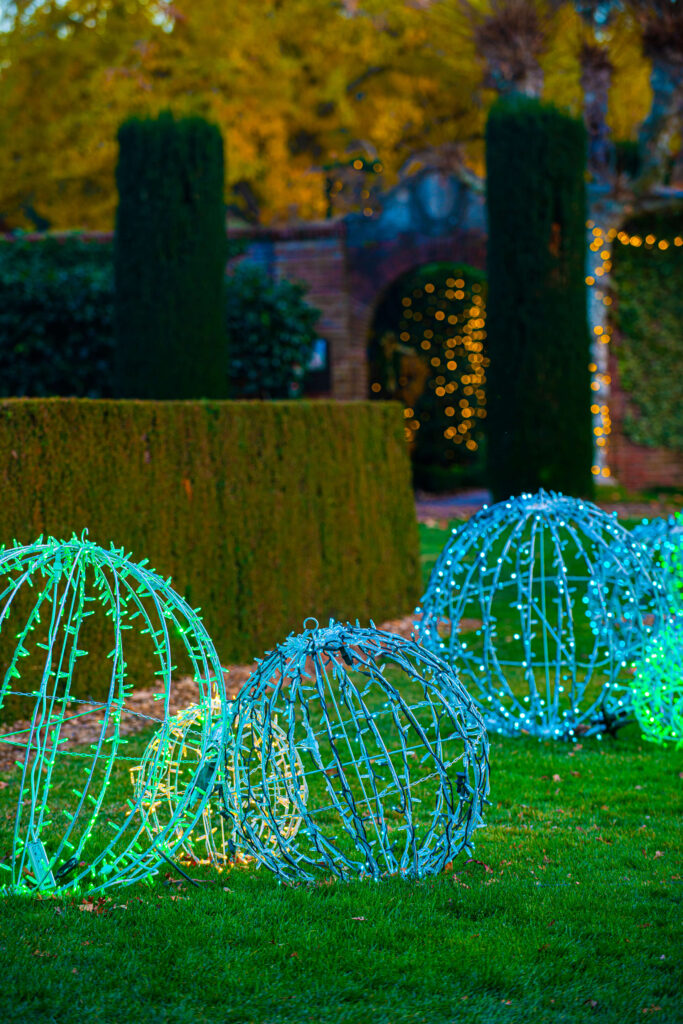 Outdoor and behind-the-scenes momentum picks up in September, and by October and into November, staff members are tapped to pitch in, whether they're wrapping gifts, weaving greens or assisting with small outdoor containers and trees. Plastic bins containing 7,000 ornaments sorted by color are brought up from storage in the basement below the ballroom. And the decor-packed workspace in the attic becomes a whirling beehive of activity. "We do a lot of what we call blitzes, when we come in and do one thing and get it done," Kara says. "All staff help with holidays—it's integrated, it's part of who we are."
Filoli partners with San Francisco florist Nigella to install the decor in the house and with Christmas Lights Pro to illuminate the garden, a particularly creative challenge given the estate's antiquated outdoor power supply. It all comes together by opening day, which for 2021 meant November 20. 
The Immersive Experience
"We try to draw people through from experience to experience," says Kara of Holidays at Filoli, as she describes touring the house, venturing outdoors for a glass of hot cider or wine by cozy fire pits before exploring the formal gardens and dazzling light displays that include a river of lights, draped Camperdown elms and a Yew tree rainbow. Filoli's reception room is considered the first show-stopper that visitors see. "It's our biggest tree, and we pull on the colors and the beauty of that room. It's where both families would have greeted their guests," she says. This year, the ballroom features new curtains of shimmering lights to complement the space's sparkling crystal. In the 1940s-era kitchen, the scene conjures up Filoli staff getting ready for a party, complete with cooking sounds and the scent of freshly baked cookies. The study, where the Roth family held their private Christmas celebrations, reflects the 1960s, including many of Mrs. Roth's original decorations.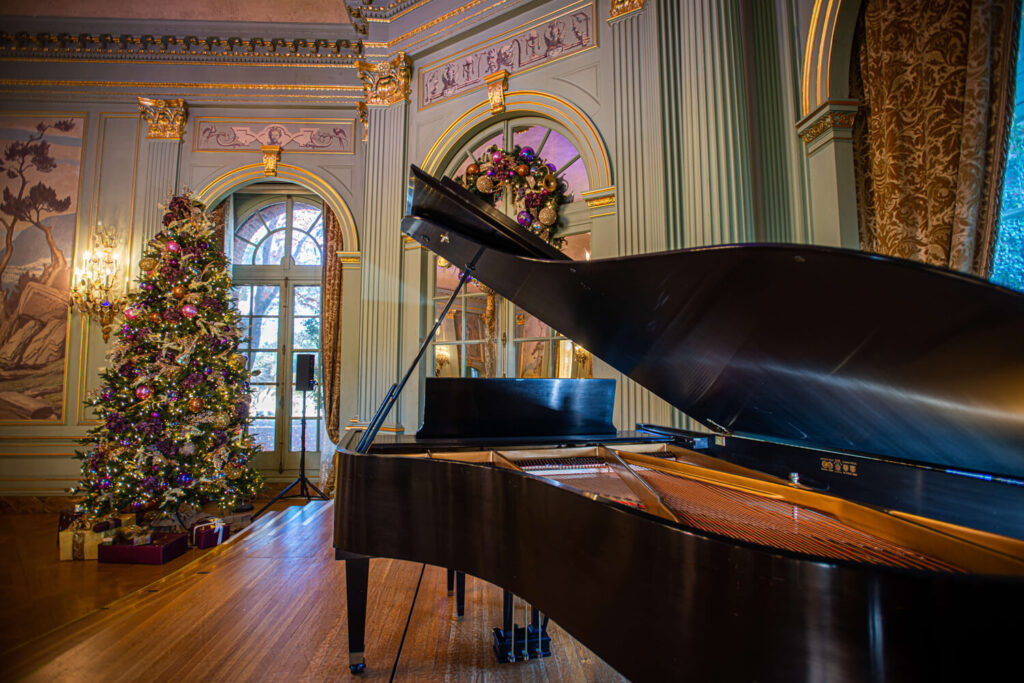 "We keep the study in that mid-century modern feel," notes Kara. "Not only is it her ornaments that are on the trees, there's also her Murano glass nativity scene with spectacular, beautiful colors." The newly-restored gentlemen's lounge is on display, and even the dining room has a tree, with the table grandly set with Filoli's historic china and silver. "The table setting," emphasizes Kara knowingly. "That's what everyone wants to see." 
Filoli built it, and people came. Prior to 2017, the historic estate typically saw 9,000 visitors during its abbreviated holiday season, but with its expanded festivities, as many as 60,000 are expected this year. Mindful of overcrowding, capacity is capped at 2,000 during daytime hours and 1,000 at night. And when the holiday festivities wrap up on January 2, what happens next? "We play music, and we all work together," Kara relays. "Everyone takes a room and starts packing up." And then, yes, the cycle starts all over again, which apparently isn't as daunting as it sounds. "It's just so much joy," Kara reflects. "I love the year-round nature of it because I think it's the ultimate experience—it's our opportunity to create memories and nostalgia and happiness and joy and sharing and celebration."