Back in 1988, Catharine Garber was one year into launching her own architectural design firm, specializing in single-family homes. Living with her husband, Daniel, in a tiny 700-square-foot coach house in Chicago, she frequently worked with their infant son tucked into a file drawer or up on the drawing table. "At least the first half-year, they don't move around too much," she recalls, with a laugh. "My maiden name was Fergus and I called myself the Fergus Garber Group to make my company sound as big as possible, but it was just one person."
In the 32 years since its founding, Catharine's firm evolved from Fergus Garber in Chicago to Fergus Garber Young (FGY) Architects in Palo Alto—and from Catharine, solo practitioner, into one of the Peninsula's leading design firms with a staff of 25. Although Daniel started his professional life doing institutional and corporate projects, and later real estate consulting, he returned to architecture in 2002, joining Catharine's firm to help build the residential practice. "I realized Catharine was having a lot more fun than I was and working for clients who were far more appreciative," Daniel says. Catharine and Daniel added a third partner in 2011, Heather Young, to head up FGY's commercial, mixed-use and multi-family practice.
With a continually full schedule of projects, Catharine and Daniel have found little time to look back, but the Silicon Valley Chapter of the American Institute of Architects (AIA) recently honored FGY with its prestigious Firm Award, recognizing "a firm that has consistently produced distinguished architectural design for a period of at least 20 years," including a record of community service, mentorship, innovative research and business practices. It's the kind of industry acknowledgment that merits reflection, both through a personal lens and from a broader design perspective.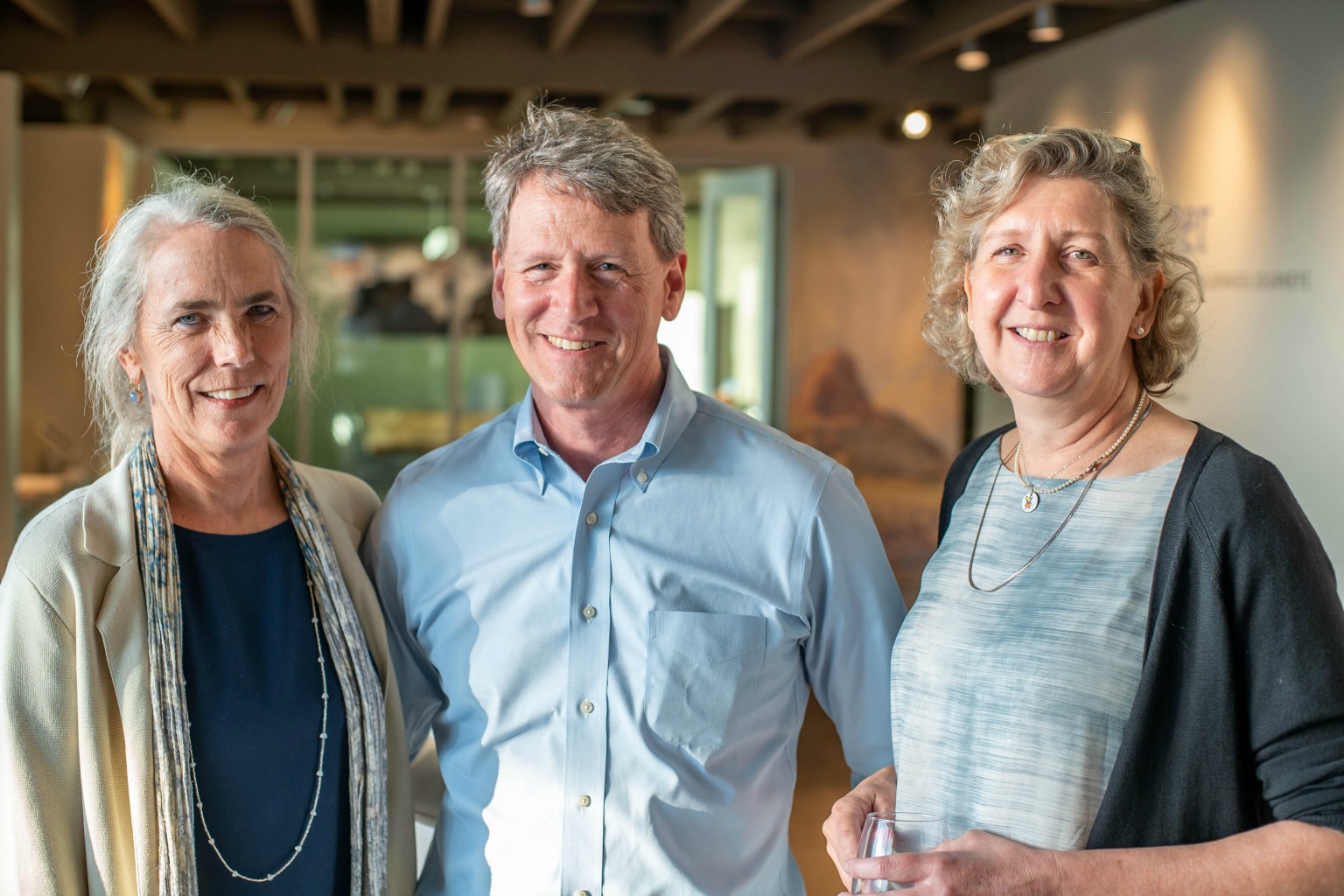 Catharine and Daniel first came to Palo Alto in 1996 in what was deemed a temporary move at the time, prompted by Daniel's work. They officially decided to stay two years later. As Daniel recollects, "We did move with the intention of going back in a year, but then your kids are running around in t-shirts and with their shoes off in February, and you're listening to your relatives back in Chicago weather the latest snow storm, and you're wondering why you'd go back."
Coming from the Midwest, the pair appreciated the notable local architectural precedents, and they eagerly soaked up California's unique Spanish Colonial and Arts & Crafts style influences. As Catharine tells it, "For a couple who enjoys designing in different styles, we were very interested in learning more about those." The pair drew direct inspiration from these movements, including emphasizing a home's relationship to the outdoors and creating rich detailing that embraces the innate quality of materials—be it exposed wood, roughed stone or wrought iron.
In their years of practice, Catharine and Daniel have now designed over 120 homes around the country—the vast majority of their work is in Palo Alto, radiating out to surrounding communities including Menlo Park, Atherton, Portola Valley, Los Altos Hills, Woodside and Saratoga. "The firm's goal from its inception was foremost to provide excellent service to the client," Daniel says, "to ask important questions, to be a good listener and to be sympathetic to the client's goals and aesthetics." The purpose of the style is "really to support the creation of an environment that will enrich the client's lives." Style, for Daniel and Catherine, is determined by what is meaningful to a particular client: "A style may resonate with a client because it reminds them of the house they grew up in or a house that embodies what they aspire to be."
Catharine and Daniel point to a number of trends currently influencing their work. "The desire to have separate functioning spaces has become less and less popular, and you end up with far fewer formal dining rooms or formal living rooms, which are sort of separated off from everything else," Daniel observes. Clients want flexible family gathering spaces, and bedrooms have become smaller to optimize this communal space. "People want to live all at once together, and they want that 'all at once' to be immediately connected to the outside." In recent years, the opening up of the home to the outside has become an essential consideration, with living spaces extending to exterior patios or courtyards, and sun protection, such as a trellis, enabling year-round enjoyment.
The AIA Firm Award also recognized FGY's long history of sustainable design advocacy, dating back to the early 2000s, when FGY designed one of Palo Alto's first LEED Platinum single-family homes. "Now most houses we do are close to net-zero energy, meaning the total energy consumed is equal to the amount of renewable energy created on the site," Catharine explains. As a measure of this trend, over the past ten years, the firm has seen a 90% decrease in net energy use and greenhouse gas emissions in their residential projects.
Embracing versatility, FGY designs in a variety of styles—from very modern to historic. Relying on a comprehensive and extended design process, what ties FGY projects together are strong, well-proportioned and well-thought-out plans paired with careful architectural detailing. And while AIA's acknowledgement felt like a gratifying achievement, the partners find satisfaction in everyday feedback: "We've received calls saying, 'I went to your website and I realized you've designed all the houses I like in Palo Alto. I recognize those houses. They're beautiful.' People recognize, somehow, the strength of character in our homes."
Out of all the homes they've designed, Dan says "fewer than five clients have moved out, and fewer than ten have made minor modifications to the design of the house. This is the measure of the success of our efforts."
Net-Zero Modern Farmhouse
New residence and yoga studio
Location: Palo Alto
Area: 4,500-square-foot house, 230-square-foot yoga studio
This net-zero, single-family residence in Palo Alto is a reinterpretation of the modern home and earned AIA Silicon Valley's merit award in the 2018 Design Awards residential category. It is the result of close collaboration between Ferber Garber Young Architects and two highly-creative technology executives. Its iconic domestic shape, with a simple rectangular volume and pitched gable, is reminiscent of residences in America's Northeast, where the husband spent several years. This contemporary farmhouse nestles in seamlessly with the eclectic architecture found in the Evergreen Park neighborhood of Palo Alto. The husband's desire for a simple and iconic exterior shape worked in concert with the design of an interior that emphasized length and flow, two essential ingredients of the wife's Vinyasa yoga practice. The home includes three bedrooms, a home office, library and a full basement with a large music room and guest room. The unifying palette was kept deliberately minimal with three main interior materials: walnut, white-painted millwork and white marble.Expansive runs of fenestration and a glazed stair atrium connect the house across three floors and pull patterns of light into the home throughout the day. The open kitchen, dining and family room area is placed directly off the stair atrium. The central, open kitchen, surrounded by light on all sides, leads to more communal cooking and family meals.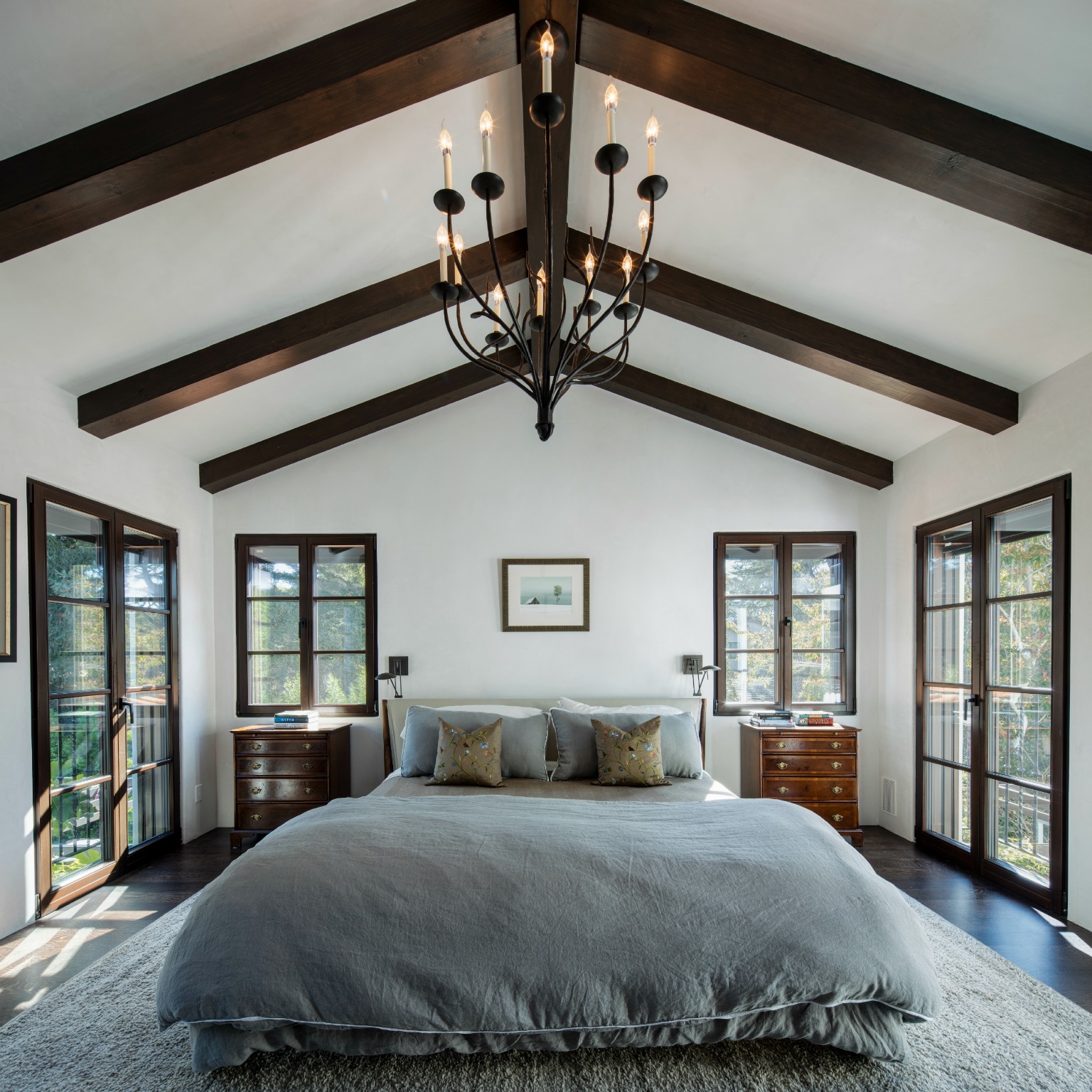 Spanish Colonial Passive House
New residence, studio and garage
Location: San Francisco Bay Area
Area: 7,700-square-foot house
The owners' mission for this house was to create an extremely energy-efficient and healthy house—with no aesthetic compromises. Although they wanted the house to have an iconic design, they also wanted it to fit well within their neighborhood and reflect the regional history. With its thin massing and stucco walls with deep-set openings, the home utilizes the Spanish Colonial style's more austere exterior characteristics to drive the owner's energy and design goals while framing their more modern interior design choices. The thinness of the home encourages cross-breezes, for example. This certified Passive House and LEED Platinum home demonstrates that building a custom home sustainably can cost less (about 20 to 30%) and can be built faster (about 30%) than other custom homes in the area. Furthermore, the home can be designed in a style that is meaningful to the owners and the neighborhood without compromising its sustainable agenda. The design is anchored by a central courtyard, providing a protected outdoor area for entertaining large groups and holding conferences on passive house design. FGY custom-designed iron stair handrails and decorative window elements for the home. Exposed wood beams add warmth and tradition to the more contemporary interiors. In the kitchen, a stainless steel stove is set against a smooth gray stone full-wall backsplash with walnut cabinetry and black granite countertops. The landscape utilizes low-water native planting, including the California poppy.
French Contemporary
New residence and outbuildings
Location: Woodside
Area: 4,900-square-foot house,
400-square-foot studio,
1,000-square-foot guest house
As a technology design executive, he wanted something very minimalist and contemporary; she was European and desired something that reminded her of the French countryside. For a husband and wife with differing design aesthetics, this French farmhouse is an ideal blend of rustic, traditional style and contemporary detailing and programming. The kitchen, living and dining rooms, set up as one casual space, serve as the heart of the house. Garage and master bedroom wings on two sides help to create an intimate courtyard, which houses a dining trellis and vegetable and fruit garden protected from the local deer populating the site. On the second floor, the children's bedrooms are accessed off of a family gathering space with a lounge and study. Siting and organization with respect to sunlight and view corridors were important design considerations. The interior family spaces are flooded with light from morning until afternoon and the setting sun warms the courtyard as evening approaches. Sitting near the top of the sloping lot affords grand views down to the pool, pool house, and playing field—as well as out to the valley beyond. The house is defined by a warm palette of waxed white oak elements, painted mahogany windows, Dalle de France limestone and antique tiles from France. The showcase kitchen has primarily open cabinetry, while more practical elements such as the pantry and refrigeration are tucked around the corner.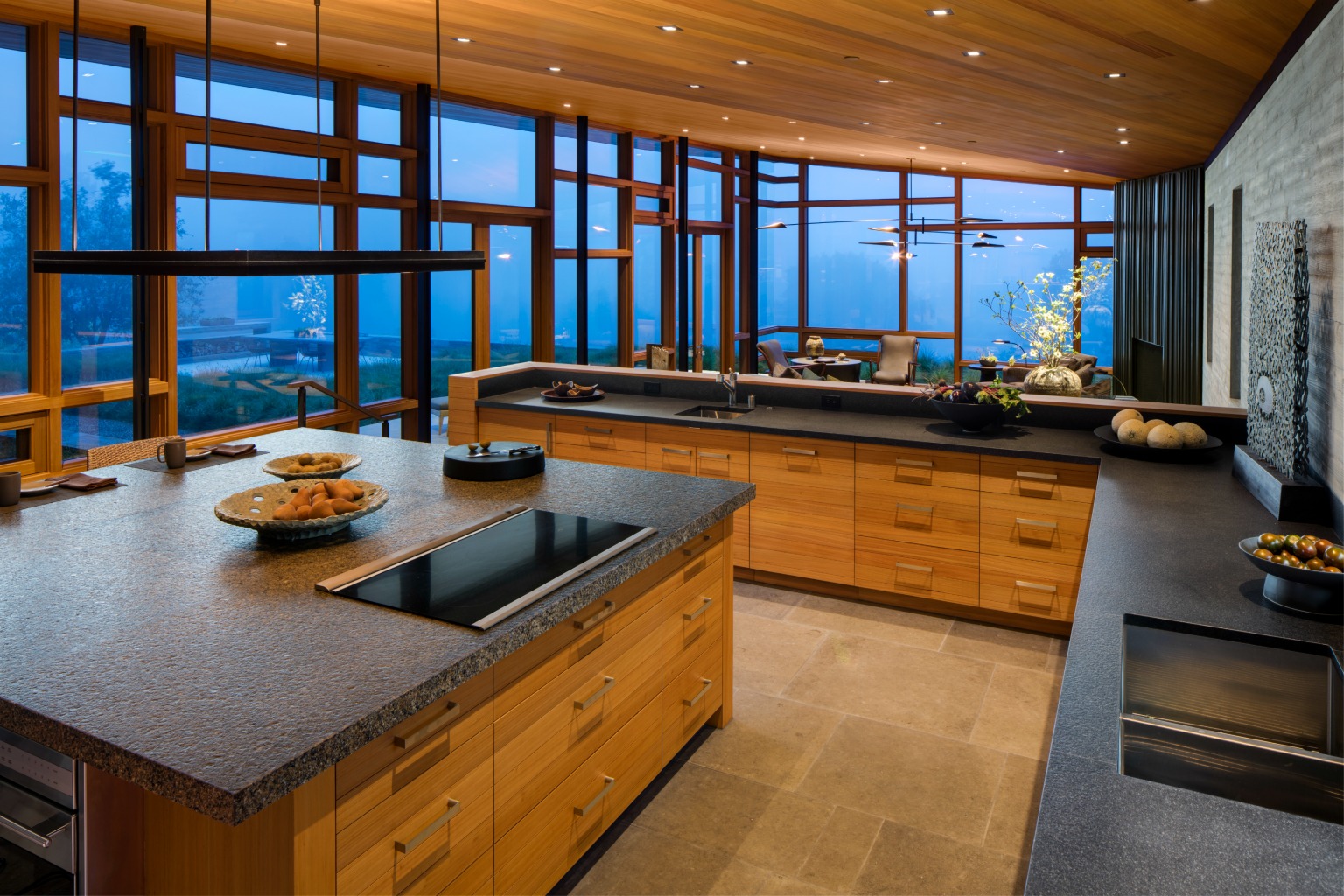 Woodside Modern
New residence and pool house
Location: Woodside
Area: 5,805-square-foot house, 1,100-square-foot pool house
This design for a new main house and pool house evokes the beauty of the land and contributes to its endurance using traditional passive strategies and producing more electricity than it uses. Locating the main house tight to the base of a forested hill reduces the perceived height of the house's two-story volume and shades it from late summer sun. The T-plan residence has a two-story east-west core with single-story wings on the north and south sides, tethering the structure to the earth and choreographing easy movement between the inside and outside. The earthen-toned concrete spine that separates public and private zones, as well as the floor-to-ceiling windows, are nods to Frank Lloyd Wright's mid-century designs. With copious use of glass visually connecting the interiors to the landscape, the house is firmly connected to the land on which it rests. The public areas, such as living, dining and kitchen, have large glass walls broken by an asymmetrical grid of mullions and clerestory windows for cross-ventilation. The ground-floor family room is adjacent to an ipe deck that looks out onto the woods, guest rooms open to a completely private gravel courtyard abutting the hillside, a petite upstairs master suite is expanded by a private sleeping porch and the home office has a door leading directly across a bridge to hiking trails.