The much-anticipated photos from Winter Lodge's "Welcome to the Jungle" show just arrived. The ready-to-hang photos capture rosy-cheeked ice skaters in colorful glittering costumes posing with classmates on the ice. Linda Stebbins Jensen, executive director at Winter Lodge, predicts that a mob of students will gather around the photo display wall when they come in for class that afternoon. The skaters will jostle each other as they identify who's made it onto the wall this year to join the ranks of skaters past.
The past stretches back a long way at both the oldest ice skating rink in the San Francisco Bay Area and the only permanent outdoor rink west of the Sierra. Wisconsin native Duncan Williams, an engineering professor at Stanford and San Jose State University, opened Winter Lodge in 1956 off Middlefield Road in Palo Alto. People doubted the feasibility of an outdoor rink in sunny California. "Duncan being an engineer, having come from a place where he really enjoyed the outdoor skating experience with his kids, said 'Let's try, I think we can do it.' He definitely thought of this as an experiment," says Linda.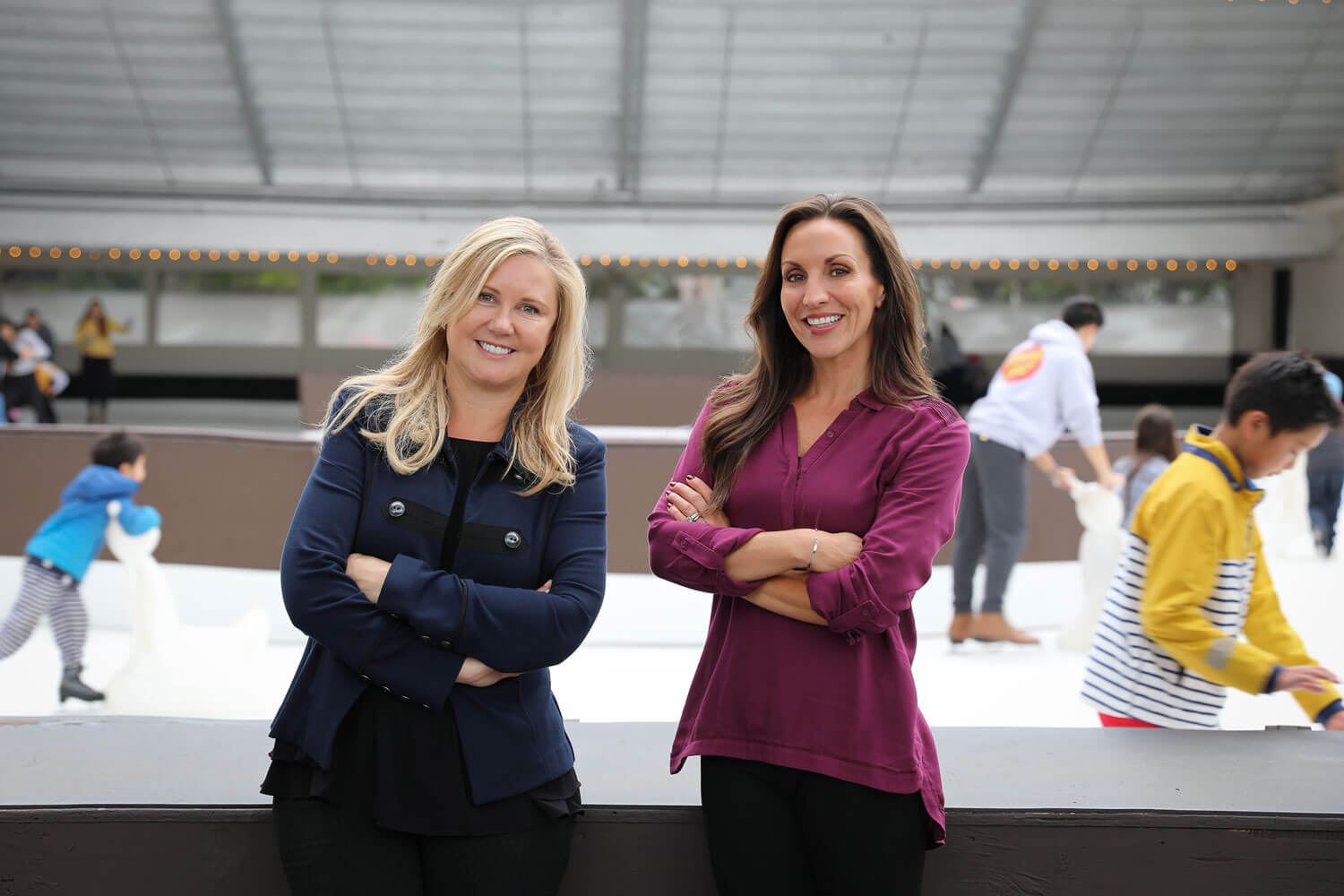 The experiment worked. The original pipe system Duncan designed is still under the rink's ice sheet. The pipes course with salt brine, keeping the ice hard enough to skate on. The Winter Lodge became a community gathering place for all ages to enjoy healthy outdoor recreation. When Duncan decided to retire and close the rink in 1983 due to the expiring property lease, a nonprofit formed and fought to keep Winter Lodge open. "Once Winter Lodge was up and running, there was no way the community was going to let it go," remembers Linda.
Linda began to ice skate at Winter Lodge when she was 10 years old. "Winter Lodge is sort of my home away from home and it always has been," she says. As her skating ability progressed, Linda began training for competition (something Winter Lodge doesn't offer) at other rinks in the early '80s. The likes of world champions and Olympic medalists—Sunnyvale's Brian Boitano and Kristi Yamaguchi of Hayward—were on the same local training circuits as Linda.
Linda's skating skills earned her an offer to perform with Disney on Ice, but she decided to attend college and coach at Winter Lodge during school breaks instead. Her degree in public relations and later her master's in public administration prepared her to become Winter Lodge's executive director in 1986: "It was just the perfect job for me—being able to put my degree together with my passion and be back home where I learned to skate and be with some of my friends I had worked with all those years." Partnering with Winter Lodge's newly-formed nonprofit organization and the local community, Linda was able to bring the beloved institution back from the brink of extinction.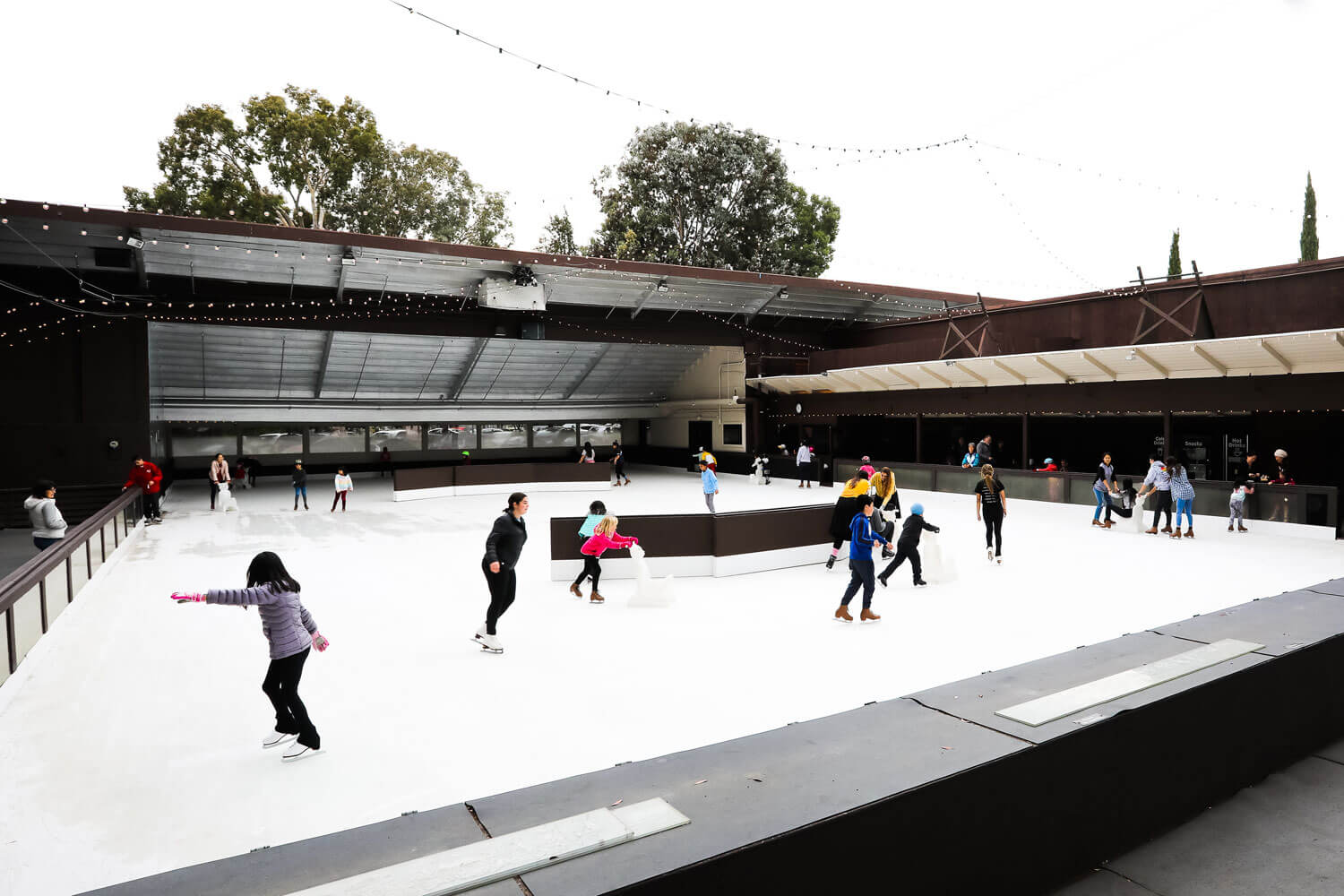 Set back from the street, Winter Lodge is surrounded by towering eucalyptus trees that provide both enchanting seclusion and engineered shade to protect the ice. Skaters enter the clubhouse with its cabin-feeling wood panel walls and vaulted ceiling. The clubhouse offers skate rentals and a place to warm up around a crackling fireplace. After lacing up, skaters exit the clubhouse, heading to either the small indoor practice rink or the main outdoor rink. Spectators select a cozy couch, bench or picnic table to watch the activity out on the ice from the extensive lounge area around the outdoor rink.
One of the largest skating schools in the U.S., Winter Lodge's team of 24 coaches teach 1,000 students per session with fall, winter and spring sessions taking place during the skating season. Even with the school's emphasis on recreation, students challenge themselves to move up in skill level and gain confidence on the ice. All skaters have the common goal of becoming performance-ready for the annual year-end spring show.
Assistant director and coach Karie Nanez started skating at nine years old when her aunt, a coach at Winter Lodge, introduced her to the sport. Karie became a professional figure skater, traveling with Warner Brothers on Ice and Nutcracker on Ice. She credits the non-competitive environment at Winter Lodge skating school for her success. "For me," she says, "I was able to get to those higher levels because there wasn't the stress of having to constantly be trying to do better than the person I was training with."
Both kids and adults can learn how to skate at Winter Lodge. Basic skills classes take a newbie from never skated to gliding over ice and becoming comfortable making turns. Students maneuver on the ice with classmates of the same age group. Learning to skate requires a lot of focus from children as they try to remember the names of each move and get the footing right at the same time. Adults, Karie says, tend to analyze the moves and want to know how each one breaks down.
After students master the basics, they can continue on their ice skating journey, learning choreography set to music. Working through freestyle levels, skaters can try out for Theater on Ice training, Jazz and Synchronized performance teams. Skaters who spend a lot of time moving up through skill levels tend to form lifelong friendships with their teammates. "The skaters meet a whole set of friends here that they wouldn't necessarily have at school. So if they're having a bad day at school, they come here and it's a home away from home," Karie shares.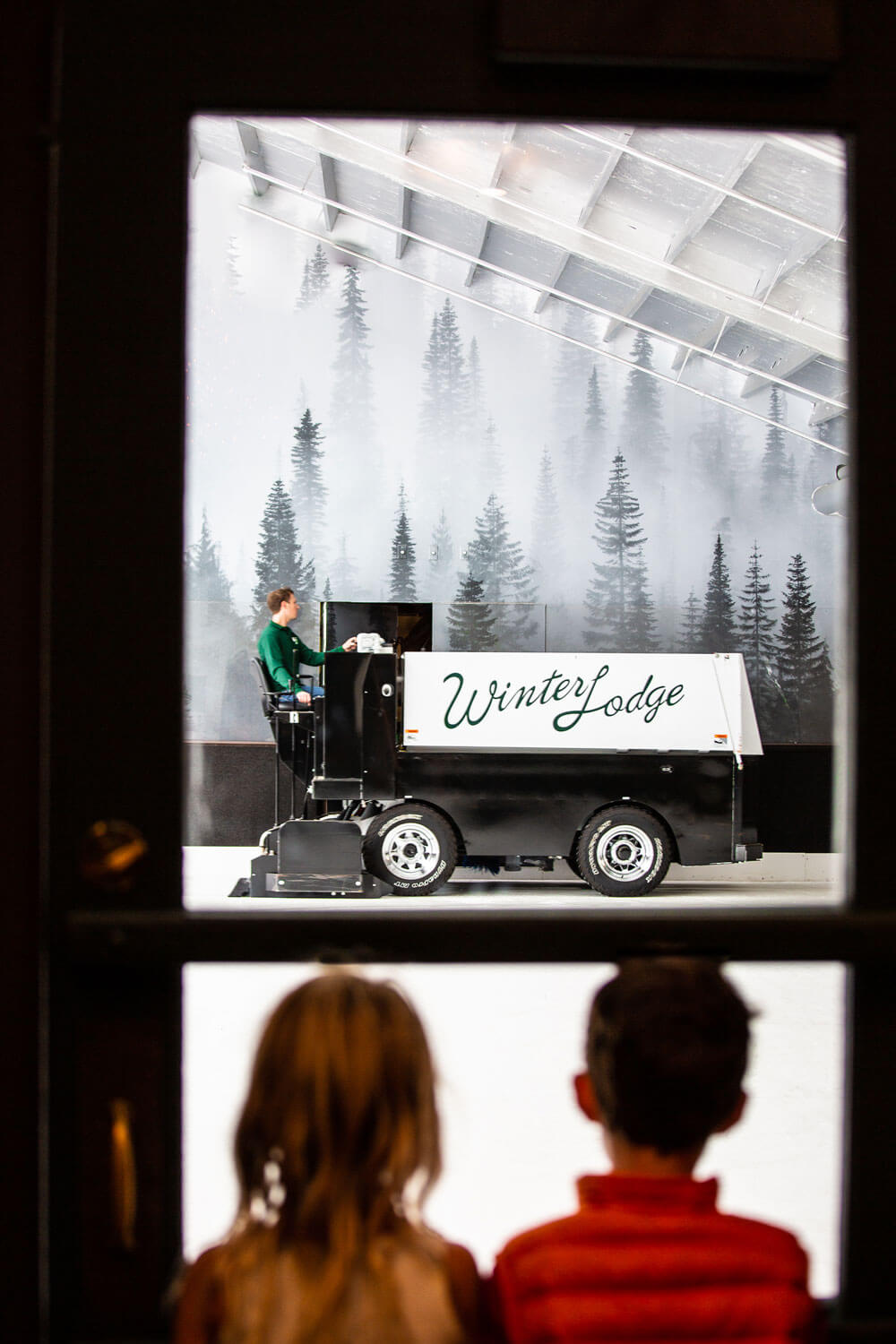 Along with offering regularly scheduled public skating sessions, Winter Lodge also accepts reservations for larger groups and private parties, including epic Broomball matches on Fridays and Saturdays. Think hockey in sneakers, with up to 20 players slipping and sliding as they whack a rubber ball around the ice. Wednesday nights are also special. The public skating session from 8PM to 10PM is reserved for adults only, offering a unique date experience on the ice. "What a healthy alternative to a bar," observes Linda. "It's just a nice place for people to be out with friends and happen to meet someone." Couples glide across the ice under the rink's strands of golden-hued twinkle lights. In the winter months, snow flurries are always in the forecast, falling lightly on the ice to create the perfect romantic backdrop.
Generations of Winter Lodge skaters, especially those who've met their significant others on the ice, or have put in lots of hours with a performance team, have a habit of coming back to say "hi." They check in with past coaches and introduce new family members to the ice they love. "He's here with his granddaughter," Linda notes, as a man with a little girl and her mother enter the clubhouse. "His daughter was one of our regulars in the show and stayed in it year after year, and now this is her daughter." All smiles, the young girl runs out to the lounge area with her grandpa to greet Linda. This is her first time at Winter Lodge, and she'll be back in a few hours to try skating. But for now, she's content to search the photo wall for her mother's picture