Their showroom is a lofty space with an upstairs library chock-full of all kinds of samples. It's an inviting spot for clients to linger and dream about, yes, putting together the home of their dreams. In this age of endless online searching and researching, what Evars + Anderson offers, they say, is "the ability to come in and touch the fabrics, feel the wallpaper and even sit on the couches," all while getting expert advice. Nancy and Dimitra provide practical answers to typical home furnishing questions like, 'Where can I go talk to someone who actually knows what they're talking about?' and 'How do I know what I need?' and 'Where can I sit on it?'
The question of sitting on it is particularly relevant because Evars + Anderson created their own line of furniture called MoxieMade to compete with the high-end chains. Instead of "ready to wear," they refer to it as "ready to live." Here's how they capture MoxieMade's key attributes: "Quality custom furniture that's well-made, competitively-priced and stylish. It's really functional and versatile. Each piece can be customized with fabrics, trims, sizing and wood choices."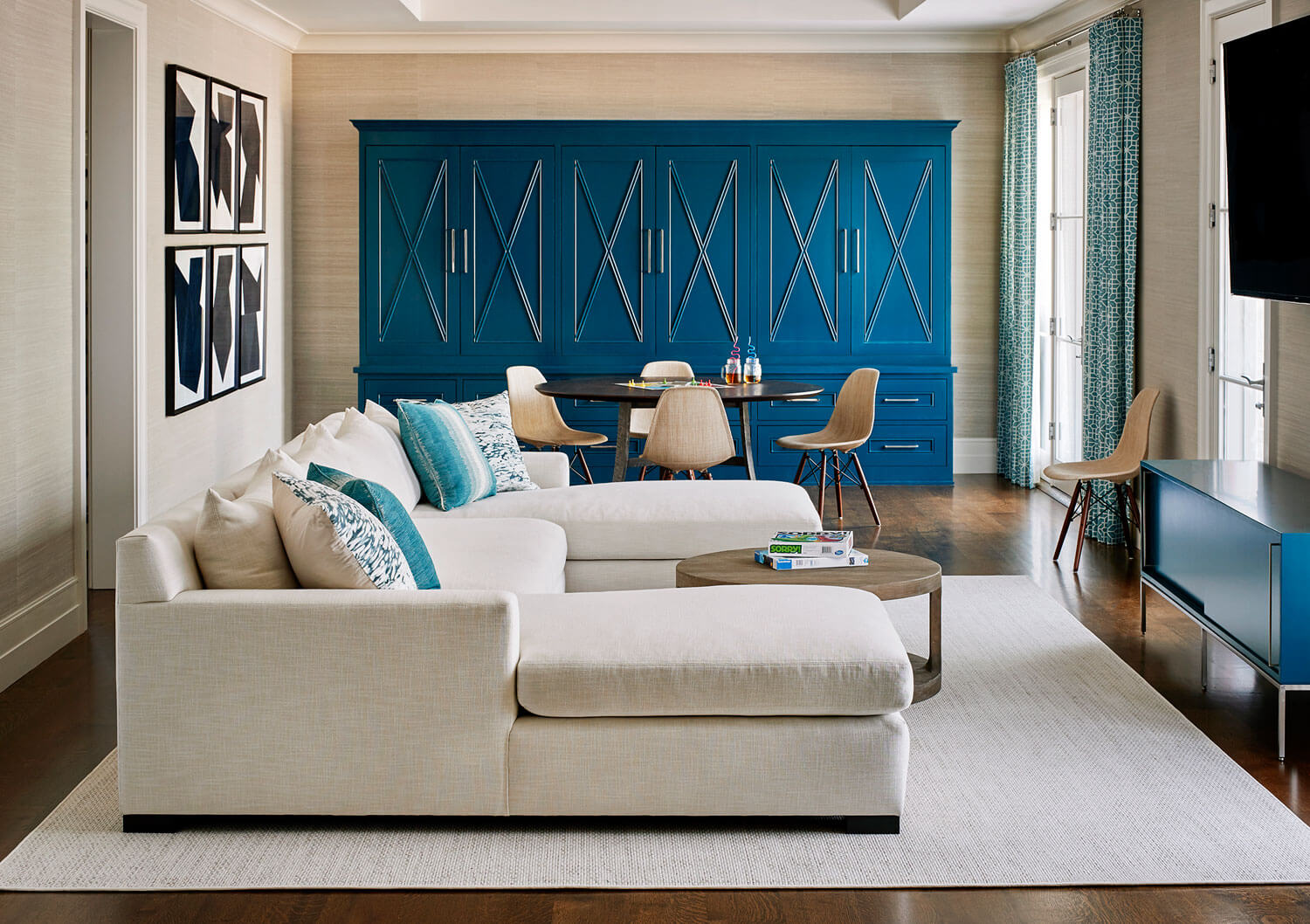 MoxieMade was born when Nancy and Dimitra saw an opportunity in the marketplace—fatigue with mass-produced furniture—and did what every self-respecting Silicon Valley resident is supposed to do: Start your own company to solve the problem. That takes moxie, which the two New Jersey natives have in abundance, thus inspiring the name of the furniture line.
"It feels substantial. I don't want to throw other vendors under the bus, but sometimes the big chains' stuff can feel really cheap, especially when you look inside," says Dimitra. "Ours is really good quality and it's similar in price." Moxie is also Made in the USA.
The two principals and their team of showroom designers take a big-picture look at a client's design needs and figure out a way to incorporate MoxieMade and other brands so that no project looks the same. They also subscribe to the notion that no project is too small—walk-in clients who are interested in just the furniture are also most welcome.
"We design from a love-centric place where we are looking at the client's space and how they're going to use it. How are they going to raise their family in there? How are they going to entertain friends?" Nancy explains. "We think about how we love going into our own homes as a sanctuary at the end of the day and we want to make sure that we're designing and providing that for our clients."
Nancy and Dimitra traveled very different routes before aligning in design. Nancy first caught the decorating bug in her 20s while living in Greenwich Village. She specialized in PR and marketing and oversaw Yahoo!'s first social media program before opening her own interior design business in 2006. Dimitra spent years in the fashion division of Chanel Corporate in New York City, running the merchandising of watches and fine jewelry for the company's boutiques and specialty stores. After moving to San Francisco, she started up a design firm while undertaking the redesign of her own home.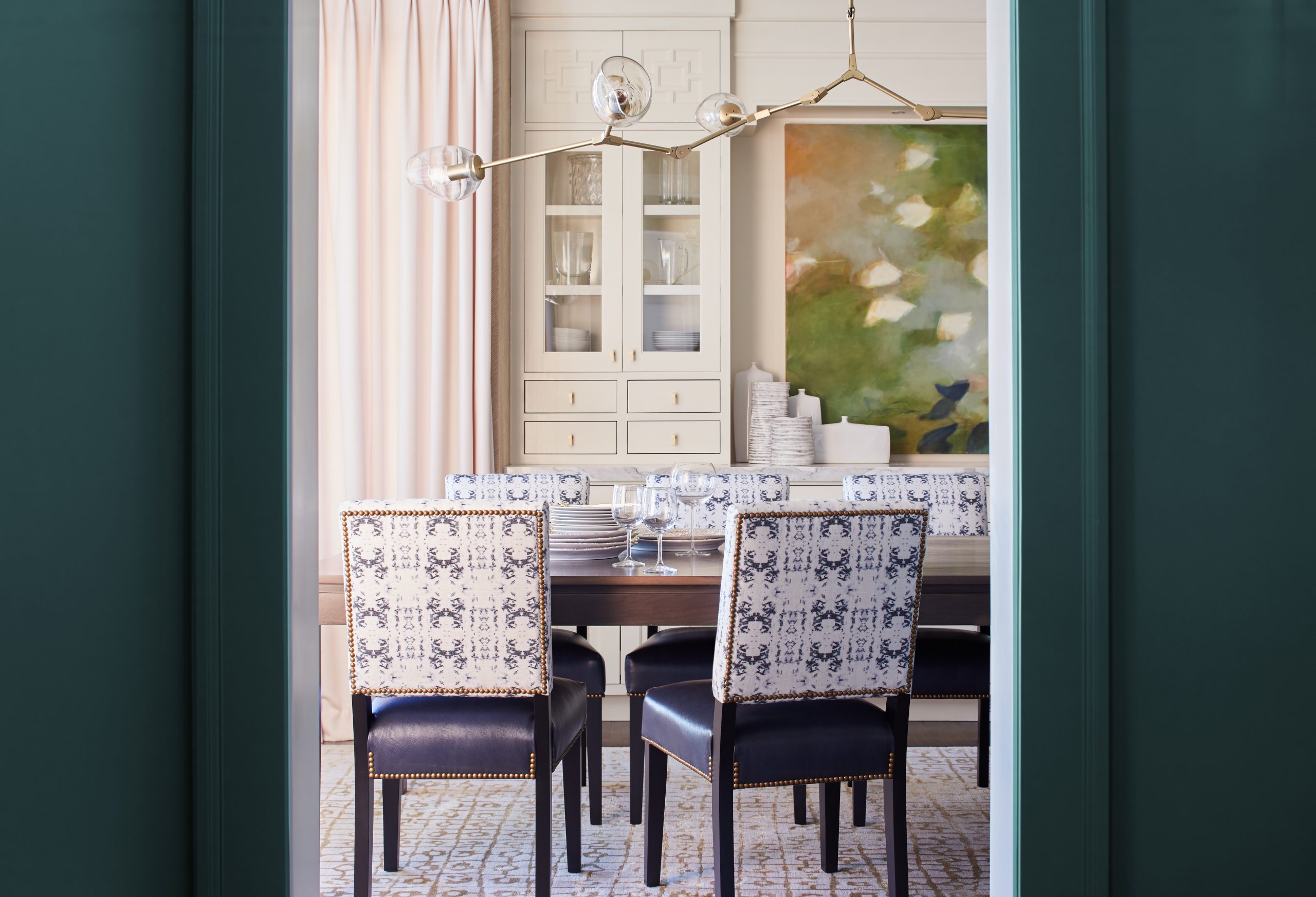 The two fashionable Menlo Park/Atherton moms joined forces after hitting it off during a mutual friend's 40th birthday trip to Los Angeles. As they snuck off to shop La Cienega Boulevard, they found themselves dreaming and scheming about a creative collaboration, leading to the 2011 launch of Evars + Anderson. "We probably approach 'California Style' a bit differently than most," says Dimitra. "Our East Coast roots play a big role in our blending of California casual with a little more polish and refinement, while still being family-friendly."
They also pride themselves on having the exact opposite of a cookie-cutter approach. "We love bringing in color, pattern and texture while layering in antiques and unique finds with newer pieces," Nancy shares. "We don't go for the 'safe' look and rarely use the same materials or decor elements twice—we like each project to feel unique and speak solely to each homeowner."
Nancy and Dimitra say they're always working to develop different levels of service for a variety of client budgets, with the ideal goal being for everyone to have access to a beautiful home. "We're not necessarily here to save you money. We're here to spend your money wisely, the money you were going to spend anyway," Dimitra says. "Really, nothing makes us happier than when our client moves in and we get emails saying, 'I cannot believe this is my home! I cannot believe I live here!' If a client trusts the process, they can trust us because they know we care." evarsanderson.com