Words by Sheryl Nonnenberg
In 2012, Caroline Mustard's son bought her an iPad for her birthday and suggested she use it to return to drawing. A native of Cornwall, England, Caroline holds degrees in Fine Art from the University of Brighton and had a career in art direction and scenic painting in Hollywood in the 1980s. She took a break from creative endeavors after moving to the Bay Area, but the gift of the iPad proved to be a pivotal event in her art journey.
It's not hard to imagine how revelatory the iPad was to the former painter. Here was a device that could answer any question, play music, translate languages and map a destination. Opening an app called Paper, Caroline drew a zebra and became hooked. "I was so excited—I showed it to everyone," she recalls. "I have always loved anything to do with computers, and soon I became obsessed with making art on my iPad and iPhone."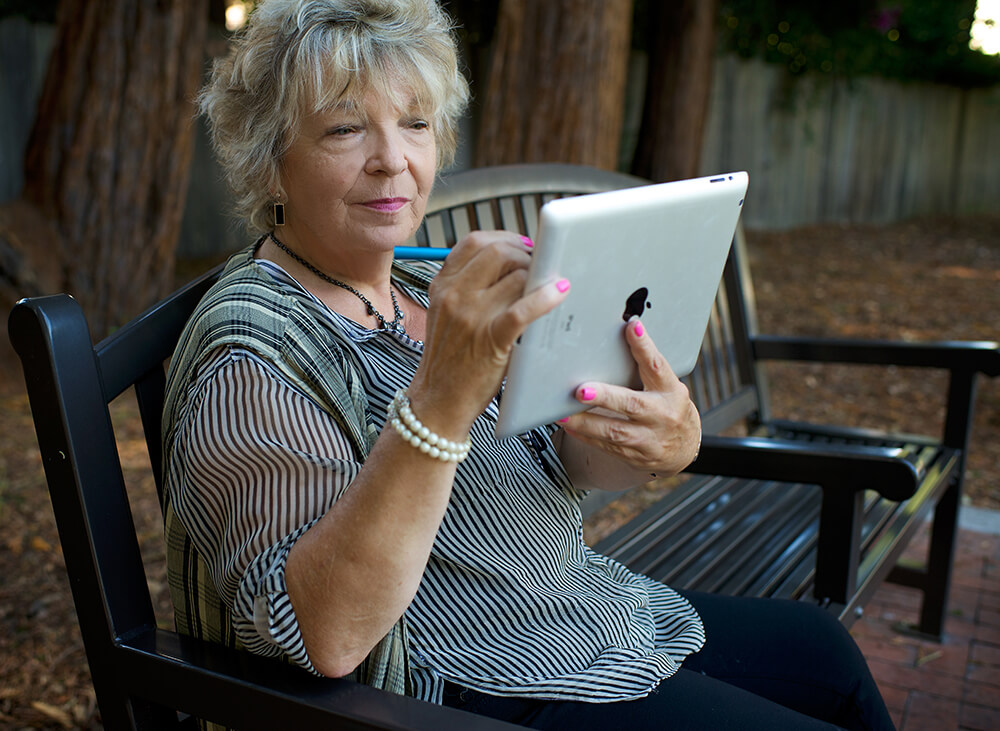 Little did she know that what began as experimentation would result in a second career as a digital artist. In 2013, Caroline's zeal for creating art using technology motivated her to co-found the Mobile Art Academy, a hub for artists using the medium. She also discovered a passion for teaching and has become well known for her classes at Palo Alto's Pacific Art League and, since the pandemic, on Zoom. Her motto is a call to arms for anyone who has toyed with the idea of making art: "Digital is democratic—everyone can be creative."
Sitting down with Caroline in the office of the Atherton Art Foundation, it's easy to see why her classes are so popular. She exudes a joy and enthusiasm for art and art history that is positively contagious. As she shares tales from her artistic past, she refers to examples of her art on her phone, visually documenting the journey of how her personal style has evolved. From that first zebra to complicated layering of photography and drawing, using ever more sophisticated applications, Caroline is always learning.

What she did not foresee is how much she would love teaching. She explains that she began teaching children to use their iPads for making art at the Los Altos Christian School. From there, she launched into providing instruction for various municipal recreation programs in Menlo Park and Los Altos. She found her way to the Pacific Art League, which was initially interested but not sure if a digital art class would garner enrollment. But a major exhibition of iPad art by British artist David Hockney at the de Young Museum in 2013 soon changed that perception.
For Caroline, the exhibition was a transformative experience. "Hockney is my go-to artist," she explains. "I have loved him since the '60s because he is always exploring and he loves the history of art. I agree with everything he says." Seeing the large-scale work that Hockney had done in his native Yorkshire, Caroline recognized the potential of the digital medium—and what it would require to master it. "I saw that I needed to work hard and get my art out there," she says.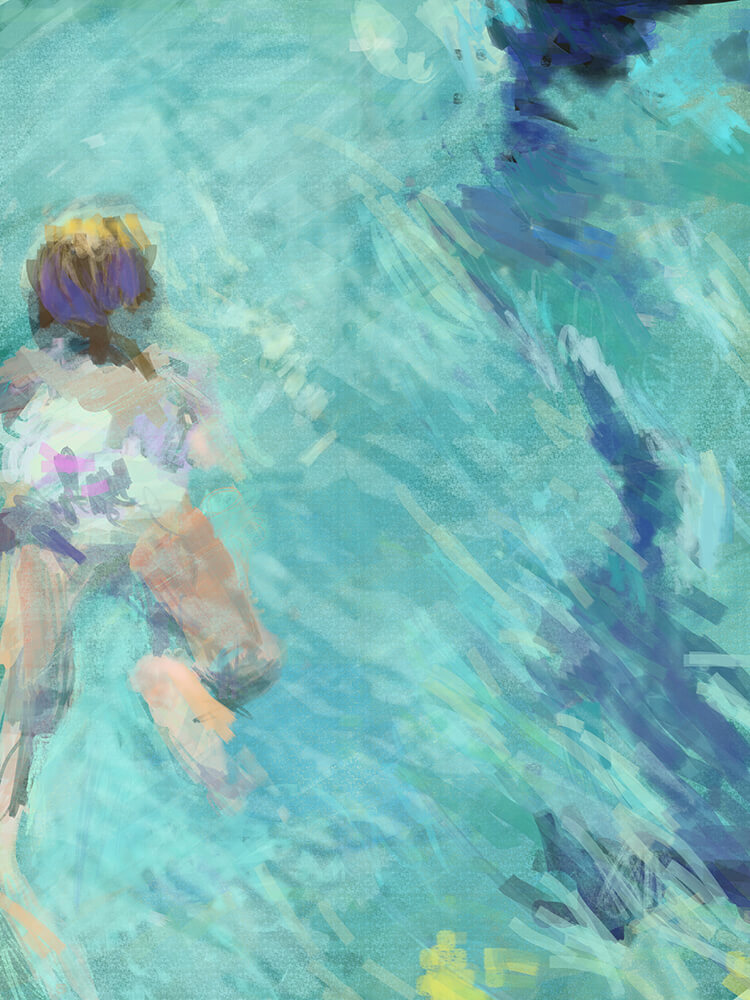 Caroline created a website and her digital art began to attract interest. Following a show at the Pacific Art League, she participated in a group show at Art Ventures Gallery in Menlo Park and a large-scale solo show at the Jewish Community Center in Palo Alto. She is quick to explain, however, that courting gallery affiliations was never a priority for her. Sharing her passion for digital art with others is her main motivation. "Teaching is symbiotic for me: I can earn money and I love to teach," she says. "I get inspired by teaching and I have to stay ahead of my students. It makes me work!"
Caroline's teaching—and her conversation—is peppered with quotes from famous artists whom she admires. "All of my classes are steeped in art history," she laughs. Discounting the old adage about how art teachers are failed artists, she cites Paul Klee and Wassily Kandinsky, both of whom were teachers. When asked if she has encountered any prejudice against digital art, she nods but then quotes Picasso: "Artists break rules." And as to how working on her iPhone and iPad has kept her work vital and innovative, she cites another favorite artist, Wayne Thiebaud. "He said, 'I think of myself as a beginner. Sometimes that's the whole joy. If you could just do it, there'd be no point in doing it.'"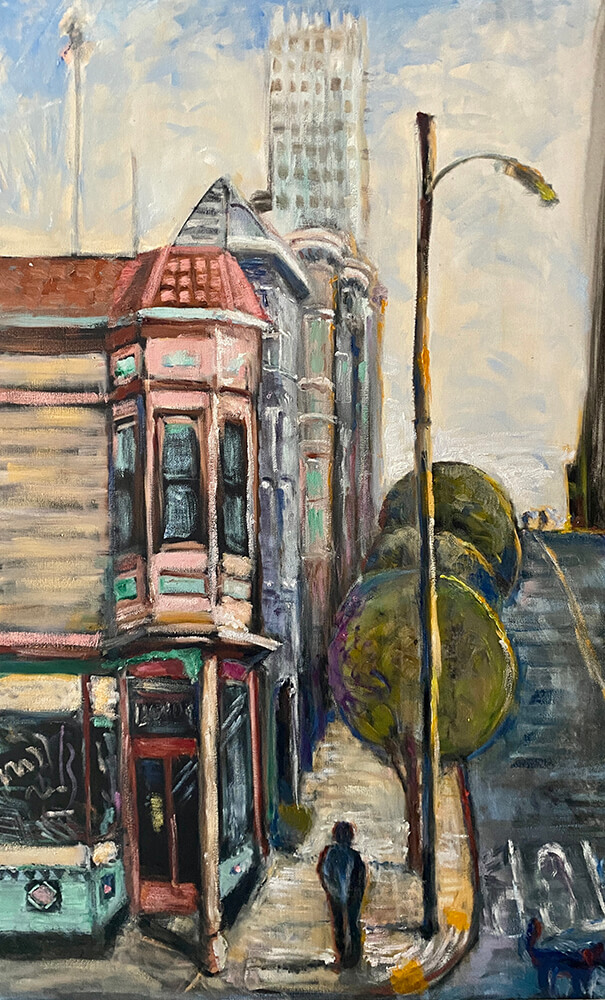 One thing Caroline has noticed while teaching adults is the lack of ability to draw. She attributes this to the lamentable demise of art education in schools and also the trend of not teaching basic drawing skills to art students. This is integral, she believes, in making art because "drawing is looking." The good news, however, is that it is a skill that can be honed through practice on a ubiquitous device: the iPhone. "Digital is drawing, you are just using different tools," Caroline says, adding that she sketches all the time, using Procreate Pocket on her iPhone. Whether on a bus, in a park or at a café, she is constantly observing and drawing. Has anyone ever noticed her attentive regard? "Never!" she exclaims. "I call it 'stealth drawing' because people don't even know I am doing it."
Perusing the iPhone work on her website carolinemustard.com, one can see a variety of subject matter, from autumn leaves to a still life of fruit to a cellist holding his instrument. These sketches, created using her finger as a tool, sometimes make their way into paintings and always are boldly and brightly colored. "Color is my passion, and I could never understand it as well without digital," she explains. With the mobility provided by the iPhone, Caroline has the ability to record everything—and anything—around her. While living in Mountain View, she was inspired by the many bicycles she saw on the Google campus. Google Bikes is a fascinating study of color and line, capturing motion in the style of the Italian futurists. It was purchased by the interior design department of the company and now hangs in their bicycle building. "Capturing what I see, that is what my art is about—memory," she muses.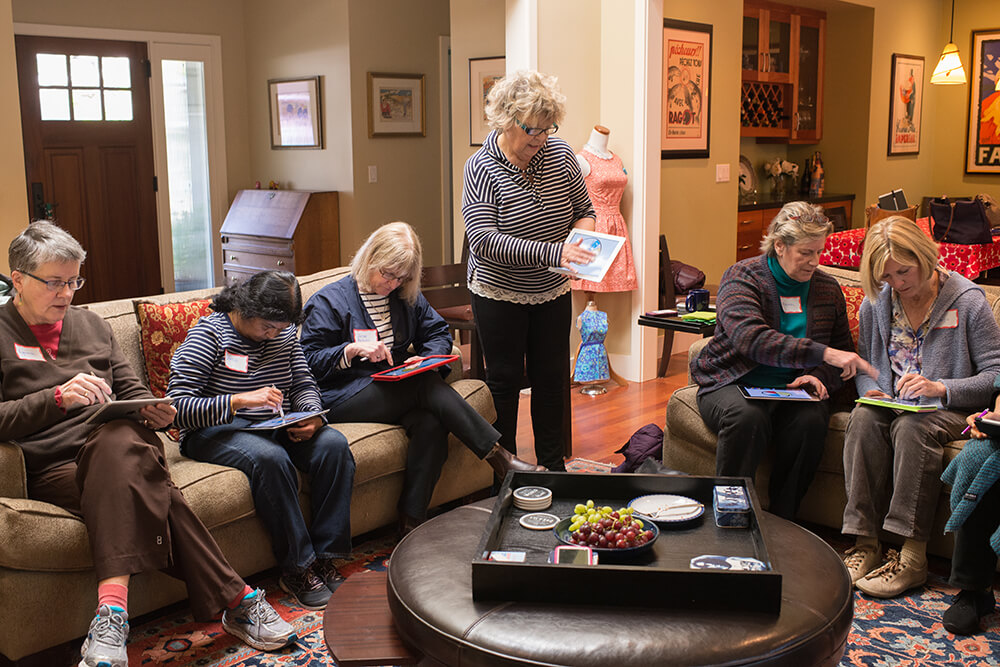 Caroline is now working on a series about San Francisco, which began with an iPhone sketch of an empty storefront near Russian Hill. This work will entail what she refers to as "drawing fusion," using both traditional media and digital. Clearly a proponent of the idea that art is around us, everywhere, Caroline also feels strongly that "our phones let us see things we can't see otherwise."
The advent of digital technology rekindled Caroline Mustard's love for art, and by sharing her knowledge and talents with others, she finds fulfillment. "I can get people to create art who never thought they could," she reflects with wonder.
To purchase books and find more information about online and in-person workshops, visit thejoyofdrawing.org