Searching for a day's getaway that offers walking/cycling/boating, a historic winery, good eating and a thriving downtown filled with unique shops? Look no further than Los Gatos, just 30 minutes south from the mid-Peninsula.
Nestled at the base of the Sierra Azules, Los Gatos was originally named "La Rinconada de Los Gatos" or "Cat's Corner," in reference to the mountain lions that wandered the creeks and nearby hillside. Los Gatos began with a Mexican government land grant in 1839, and a rail line connecting San Francisco, San Jose and Santa Cruz opened in 1878, making the town an early tourist destination. It remains so today.
The Discover LOST Gatos app offers a series of self-guided historical walking tours focusing on the people, places and events that have shaped the town for over 200 years. Download the app to your digital device—use it on your visit or preview in advance—for a helpful orientation to this picturesque haven in the foothills of the Santa Cruz Mountains. 
Walk, bike, fish, boat—all in a day
Oak Meadow Park, one of 18 parks/open spaces that dot the town's 15 square miles, features the Billy Jones Wildcat Railroad and W.E. "Bill" Mason Carousel. After going round and round on the historic carousel built in 1915, you can go "all aboard" on the 1/3-scale steam and diesel locomotive for a scenic ride through Oak Meadow and Vasona Lake County Park. The attractions are a big hit with youngsters who can also scramble atop an old fire truck and an Air Force jet in the adjacent play area. 
On our recent visit, we used Oak Meadow as a launch point for walking along the dog-friendly Los Gatos Creek Trail to Vasona Lake, which is operated by the County of Santa Clara. You'll share most of the trail with cyclists and encounter people fishing at the lake, which is stocked with rainbow trout from November through April. The summer fishing appeared to be yielding black bass. 
There's also boating on the lake—kayaks, stand-up paddleboards, pedal boats, canoes and sailboat rentals. The first three allow your dog to come along within specified weight limits. Call 408.399.5260 to verify operating hours.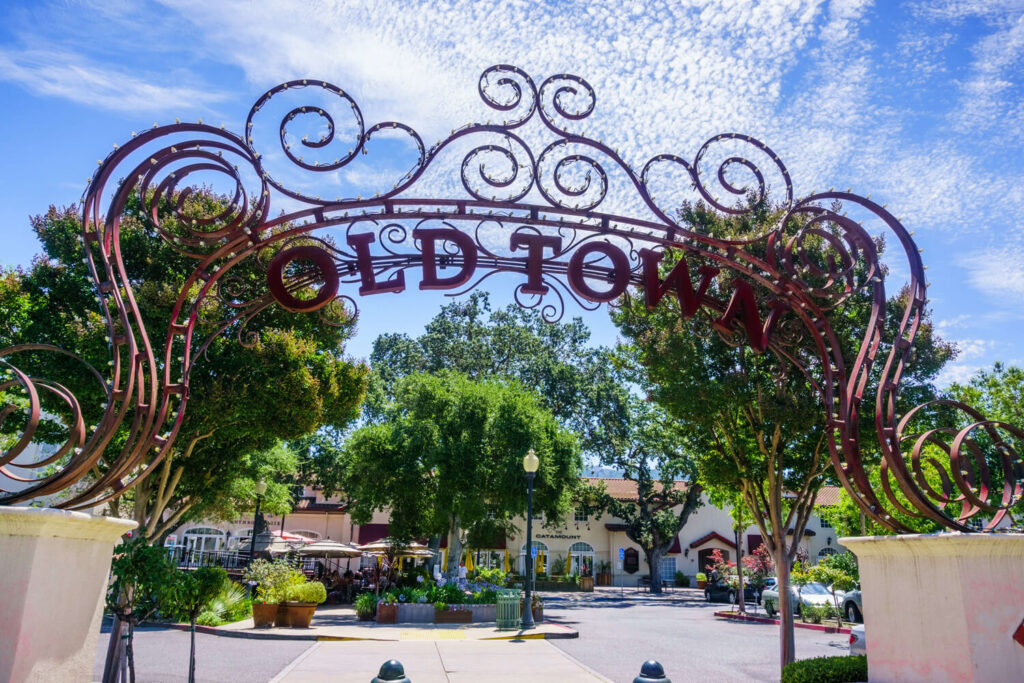 Sample Testarossa's award-winning wines
What began in 1993 as an experiment in Diana and Rob Jensen's Silicon Valley garage, became a reality a year later with Testarossa Winery's first release: a 1994 Chardonnay that garnered 91 points from Wine Spectator.
In 1996, the Jensens moved Testarossa to the historic Novitiate Winery in downtown Los Gatos. Built in 1888 and run by Jesuits who made altar wine as well as sweet, fortified wines, it is the Bay Area's oldest continually operating winery. "A lot of people became Catholics in 1919," quipped Rob during our tour of the winery.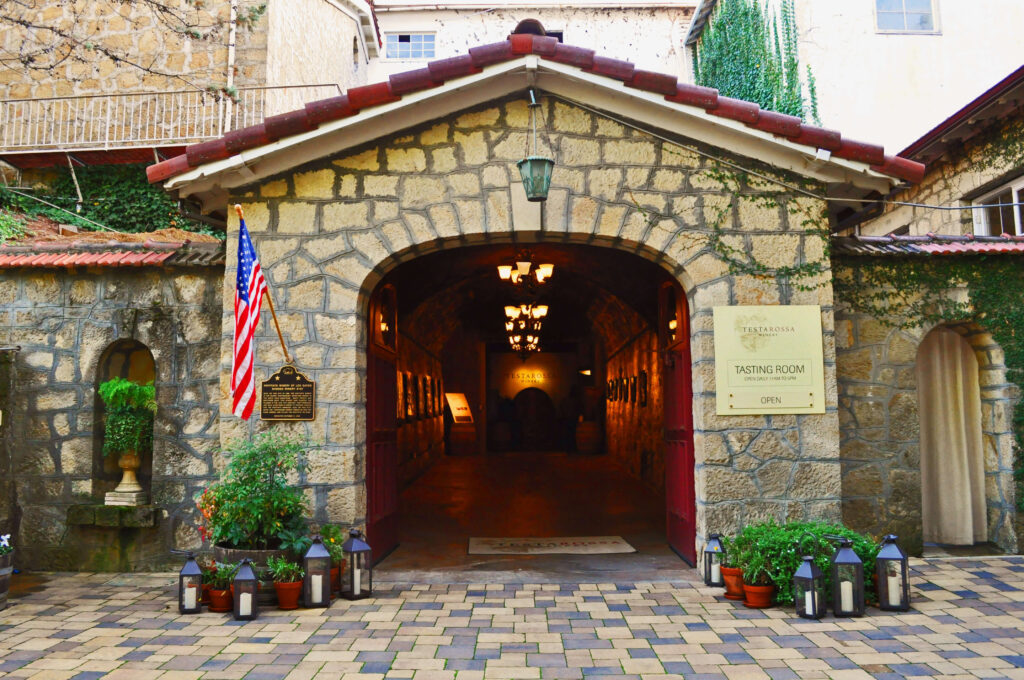 Rob talked about going from the peak of record revenues in 2019 and being honored in January 2020 by Connoisseurs' Guide to California Wine as "Winery of the Year" to the low in March 2020 of having to shut down all customer-facing tasting rooms, which are now open again.
Walking through the old winery buildings is at times like taking a tour of the Winchester Mystery House. Yes, there are even stairways to nowhere! Rob expects that public tours will resume this summer. He also told us that he used the temporary closure to make upgrades, which will include a commercial kitchen. All the better to host the many events that take place on the property every year.
Spread out over a large patio, Wine Bar 107 is named for its Novitiate Winery predecessor, which was the 107th bonded winery in California. It was bustling on the afternoon of our visit. The cheese plate consisted of three delicious cheeses along with crackers, roasted nuts and fresh fruit. It was accompanied by two Pinot Noirs, the 2018 Rosella's Vineyard and the 2017 Fogstone Vineyard.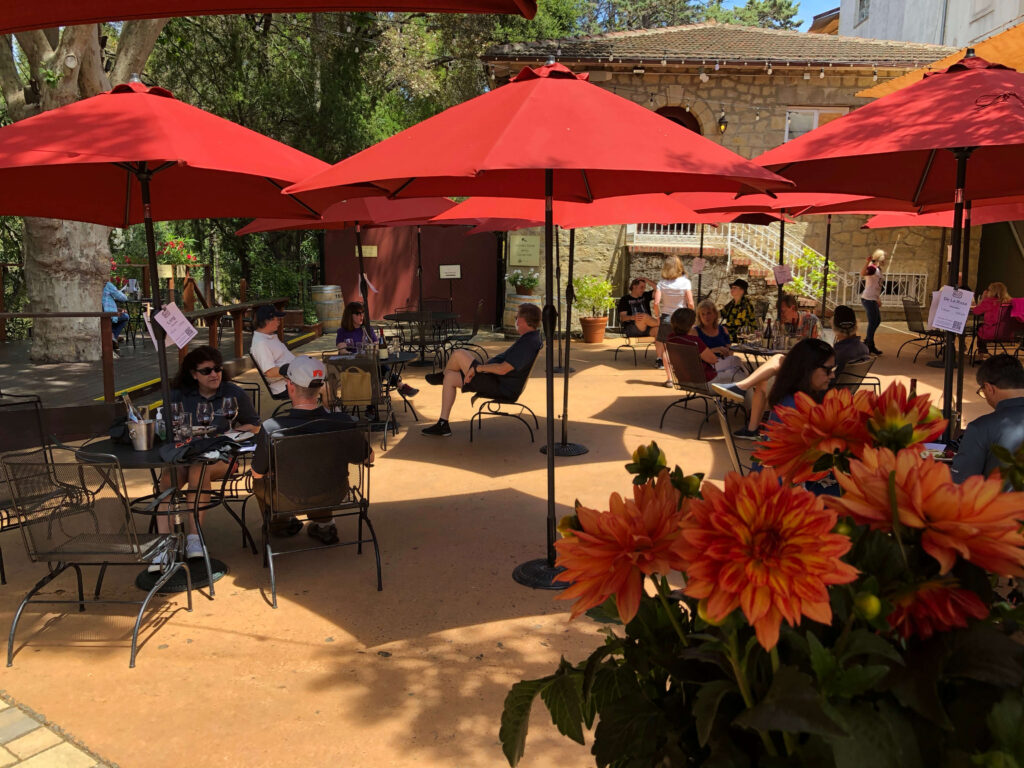 Alas, our palates were not knowledgeable enough to noticeably taste the difference, but we can say that the two Pinots paired well with the cheeses.
Of note: located adjacent to Testarossa is the Sacred Heart Jesuit Center, formerly the Jesuit Novitiate. Now a retirement home for Jesuit priests in the western U.S., the Novitiate was once the place where young men entered the priesthood. That brings the Jesuits' association with the winery full circle. 
Discover a bustling downtown—and a
distinctive house
Downtown Los Gatos—which includes Santa Cruz Avenue, Main Street and University Avenue—is chock-a-block with independent and unique retail stores along with numerous restaurants and a scattering of wine tasting rooms. August brings the last two live music events of the summer on August 5 and 12 with two groups performing each night.
It would be easy to spend hours wandering the streets, if only just window shopping. But Los Gatos is also a bit of a foodie haven. It is home to Manresa, one of only four restaurants in the Bay Area earning three Michelin stars. (The other three—Atelier Crenn, Benu and Quince—are all in San Francisco.) It is open for dinner only, Wednesdays through Sundays, offering a Chef's Tasting Menu for $350 per person.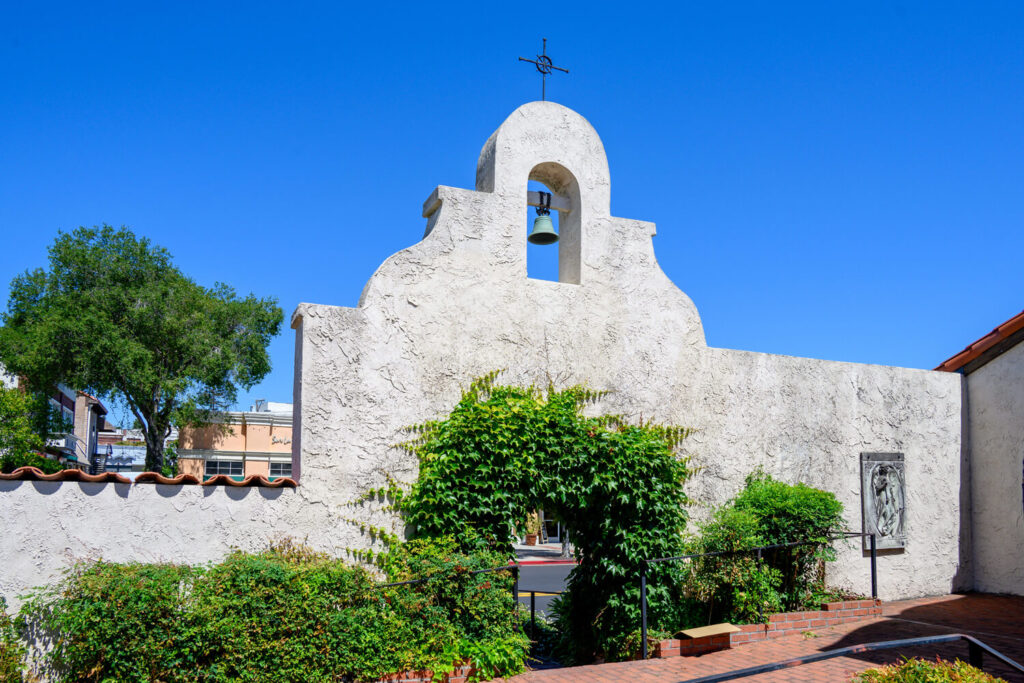 Can it be worth it? Gushes the Michelin Guidebook about Chef David Kinch's creations: "The nightly compositions are unknown until they arrive on the table (a souvenir copy of the menu will be handed to you at the end). The food is at once cerebral and luxurious, approachable and thoroughly delicious."
There are other good locally-owned restaurants. Our Menlo-Atherton High School classmate Donna Dawson Schwarz, who is a realtor in the area, gives high marks to the Wine Cellar Restaurant located in the Old Town Shopping Center.
Final tip on dining downtown: If you're going for lunch, come on the early or late side as restaurants fill up quickly around noon.
Walk your lunch off on the downtown side streets filled with charming older properties. Donna told us about one very distinctive home—the smallest house on the smallest lot in all of Santa Clara County. Built in 1920 and once home to the mayor of Los Gatos, the one bedroom, one bath cottage is just 574 square feet and sits on a 986-square-foot lot (0.023 acres). 
Let us know if you find something smaller on the Peninsula!