Redwood City's Emerald Hills is home to a prehistoric fixture that unites a community and never lets a holiday pass uncelebrated. Meet Dug—a six-foot-tall, XXXL shirt-donning Tyrannosaurus rex statuette that's been grabbing attention since it appeared on the front lawn of Gnat and Chris Matthews's home off Jefferson Avenue in June 2011.
"We were driving to Half Moon Bay for lunch one Sunday and on 92 there's a place called Spanish Town," Chris says. "They have these giant metal dinosaurs out front as a sort of landmark and Gnat, rather casually, remarked, 'Who buys those?' By the time we were done with lunch, she answered her own question: 'Oh. We do. We buy those.' Two weeks later, we were back to pick out Dug."
Father's Day then approached, so the couple decided to dress Dug up in a sweater vest and tie—igniting an idea. They've since become frequent customers at Savers and JOANN Fabrics and Crafts, decking Dug out in festive fare for Christmas, Halloween, Bastille Day, 49ers games and the Fourth of July. Dug also indulges in numerous pop culture references including Marge Simpson, an Aliens chestburster, a Valentine's Day kissing booth and Pikachu from Pokémon.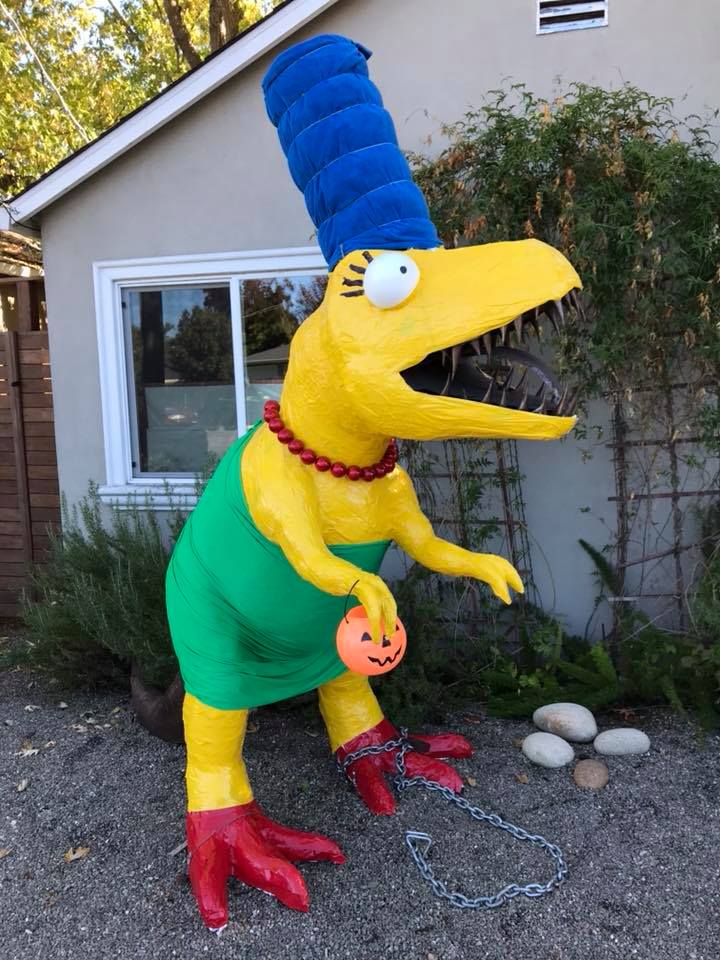 Dug has amassed fans worldwide (with nearly 25,000 Likes on Facebook) but Redwood City remains his biggest supporter. An entire classroom from a nearby elementary school sent hand-drawn pictures of Dug to Gnat and Chris and families reroute their neighborhood strolls to make sure they pass by for a wave. He's even inspired another dino in the neighborhood named Tango the Velociraptor.
The Matthews family moved out of Redwood City for work last summer (they hope to return soon) and bestowed Dug to a friend's lawn near Roy Cloud Elementary School, where he keeps watch on the playground across the street. The possibilities for costumes are endless—only limited by Dug's larger-than-life dimensions.
"The one costume we never pulled off was to build him a snow globe—we always wanted to pull that off for Christmas somehow," Chris says. "Turns out, it's…a lot of engineering."
To follow Dug's antics, visit facebook.com/DugTheTRex