When Jennifer Jory teaches a sustainability module at Nueva Upper School in San Mateo, she hands out a multiple-choice quiz. "How many pounds of clothing does the average American throw away each year?" it reads. "What is the second most polluting industry in the world after oil?"
After going over the options to choose from, Jennifer laments, "You can kind of guess. It's always the worst-case scenario." In the case of discarded clothing: 80 pounds. And the second most polluting industry? Textiles.
The wasteful practices behind fast fashion are what motivate Jennifer to drop into classrooms every year to teach lessons on how to make handbags or backpacks using recycled materials. It's a topic she knows plenty about. As the founder of EcoGirl, an environmentally-friendly handbag business, she spends her time collecting and rescuing high-end, heritage and vintage fabrics—and refashioning them into custom designs. "I do this as my one small stand against permanent environmental damage. I want to do anything I can," Jennifer says.
EcoGirl was born out of a simple fabric fascination—an interest that increasingly crept up on Jennifer. After growing up in Foster City, Jennifer attended UC Santa Barbara as an English major but ultimately found herself working in finance on the Peninsula. Jennifer's route was already nontraditional, but the real kicker is that she ended up in sustainable fashion. When traveling in Southeast Asia in her 20s, Jennifer fell in love with a historically expensive tribal ikat blanket that a local begged her to purchase for only six dollars. Following that experience, she continued collecting unique fabrics throughout her trip in Malaysia and Thailand.
The collection grew back home at the Alameda Flea Market where Jennifer discovered vintage and one-of-a-kind materials such as suzani, a wedding fabric from Uzbekistan. This led to an interest in rescuing design samples that would otherwise go to waste. "I couldn't let these beautiful samples that are $300 a yard go into the landfill," Jennifer says. "Let's just say I have a lot of storage." From clutches, handbags and cross-body purses to beach and book bags, EcoGirl produces a variety of designs with prices ranging from about $80 to $200.
The satisfaction that Jennifer's fabric collection gave her came as a surprise. "I had no idea I was the creative type," she says.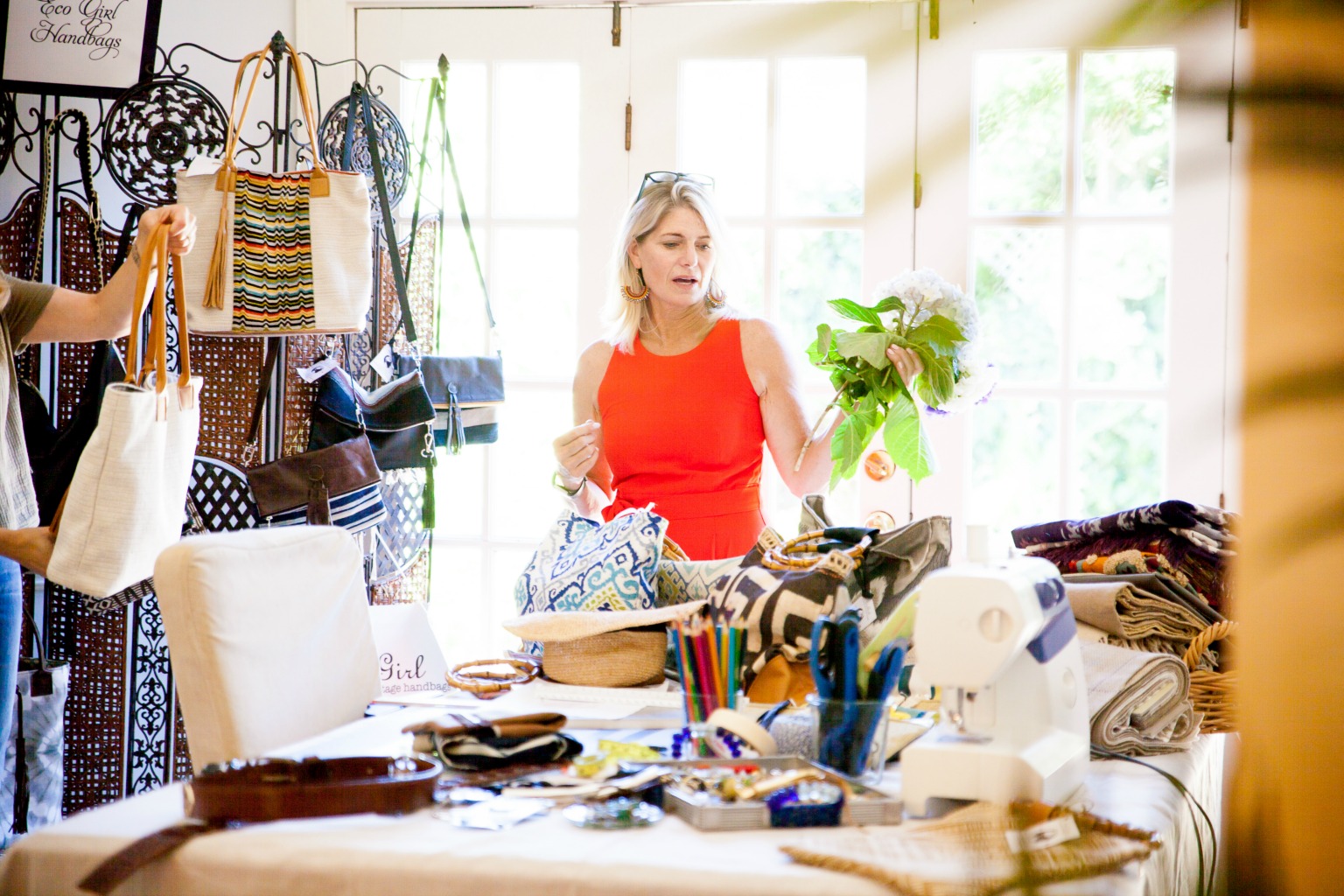 How does a vintage leather belt from the flea market find its way to a zipper from her daughter's old wallet and a sample of Chimayo Indian weaving? There's a certain fascination in how Jennifer marries fabrics and hardware. On the table in her San Mateo home where she works sits a neatly folded set of textiles and notions, all tied together with a string and a piece of white construction paper. This is called a bundle—the staple of Jennifer's day-to-day work—and it contains all the materials, measurements and design instructions needed before a single stitch is made.
Beyond her own creative conceptions, Jennifer will also make designs based on customer-specific fabrics or hardware. One time a friend found a vintage piece that reminded her of her aunt, so she commissioned Jennifer to transform it into bags for every member of the family. A special heirloom such as a brooch or necklace could be used as hardware as well. From couch upholstery to curtains, Jennifer has experience with all types of textile.
Once the materials are gathered and the design is finalized, the bundles are sent to her sewing crew in San Francisco—which turns out to be a rarity in fashion manufacturing. Jennifer relays a story about a retail sourcing event she attended in Las Vegas. "I was so excited to try to find new manufacturers in the U.S.," she recalls. "I go to this giant event room and ask where to find them, and they point to the only one out of thousands of tables. Very few handbags and clothing are made in the U.S., so having my bags made nearby in San Francisco is especially rewarding."
Although EcoGirl remains one-hundred percent local, Jennifer draws motivation from her international travels. Whether it's sending materials to young women in Honduras to make their own bags or donating 20% of EcoGirl event proceeds to an organization that helps women in Africa sustain their own businesses, Jennifer makes a practice of giving back.
Jennifer's three daughters also fuel her enthusiasm for her work. "They've all helped me along the way—whether they're working for me at the farmers market or keeping me current with what's in style. One of the reasons I keep being excited about EcoGirl is that my girls' friends actually want my bags. It is just too much fun. I have to keep going."
When it comes to style, Jennifer points to a fashion trend that never dies: denim. "I love material that could be worn with jeans. For instance, right now I'm into indigo fabric. Imagine brown leather with a stripe of indigo down the middle—that would be such a good complement to a pair of jeans," Jennifer muses. However, Jennifer is also very cognizant of the dark side of jeans production. "To make one pair, a manufacturer uses the amount of water it takes for a person to survive for over two years," she relays, which further inspires her to use recycled denim in her designs.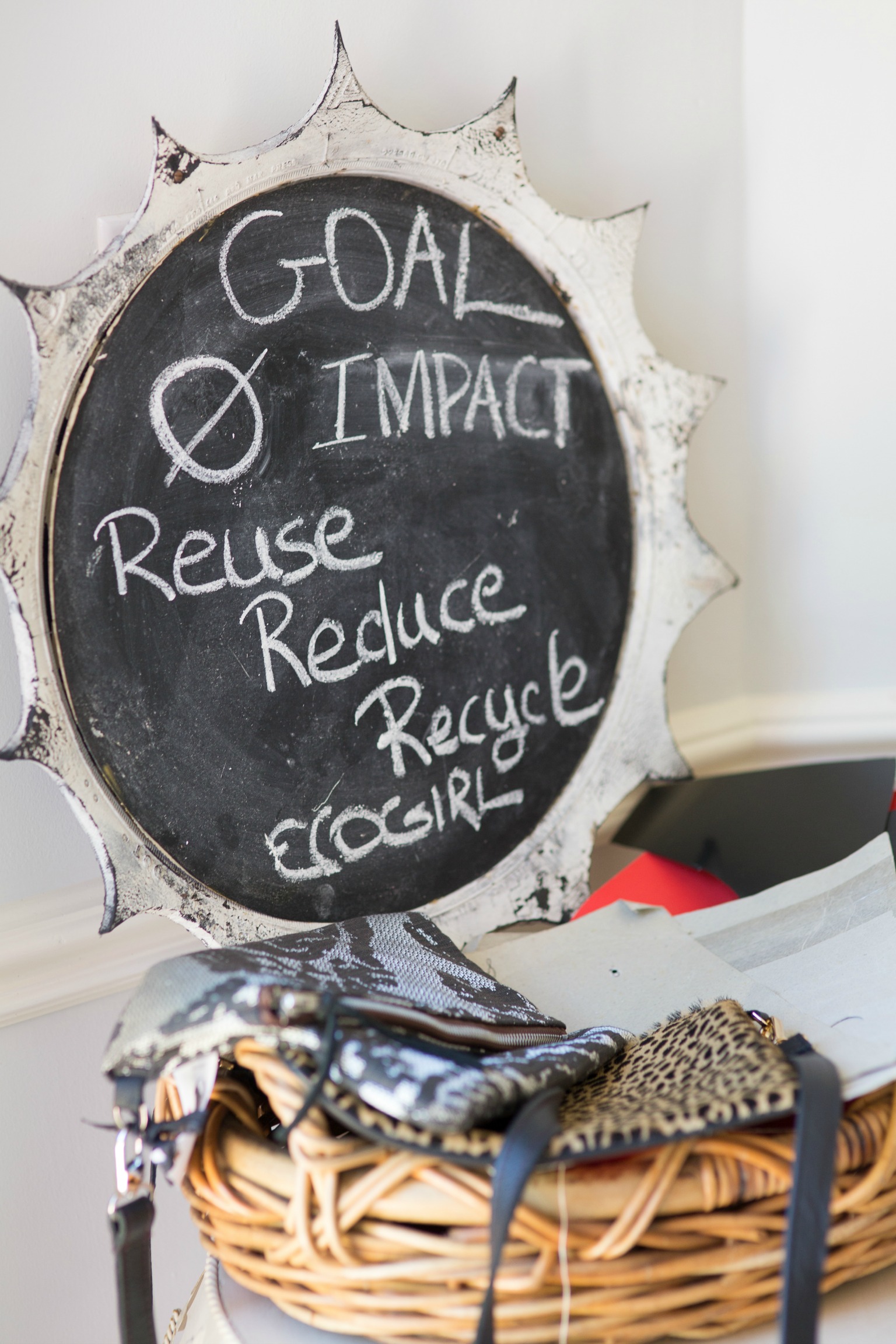 On that note, here's the final question on Jennifer's sustainability quiz: "What percentage of textiles and clothing are recycled or repurposed each year?" The answer: only 15 percent. Intent on raising awareness about textile waste, Jennifer is also looking to expand her reach in the classroom, offering her module to more Peninsula schools.
Back in her design studio, Jennifer studies the materials in front of her—a turquoise thumb catch, a thrifted leather belt and a fabric sample with a corner grommet perfect for a handle or tassel. "I just can't seem to stop making bags," she reflects. "I never grow tired of finding that next beautiful piece that needs rescuing."
eco shopping time
Burlingame Sunday Farmers Market
9AM to 1:30PM
Cocktails & Couture Benefit on September 26 49ersacademy.org/couture