Words by Silas Valentino
When you pop into Mykonos Meze House, the new Greek eatery in downtown Burlingame that celebrates shared plates, you'll likely hear the Greek word ∑'αγαπώ or s'agapó get passed around from host to server to guest. Translated from Greek as "my love," the expression is sweetly repeated as the small plates of delicious bites circulate around the open-air building adorned in shades of blue and white.
Making its debut in November, Mykonos uproots the Greek experience of meze eating and places it on the Peninsula. Sometimes considered the epitome of Greek-style entertaining, meze (meh-ZEH) translates to taste or a bite, but here it's used to designate a restaurant conceived for social gatherings over tables of rich cuisine and handcrafted cocktails.
"Our concept is more like a casual neighborhood eatery instead of a fine dining restaurant," owner and chef Dogan Üstel explains. "And a cool place to grab a drink at nighttime, especially on the weekends."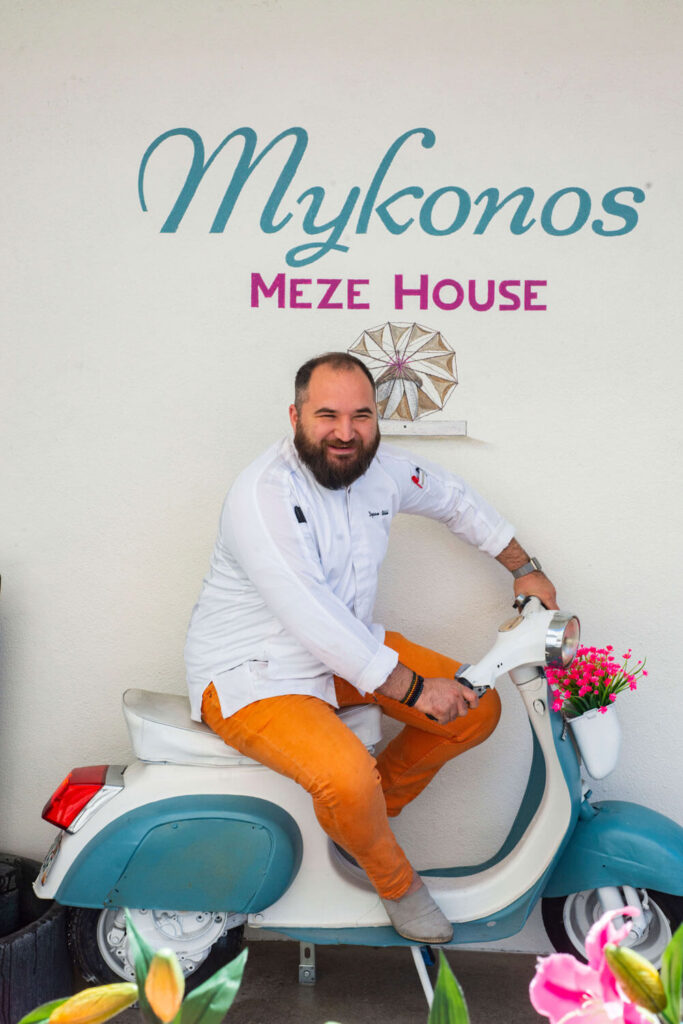 Dogan, whose name is pronounced similar to Don, is one of four owners who brought Mykonos to life. He and his partners currently have six concepts across the Bay Area including Roma Atica, which is set to open its third location in San Mateo, and Mediterranean Kitchen, located just a few doors down from Mykonos in Burlingame.
Asked what distinguishes the two concepts, Dogan explains, "Mediterranean Kitchen has everything on the menu." There's a mix of Greek and Middle Eastern dishes with a twist of standard American classics. Mykonos, however, "is specifically local Greek," he says and points to the souvlaki beef skewer.
A menu favorite and a Dogan specialty, the prime tenderloin is cooked perfectly to slide off the skewer and melt in your mouth with imported black sea salt enhancing its flavor.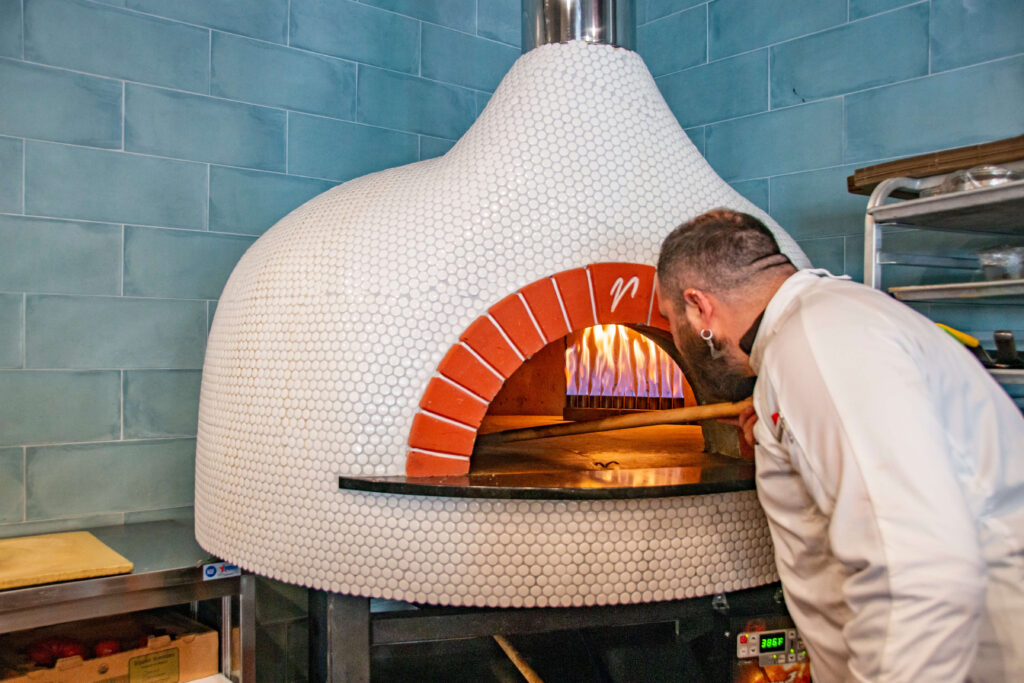 In the kitchen, Dogan deploys patience as a necessary ingredient, like when the lamb requires at least six hours to prepare or when he massages the calamari in a beer batter throughout the day. His meatballs involve a two-day process in the fridge and to ensure that the servers are educated about the bites they bring out, he routinely asks that everyone spend at least 30 minutes in the kitchen to learn about what they're serving.
Dogan even wrote a short recipe book for each menu item and collected them in a binder that's readily available to flip through.
The Greek spreads and sesame-sprinkled pita bread are drawing admirers. The Láchano (marinated red cabbage with Greek yogurt) receives regular praises online while the Tirokafteri (roasted bell pepper, imported spicy herbs, walnut and feta cheese) is a classic dip. And not to miss as an appetizer are the crispy zucchini cakes topped in a rich yogurt of cucumber and mint.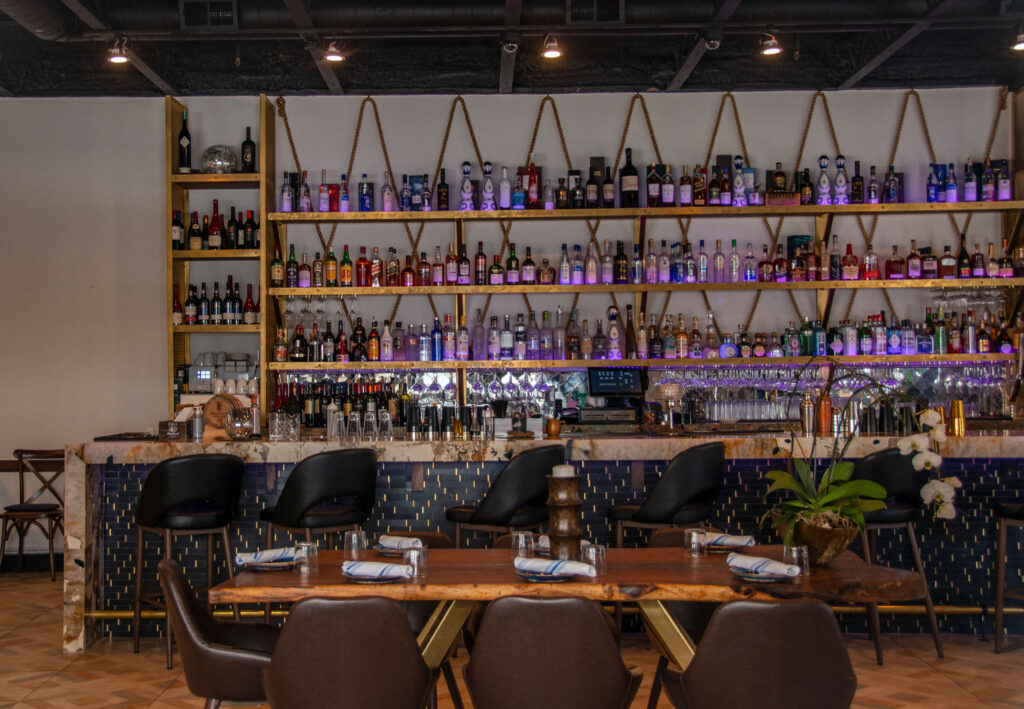 A 22-foot bar with shelves of spirits lines the back of the restaurant, serving up the traditional Greek lager Mythos as well as a dozen handcrafted cocktails and more than ten different types of Ouzo, a dry anise-flavoured aperitif widely consumed in Greece. 
The White Shadow is the eatery's play on a piña colada using Tito's vodka, coconut cream with pineapple and lime juices while the house favorite is the Mykonos Blue that mixes Hendricks gin, Absolut vodka, cucumbers and blue curacao together for a refreshing tipple.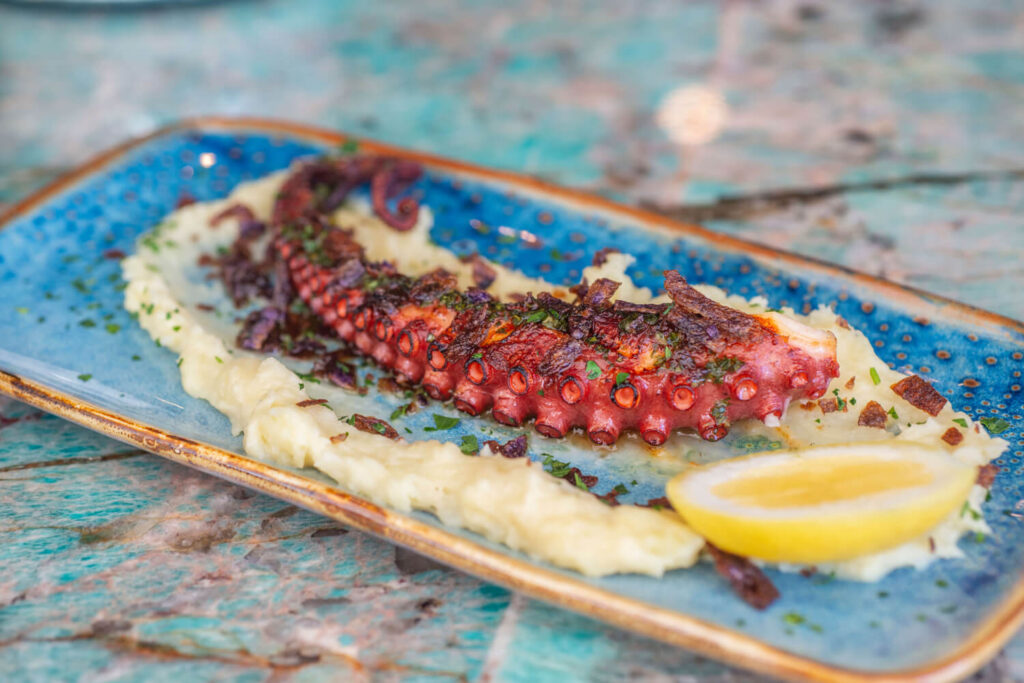 Off the menu, Dogan stresses the importance of creating a welcoming space that accurately reflects its island namesake.
"All Greek islands are perfect, but Mykonos is an angelic place," he says. "We want to create a Mykonos vibe and a meze house is a space for sharing."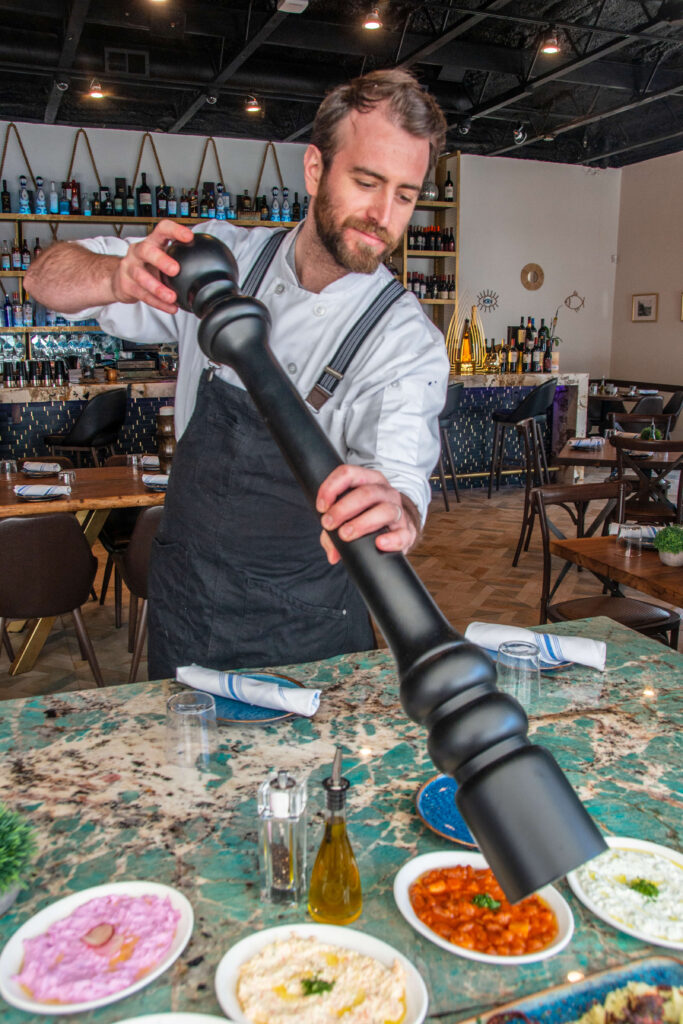 Dogan attributes his emphasis on hospitality to when he was a cook for the Hilton Istanbul Bomonti Hotel & Conference Center back in 2014. He uses the word guest not "customer" and is known to pass out his card freely.  
"I want to hear from them," he says. "I want to give my guests a good experience. You are coming here to celebrate or for your anniversary; it's a special day. It's not just spending money—you are sharing important times here."
Dogan's chops in the kitchen were a gift from his mother. Born in Thessaloniki, Greece, she instructed him how to prepare souvlaki as a young boy. Dogan was born in Lüleburgaz, Turkey, and lived in Malta as a teenager to learn English. It was there that he realized how important it was to him to live in a more liberal culture and he spent his formative years studying gastronomy at Beykent Üniversitesi in Istanbul.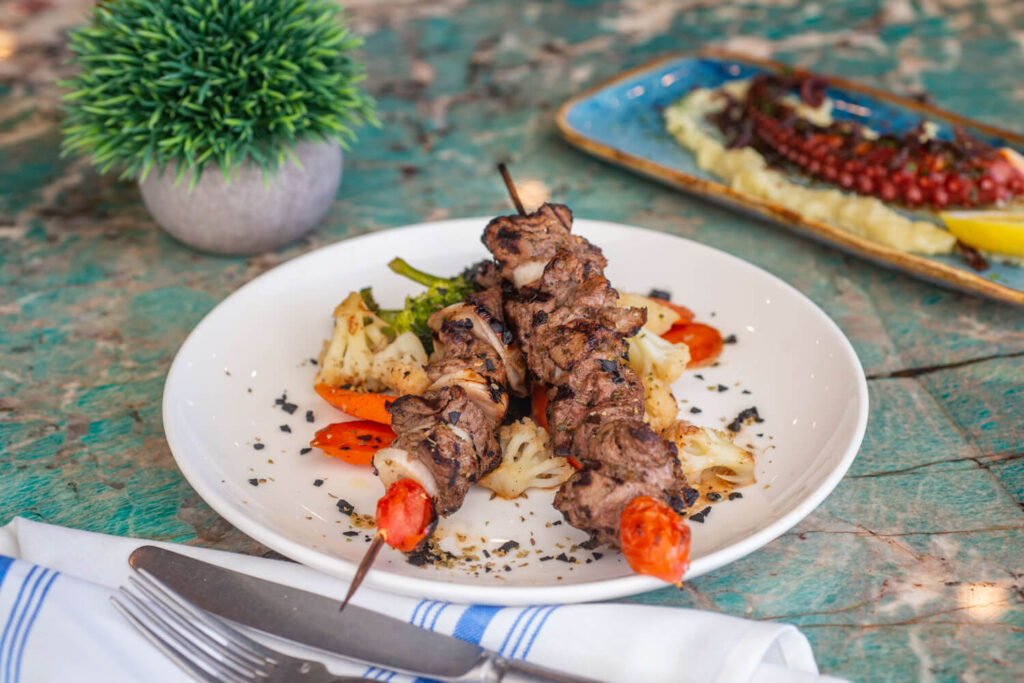 Dogan arrived in the United States in 2016 to work as a line chef at Michael Mina Restaurant in San Francisco, where he met his three partners. The four of them broke out to begin their own endeavors using each other's strengths in design and architecture, with Dogan in the kitchen.
Dogan lives in San Carlos and when he's not pulling a 17-hour day working between kitchens, he's a fan of extreme sports and has skydived six times. "I love extremes," he says, "they make you feel fresh." He's also passionate about Deep House music and as restaurants begin opening up to more possibilities, he's envisioning Mykonos as a cultural hub.
"Burlingame and the Peninsula need a place for young people. We'll have good, quality music in here and are planning on having DJs," Dogan says, or, as he summarizes with a smile, "A Burning Man-style party.