Nothing beats being surrounded by good friends in a beautiful setting. As Labor Day draws closer to take summer farther away, it's a great excuse to fit in those last warm-weather get-togethers. PUNCH talked to a couple of event-designing pros who can help make doing that in high style a piece of cake. (And you'll hopefully also get to eat cake at the party).
While there are all sorts of planners—event, party and so on—here we are focusing on designers—event and party designers to be exact. Event planners work on the logistics of a fête: guest list and count, location, timing, etc. Designers work on the look of the event: tablecloths, napkins, place cards and escort cards (those cards that tell you what table you're at upon entering a dining area), floral design, etc.
Sheila Kramer is the talented event designer who created the gorgeous tablescape on this issue's cover at a stunning Atherton home. Kramer has always had a love for style and design, and she's here to make it accessible for everyone. She spent the early part of her career sourcing furnishings and decorative accessories for home design and decor retailers on both coasts before launching her own interior design firm here in the Bay Area.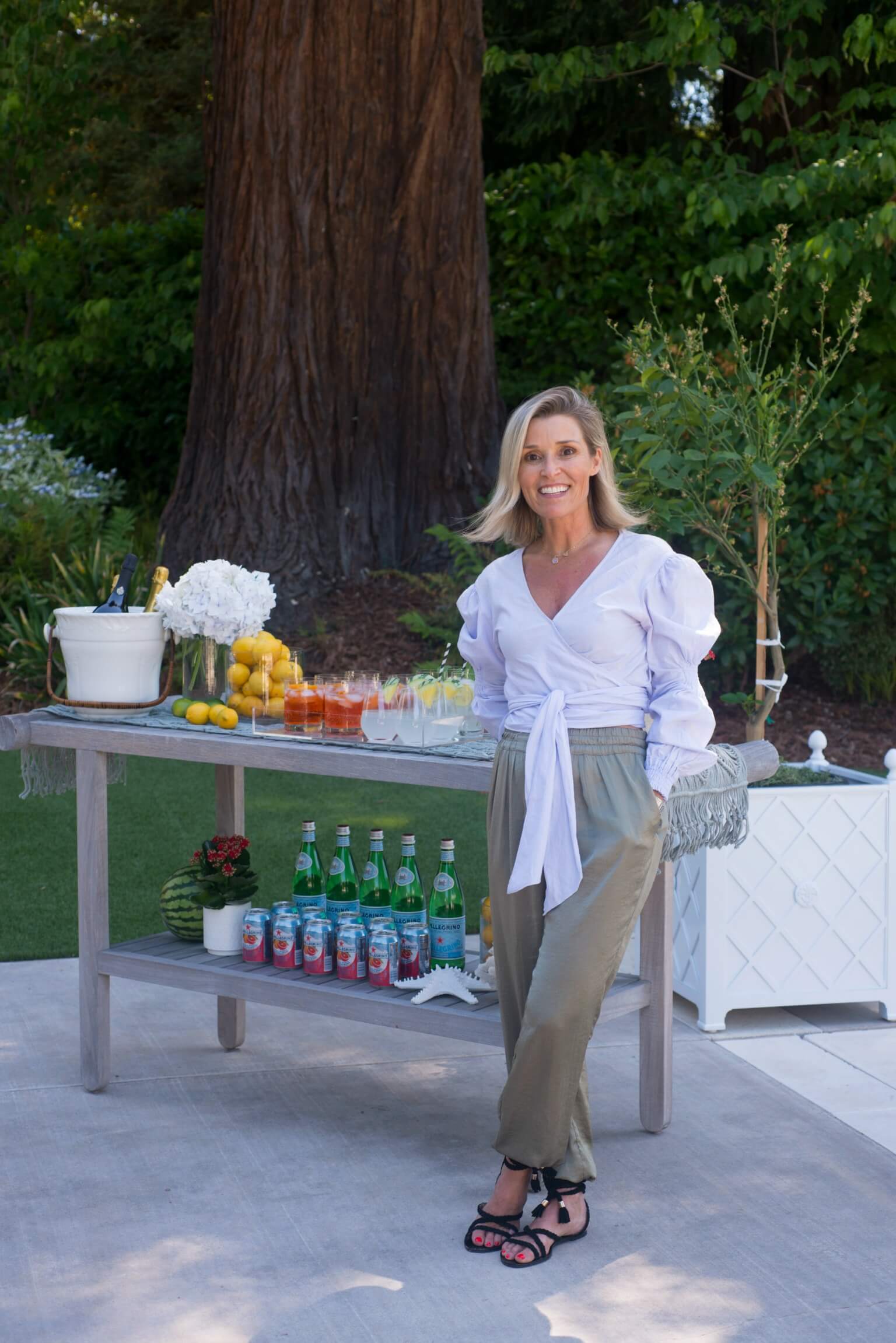 According to Kramer, the entertaining industry has changed and grown a lot in recent years, and the reasons are two-fold. First, guests now have the power to document the tiniest of party features on social media sites, where cultivating beauty and design are of vast import (i.e. Pinterest and Instagram). That documentation is more than sufficient impetus for a host to up her game.
Julia Rockwell, former event planner for Fortune 500 companies, tech giants and the San Francisco Opera (and now the founder of the online gifting mecca, Gifted Gift Guide), tells us that the second reason the entertaining industry has grown is because more options than ever exist for hosts. "There are more interesting, high-end and specialized rental options, and more curated and custom entertaining goods (think the opposite of regular party store retail)," Rockwell tells us. Also, social media platforms offer endless ideas—a never-ending stream of swatches and inspiration boards to screenshot and drool over. (A cursory look at some event-idea Pinterest accounts shows that one can freeze edible flowers within ice cubes to put in water glasses around the dinner table and even have an evening's menu written on individual cacti for each guest.)
While these touches are certainly post-worthy, Kramer's theory on entertaining tends more toward functionality. "Homes should be comfortable above all else. The goal of my business is obviously to create beautiful homes and environments, but they should still be very approachable and feel like real life, not a stage. It doesn't serve anyone any good to have things look gorgeous if they aren't functional or sustainable," Kramer says.
Kramer also doesn't want her clients to run out and spend a small fortune on items for setting the scene for a fête or tablescape. She encourages her clients to see what they already have at home and then put it all together in a fun, interesting or unexpected way. Below, Kramer shares her best event-design tips and tricks: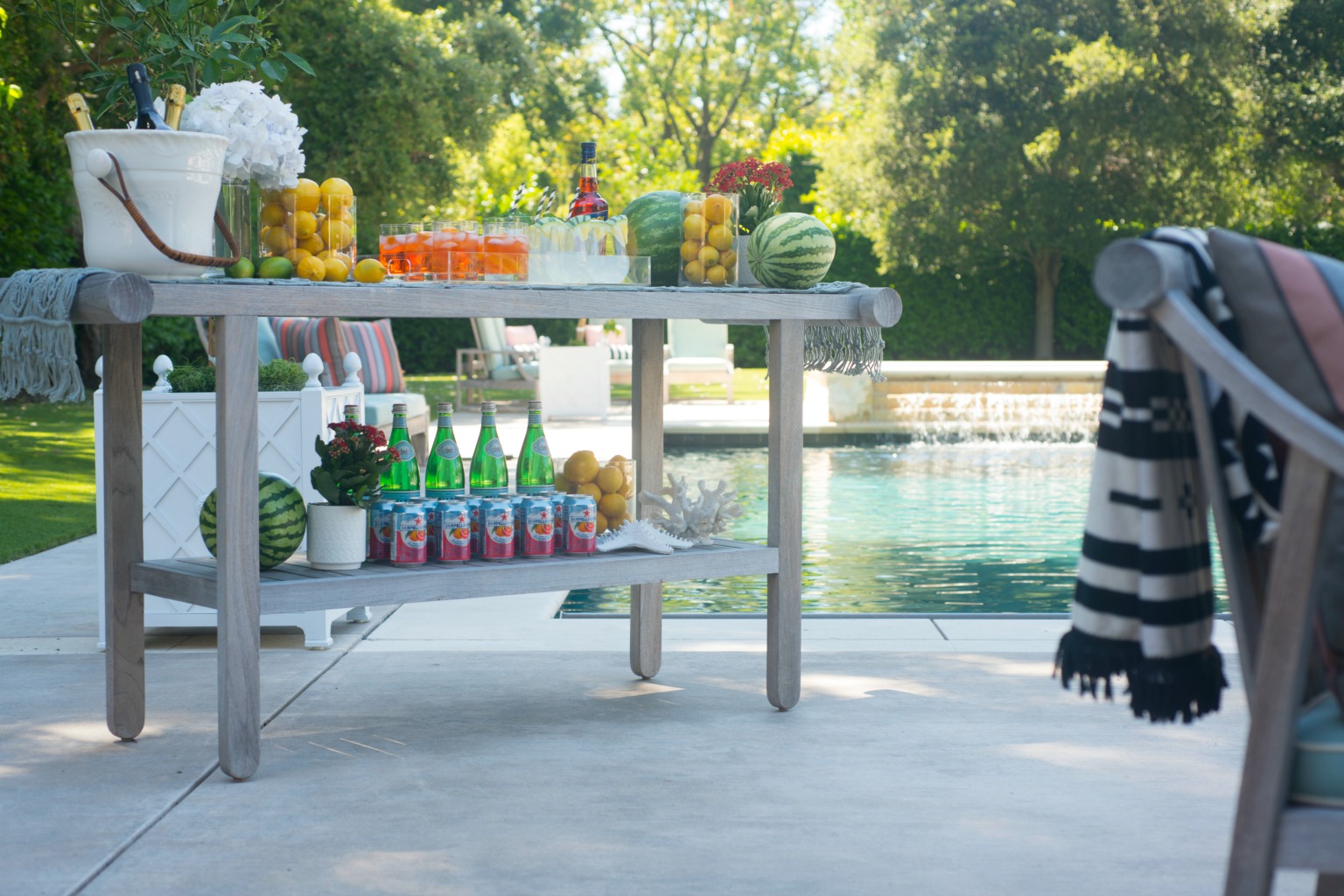 What would you tell a host who intends to attempt a tablescape for an event at her home for the very first time?
It's SO important that the host feels comfortable and confident, so keep it simple! Don't fret. Have fun! I recently heard something that struck a chord: there really is nothing more loving that preparing food for friends and family. I believe that is so true. Do it with love.
How much should the food that is to be served and/or the theme of a party (if there is one) inform your tablescape?
One hundred percent. Choose your menu and then the tablescape will come together naturally. Reference colors and tastes in the food for your design and the "theme" will present itself!
Can you give our readers a tip for their tablescape if they are throwing a super casual get-together and another if it's a super fancy occasion?
I actually feel the same about both—if you throw yourself into every detail (casual or formal), your spirit will come through and the party will be a hit. But, if I had to give concrete direction, I'd say doing a casual, buffet style for the informal option and a sit-down dinner for the formal is a good way to differentiate. For the buffet, you can have wicker trays and plates and have your guests sit anywhere. Serve lighter salads like arugula with prosciutto and burrata or cold pasta, grilled salmon sandwiches and tuna steaks, or grilled chicken. When having a sit-down dinner, ensure the table is dressed, linens are pressed, beautiful background music is playing, etc. You can also do a buffet for a formal dinner where guests help themselves and return to the table to find their place cards.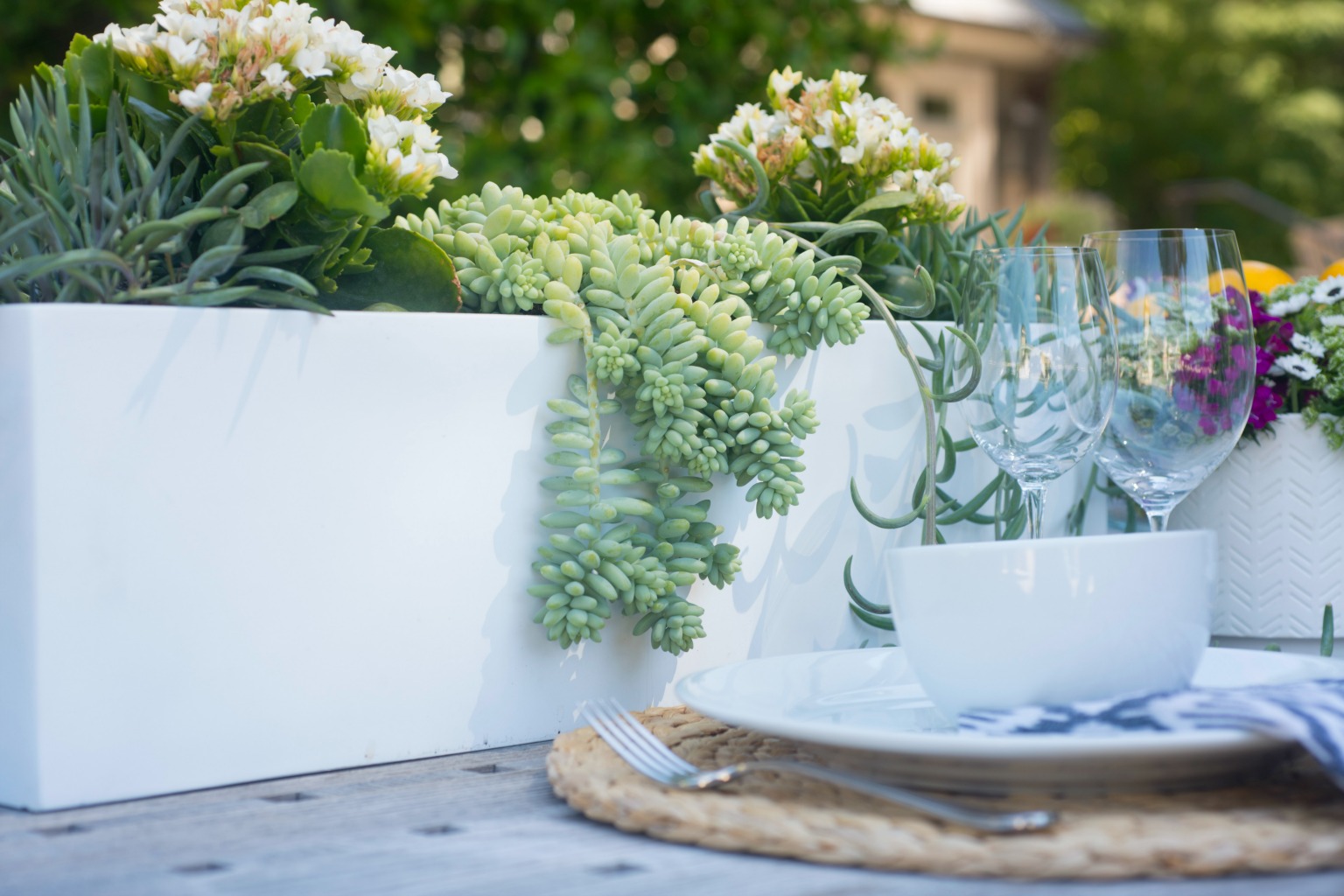 Fresh flowers can get pricey and multiple pieces of flatware/chargers/etc. can really add up. What are your tips for tablescaping on a budget?
Mix it up! Use every pattern and style of china in your cupboard. Purchase inexpensive flowers from the supermarket (Trader Joe's is a go-to favorite) that repeat colors in the china in separate vases to tie
it all together.
How can you use surroundings—art, architecture, landscaping—to complement and play off your tablescape?
Chose one feature and let everything play to that feature. For example, metal sculptures in a garden lend themselves to metal vases or planters, metal chargers and so on. If you have flowers in your garden, use them on your table! If you have citrus trees, have bowls of that citrus on your table or on your bar.
Can you give our readers some brand/store recommendations as they venture into the world of tablescaping?
Anthem is one of my favorite stores for design and it's centrally located in Menlo Park. If you find yourself in San Francisco, don't miss Sue Fisher King's shop on Sacramento Street. That said, ALWAYS be on the lookout! Places like Home Goods, your local hardware store, Pottery Barn, Target and more…these places all have fun things you can add to your collection of partyware!
Kramer puts her money where her mouth is when it comes to combining high and low. In the
tablescape scene on the cover, Kramer reveals that the ikat blankets are actually beach towels. Kids had to be able to be kids and swim! She has the same emphasis on beauty that is characteristic of the most highly recognized event designers, but she insists on less fuss and more fun.