Words by Anni Golding
In 2019, when chef Scott Nishiyama finally held the keys to the vacant space that would eventually become his first restaurant, it was a surreal moment for him. A veteran of multiple Michelin-starred kitchens, Scott had been imagining and planning a place of his own for four years. On the cusp of starting the long-awaited project, he thought, "This is really happening."
The plan was to open Ethel's Fancy, a casual spot with a dinner-party vibe, in 2020. However, a two-and-a-half-year odyssey that included pandemic shutdowns, supply-chain issues and other challenges delayed the opening until September of this year. Fortunately, diners were ready and waiting. Reservations were snapped up within the first day of release. Scott and company quickly opened up another round, which went almost as quickly. Ethel's Fancy had finally arrived.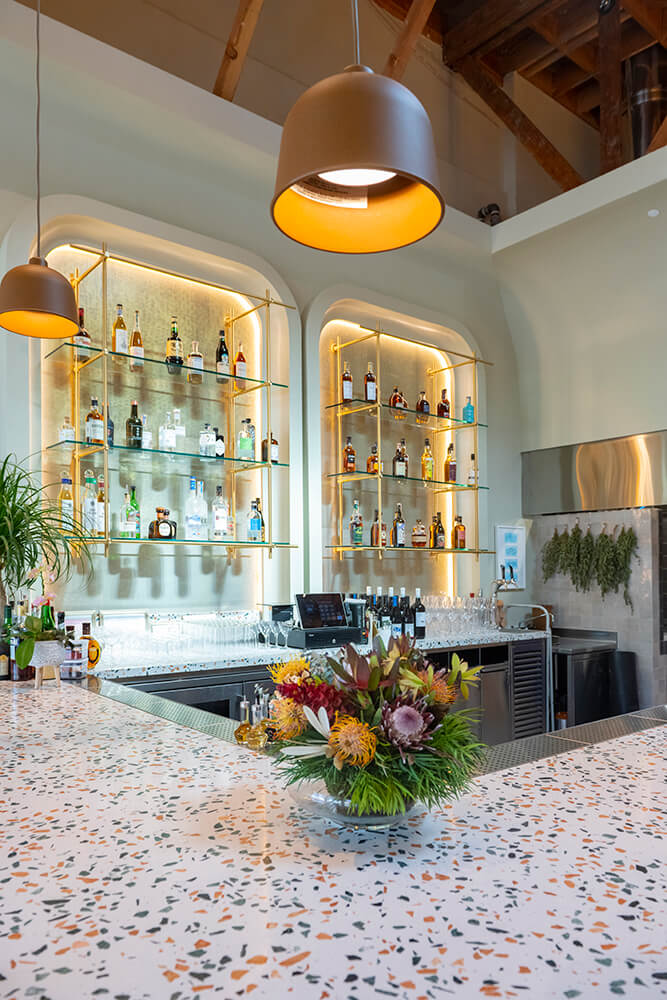 Two Ethels inspired the restaurant's name: Scott's mother and his maternal grandmother, both of whom have been nurturing influences. Scott grew up in upcountry Maui on his family's flower farm, a business that Scott's father had taken over from his parents. "My mom was a great cook" who would make Asian, Italian and French dishes for the family, recalls Scott, but he was a picky eater who was having none of it. "My mom will tell you: It was very hard to feed me," he confesses. Visiting his mother's parents, who lived in eastern Oregon, was limited to summer vacations. Of his grandmother, he recalls, "She would dote on us and cook for us. I just loved going there."
Scott's interest in the culinary arts began while he was an MIT student, living in a fraternity house. "I found the most solace from the rigors of studying when I was in the kitchen and just cooking," he says. After graduating with a chemistry degree, Scott returned to Maui and worked in environmental consulting. But after a couple of years, he got "rock fever," and decamped to Los Angeles, where he tested his interest in a culinary career as a line cook at the Bel Aire Hotel. He loved it, and decided to apply to culinary school.
Graduating with honors from the Culinary Institute of America in 2000, Scott embarked on a 10-year plan to hone his skills by learning from the best. He worked at two of Daniel Boulud's restaurants, spent two years at the French Laundry, and then signed on as opening chef de cuisine at Yoshi's in San Francisco. In 2009, he stepped into the executive chef position of Mountain View's Chez TJ. He was completely responsible for creating the menu (potentially daunting), but the experience enabled him to find his voice as a cook and create his own style of food.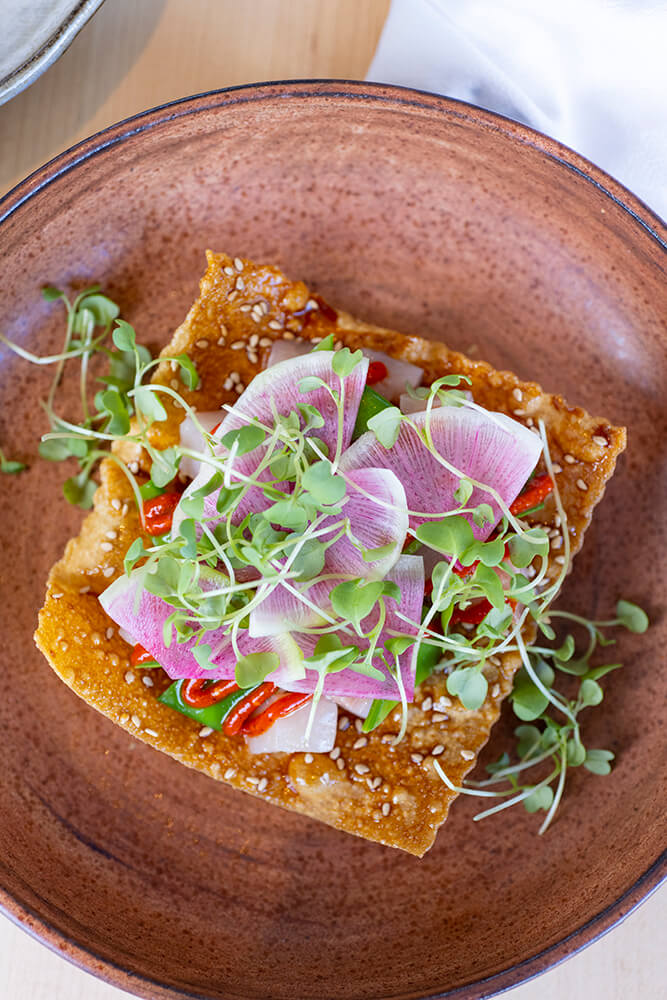 When a private chef opportunity came his way, "It was the furthest thing from my mind," he recalls, but it turned out to be a good fit, and he left Chez TJ. Several years in, Scott felt ready to create his own restaurant, but he and his wife Joy had just had twin boys, and the timing wasn't right. However, as his sons grew, he realized that he wanted his legacy to extend beyond being a great chef. "I wanted to leave something for them that was mine."
He envisioned his restaurant as "very personal," reflective of his experience and ethos—from the food and ambiance to the name of the place. "I loved the sound of my mom's name," he says. "It had a very old-fashioned, traditional vibe to it." The word "fancy" added a sense of upscale to the traditional. He and Joy held casual pop-up dinners for friends in their Millbrae home to test menu ideas. Scott imagined the ambiance of a dinner party, "where you have a lot of plates on the table. A lot of the menu ideas came from those pop-ups."
Finding the right spot for the restaurant took two years. Scott admits that when he first saw the 2,700-square-foot former Prolific Oven space in Palo Alto, his reaction was lukewarm. But his broker was able to help him envision the possibilities, and the location sealed the deal. To create an environment that was "very fun, interactive and not too stuffy," Scott worked with New York City-based architect Brett McMullen and Bay Area designer Jon de la Cruz.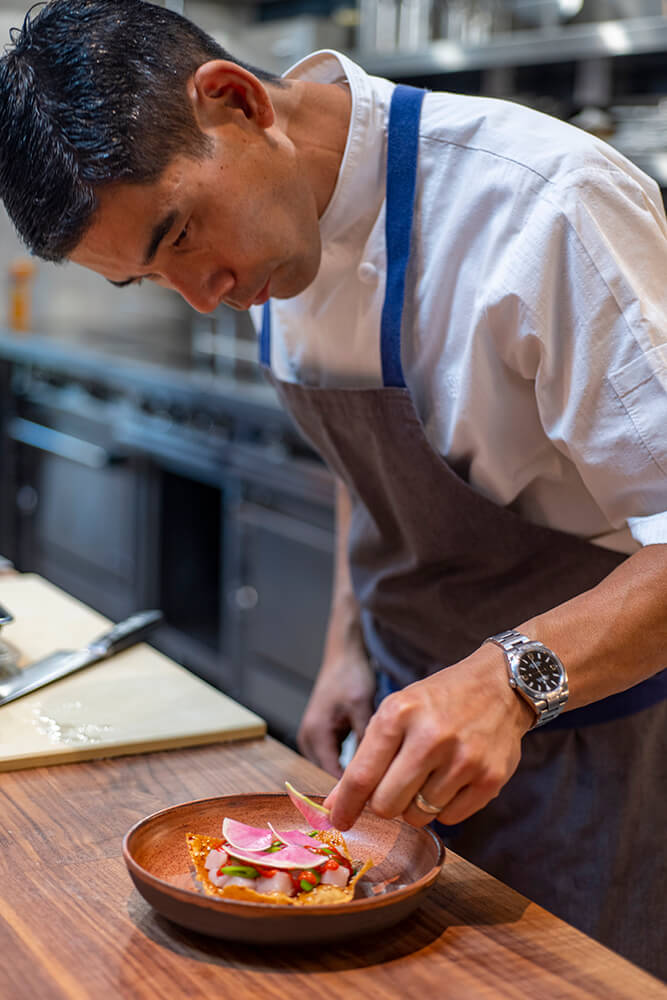 Communal seating, an open kitchen with a chef's counter and a private dining room allow for a variety of interactive dining experiences. Fun design elements include colorful terrazzo on the bar and chef's counter, both of which are wrapped in light wood paneling, Japanese-style block-print fabric on the dining room wall and unexpected wallpaper in the restrooms. "The space has turned out much more beautiful than I could have imagined," Scott says.
The choose-your-own-adventure menu, which emphasizes seafood and seasonal produce, is divided into three main categories: Shareables, Morsels and Considerables. Morsels offer a couple of bites per person; examples include toasted coconut fritters wrapped in a rare slice of Wagyu beef (two to an order) and silver-dollar-sized crispy sesame pancakes filled with tender pieces of smoked trout nestled against an ikura-topped avocado purée (four to an order).
There's an element of playfulness to the dishes that is especially evident in the Shareables section. A fish slider special—a crispy-outside, moist-inside panko-crusted halibut topped with a watermelon radish slaw—was inspired by McDonald's Filet-o-Fish sandwich. Waffle-cut potato chips accompany a creamy housemade Kampachi "gravlax." Hearth-baked milk bread is fashioned into cushy rounds, perfect for tearing into chunks and dunking into a brown butter dip. For diners who want a protein-centric main, the Considerables section delivers several options, like "a slab of pork ribs."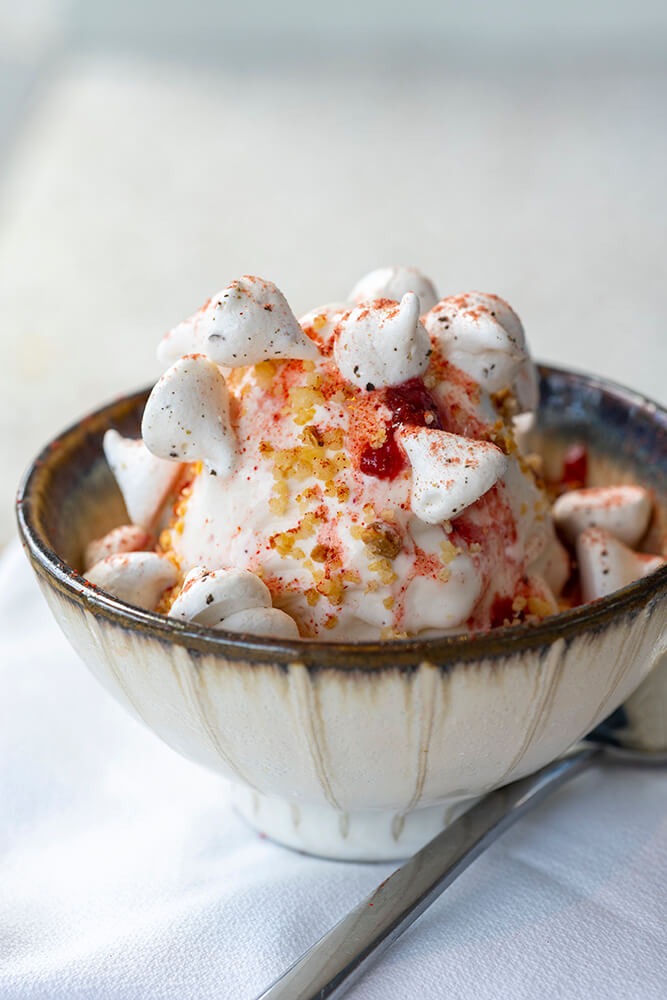 The dessert menu is short and sweet. If it's available, don't miss the almond cookie soft serve with fresh fruit and baked meringue, inspired by Chinatown Ice Cream Factory in New York City. "They make an almond cookie ice cream, which I loved," says Scott. "I always said that if I had my own restaurant, I would recreate that."
The restaurant's beverage program is under the purview of General Manager Jon Sloane, who previously worked with Scott at Chez TJ, and until recently, was captain and sommelier at Michelin-starred Quince in San Francisco. The concise cocktail menu of classics echoes the Japanese, Italian and Californian influences of the food menu. Of the "approachable, but eclectic" wine list that Jon created, Scott says that they wanted to reach different price points so that diners felt "they didn't have to spend a lot of money to get a great bottle of wine."
From the beginning, Scott says, he wanted his restaurant to be family-friendly, "a place that serves the community, more so than me." Creating community and making people happy through cooking is a source of joy that has been central to his culinary career. "That's kind of what I get from my mom," he notes. "She taught me that nurturing through food can be very satisfying and rewarding."
welcome ethel!