Every day we witness interactions both large and small, requiring concern for the hardship of others. It could be a child's cry, a conversation with someone struggling with an illness or the barrage of troubling images we see on TV. Whatever the situation, time and again, it's human empathy and compassion that make the difference. And if doing something to help is not reward enough, there's growing data to support that compassion also promotes better health and well-being. Go ahead, Google it!
One easy way to increase empathy is to interact with feeling-provoking art. Fortunately, there are two local opportunities this month to do just that, both featuring the same Half Moon Bay artist, Judy Shintani. Judy's work for the Peninsula Museum of Art in Burlingame and the Triton Museum in Santa Clara is intended to "create space for inquiry and connection" and to help viewers "understand history beyond the textbook, through stories, images and experiential activities."
Among these is the chance to walk around and experience pieces inspired by Judy's own family history—namely, the plight of American citizens of Japanese descent who were imprisoned as 'enemy aliens' during World War II. Judy's father was among those incarcerated; Judy purposefully uses the word incarcerated instead of "interned." In her work, Judy draws upon her father's experience to create an installation of children's forms sleeping on mattresses, in homage to children removed from their homes and imprisoned in places such as the Tanforan Racetrack in San Bruno—now a shopping mall—just for being Japanese-American. There, families were forced to create makeshift sleeping cells in horses' stalls and suffer indignities unimaginable to Americans living here now. Yet, while Judy's art is personal, it draws a connection between anyone taken, then and now, whatever their nationality or circumstance. She asks viewers to consider, 'Why?'
Judy's other work is also broad and all-encompassing, especially in her chosen community of Half Moon Bay. Recently, she conducted an artful experiment. She sent out a message far and wide: Send me your wishes, young and old, male, female, English and non-English-speaking, and I will put them to good work. The result? Coastside Wishes, an installation of star-shaped mobiles viewable at the Half Moon Bay Library, among other locations. Wishes ranged from silly to serious, reflecting both family drama and current events, exactly what Judy intended. All of her art focuses on remembrance, connection and storytelling, using assemblages, installations, performances and workshops to illustrate her point.
Born in Ames, Iowa, Judy moved with her parents to Lodi, California. After high school, she attended San Jose State, where she graduated with a B.S. in Graphic Design. Judy has lived all over the Bay Area, finding her home in Half Moon Bay about 18 years ago, when she and a friend cycled the Coast Trail and her friend remarked, "I think this place is going to have a big effect on your life." The prediction was right. Judy has been in Half Moon Bay longer than any place since her childhood in Lodi. It was in Half Moon Bay, too, that Judy came into herself as a full-time artist, after a successful career as a corporate graphic artist at companies like Atari and Intel.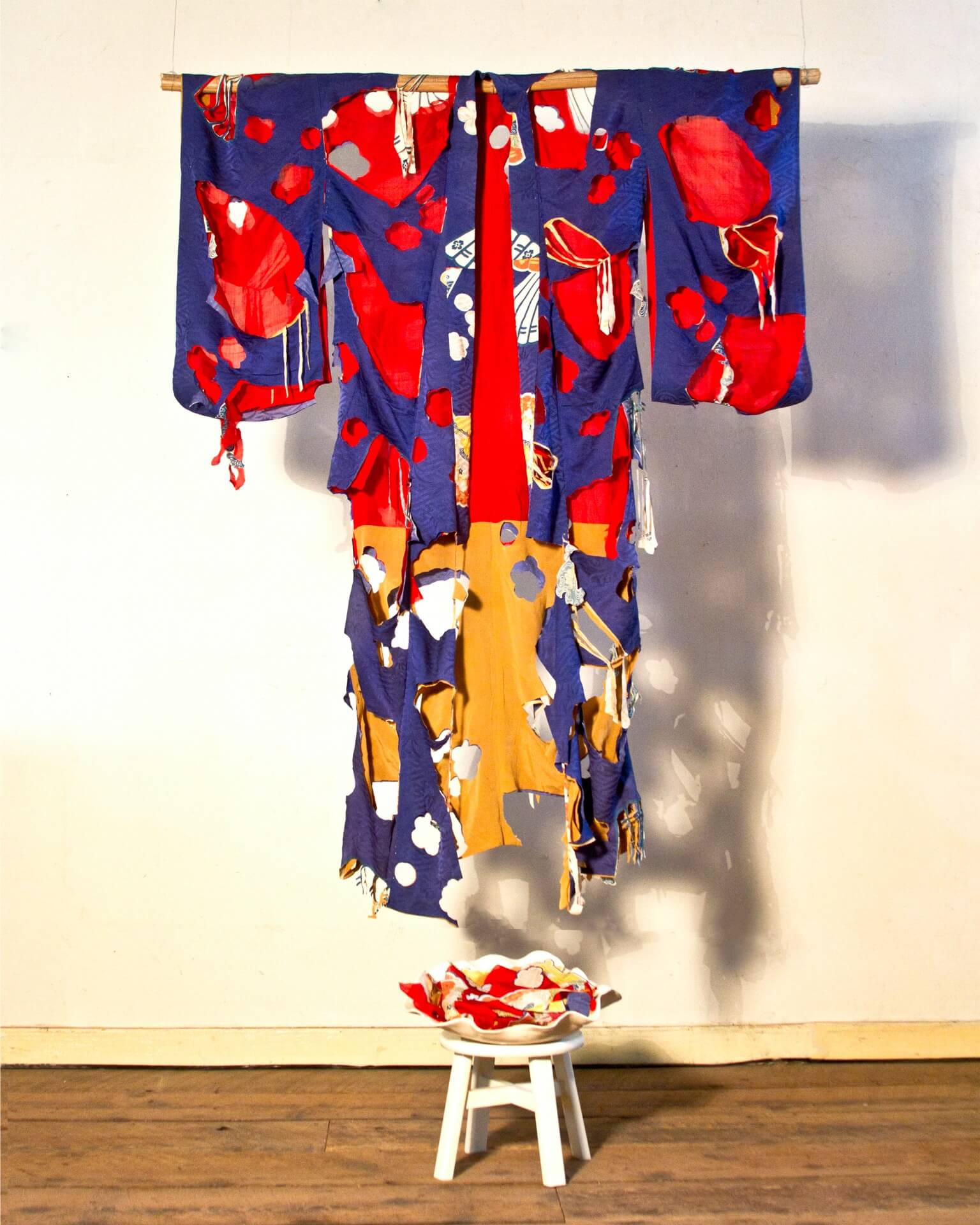 "Half Moon Bay has a great art community," she says. "There are a lot of artists here. I also go into San Francisco and the East Bay to do my art; I go where I feel a connection. My family was from Washington State so I ended up showing there, and then I really like New Mexico; I did a residency there. Then I showed in Cuba."
To add to her education, Judy earned a Masters in Transformative Art from JFK University, a program that is all about working in community and working with people. As an example of this approach, at an art studio in Half Moon Bay, Judy offered an Art Meditation class, which called on students to set an intention and then make art for two hours in silence: "They would have access to all these art materials. I would open up all my shelves and people would stand there, and I'd say, 'Work with whatever you're drawn to, even if you've never used it before.' People would say, 'Well, I guess I feel drawn to the fabric,' and I'd say, 'Okay, then take that out.' They'd just experiment, and then we'd have a discussion about it later. It gives people the freedom to try something new."
If all that weren't enough to keep an artist active, Judy also teaches at Foothill College in Redwood City in the Adaptive Learning Division. "I'm working with people who have different kinds of disabilities: young adults, adults and some older adults," she says. "I'm sent out to different places on the Peninsula. I go to where they are. I find them really interesting—a lot of times they don't have the inner critic we all get used to."
Judy's mother provided more inspiration for her interactive artwork, even while in the throes of Alzheimer's. "My mom and I made a workbook called Creativity for Families that was basically a tool for those with someone who has Alzheimer's. Step by step, it tries to reveal how they feel. One time, my mom decided she didn't want to do art that day, but watching me make art was still a way to connect, to be together, even though she had chosen not to participate herself. And I remember one day I had these coloring pages of mandalas and I thought, 'Let's try this.' She drew all over the whole thing, a total scribble, and I said, 'Why mama?' and she said, 'I don't have to draw in the lines anymore.'" Wisdom.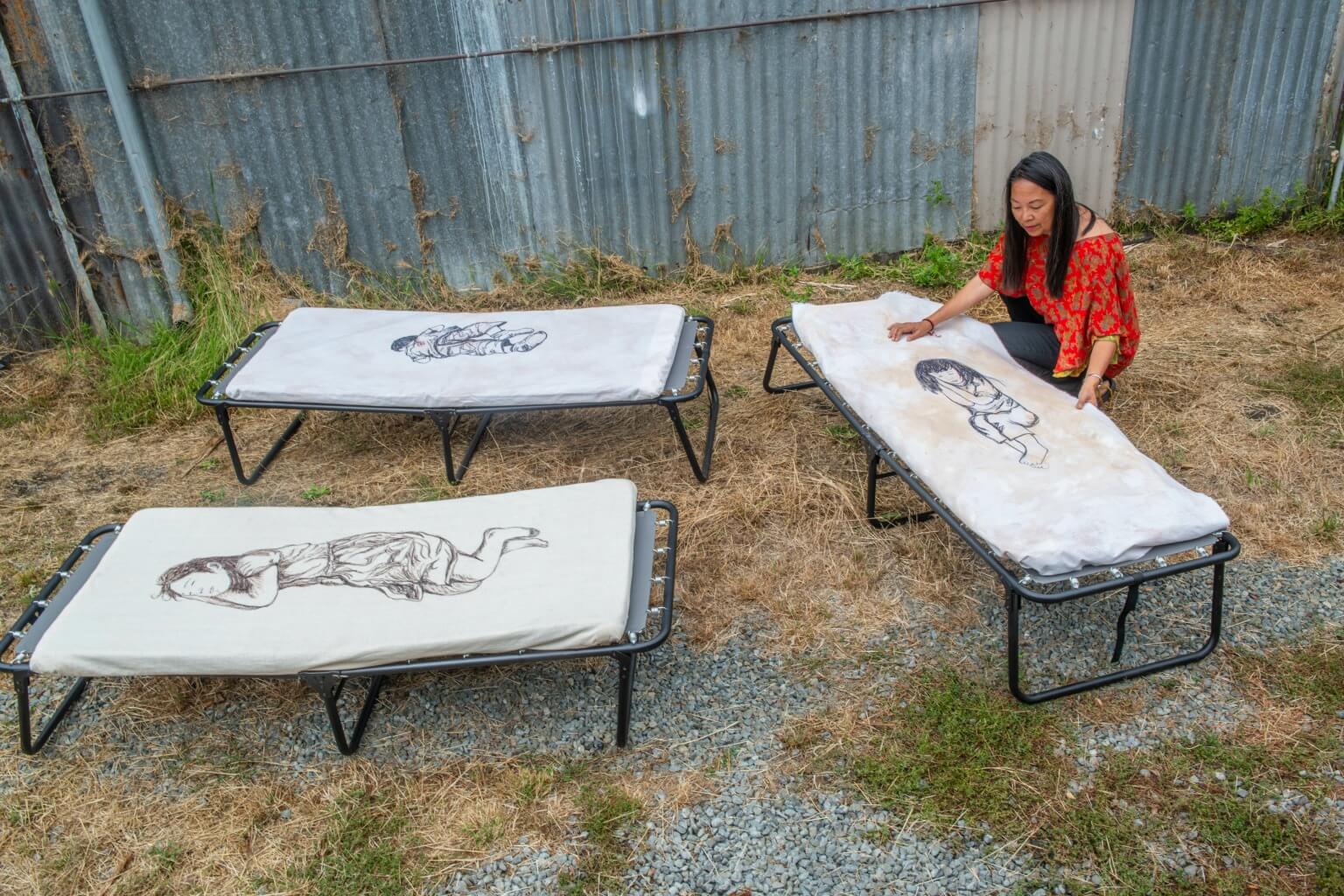 "That's the thing about working with people who know a different world than you do," Judy reflects. "Sometimes you can take something for granted; you can interpret it in your own mind and that may not be what's going on at all."
Experience Judy Shintani's empathetic art for yourself at the Peninsula Museum of Art in Burlingame from November 1 to November 24, part of a special Collectors' Salon where viewers can purchase professional artwork, including Judy's Photo of Deconstructed Kimono III, as a fundraiser for the museum. Judy's work at the Triton Museum in Santa Clara, including the children's cots, is on view from November 16 to January 26.
ART WITH EMPATHY