Words by Anni Golding
Earlier this year, when Peninsula restaurateur Ajay Walia announced that he was closing his Michelin-starred restaurant Rasa and reopening it as SAFFRON Burlingame, the news reverberated around the Bay Area. Rather than a tragic ending, however, the rebranding has become another evolution in Ajay's 20-plus-year career in food.
"I never, in my wildest dreams, ever thought that I would actually have a restaurant—or would have anything to do with a restaurant," the New Delhi native shares. When Ajay was growing up, a culinary career was one of necessity, not choice. However, as a kid who loved food and the act of gathering to eat with his family—whether dining out or ordering in—meals held a prominent role in his childhood memories.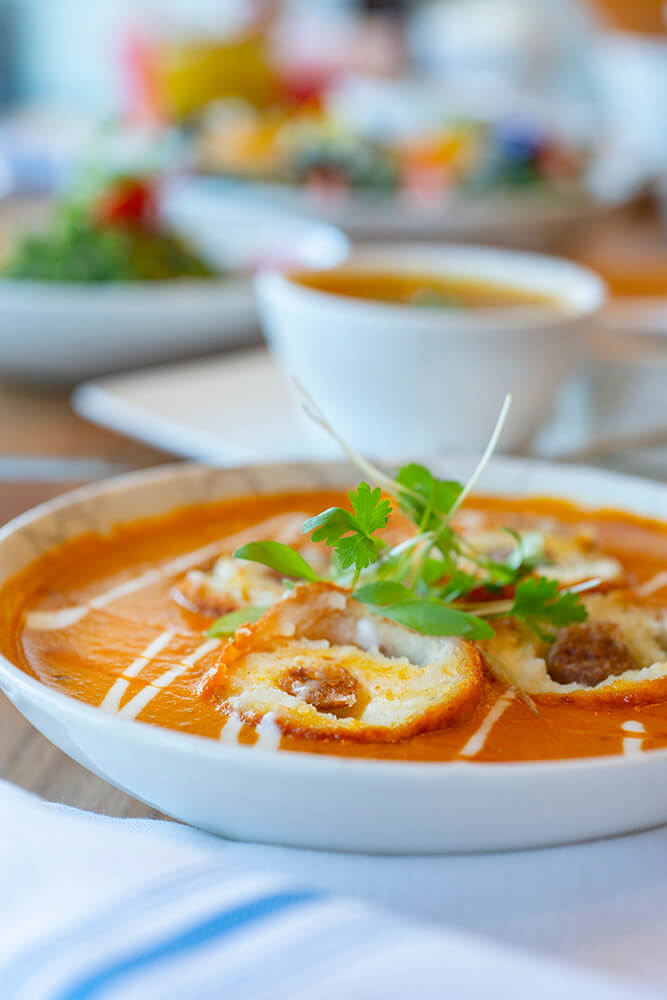 Ajay attended university in New Delhi, where he met his wife-to-be, Reena. His entrepreneurial parents, whose garment business produced clothing for Gap, Macy's and Sears, hoped Ajay would join the enterprise, but Ajay had other ideas. He and Reena came to the U.S. for graduate school, earned MBA degrees and took corporate jobs in finance in Chicago. Ajay's entrée to the restaurant business came through helping with finances and front-of-house work at a friend's eatery during weekends.
Relocating to the Bay Area for a job with Oracle in 2000 brought Ajay's "weekend vacations" to an end, but a passion for the restaurant business lingered. In 2002, the Foster City resident bought Pizza and Pipes in Redwood City, with the intent of converting it to an Indian restaurant and banquet facility. Just six weeks later, he began negotiations for a space in downtown San Carlos with plans for a second Indian restaurant. Ultimately, he decided to leave the Pizza and Pipes concept intact and focused on the San Carlos venture. Saffron Indian Bistro—named for the rare and precious spice—opened in 2003. "We wanted to present good-quality, cooked Indian food that's flavorful, that's fast," he recalls.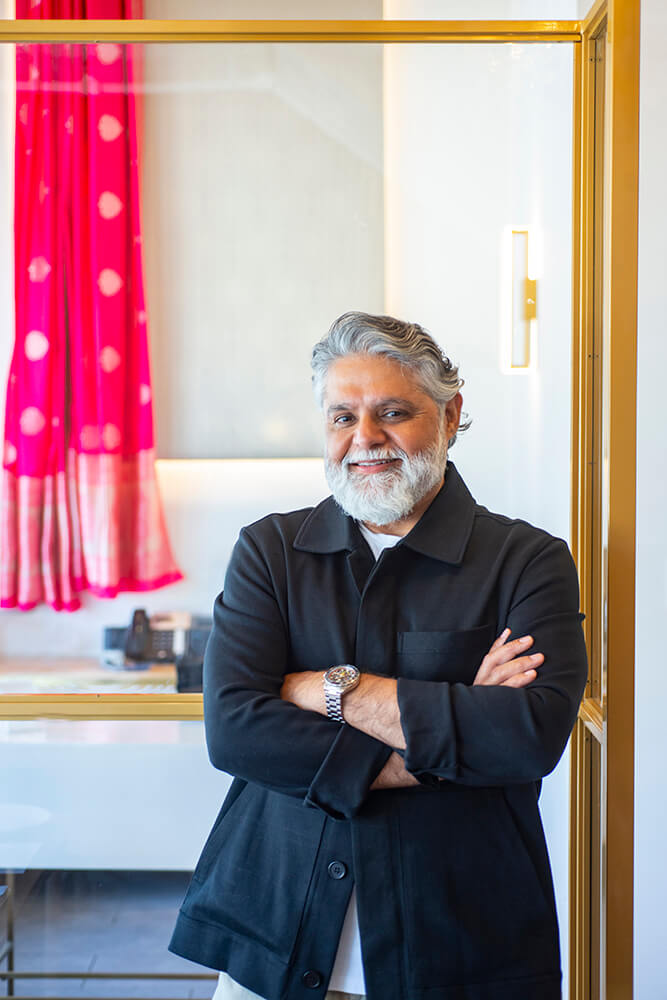 He made the decision early on to eschew competing on price. "People have this misconception that Indian food needs to be cheap, and I think the culprit for that image is us—and when I say 'us,' I mean my people," he explains. "We don't give ourselves the value we should." In addition to bringing respect to Indian cuisine, Ajay's mission has included educating customers about food costs, although it's been a slow process, he admits.
By 2013, Ajay had sold Pizza and Pipes and acquired more than a decade of restaurant experience. He used the mistakes and learnings from Saffron to do things differently in creating Rasa. He credits Reena with nudging him to open the restaurant and challenging him to grow—and makes no bones about how supportive she has been. "If she was not supportive, we would not be married this long," he says, adding, "This has not been an easy business."
Rasa's elegant, modern take on Indian cuisine received accolades from press and diners alike. Ajay was elated when news came in 2015 that the restaurant had been awarded its first Michelin star. Keeping that star, which the restaurant did until it closed, became a heavier proposition as time went on.
The pandemic brought a shift for Rasa and Ajay. While Saffron weathered the crisis with a takeout-only approach, Rasa suffered. Beautifully plated fine-dining meals didn't translate to cardboard cartons, and the dining experience couldn't be packaged, so Rasa remained closed. Financial losses due to the closure and tensions within the business grew. And then Ajay's father passed away in 2021. It was time to step back and process.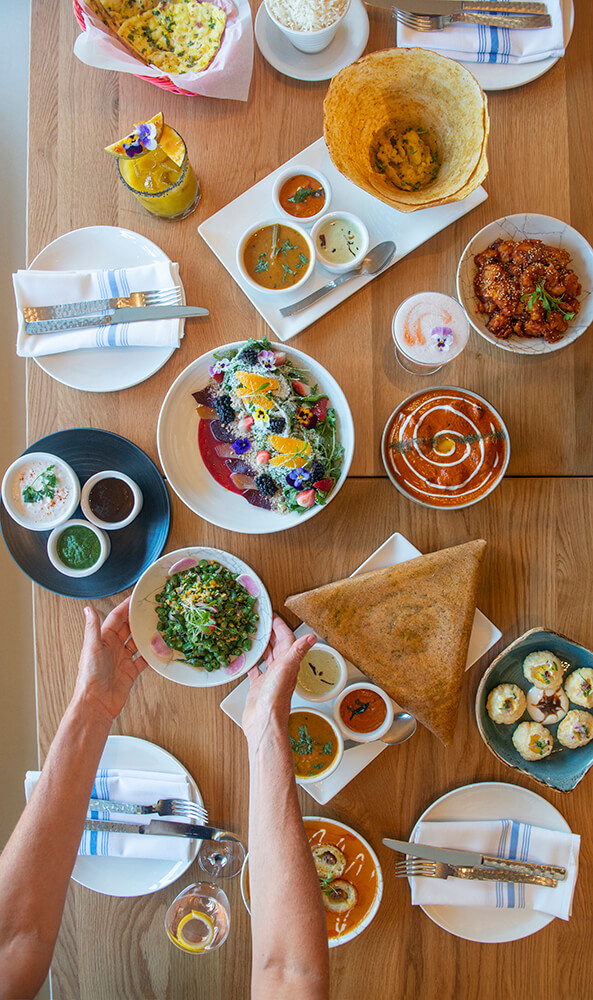 The decision to close Rasa was neither easy nor quick. "For me, that's my biggest achievement ever—and the field I'm in, that's the ultimate," he notes. "And to give up the ultimate and then say, 'Okay, well, I'm gonna start from scratch again'—you gotta be stupid," he says with a chuckle, adding, "I just needed to do something that made me happy."
Connecting with people through food has been core to Ajay's professional success and personal satisfaction. "I thrive on that interaction with the guests," he states. After much consideration, he realized he didn't want to develop another restaurant concept. The decision to use the SAFFRON name and remake the Burlingame space became clear.
Saffron Indian Bistro had already received a makeover in 2021 when Ajay rebranded it as SAFFRON and worked with Stephanie Batties (of The Right Touch Design) and BPR Builders to implement a mid-century modern aesthetic. The renovation gave the 60-seat restaurant a comfortable chic look with white walls, wide-plank floors and touches of brass. Ajay happily eliminated the buffet and worked with his kitchen team to re-evaluate the northern Indian-influenced menu, cutting approximately 25% of the dishes and revamping recipes.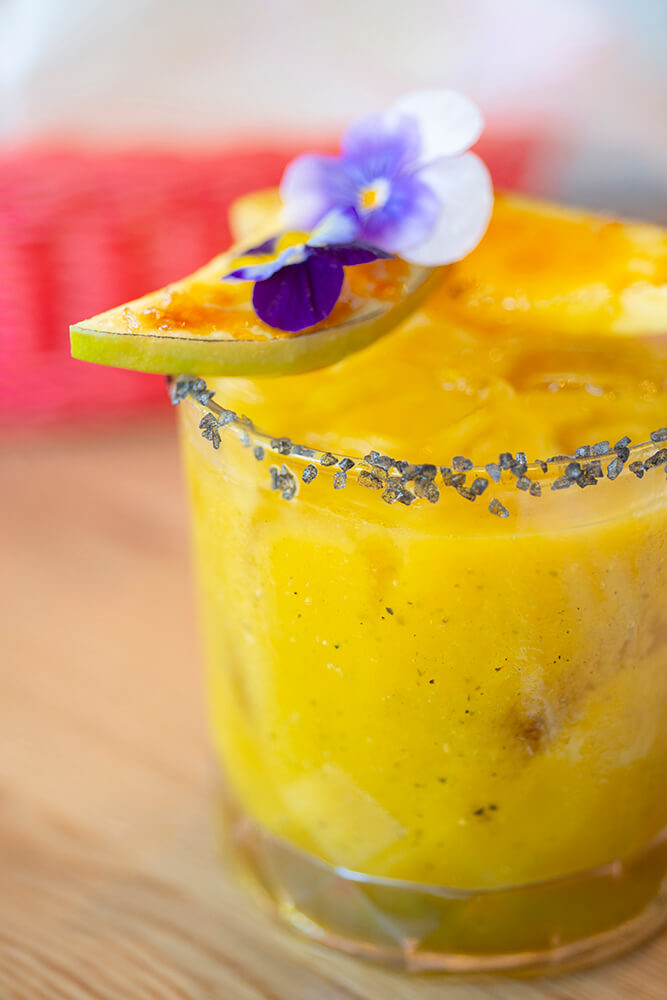 SAFFRON Burlingame is not a clone of the San Carlos restaurant, although the completely renovated interior incorporates a similar, neutral color palette with mid-century modern influence. Ajay is especially proud of the custom-made nine-and-a-half-foot chandelier that hangs in the front room.
The two restaurants' menus are different enough to make apparent that SAFFRON is a brand, not a chain, and there is some crossover with what Ajay refers to as "iconic dishes"—Old Delhi-style butter chicken, masala shrimp curry, and lahsooni saag, for example—as well as traditional Indian breads.
Burlingame's menu incorporates California influence and highlights southern Indian dishes, with a beets and berries salad, assorted dosas and Travancore Fish Moilee. Ajay emphasizes that the take is not Rasa revised: "We don't want people to compare to the previous menu, because obviously, it's a new kitchen team, and we've reworked every recipe." Milk & Cardamom blogger Hetal Vasavada, whom Ajay has known for years, contributed two bespoke desserts to their sweets menu.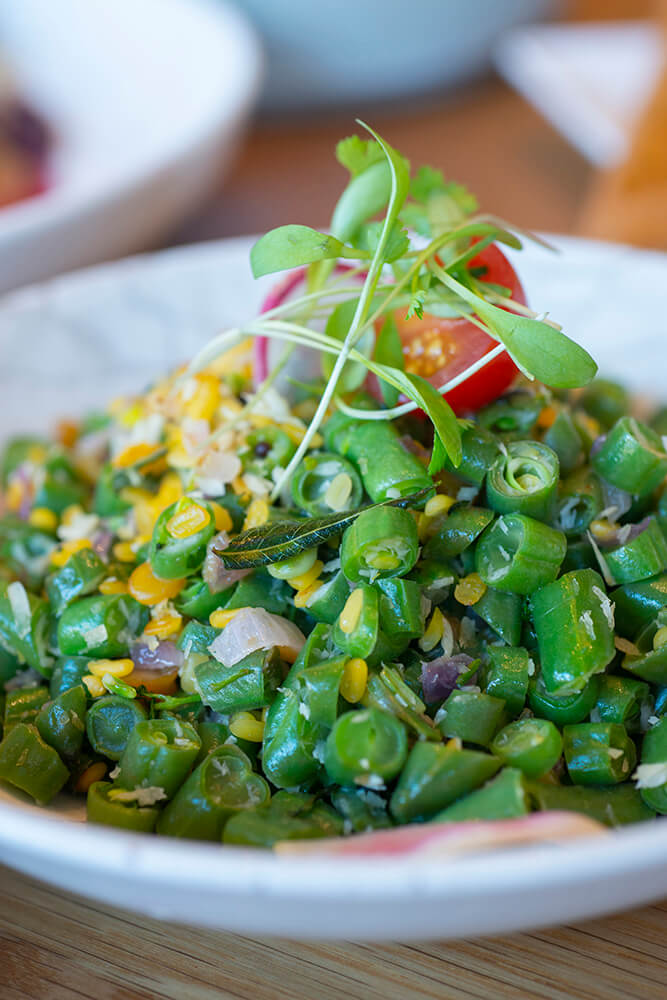 Both restaurants offer curated beer and wine lists as well as nonalcoholic drinks made with herbs and fresh fruit purées. Burlingame's bar program also includes craft cocktails, like the butterfly-pea-flower-hued Maharani, and a Boston sour take called simply SAFFRON Sour.
Taking stock of his restaurant career, Ajay reflects, "You know, I've come back to where I started. And my goal when I started was: The food has to taste good. It has to look good. And at the same time, it needs to be honest." With regard to "authenticity," a word often used to evaluate non-Western cuisines, Ajay states that it's subjective. "We want people to come with an open mind, and not the preconceived inhibitions of what we should be doing," he says. "Just come, and have a good time."