Words by Sheryl Nonnenberg
In 1996, Jill Andre was working at her dream job as a designer at Tenth Planet, an educational software firm that focused on children's literacy projects. But 2000 brought an economic downturn and she was laid off. "It was a great job because I got to draw all the time," she reflects, "and if the dot-com bust had not happened, I would still be there." As one door closed, however, another opened and allowed her to pursue her ultimate goal: to become a fine artist.
A Bay Area native who eventually settled in Menlo Park, Jill also acknowledges that her career path was never in doubt. "I always knew I was an artist," she says. Her father owned a lumber yard, so Jill grew up around construction. She started making scale models of furniture as a child, and it seemed natural that she would pursue a degree in interior architectural design. Since this was before the widespread use of computer aided design (CAD) software, Jill had to use all of her drawing abilities. "I used drawing as a form of problem-solving," she recalls. After completing her degree, she began to seek out ways to expand her skills.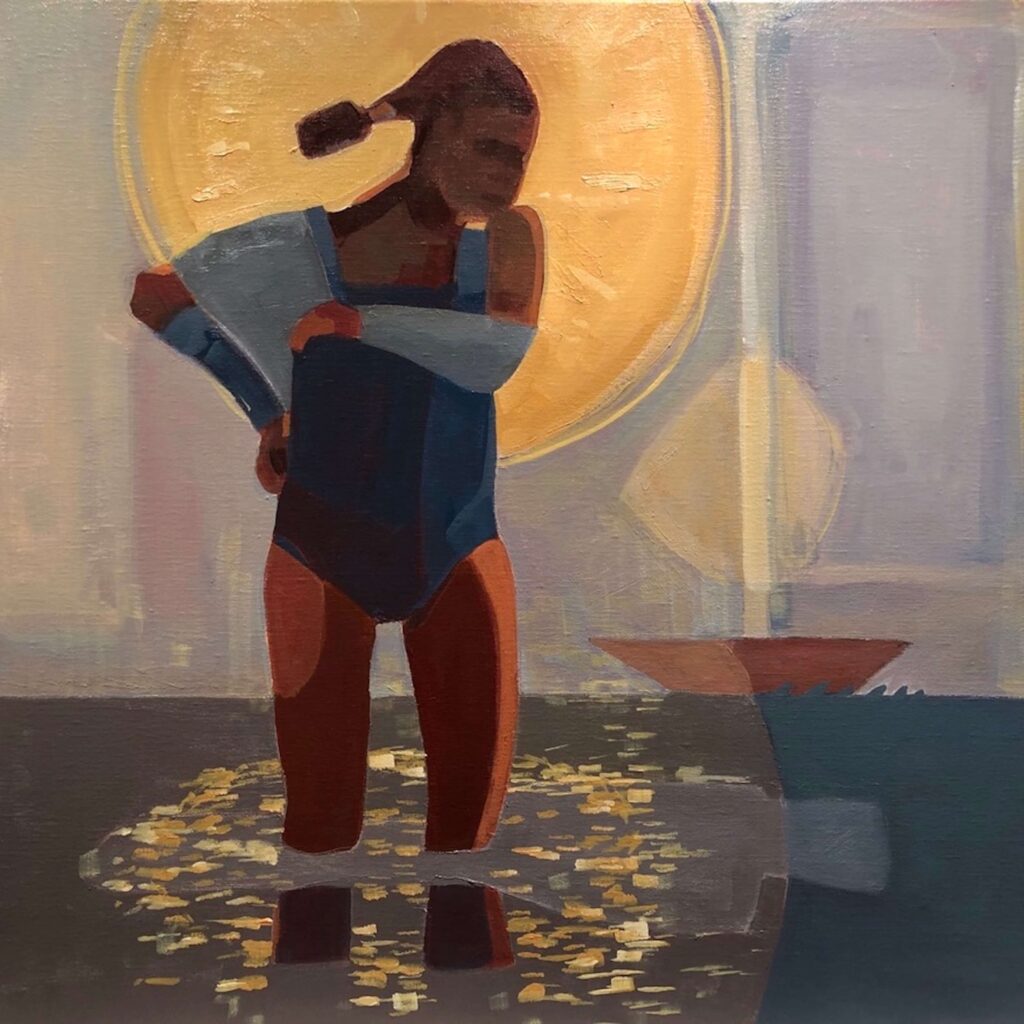 Jill found an outlet close to home, thanks to Stanford University's Continuing Studies Program. She enrolled in Edward Stanton's Master Artist Class in 1999 and returned each year for the next 15 years. The reason for her adherence to the program was Stanton's unique teaching method. The class, intended for people with art expertise who wanted to draw, used live models but in a rather unorthodox manner. Instead of the model remaining still, Stanton would encourage them to move, dance, perform and take non-traditional poses. "Sometimes there would be props, music or smoke from a smoke machine," explains Jill. The objective was not to make a realistic rendition but an expression of what they were seeing: "When the model is moving, you make a drawing that is informed by that, but isn't that. As a result, none of our work looked alike."
Jill found that the welcoming environment of the class helped her to find her own style.
She works quickly and most of her figures have "tiny heads, elongated torsos and stylized, generalized facial features." The off-beat life drawing course, which got the nickname "The Drawing Circus," was more about process than product, although Jill often completed 10 to 15 drawings per class. "What it did was develop a language in each of us, our own language," she now realizes.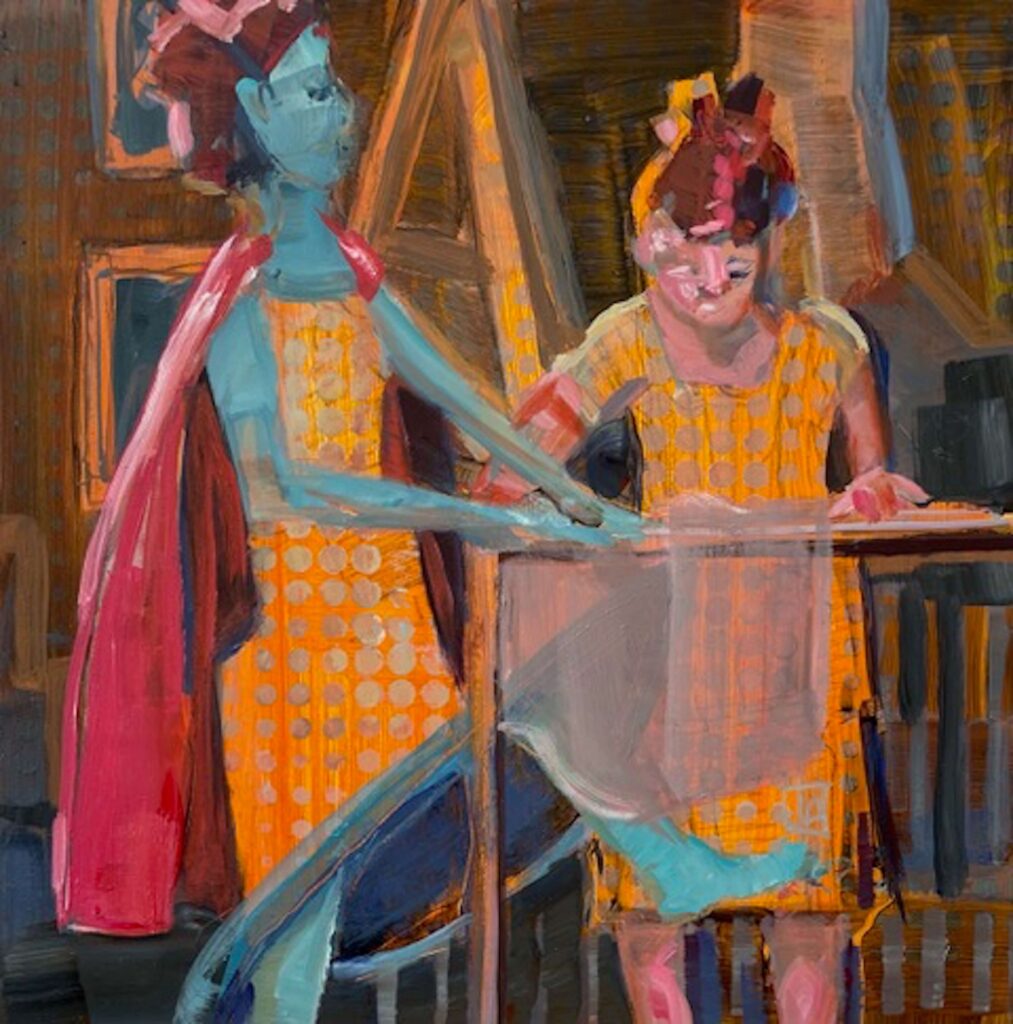 Those Drawing Circus sketchbooks, all of which Jill kept, would come in handy as she began to pursue a career as a painter. Jill's work always encompasses the figure and architecture and she still prefers to work with models who move. Using Open Acrylics and clay board (2-inch-deep panels), her figures dance, jump and take yoga poses. She cites David Hockney, Pierre Bonnard, Wayne Thiebaud and Henri Matisse as some of her inspirations and that is evident in her color palette. Jill refers to those sketchbooks, as well as iPad drawings, as a basis for her exuberant canvases. Lately, she has been creating works in a modular fashion, with small panels that fit together, somewhat like a jigsaw puzzle. She pulls up an example in which figures dance and drink champagne. "It's a picture of a party because I wish I could do that," she laments, referencing our pandemic isolation.
Essential to every artist is a suitable place to work. Jill brightens when describing her live/work studio in the Mission District of San Francisco. It is a large space with copious amounts of natural light. She is able to hang a lot of her paintings on the walls surrounding her work area, creating a ready-made gallery. This has allowed her to participate in both SF and Silicon Valley open studio programs. She finds, however, that she prefers Instagram as a way to get her work in the public eye.
It is fortunate that Jill's studio is also a living space because she has, for several years, been overseeing the new build of her family home in the Willows area of Menlo Park. She laughingly describes how she has worked with an architect on the project, "using all of my rendering skills." She uses rapid visualization to hash out details in a room with her free-hand drawings superimposed, so the architect can understand her suggestions. How does he feel about these revisions? "He loves them!," she exclaims. "He'll say, 'I wish I could draw like that.'" She is hopeful that the project will be completed by summer, in time for her son Beau's 21st birthday.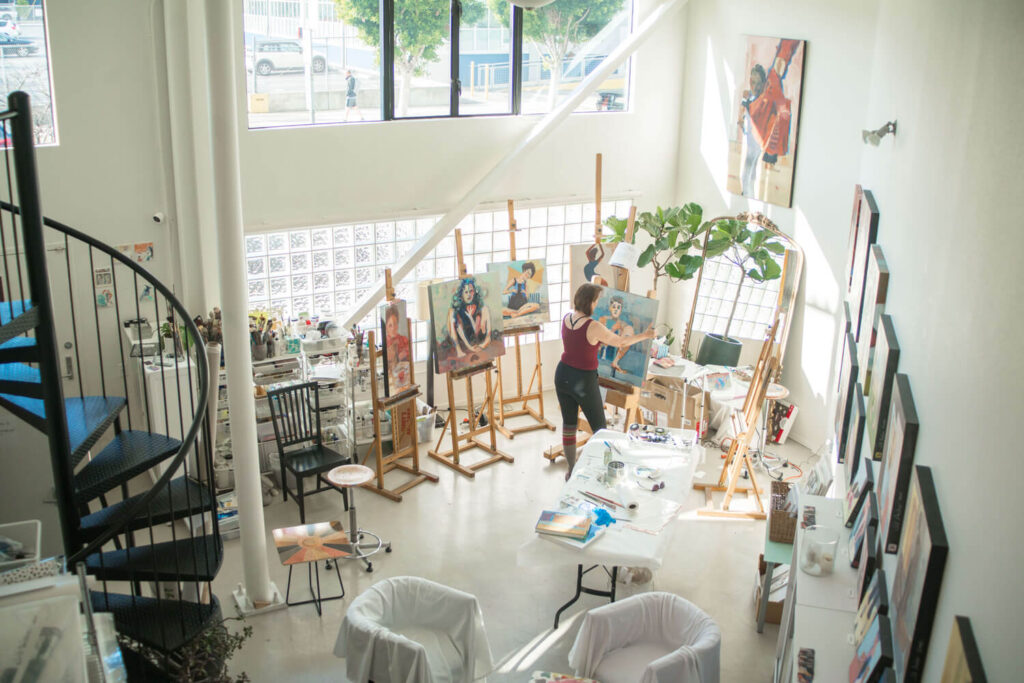 When she is not painting or overseeing a construction project, Jill also teaches art at Palo Alto's Athena Academy, a private school for dyslexic children. She started out instructing just a few days a week but is now there every day and clearly enjoys it. When she was hired, Jill warned the administrators that she would be a non-traditional instructor. "I don't teach to a syllabus," she explains. "Art is my area of expertise. I let the kids make things and then I offer them additional techniques and materials—I am like their assistant." Although the students are dealing with the challenges of dyslexia, Jill recognizes that they are also natural creators. "The most important thing is that they have some kind of happy moment in their day," she says.
When asked how she manages to juggle so many roles, Jill is quick to acknowledge that she has help with tasks like accounting and social media, as well as a studio assistant. "I let them do what they do best and I do what I do best," she says. It's obviously a wise course of action for the artist, who describes herself as extremely focused: "Once I am in the pool of creativity, I can't get out."
That original 2000 setback was, perhaps, a blessing in disguise for Jill Andre. She has achieved her goal of being a working artist with an energizing city studio, and she has also found fulfillment as an art teacher. When asked what the best thing about being an artist is, Jill quickly responds, "Wherever I go I am happy, because when I look at things that interest me I'm off to one of the most fun places I know to go—my imagination."