How Renowned Architectural

 

Photographer Bernard André

 

Builds His Craft

 
words by Sheri Baer
Growing up on Réunion Island, a tropical French isle off Madagascar, Bernard André would design houses in China ink just for fun. "When I was pretty young, I was already doing drawings and mapping and redesigning," he recalls. Bernard dreamt about being an architect but then he also loved painting and photography. The youngest child in a family of doctors, he was determined to follow a different path. "I said, 'I'm going to art school' and my parents told me, 'You'll never make any money. It's not a job,'" he recalls. 
Still, Bernard persisted. 
After graduating with a master's degree in arts from the Sorbonne University in Paris, Bernard shot travel photography throughout the islands of the Indian Ocean for French magazines. But when he relocated with his own family to Menlo Park in 1992, he had no connections and struggled to find work. Seeking to create a unique offering, he specialized in aerial balloon photography, which captured a bird's-eye view of a building and its surroundings—with an added benefit: "I brought my two passions for architecture and photography together."
In the years that followed, Bernard expanded his scope and expertise to become one of the Bay Area's preeminent architectural and aerial photographers. Heavily influenced by his formal classical art education, Bernard relishes in the diversity of projects that he shoots. "I love the pleasure of composing a photo until everything becomes balanced and in place," he notes. "It takes time but you really build it like you would compose a painting." 
Nearly 30 years after moving to the Peninsula, Bernard now tallies over 5,000 projects for clients ranging from high-end real estate agents and developers to architects, builders and interior designers. "Every day, I get to see beautiful landscaping, architecture and craftsmanship; some of these projects take two, three and even five years to get to completion," he observes. "The photo shoot is kind of a celebration for everybody after years of intense work. It's a blessing that I'm the guy who just arrives when everything is perfect. The photo shoot says, 'We did it! We're done!'"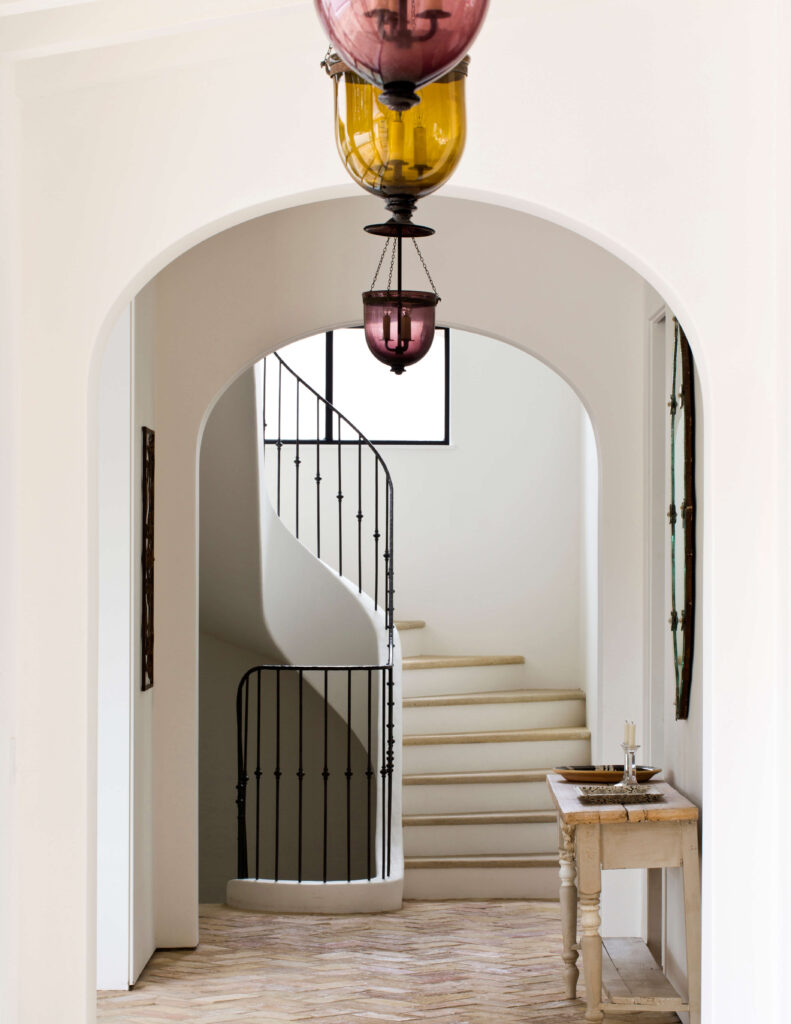 What did it take to get a foothold as an architectural photographer on the Peninsula?

 
When I came to America, I was a little intimidated by all the photographers here already, so I did something that nobody else did. I got a remote-controlled aerial balloon—an eight-foot-diameter helium balloon—and I would do low-level aerial photos from 20 to 250 feet high. There was a video lens that would plug into my camera and on the ground I would have a little control board, so I could tilt and rotate and see the image on a video screen and I could take the picture. Photographers I met would refer me because I took pictures that no one else could capture. And then, my clients really liked me and they would say, 'If you're here, can you also shoot the exteriors?' 'Of course,'  I'd say, 'I can shoot exteriors.' And then it became, 'Oh, if you're shooting exteriors, can you shoot interiors?' I had never shot interiors so I learned by doing, and I'm still learning today. I still shoot aerials too but I transitioned to helicopter and then to drone.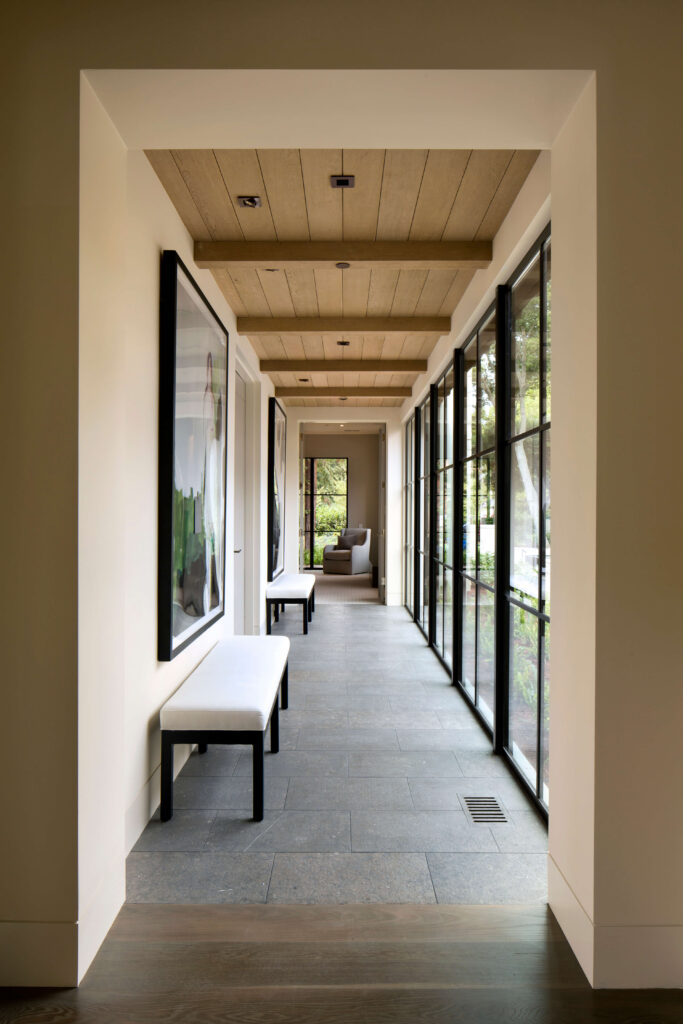 What are the key elements in memorable architecture and design?

 
I love when the architecture is in harmony with the environment, the landscape, the hardscape—and it all works together. I'm drawn to design that is daring, authentic and original, that shows personality and individuality. But it has to be livable. You have to feel good in it. When you have a high-caliber project to photograph, it puts the pressure on you to do it justice. What excites me is to render the emotion that I have when I see it, to translate that into a photograph. 
How do you want people to react to your photos?

 
When people see the picture I want them to be able to imagine themselves right away in the space, to project themselves into that image: 'I want to cook in that kitchen.' 'I really want to swim in that pool.' You're surrounded by photos in your daily life, but I think the ones that really work are the ones where you would say, 'I see myself on that deck at the end of the day when I come home from work.' When I compose a photo, I want to make sure there's a space in that photo where somebody could say, 'Oh, I could be there.'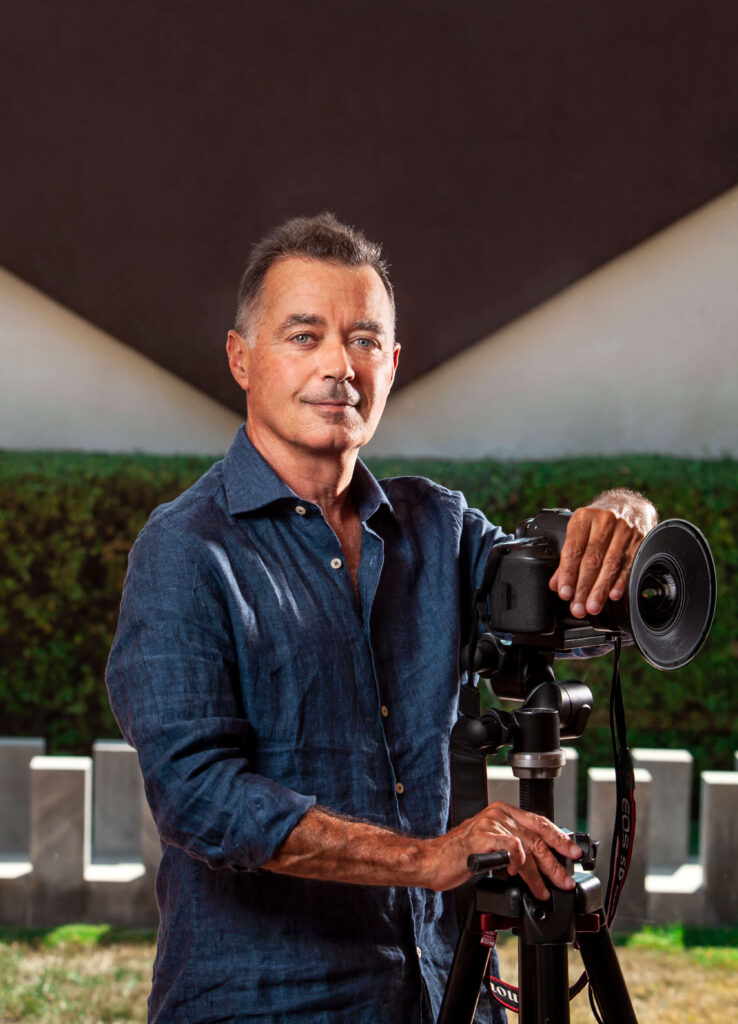 What's your secret for accomplishing that?
I love to compose my photo as if it was a painting. We're looking at something two-dimensional, so I bring out a 3D effect through the composition but also with the lighting, with the shadows, with the reflections, with a beam of light that you can see going through the space. First, I spend a lot of time just looking at the point of view. I go through the process to look at it from the left, from the right, from the opposite side. Even when it seems obvious, I still take a picture from the other point of view just to make sure. Once I lock it in, I move all the items within the frame—the flowers, the chairs—until it's perfect. It's as if I was creating a still life. I love the art of composing and putting it into a frame, and that's what it is. We're going to take this section—this piece of the window and the chair and a table by the computer—and make it a photo. 
What role does lighting play?
Through my years of taking photos, I've come up with a technique that's very unique—and that takes a lot of time. I take all of my pictures at different bracketing [exposure], which everybody does, but I also light the room from every direction in order to make it look exactly how you see it when you're in the room. I take photos from every lighting set-up that I do. That allows me to remove all the noise—the wrong colors that would come into the room—to get accurate color and work with the shadows and highlights. I end up with about 30 images of the room, lit differently at different bracketing. And then later, I build it up like a painting in Photoshop. I select the images I like the best and I layer it section by section. I use a tablet with a pen and I just go and paint with the pixels. My final image is made up of about 20 different photos. By the end, it looks like a natural room and it doesn't look like it's even been lit.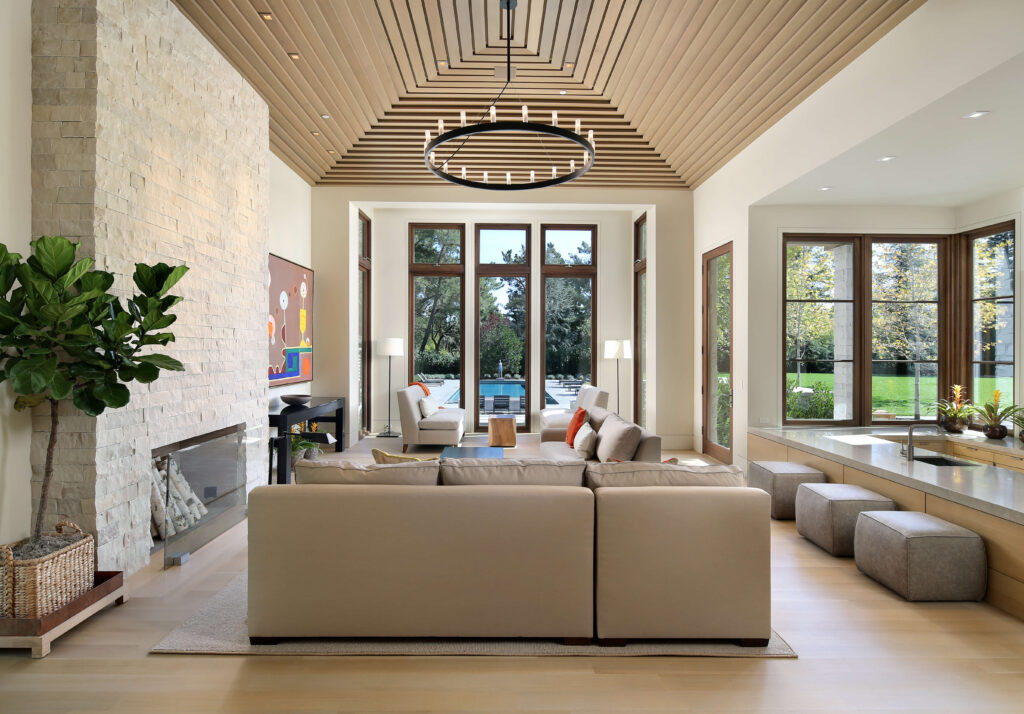 How would you describe the range of your clients and projects?

 
I have a wide mix of clients and the types of jobs are very diverse. I work with three of the main players in real estate here. I also work with a lot of commercial contractors, architects and developers. My clients are super interesting and their clients are amazing people. Many are the founders of Silicon Valley. These people are world-known and it's very exciting to be in the heart of what made Silicon Valley—to see the personal side of them. I see the art they've collected or sometimes it's the music, like a collection of guitars. I'll see this music room and realize, 'Yeah, he's a famous CEO but he loves to jam with his friends.' Some are into wine and they have these amazing wine cellars. And some are into books or prints or photography and so it's great to see that side of them that nobody else would see. I also get to see amazing workplaces. Many, many big high-tech campuses like Facebook, Google, LinkedIn, Apple. It's exciting to go on a shoot to a famous company that's known all over the world. 
What makes the Peninsula the perfect home base for your business?

 
I would not be as successful if I wasn't in Silicon Valley. I think part of my success is being here. The people you meet are exceptional, and many also have the money to work without constraints. They have the vision and a lot of projects don't have a budget so they can do amazing things that are extremely beautiful—work that you wouldn't see anywhere else in the country. And the views! I've shot beautiful places in Woodside, Portola Valley, Los Altos Hills. You don't even see your neighbor and you feel like you are alone in nature. It's just gorgeous.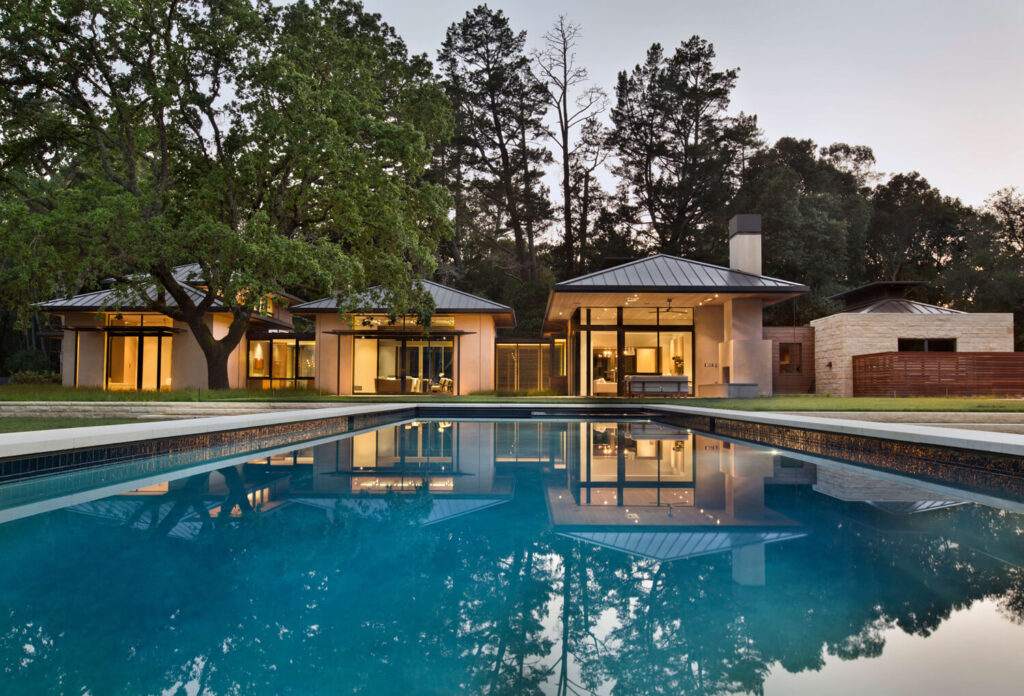 How would you advise someone building their dream home?

 
I would say to hire an architect who gets to know you and how you live. You should like their work, but then they need to spend the time getting to know you. They need to know if you like horses or if you're into cycling or art, and then give them carte blanche to create that space for you. It's really hard if you hire somebody with a creative talent and then you tie their hands with Houzz and Pinterest pictures: "I want this and I want that and I'm paying for it." At the end, they remove themselves from the process of creating something for you. The key is to hire somebody you can communicate with well, somebody you trust who will do the best for you, and then let them create it. Let them give you their best.