There's a quote that sometimes gets passed around the Sol and López families—the multi-generational restaurateur relatives who for decades have produced some of the most beloved Mexican cuisine on the lower Peninsula. It's an adage for how they prepare their meals, either in the kitchens of their various restaurants or when the families come together:
"If you set a beautiful table, friends will gather."
Sisters Alexa and Paulina Sol, along with their cousin Viari López (who shares such strong kinship that he's more like their brother), inherited this wisdom from their parents and grandparents and baked its ethos into their vibrant and winsome restaurant Sun of Wolf in Palo Alto.
The trio envisioned the restaurant with "conviver," Spanish for "living together" or "to be on familiar terms," in mind. The sleek and slender space encourages close-quarters dining, casting an ambiance of togetherness, where individuals may feel as though they're all seated together at one big table.
This blurs the line between patrons and the Sol and López families, similar to how the menu softens the distinction between their Old World Mexican roots and their adoration of modern Bay Area flavors. So much of the menu is at the border between these two worlds—slow-braised carnitas in Modelo Negra alongside a poblano pepper lasagna next to a double cheeseburger—and Sun of Wolf is a celebration of such fusion.
A Rudyard Kipling quotation gracing the menu ("For the strength of the pack is the wolf, and the strength of the wolf is the pack.") articulates the restaurant's spirit whereas Alexa, Paulina and Viari are the sentiment's physical embodiment. They each have their role—Alexa is the vision, Paulina is the kitchen and Viari is the bar—and they've acquired a staff that reflects a culture of family. The Sol sisters' younger sibling, Camila, is also on staff and in the kitchen, Chef Coco has recruited his own share of relatives.
"When I think about our family, it's rare to have all of us living in the Bay Area. The business is a strengthening factor," Alexa says. "One question we had going into this was how are we going to create a culture? What's nice is that half of our employees here are family, so the culture was already created."
Opened in June 2018 on California Avenue, Sun of Wolf is the descendent of a legacy of local restaurateurs that began in 1977 when the cousins' grandparents, Arturo and Rosalina Garcia, opened La Fiesta Restaurant in Mountain View. The popular local eatery specializes in traditional Mexican dishes sourced from the family's roots in Puebla, Mexico. Recipes for soups, stews, chicken guajillo and enchiladas can be traced up the family lineage.
The Garcias opened two more spots in Mountain View, Fiesta del Mar and Fiesta del Mar Too, and then the next generation stepped in. Hector Sol, and his wife Helena, their daughter and Alexa and Paulina's mother, established Vive Sol in Mountain View, Quinto Sol in Redwood City and Palo Alto Sol. Essentially raised in these restaurants, Alexa, Paulina and Viari grew up watching their family's recipes feed a community. They recall witnessing full cycles—customers coming in on first dates leading to marriages and eventually requests for high chairs.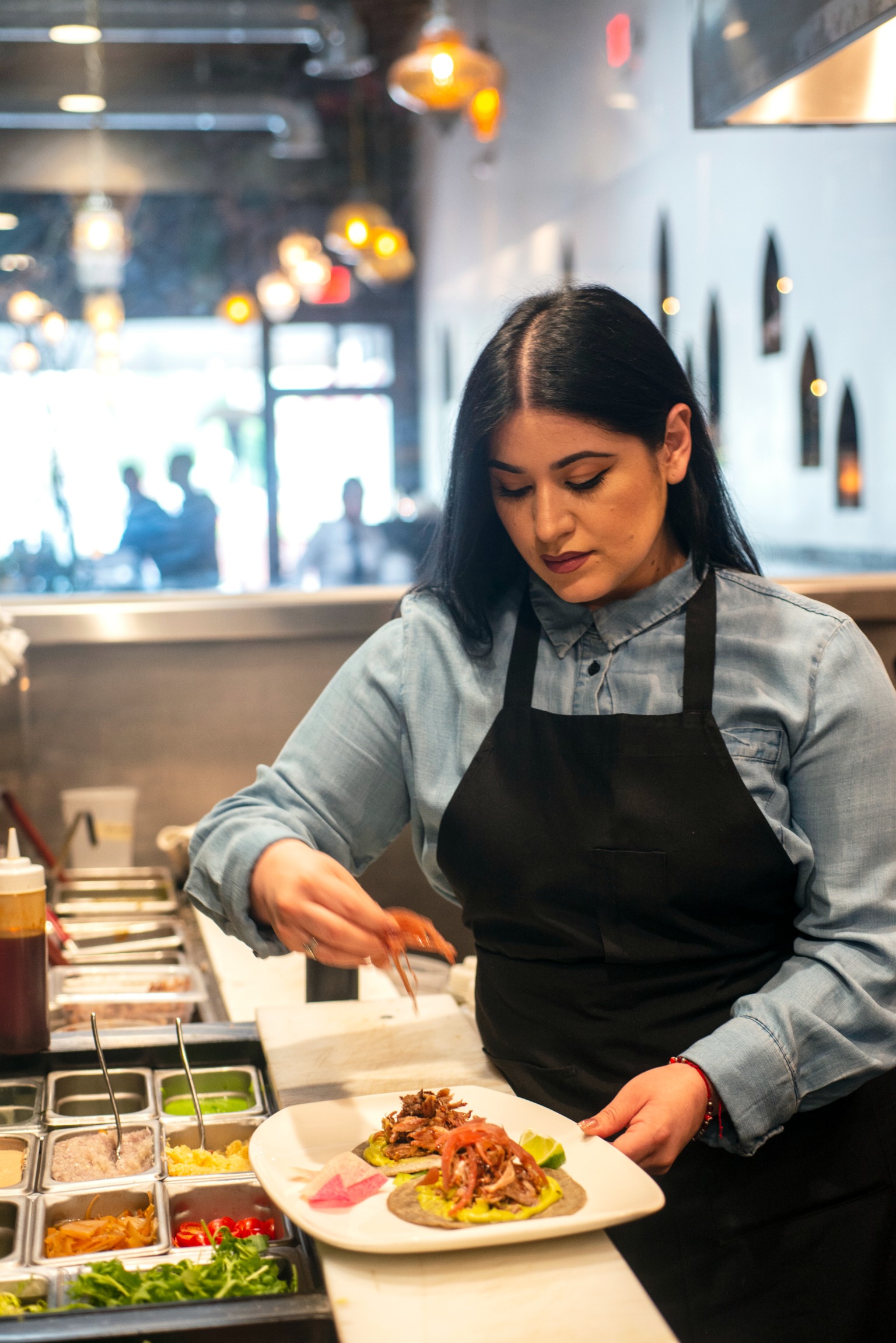 In many ways they felt destined to one day run their own restaurant; Paulina and Alexa daydreamed about the idea as children and Viari recalls his uncle Hector telling him once at a baseball game that he could see the business in him too. The trio ventured in different directions during their 20s. Paulina graduated from Le Cordon Bleu, Alexa traveled the world and several seas and Viari was considering buying a home in Portland when he received a call from his uncle about the space adjacent to Palo Alto Sol opening up. The three united and began plotting their own restaurant with a familiar support system already intact.
"I can go to Paulina with any issue," Alexa says of her sister.
"Viari is the most reliable person ever," Paulina adds. "All of his friends feel the same; if you call him, he will answer the phone. He's definitely the most loyal. And Alexa is the big sister, big cousin. A power center for a lot of us."
"I feel like if I don't know the answer, and Paulina doesn't know it, Alexa will know it," Viari contributes to the cousin fan fest. "And if she doesn't, she can sell you on it." The three break out in laughter before Paulina sums it all up.
"At the nucleus is love," she says. "We learned that from our grandparents."
The three grew up with yearly visits to their family in Mexico where they watched food getting made from scratch and family chickens going through the full farm-to-table process. They designed the meals at Sun of Wolf in this image.
The Mesa Tortillas use fresh black corn with huitlacoche for a richness and earthy flavor and the Maja Lasagna is made with a recipe passed down from Alexa and Paulina's mother. The plates are perfect for sharing and each dish uses a unique, often unexpected element, leading one to ponder whether it's the homemade guajillo oil in the Hamachi Tostadas that delivers the curiously spicy afterglow following each bite of the pescado crudo.
The empanadas and beet tartare, like Paulina, are vegan and the dishes have delightfully surprised some customers. "My favorite compliment is when people say, 'If this is what vegan food is like, I could be vegan,'" Paulina says joyfully.
The bar opens at 4:30PM, an hour before the kitchen, and that's when Viari is sometimes amending and experimenting with his house cocktail recipes. The Como La Flor, named after the song by Selena, uses Frida Kahlo blanco tequila with hibiscus and elderflower that's topped with an egg white cover, similar to a Pisco sour. The Ryan Alexander is his spin on an Old Fashioned that uses the digestif Amaro with light citrus flavoring. The drink is named after a very close family friend who passed away a few years ago. "Whenever someone says, 'I'll have the Ryan Alexander,' I get to think about him," Paulina says.
Reflected in the decorative niches resembling Día de los Muertos altars that adorn an entire side of the restaurant, Sun of Wolf is a commemoration of family and community, both living and deceased. One niche holds a large, ornate flask wrapped in leather in honor of their landlord's wife who passed away and the trio are open to including mementos from customers of their own lost loved ones.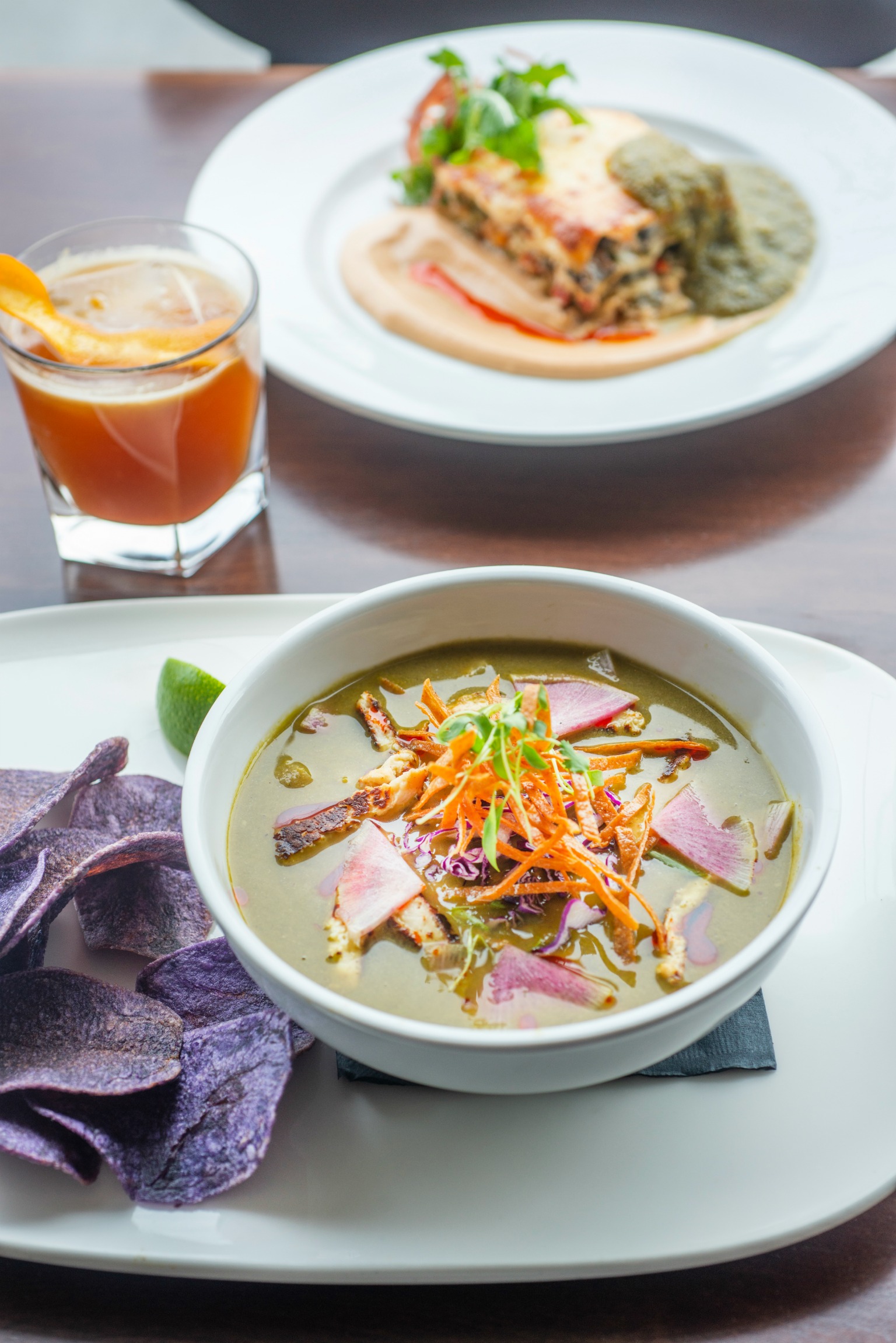 On the other side of the wall of niches sits Palo Alto Sol; having family nearby proved to be invaluable when Sun of Wolf first started up last summer. The trio found themselves hopping next door for items such as napkins, cabbage and a high chair. "One time I felt so bad," Alexa recalls. "I needed to steal one of their tables."
Depending on family is a common theme here. When Alexa and Paulina's parents opened Palo Alto Sol, they looked to their parents' kitchen at La Fiesta for help outsourcing some of the foods. For generations, the Sol and López families have fed the Peninsula through the strength of their kinship and the power of a family recipe.
"We had a moment with our mom at Vive Sol in Mountain View," Alexa says, reflecting back. "Some people from Stanford bought out the patio and threw a gathering with people coming in from all over. My mom turned to me and said, 'I don't think when my great-great grandmother thought of those recipes, she'd ever think it would one day feed people from all around the world.' It started off as recipes for hosting a wedding or birthday and now here in the Bay Area, it's people's favorite food. It's crazy what your intention can become when you create from the heart."
dine with the pack
Sun of Wolf
406 California Ave
Palo Alto
650.325.8888