John Vars, Mike Irving and Teresa Kurtak met through the UC Santa Cruz Farm and Garden program and bonded over their shared interest in sustainable agriculture. The connection was obviously a strong one—resulting in marriage for two of them (Mike and Teresa) and a partnership for all three of them that became Fifth Crow Farm in Pescadero.
Founded on a shoestring budget in 2008, Fifth Crow Farm started with 10 acres, expanding over time to 80 acres, including 30 acres of row crops, a 35-variety apple orchard and a pastured egg operation with about 700 hens. If the name sounds familiar, there's a good chance you've seen Fifth Crow's produce at local farmers markets—or on the menu in over a dozen Bay Area restaurants, including Pasta Moon in Half Moon Bay as well as Liholiho Yacht Club, Del Popolo and Quince in San Francisco.
But Fifth Crow Farm isn't just a market farm. It also has a Community Supported Agriculture (CSA) program, which means local customers invest in the farm by committing to buy a weekly box of produce over a season. "Our goal is to make people feel like they're as close to the farm as possible," Teresa says. "We want our CSA to be what we would want to experience." Fifth Crow started with a May to November regular season CSA, which now has 200 members. In 2017, the farm added a January to April winter season, limited to 120 members. "We are a single-farm CSA," Teresa emphasizes. "We are unique in that we grow 100% of the food in every share." That's an especially striking claim during the winter season. With fewer crops, it can be challenging to provide enough variety, so most farms opt out of winter CSA.
During the winter season, Fifth Crow Farm delivers boxes to hosted neighborhood sites, and customers swing by to pick up their produce, typically a mix of six to eight items. With a steady rotation through winter crops, a sample delivery might include baby head lettuce, beets, rainbow swiss chard, spinach, cauliflower, winter squash and fresh oregano, along with a once-monthly one-pound bag of heirloom dry beans. Fifth Crow will often include specialty items—like rhubarb and dandelion greens—planted just for CSA customers. As Teresa tells it, "If we were just in the wholesale market, it wouldn't feel nearly as gratifying as the experience of getting to know the people who are eating the food that we grow."
One of those people is PUNCH magazine's director of photography Paulette Phlipot, a Fifth Crow Farm CSA member since January 2017. Paulette says she was exposed to a lot of flavors and food experiences growing up, and she continues to cook everything from scratch for her family. She joined her first CSA in 2000 while attending photography school in Victoria, B.C. After moving to Half Moon Bay from Sun Valley, Idaho, she was shocked to see Fifth Crow Farm's year-round offerings: "Before I moved to California, the words 'Winter CSA' would have seemed like an oxymoron. Who would have known you could have so much variety in the middle of winter all from one local farm?"
With an artist's eye and an appreciation for fresh, organic food, Paulette took immense joy in opening her weekly winter CSA box of "gorgeous greens, plump purple kohlrabi and crisp broccoli." Although she had been photographing farm boxes for years, she discovered that she had a compulsive reaction to seeing this particular produce: "I just couldn't put the vegetables straight onto a cutting board. I was so moved by the colors, the textures and the shapes that I started arranging them in a circle pattern—reflecting their relationship of being grown on the same farm and ripening at the same time." When Paulette captured her displays with her camera, she realized what she had created. "I did what naturally happened. I wasn't planning to do a mandala, or a circular pattern, but after I looked at it, I realized that's what kept drawing me back," she says.
Deriving from Sanskrit for "circle," the mandala is a balance of visual elements, symbolizing peace, unity and harmony. For Paulette, it's also the perfect photographic expression of her CSA passion: "It captures the happiness I feel when first seeing the fruits and vegetables, and the wellness they provide to me and my family."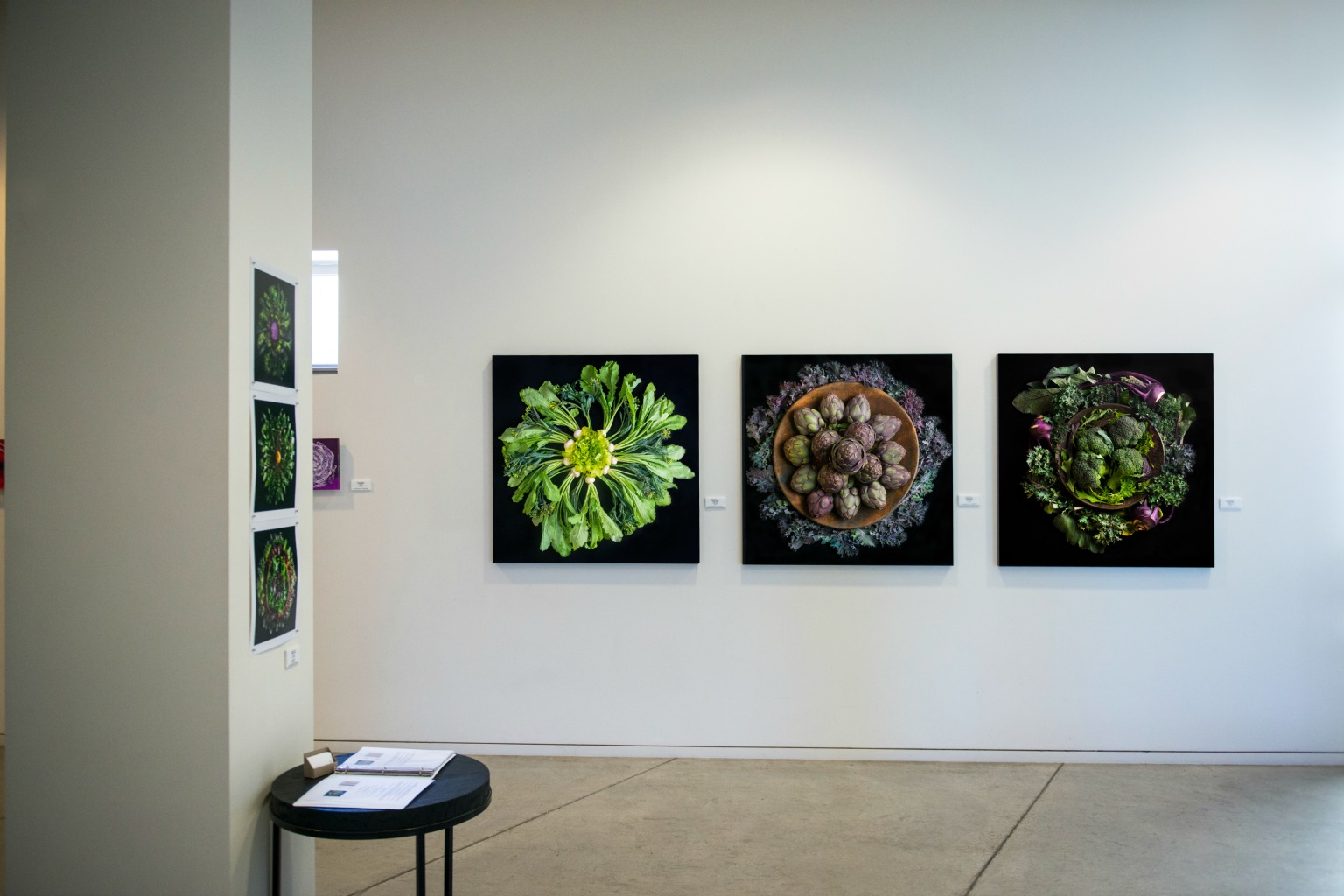 Paulette's Mandala series is currently being featured at the Culinary Institute of America at Copia in Napa, and PUNCH presents samples from her collection here. The full series can be viewed on her fine art website, p3images.com
If you're interested in becoming a Fifth Crow Farm CSA member, spaces fill up quickly, so check fifthcrowfarm.com/csa for availability.