words by Sheri Baer
Kelly Dixon is on a mission to save women from their yoga pants. As a fashionista and founder of a unique retail concept called Park Alley, Kelly cruises the Peninsula in a former food truck, helping women transform their style. Brimming with clothing, gifts, handbags and jewelry, Park Alley is "a mobile fashion truck with a stylist on board who can actually tell you what's hot, what's working and how to rock it," as Kelly describes.
It all started when Kelly had the idea of applying her decades of fashion experience to a more flexible business outside the bounds of a traditional brick-and-mortar. She envisioned a mobile boutique inspired by the luxe looks of Park Avenue, combined with the notion of discovering them in a chic secret place, and thus, Park Alley was born.
To set her dream in motion, Kelly bought a food truck and customized it with wood floors, a marble countertop and a changing room to create a warm, inviting ambiance with seating and pillows. By bringing her specially curated pieces directly to customers, Kelly fills a gap she saw in the retail space.
"I know a lot of people who don't like going to the shopping center or some of the brick-and-mortar stores because they feel like some of the sales associates don't have the experience," Kelly says. "I'm going to tell them that that product does not quite suit you, but I have something else that might. I want them to walk away, even if they don't buy anything, knowing that I can find something for them eventually."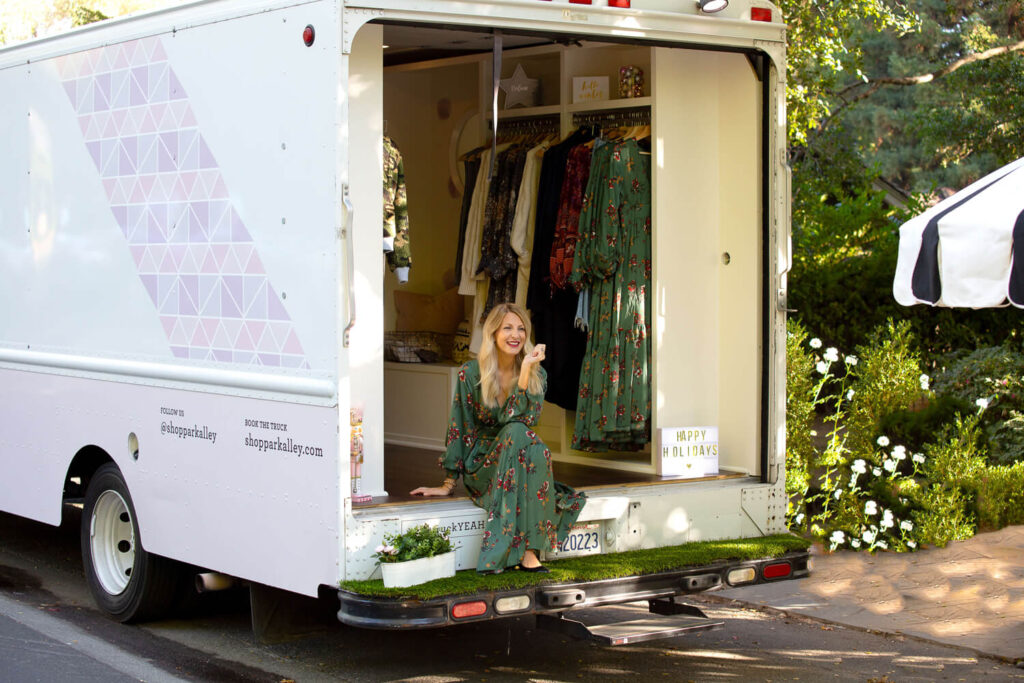 Kelly traditionally hand-selects her unique merchandise by attending the big fashion markets in San Francisco, Las Vegas and Los Angeles. With shopping currently being conducted online and via Zoom, Kelly is disappointed that she can't touch the fabrics and try things on herself like she usually does. However, her fashion expertise has helped her adapt with the times, and brands are coming to her with what's hot next season.
"You still have to have your finger on the pulse of what's happening," she explains. "I'm on Instagram a lot. I follow certain bloggers and I'm ahead of the game; I get tips ahead of time. But I also follow my gut and I know my client."
And who is that client?
"Anyone from the teenager to the 80-year-old woman," notes Kelly. "I know that's funny to say, but it's true. I get them all."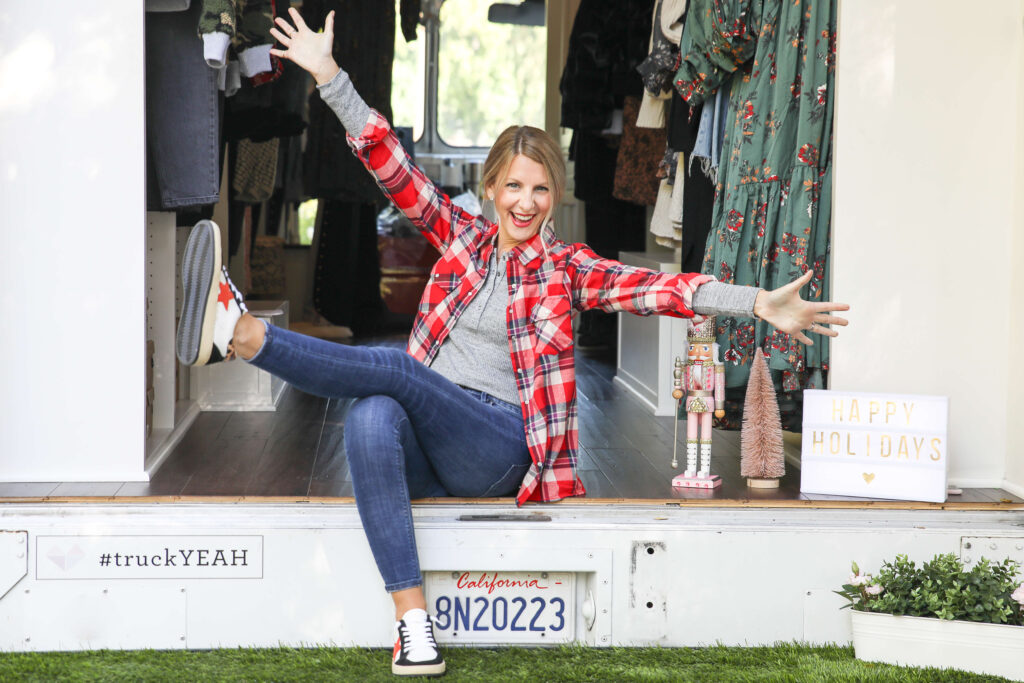 At this time of year, Kelly is usually helping customers prepare for holiday parties and festive dinners. In the past she's even styled families for their holiday cards. However, it's a little bit different now due to the restrictions on group functions. The result is fewer sequins and a greater emphasis on comfort.
"Right now I have a couple of 'teddy bear' coats that are just such a feel-good. That is what is really in, making people feel comfortable," she says. "The sweater dress that I have is so cozy and warm and you can wear it a few different ways. Especially with people maybe gaining a little bit of weight in recent months, that's why I bought it."
Kelly recognizes the value in being nimble, shifting to meet market demand. After all, in 2020, staying at home is the new going out.
"I did a poll not too long ago asking if anyone is going to be dressing up this season while they're staying home with their families or are they going to be hanging out in jeans," she says. "A lot of people said they want to hang out in their jeans." So Park Alley is stocked with a variety of styles you won't find everywhere, along with other on-trend staples, like long, flowing dresses in winter hues and shirts in fresh plaids. 
"I'm still doing some really cute holiday outfits and also some incredible coats," she adds, "because people still go out for walks and they are driving around and looking at holiday lights."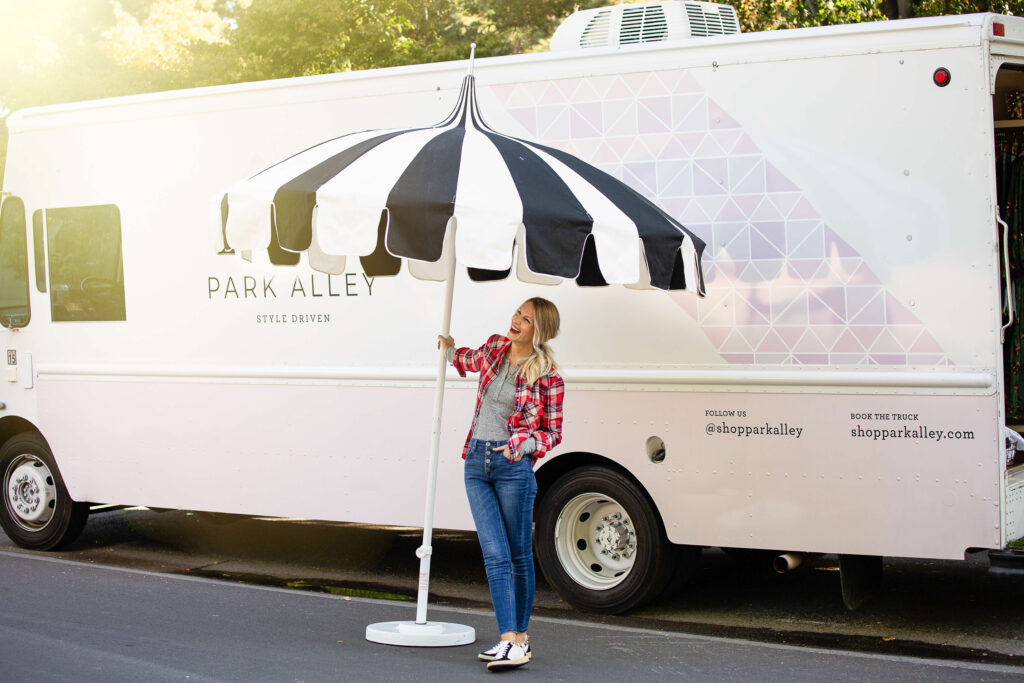 Since launching Park Alley in 2018, Kelly has fully optimized the flexibility of a mobile shopping experience. The advantages of such a highly-personalized business model are even more apparent in 2020. She'll drive up to a girlfriend's house for a private shopping appointment or host a limited number of women for a public shopping event that she posts on Facebook or Instagram. A Park Alley visit is even the prize for a local school auction: "People are bidding on it and it's by appointment only for a sip-and-shop." 
As someone who's worked her entire professional career in fashion, Kelly is well-equipped to find a solution to this year's wardrobe challenges. She grew up in Atherton and Menlo Park and caught the fashion bug more than two decades ago while working for her mom and aunt in their former boutique, Gracious Jewels, off of Menlo Park's Santa Cruz Avenue.
"I just loved it," Kelly says. "Even as a little girl, I would literally lay my clothes out the day before school. I had this pink Polaroid camera and I would take a picture of my outfit and hang it on a poster board so I wouldn't be wearing the same thing."
After graduating from Notre Dame High School in Belmont, Kelly attended FiDM—the Fashion Institute of Design & Merchandising in San Francisco—then worked for Macy's West doing fashion shows as a stylist before styling on her own.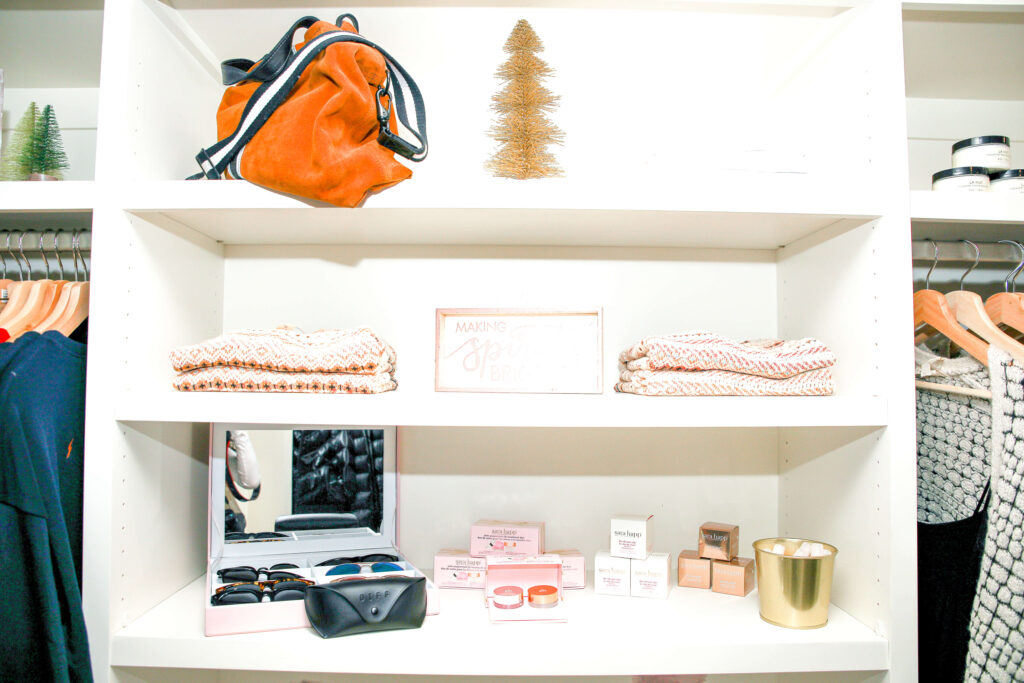 Now back in Menlo Park, she's the proud mom of a college student, a high schooler and a middle schooler and appreciates raising a family in her own familiar childhood surroundings. She loves the area and says fashion moments often sneak up on her, even at the most unexpected of times.
"I was walking down California Avenue and this woman fell in love with my jumpsuit," recounts Kelly. "I'd literally put it on 20 minutes before and she said, 'I have to have that!'" So Kelly did what any savvy Silicon Valley business owner would do: She sold it right off of her back and won a new customer.
As Kelly tells it, fashion isn't about a single look—it's about the way you live, work and feel. "I want women to feel good-in-their-skin comfortable, to give them the best shopping experience possible," she says. "Park Alley is really a celebration of self."