If summer had a flavor, wouldn't it be something cool, sweet and fleeting? Licking the drips off a melting ice cream bar on a hot, sunny day. A plump, juicy berry popped into the mouth. That first crisp, mouthwatering bite of a slice of watermelon. Here are a few of our favorite flavors and traditions of summer to help jump-start the memories and entice the taste buds.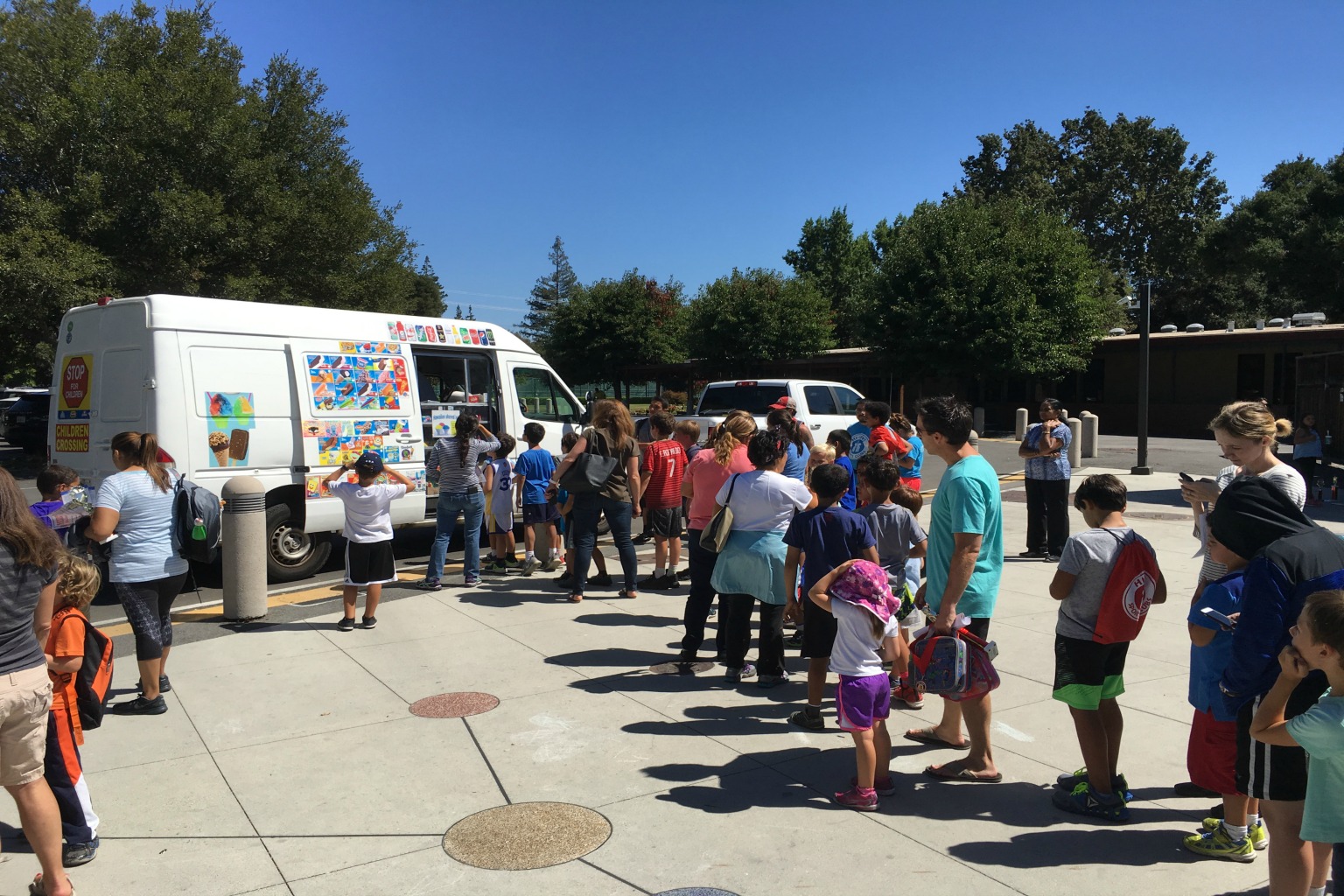 The Ice Cream Truck is Coming!
The ice cream truck is so often preceded by the archetypal tune "Turkey in the Straw." It's a jingle unlike any other—with a melody in the key of summer—casting a sweet spell to lure neighbors onto the street like a pied piper of dessert. Although this song may evoke summer to us, for Jim Alkhatib, who owns the mobile ice cream vendor Golden Ice Cream, it was once a slight occupational hazard.
"In the beginning, it was hard; I used to wake up in the middle of the night hearing the music," he says. "But now my brain will ignore it and sometimes I won't even know if the music is on or off."
Jim has delivered delight to doorsteps for nearly 30 years, first by working for an ice cream vendor in Palo Alto before purchasing his own truck in 1996. He immigrated to the Bay Area from a small village in Jordan when he was 27 and is now a father of three with a house in Lathrop.
His selection includes all the staples—Drumsticks, Crunch Bars and 50/50 Creamsicles tend to be top sellers—and Jim prefers IT'S-IT, partly because the company is based in Burlingame. Besides his route, he'll pull the truck up for private events such as company picnics and graduation parties. However, nothing is as sweet as the view from inside his mobile parlor as the community he treasures grows up.   
"One day, a lady came to me and said her son was a one-year-old and sleeping so she asked me to turn the music down whenever I came by," Jim says. "I kept doing it for years; whenever I came by I turned the music down. Fifteen years later I saw her with her son, who was now taller than me, and she told me how she appreciated that I always turned down the music." goldnicecream.com
Ode to Olallieberry
When it comes to summer flavors on the Peninsula, there is perhaps none more tantalizing than the olallieberry. If your response is "The oh-what-a-berry?!" then you've been missing out on one of our home-grown tastiest treats. While it looks like a classic blackberry, genetically the olallieberry (olallie is a Chinookan word meaning berry) is also about one-third raspberry, making it both sweet and slightly tart. Originally developed in Oregon, it turns out that the olallieberry prefers our coastal California climate. Yay for us! But here's the catch. The olallieberry season is super short—as in a four- to six-week span sometime between late June and early August. So, go pick! Eat! Right now!
In Portola Valley, Webb Ranch's U-Pick season is underway from 8AM to 1PM on Tuesdays, Thursdays and Saturdays. The price is $4 for entry and then $5.50 per pound of berries with baskets provided. Show up early for the best selection. Call 650.854.5417 for weekly U-Pick updates. 2720 Alpine Road, Portola Valley. webbranchinc.com
To pay full homage to the olallieberry, Pescadero is the perfect place for a pilgrimage. About a half-hour south of Half Moon Bay, you'll find R&R Fresh Farms, with five acres of different berry varieties. Owner Jose Ramirez introduced his olallieberry crop three years ago. "The big farmers don't like them because there are only six weeks for picking. They want berries to stay longer, so they gave up on them," he says. Not only did Jose not give up on olallieberries, he grows enough to freeze, so he has them for sale year-round. U-Pick certified organic berries are priced at $4 per pound. If you're in a hurry, you can buy $2.50 baskets at R&R's Farm Stand. 2310 Pescadero Creek Road. rnrfresh.com
And finally, for all things olallieberry, swing by Duarte's Tavern in Pescadero, renowned for its #1 selling olallieberry pie. Made with a recipe perfected in the 1930s by Emma Duarte, it's $8 a slice or $35 for an entire pie. Duarte's grows their own berries, and during the olallieberry's blink of a season, you'll also find offerings like fresh olallieberry cobbler and even margaritas. And when the picking is done, Duarte's extends this treasured taste of summer, drawing from its own frozen stashes to keep olallieberry pie on the menu year-round. 202 Stage Road, Pescadero. duartestavern.com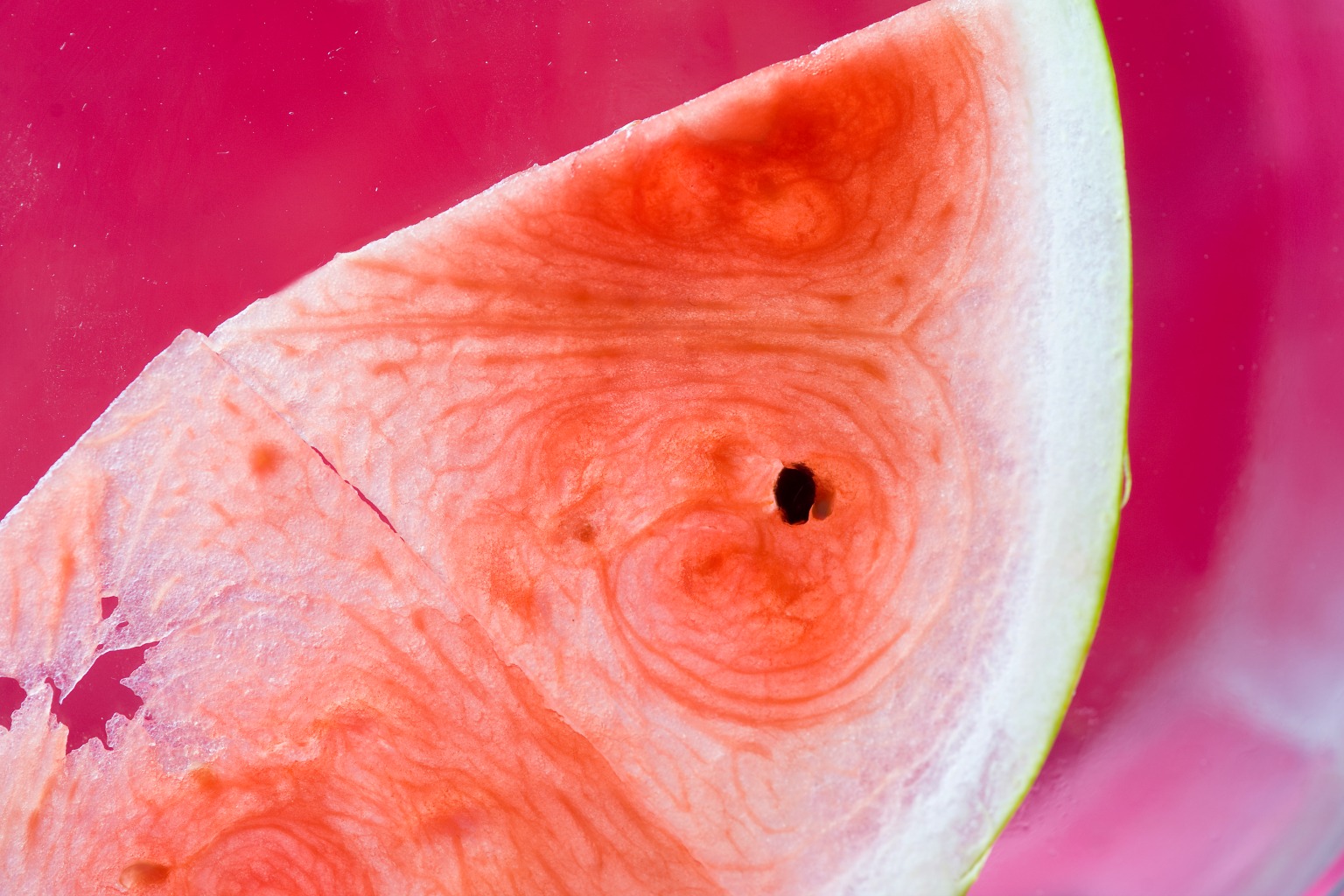 Mouthwatering Watermelon  
If you had to pick just one flavor, what's the quintessential taste of summer? Here at PUNCH, we put it to a vote and came up with a clear winner—that dark green, awkwardly heavy, spherically-shaped, sweet, juicy, beloved behemoth of a fruit (which we surprisingly learned is also a vegetable), watermelon.
With that decided, we gave our resident foodie/photography director Paulette Phlipot a challenge: create a simple, refreshing watermelon drink to help us savor these sweet summer days. We think you'll agree that she delivered the goods, along with some helpful tips for watermelon wrangling.
Picking the Right (Ripe) Watermelon
+ Look for "bees stings" – brown, web-like spots or lines
+ Melon should be heavy for its size
+ Try the thump test – if a watermelon has a hollow bass sound when you tap the underbelly with a finger, that's a good sign.
+ A yellow spot on one side is good (this is from lying in the field)
+ Shape counts – go for uniform instead of wonky
+ Forget the shiny (not ripe) finish – dull will be more delicious!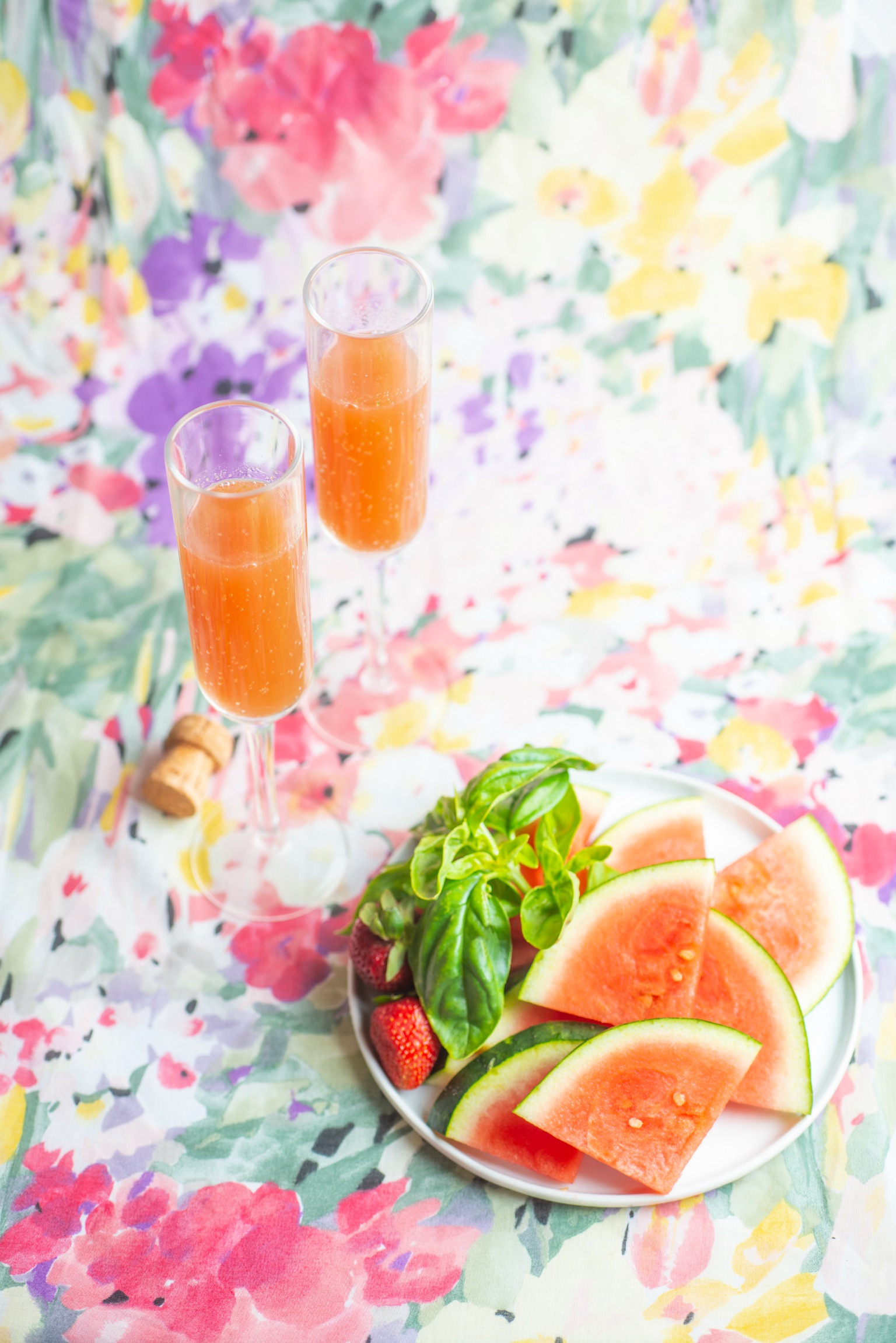 make it
Create the Base: Watermelon Juice
Cut a watermelon into chunks, take off rind and remove seeds if your watermelon has them.  Place the chunks into a blender and puree until smooth. Strain and serve chilled over ice. Add a little lime juice or fresh mint leaves to enhance flavor.
Watermelon Strawberry Basil Juice
One serving
Take one cup of strained watermelon juice and place in blender. Add 5 large basil leaves (or equivalent if using smaller leaves) plus 2 large strawberries (or equivalent if using smaller strawberries). Blend until smooth. Strain and serve chilled over ice.
Liven up your Sunday Brunch!
Watermelon Strawberry  Basil Mimosa
One serving
Fill a champagne glass ⅔ full with your favorite prosecco or champagne, top off with chilled Watermelon Strawberry Basil Juice. Enjoy!
tips
Don't Toss Out the Rinds! They're full of nutrients. In fact, they contain a higher concentration of certain antioxidants, minerals and vitamins than the fruit. Try pickling the rind or simply blend a bit into your next smoothie.
Seedless? Forget that childhood myth that if you eat the seeds, you will grow a watermelon in your stomach. The seeds are edible and actually contain healthy fats and protein and are full of nutrients.