Laura Ingalls Wilder found literary inspiration in a little house on a prairie. For Erin Gleeson, it was a little cabin in Woodside that led her down an unexpected creative path. Just seven years ago, Erin was living the life of a hustling freelance artist in New York, shooting for cookbooks, magazines, top chefs and restaurants, along with teaching photography. But then her fiance, a native New Yorker, accepted a job as a rabbi in Los Altos Hills, prompting a move to California. "I was really scared to leave New York," Erin recalls. "I felt like I would be leaving my career behind me."
Originally thinking they would live in downtown Palo Alto or Mountain View, instead the couple was drawn to a small house off of Skyline, right near Alice's Restaurant. "It's kind of perched in the trees, so it almost feels like you're in a treehouse," Erin says. "We spend a lot of time on our deck, and I sometimes say we have more space outdoors than inside." With expansive windows and natural light, the cabin also delivered the perfect photographic assist: coastal fog, lots of it, especially in the mornings and evenings. "It's just like a big softbox in the sky and makes all the shadows really soft, and it means I can shoot easily outside without any lights."
After her husband headed out to his new job each morning, Erin found herself alone in the little cabin looking out at acres of redwood trees. Forced to take pause, she began to think about new ideas and making art. Hoping to specialize in food photography for cookbooks, she started a blog, The Forest Feast, as a vehicle for showing editors her work. With ingredients pulled from a weekly farm box delivery, she began to play with original recipes—simple, produce-based and colorful—drawing from a childhood of vegetarian family cooking and traditions. As Erin puts it, "I like to say they're easy enough for a weeknight but festive enough to make for a dinner party or when you're having people over."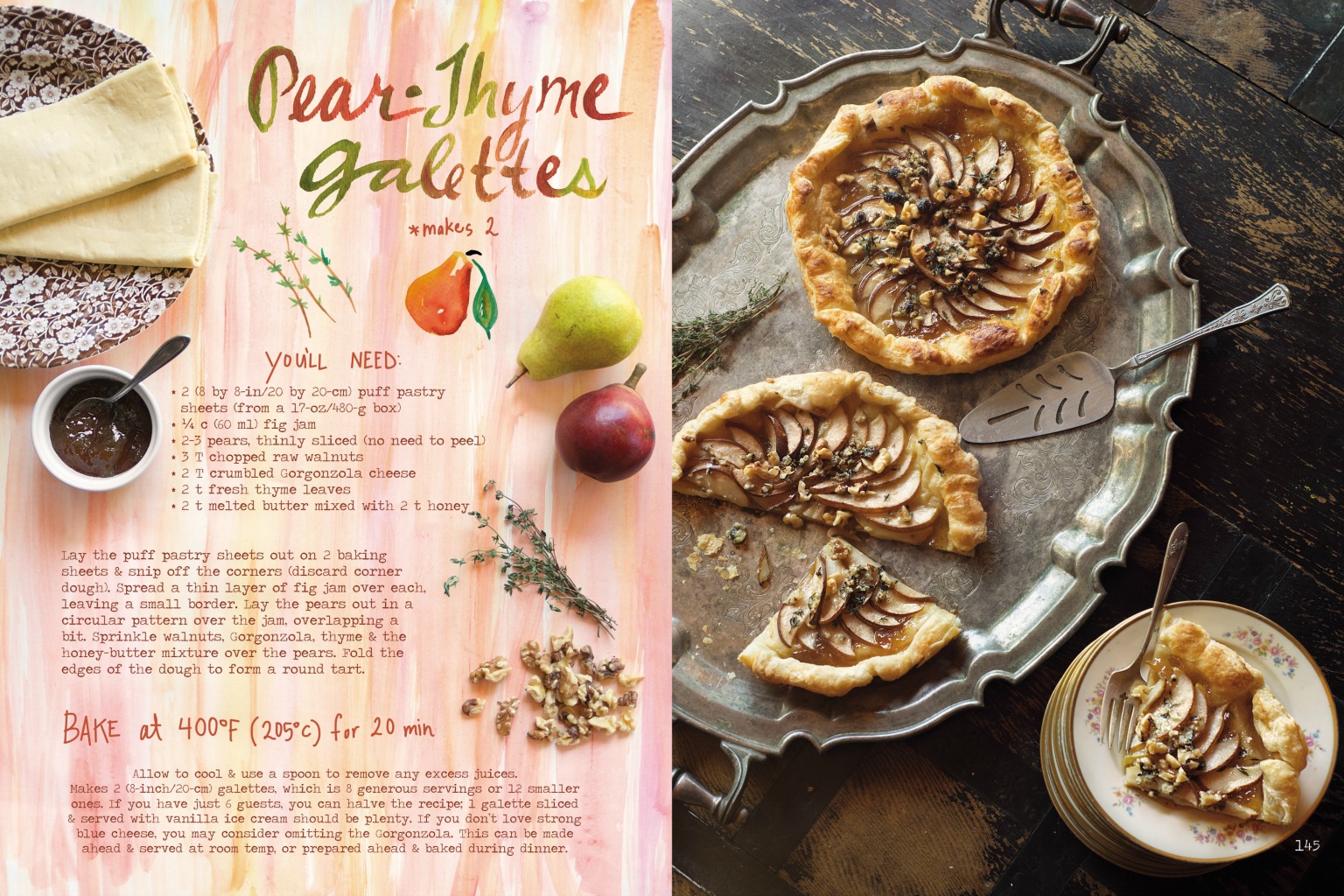 In an effort to display recipes visually, without just typing them out, she used Photoshop to create what she calls "photographic recipe illustrations," a layered blend of hand lettering, photographs of recipe ingredients and watercolor doodles and artistic flairs. "I think showing both the finished dish and a very visual recipe description was something different at that time, and the blog started to get picked up," Erin says. Just six months (and a whole lot of shares, reposts and Pinterest pins) later, a literary agent reached out to Erin about doing a cookbook. Not somebody else's. Her own.
Published in 2014, Erin's first cookbook, The Forest Feast, became a New York Times bestseller, followed by The Forest Feast for Kids and The Forest Feast Gatherings in 2016. She's currently working on her fourth book, The Forest Feast Travels, with Mediterranean-inspired recipes, which will be released in fall 2019. It's quite a whirlwind turn of events, with a career-altering outcome she's still trying to process. "Living in New York, you feel like you're in the center of it, and I never felt like leaving would actually be an asset," she reflects. "Getting myself in a new environment was very inspiring. This is not what I envisioned, but I like it better than what I envisioned."
Erin always tries to cook in season, using ingredients available at farmers markets. Looking over her collection of Forest Feast recipes, we asked her to select a few favorites appropriate for Thanksgiving or another festive gathering. Her lush recipe illustrations from The Forest Feast Gatherings fall dinner menu follow but here are some additional insights from Erin:
Kale Salad: It's always nice to round out a hearty meal with a fresh green salad and this one has nicely balanced textures. Crisp baby kale, crunchy pears and hazelnuts and creamy cheese. The pomegranate seeds add a juicy burst of color and seasonality.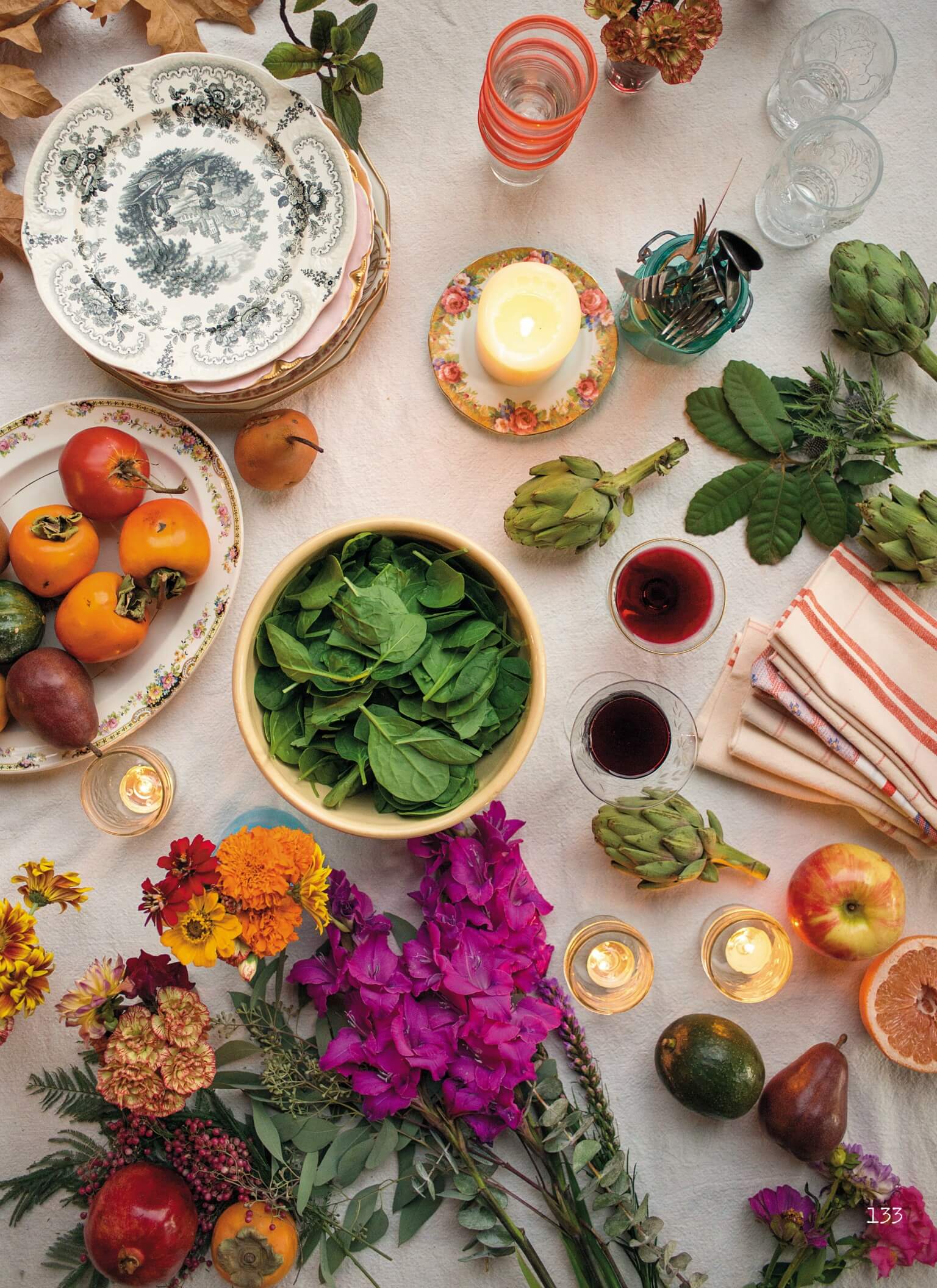 Za'atar Roasted Carrots: These roasted carrots are so simple and look so pretty when presented whole on a platter. Za'atar is a widely available spice blend that adds an unexpected flavor to the dish.
Pear-Thyme Galettes: This is an easy alternative to a pie and accompanies other desserts nicely with its savory punch of blue cheese and thyme. I buy puff pastry, which gives it a flakier crust.
You can find more inspiration for holiday main dishes, sides and beverages on Erin Gleeson's The Forest Feast blog at theforestfeast.com