While traditions may take a few twists and turns this year, festive winter drinks are always a great way to get into the holiday spirit—whether they include alcohol or just some added fizz. As Peninsula restaurants whip up dazzling seasonal concoctions, recently-released cookbooks add to the mix with tantalizing beverages you can make at home. PUNCH photography director and food editor Paulette Phlipot curates a selection sure to infuse an extra element of joy into your celebration.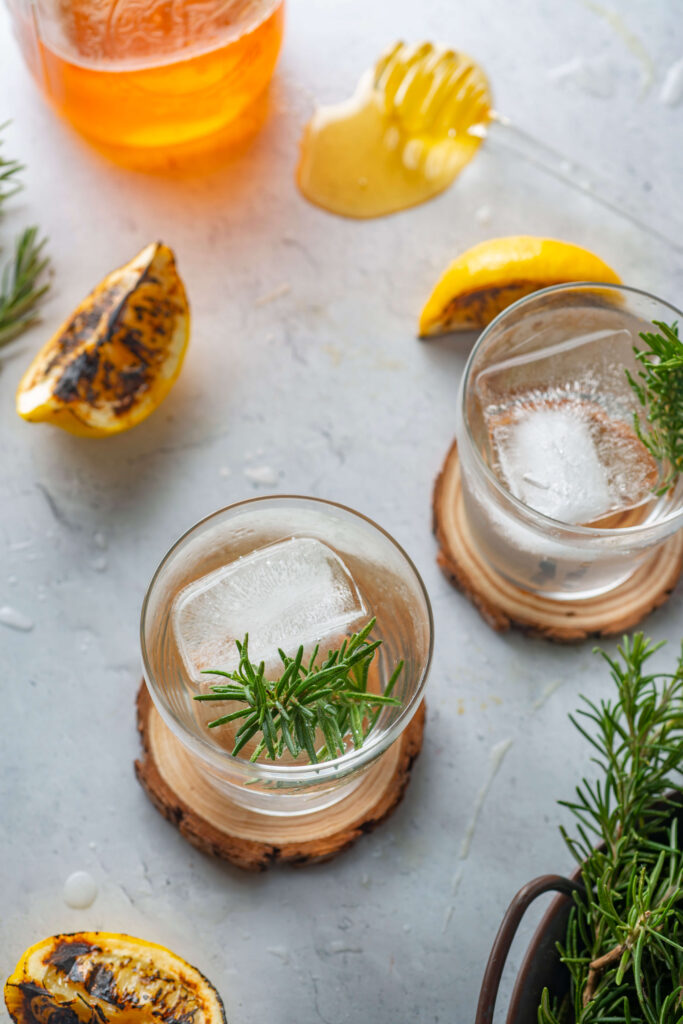 Burnt Lemon

 

Vodka Tincture

 
from Nourish Me Home by Cortney Burns with permission from Chronicle Books, 2020

Makes 4⁄₄ cups
6 lemons 
3 1⁄₄ cups vodka 
Quarter the lemons and remove the seeds. Over an open flame, char the lemons until the flesh is blackened; leave the skins as unburnt as possible to retain the essential oils. Combine with the vodka in a large jar or container. Seal and leave in a cool, dark place for three weeks to infuse. Strain and store in a sealed container. 
(Paulette) There are endless possibilities for what you can make with this tincture. Here's a simple idea to get you started:
Burnt Lemon Rosemary Cocktail 
Serves 1
1 oz burnt lemon vodka tincture
1-2  tbls of rosemary simple syrup*
4 oz sparkling water
1 sprig of fresh rosemary 
Fill a glass with ice, add vodka tincture and simple syrup (stir the syrup well before using), top with sparkling water and stir. Garnish with rosemary.
*Rosemary Simple Syrup
6-8 cocktails
1 cup water 
1⁄₂ cup honey
8 sprigs fresh rosemary
Add honey and water to a small saucepan over medium heat. Stir occasionally while bringing to a boil. Once boiling, lower heat to a simmer and add rosemary sprigs. Simmer for 10 minutes, then turn off heat. Let it steep for 30 minutes. Strain the syrup to remove the rosemary. Once cool, place in a glass jar, seal and keep cool in the refrigerator until ready to use. Be sure to stir before using.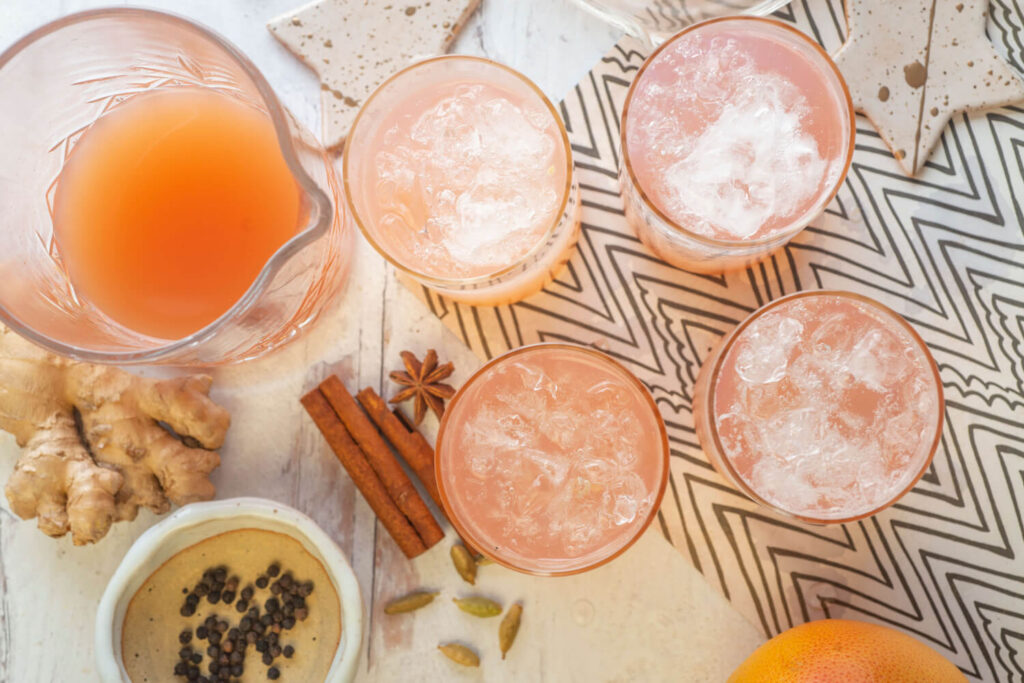 Grapefruit Soda

 

with Chai Masala
from The Flavor Equation by Nik Sharma with permission from Chronicle Books, 2020 
My husband loves grapefruit, so one year I surprised him with a dwarf Ruby Red Grapefruit plant. The little plant is housed in a big pot only a few feet high but bears impressively large, orb-like yellow citrus that are extremely fragrant when sliced. Sometimes I collect the juice and stir it into a simple syrup made with chai masala (tea spices). I infuse whole spices rather than ground into the simple syrup to get a lighter flavor that delicately complements the citrus. 
The Flavor Approach 
+ The bitterness of grapefruit is complemented by a combination of spices. 
+ Aroma and taste molecules in the whole spices are extracted using a combination of heat and water. 
+ Club soda and grapefruit juice both provide acidity, while the soda's carbonation adds the textural effect of fizz by playing with our receptors. 
+ The added sugar and the sugars present in grapefruit soda help temper the bitter tastants in the grapefruit juice. 
SERVES 8
1/2 cup sugar
2″ piece fresh ginger, peeled and cut into thin slices
1″ piece cinnamon stick
10 whole black peppercorns
2 whole green cardamom pods, lightly cracked
1 star anise 
2 1⁄2 cups fresh grapefruit juice
(from 2 to 3 large pink grapefruit)
1  4 1⁄2-cup bottle club soda, chilled
Combine 1⁄ cups of water and the sugar in a medium saucepan. Add the ginger, cinnamon, peppercorns, cardamom, and star anise. Bring to a boil over medium-high heat and immediately remove from the heat. Cover with a lid and steep for 10 minutes. Strain this simple syrup through a fine-mesh sieve placed over a bottle or jug. Discard the spices. You should have 1⁄ cups of simple syrup. Refrigerate the syrup until chilled. 
In a large pitcher, combine the chilled simple syrup and grapefruit juice. Fill eight tall glasses with ice. Pour ⁄ cup of the syrup mixture into each glass, top with ⁄ cup of the club soda, and stir. Store any leftover syrup in an airtight container in the refrigerator for up to one week.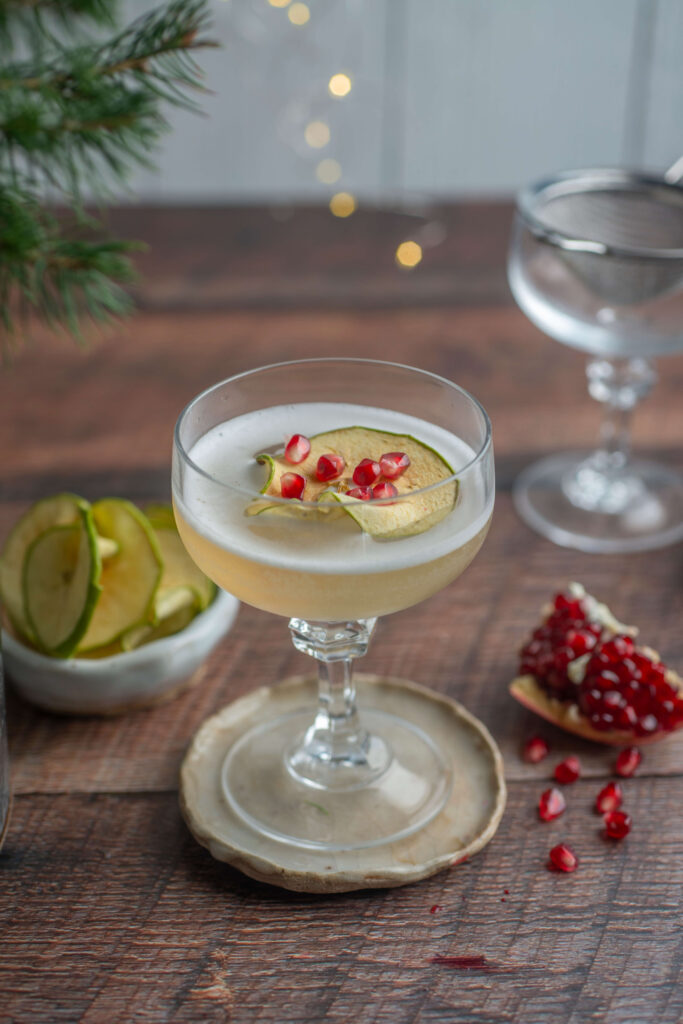 MaskCarade
Created by: Virginia McVeigh, beverage director 
Named after owner Andrew Welch's son, Asa derives its influences from generations of Spanish and Italian heritage, with an emphasis on family. Committed to sustainable sourcing and local organic foods, the California restaurant house's cuisine reflects the Old-World style of Spain and Italy's wine as well as their culture and the way people dine. With festive heated outdoor patio seating, dress warmly and bring an appetite. 
Inspired by organic apple and pomegranate trees, the cold of winter calls out for the warmth of cognac/brandy-based cocktails. MaskCarade is one of Asa's featured winter offerings.
serves 1 
2 oz  Asa's House-Infused Cognac*  
1 oz fresh lemon juice
simple sugar to taste
5 dashes Fee Brothers Fee Foam
Double-shake and strain into a coupe glass. Garnish with bitters, dehydrated apple and pomegranate arils (seeds). 
*Asa's House-Infused Cognac
6-8 cocktails
Bache Cognac 
Combier Orange Liqueur
organic tart green apples
1 cup water 
1⁄2 cup honey
8 sprigs fresh rosemary
Aging adds complexity. We age ours three months but one month should suffice. Using the ratio ⁄₃ Bache Cognac and ⁄₃ Combier Orange Liqueur, make as little or as much as you like. Fill a container with thinly-sliced apples (with skin) and then add the spirits and the rest of the ingredients to cover the fruit and mix well. We store it in the refrigerator, but a cool, dark place is also fine.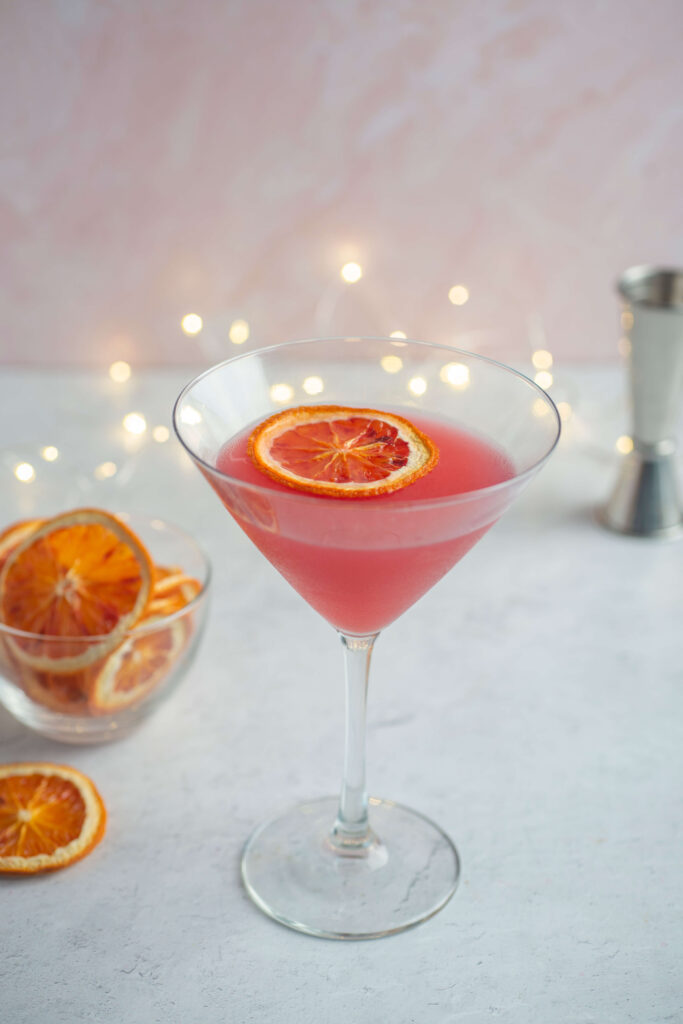 Winter Citrus Cocktail

 
Izzy's is a second-generation family-owned and -operated dining destination that has been beloved throughout the Bay Area for over 30 years. Offering outdoor dining in tented, heated patio settings in San Carlos and San Francisco, Izzy's serves craveable comfort fare, classic and inventive cocktails and high-quality wines with devoted personal service. Pickup and delivery options are also available.
Created by: Peggy Boston, beverage coordinator
Izzy's always looks to the best seasonal ingredients for inspiration. Using flavors that are evocative of winter like pomegranate, blood orange and ginger brings a freshness to the cocktail alongside the beautiful colors it imparts. This drink is part of Izzy's fall/winter cocktail menu and is also available as a festive cocktail kit, in large batched form, serving up to 10 people. 
serves 2
1 oz fresh lime juice
1 oz fresh blood orange juice
1 oz ginger simple syrup (can be found at premium food stores or can be easily made at home)
2 oz pomegranate juice 
1 1⁄2 tsp fresh grated orange peel
mint leaves
4 oz vodka of choice
*dehydrated blood orange wheels for garnish
Combine all juices and ginger syrup together and mix well to make winter citrus concoction. In a separate cocktail shaker glass, muddle 5-7 mint leaves. Add in winter citrus concoction and vodka. (This is great made without alcohol as well!) Shake vigorously and double-strain into two chilled cocktail glasses.
Drop in a blood orange wheel for garnish.
*Purchase or make dehydrated blood orange wheels for garnish ahead of time.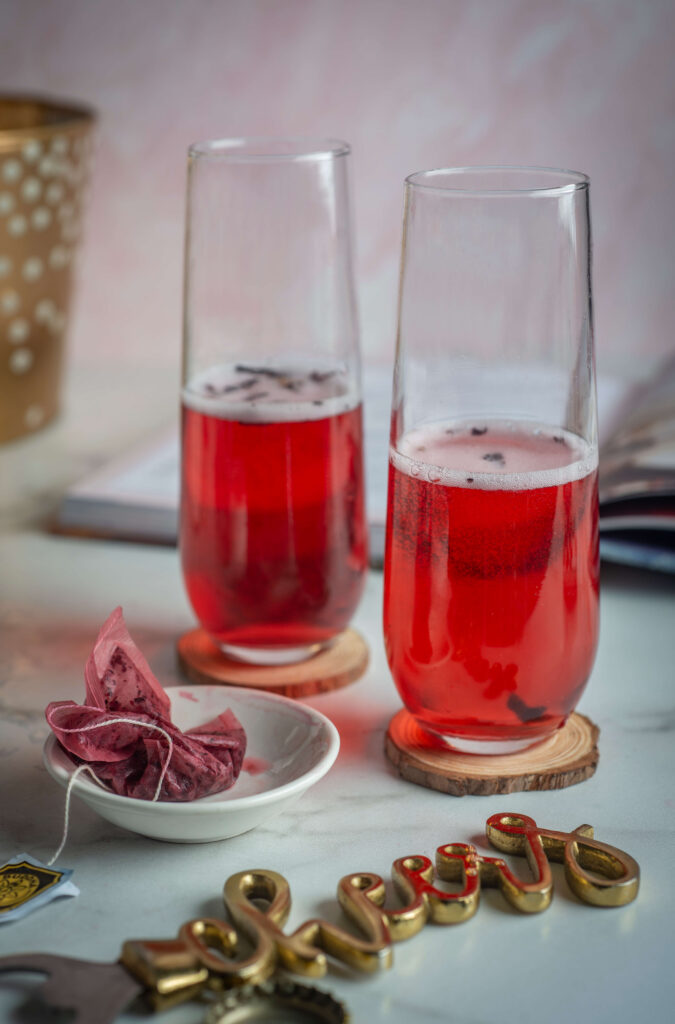 Sparkling Hibiscus

 

Tea Fizz
Recipe by Julia Charles
Tea makes a good base for non-alcoholic cocktails, and cold-brewing the tea here rather than using hot water gives a smoother, more delicate taste. Top with sparkling tonic water for an elegant festive fizz.
SERVES 1
1 hibiscus tea bag
runny honey or agave syrup, to taste
well-chilled, good-quality tonic water, to top up
dried hibiscus flowers, to garnish
First, make the cold-brew hibiscus tea. Put the teabag in a measuring jug/pitcher, add ³/₄ cup cold water and refrigerate for a few hours or overnight.
When ready to make the drink, add a spoonful of honey or agave syrup to the jug/pitcher and whisk into the tea. Pour half of the hibiscus tea into a chilled flute glass, top with chilled tonic water and garnish with dried hibiscus flowers. Serve at once.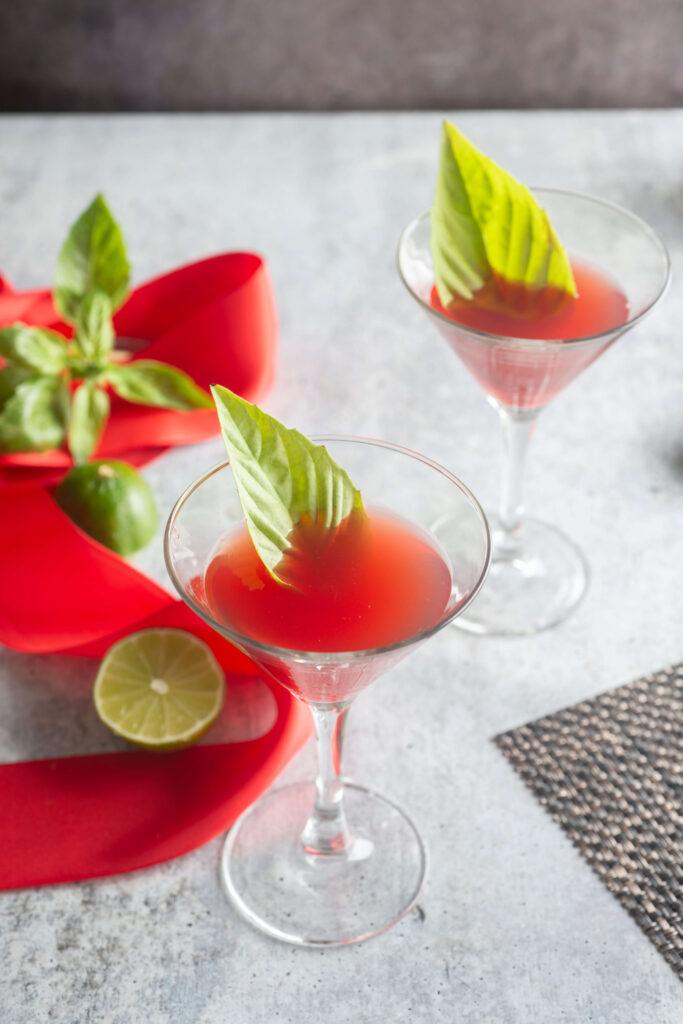 Random Walk Theory
This airy, contemporary Menlo Park tavern and restaurant offers an oyster bar, snacks, small plates, entrees, housemade desserts and breads, along with an extensive spirit, wine, beer and scotch selection. Specialty cocktail names are based on bank, venture capital and financing terms. Enjoy a late afternoon refreshment on the patio or in the rooftop bar, an elegant dinner with family and friends or private dining in the wine room.
Created by: A collaborative effort headed by former general manager Guilhermo Vidal
This is a very simple and easy drink to make. A number of local retailers carry the two spirits in this recipe—Spirit Works Sloe Gin and St. Germain—and they're great to have on hand for your own creations. Not many places have a dedicated cocktail with Sloe Gin, which is a lesser-known style of gin. Spirit Works is located in Sebastopol and its Sloe Gin recipe has been handed down through the Marshall family for generations. It starts with their signature gin, which they macerate with sloe berries until the delicious fruit flavor and color have fully released into the gin. This vibrantly-hued liqueur features both bright berry and citrus notes, combining ripe sweetness with fresh acidity. The other main ingredient is St. Germain liqueur from France, giving a great balance to the cocktail. This drink is available anytime on our December drink menu. 
SERVES 1
2 oz Spirit Works Sloe Gin
1⁄4 oz St. Germain
1 whole lime juice squeeze
2 large basil leaves
Place one large basil leaf torn into pieces into mixing glass. Add all ingredients to mixing glass with basil leaf, add ice and shake all ingredients; strain into a chilled martini glass. Garnish with a whole basil leaf.
This drink is served up or on the rocks; the choice is yours.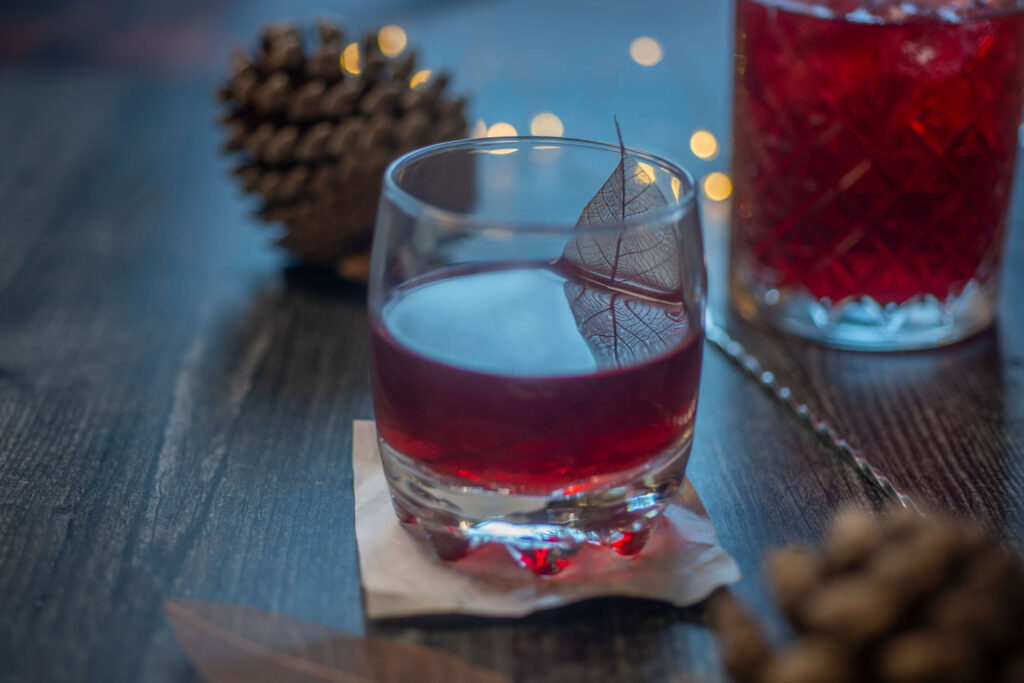 Into the Woods
Michelin-starred Madera offers a menu of refined yet approachable dishes honoring the many culinary traditions of the Bay Area. Northern Californian cuisine with bold flavors is created on the wood-burning grill and hearth using sustainably sourced seafood and naturally raised meats, coupled with the bountiful harvest of the surrounding farming communities. A premier fine dining destination in Menlo Park, Madera welcomes hotel guests and locals alike and is open daily for breakfast, lunch, dinner and weekend brunch. 
Created by: Oreste Catenacci, lounge manager
This cocktail was created as a tribute to seasonal flavors, especially good after a walk in the woods around the Bay Area. Light, bright and a bit nutty, it's a unique drink that takes on the flavors of the season. It will be part of Madera's drink list for the winter time.
serves 1 
1 oz  plum brandy
3⁄₄  oz  Lillet Blanc
1⁄2   oz  Sweet Vermouth di Torino
1⁄2  oz  St. George Spiced
Pear Liqueur
1⁄4   oz  yellow Chartreuse
1⁄4   oz  maple syrup
spray of smoky whisky
1 skeleton leaf
Combine all ingredients in a mixing glass or a pitcher; stir all with ice until chilled. When it's ready to serve, strain into a rock glass with ice. Garnish each serving with one skeleton leaf.
This drink is easy to pre-batch at home in advance. Keep it in a cold place so it will be ready to serve. It also works well in a pitcher.