In western Mendocino County, Anderson Valley is a mere sliver of a place stretching 15 miles along Route 128 from Boonville, the heart of the valley, through Philo and on to Navarro. To me, it's always been magical, thanks to its tapestry of vineyards and farms that give way to towering redwoods on the hillsides. "A big meadow, like a Garden of Eden," wrote one of the early settlers.
Getting there does require a bit of resolve. It's a straight shot up Highway 101 from the Peninsula to the Cloverdale exit, which is not a bad spot to grab some lunch. There's tasty brisket at the Hamburger Ranch & Bar-B-Que conveniently located at the turn-off.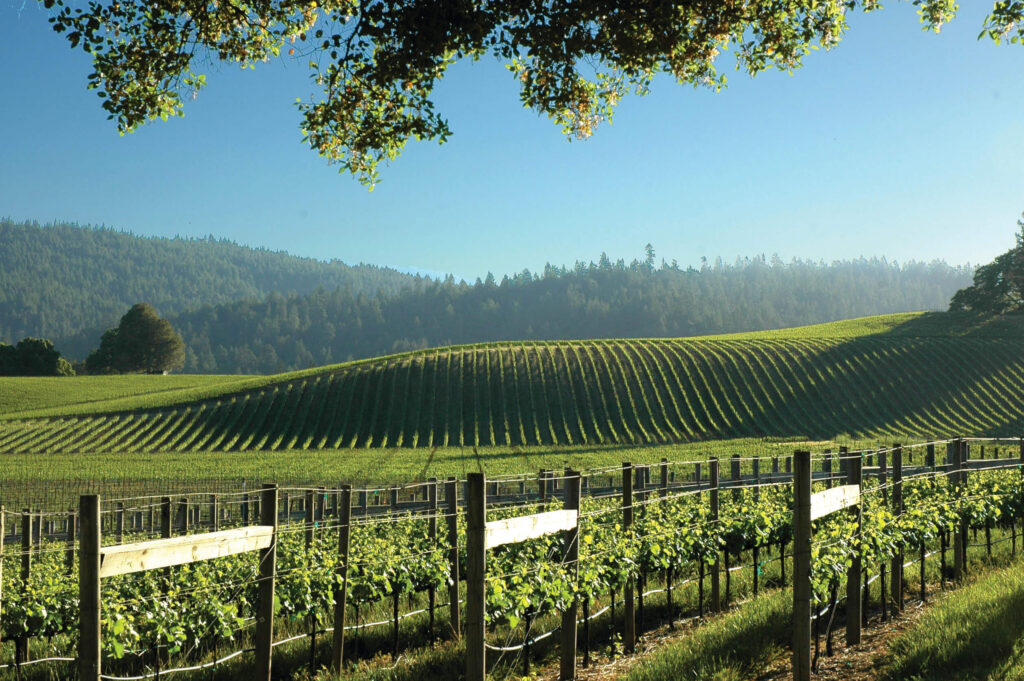 Next come 30 miles of twists and hairpin turns that demand a driver's attention. You finally reach the valley floor at Boonville, known for its now almost defunct dialect, Boontling. Example: horn of zeese is a cup of coffee. 
Closely associated with the fruit of the vine, Anderson Valley can be counted on for splendid scenery. Here, you'll find Hendy Woods State Park, which contains two ancient redwood forests, 80-acre Big Hendy and 20-acre Little Hendy set along the Navarro River. Some of the trees in the 845-acre park stand more than 300 feet tall and may be 1,000 years old. A hike to the Hermit's Hut is a popular valley trek, but wine tasting wins as the area's most notable attraction.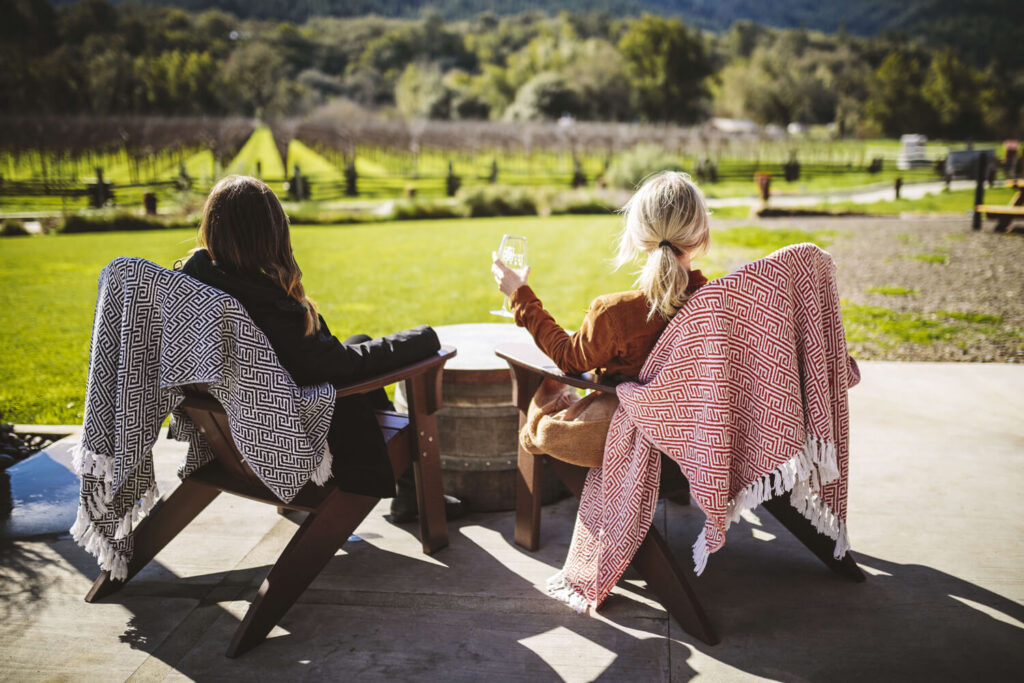 The Many Tastes of
Anderson Valley
Commercial winemaking began in Anderson Valley after World War II but took root in the 1960s with the planting of mostly Gewürztraminer and Chardonnay. Pinot Noir gained a toehold in the 1970s, followed in the 1980s by sparkling wine. Today, some 29 tasting rooms are scattered along the valley floor and perched on the hillsides above. Note: Reservations are required for tastings and tours.
Tony and Gretchen Husch first planted grapes in 1968, and in 1971, Husch Vineyards became the first bonded winery in Anderson Valley. It was purchased by H.A. Oswald, Jr. in 1979, and third-generation Oswalds operate the winery today, producing 22 different wines, a half-dozen of which you'll find in Peninsula supermarkets. Tasting flights are delivered via a clever six-pack of wine glasses.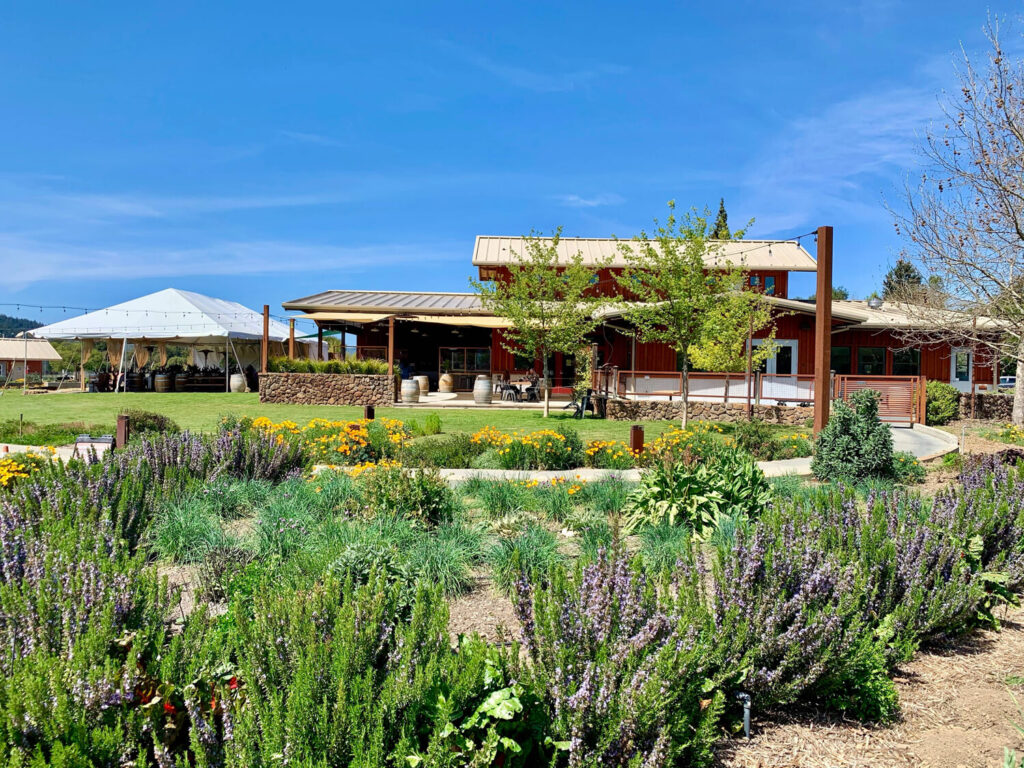 You can't drive through Boonville without noticing the bright yellow Porsche parked in front of Bee Hunter Wines, just beckoning you to pull over. It's the brainchild of winemaker and Anderson Valley native Andy DuVigneaud, who founded the winery with his wife, Ali. New this year is the opportunity to enjoy some glamping in one of five tents at Le Chateau DuVigneaud. Fun fact: Bee Hunter is a Boontling term for someone who enjoys the sweet honey of life but is able to avoid the stings that life can present.
A farm tour was the highlight of a visit to Pennyroyal Farm, which has the distinction of not only growing grapes but also overseeing a herd of goats and sheep whose milk is transformed into a variety of delicious cheeses. Pennyroyal's outdoor tasting area is festooned with gnarled vines from its [literal] parent property, Navarro Vineyards. Pennyroyal's owner, Sarah Cahn Bennett, is the daughter of Ted Bennett and Deborah Cahn, who started farming wine grapes in Anderson Valley in 1973.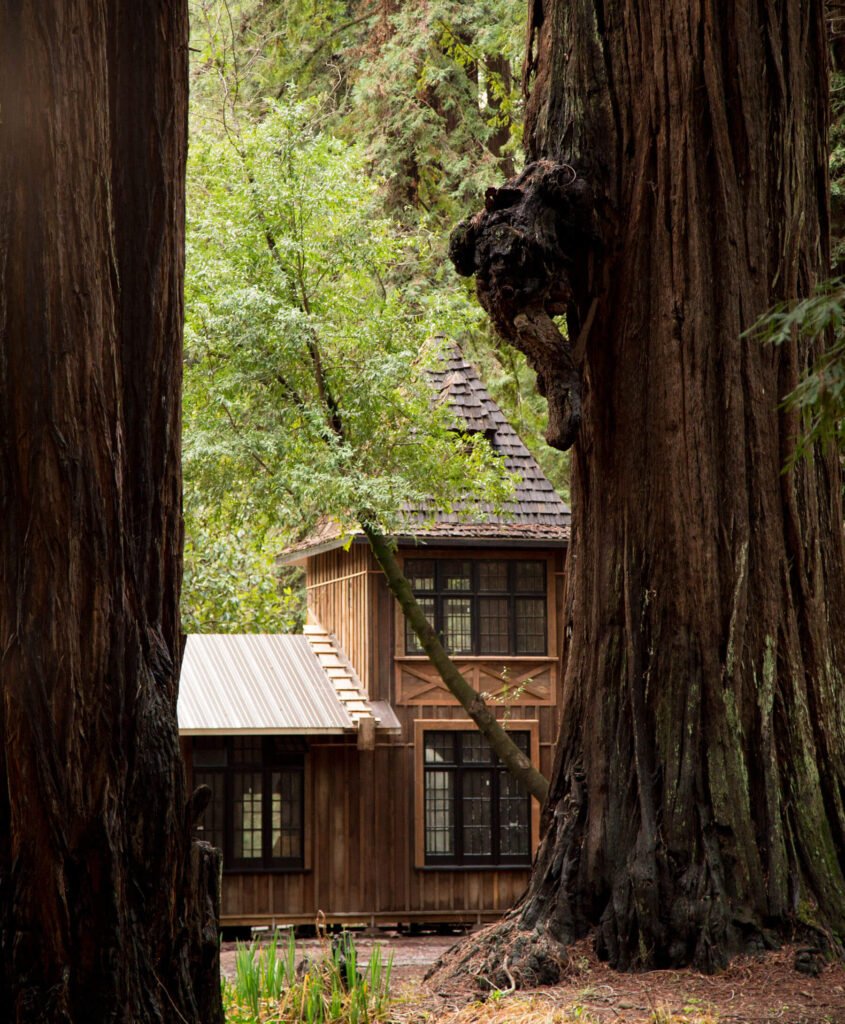 Milla Handley, who passed away last year, became the first woman winemaker in the United States to establish a namesake winery when she founded Handley Cellars in 1982. She was passionate about international folk art and you'll see examples from several continents. Set above the valley, the winery is a particularly scenic spot for a picnic with its old barn and water tower.
A Toulouse is a massive breed of goose with ganders weighing 26 pounds. Toulouse is also a play on words for Toulouse Vineyards owned by Vern Boltz, a retired captain in the Oakland Fire Department, and his wife, Maxine. When they moved to Anderson Valley, they had nothing "toulouse." The view from the outdoor tasting area is spectacular.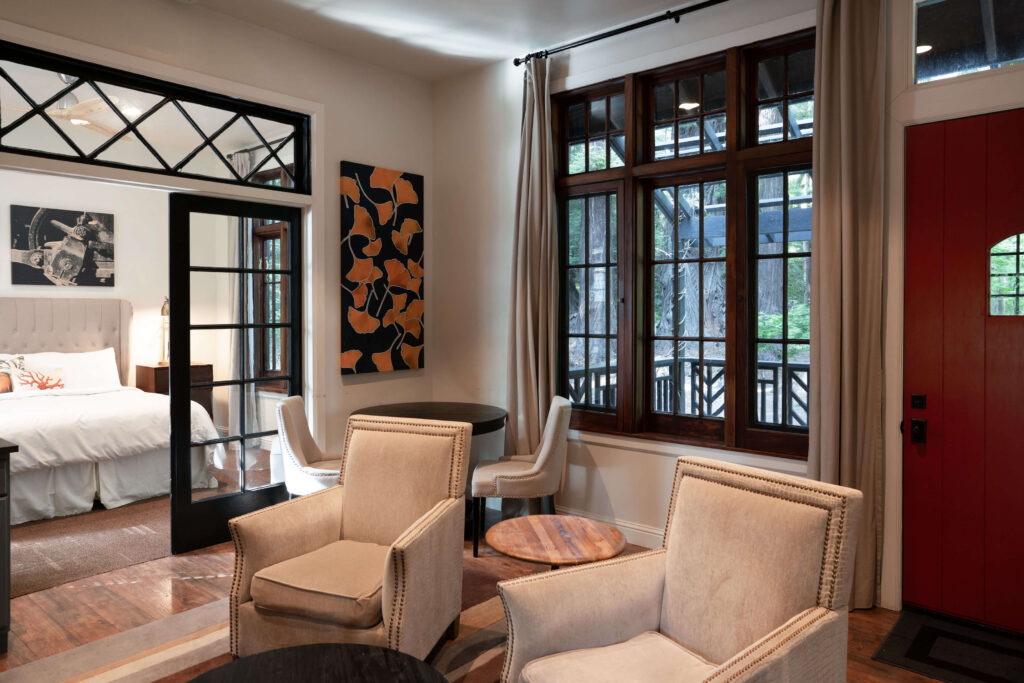 The 208-acre Lichen Estate, owned by Doug and Ana Lucia Stewart, is all about Pinot—both Pinot Noir and Pinot Gris. Stanford grad Doug is a serial entrepreneur as well as winery owner. The three-bedroom house located on their property is available for rent and just minutes from Boonville.
Surrounded by a pretty garden, Goldeneye Winery offers a special tasting option not available anywhere else in the valley. It includes glasses of the 2016 and 2017 Goldeneye Anderson Valley Brut Rosé paired with Tsar Nicoulai Reserve Caviar. It was the perfect conclusion to our Anderson Valley tasting experience.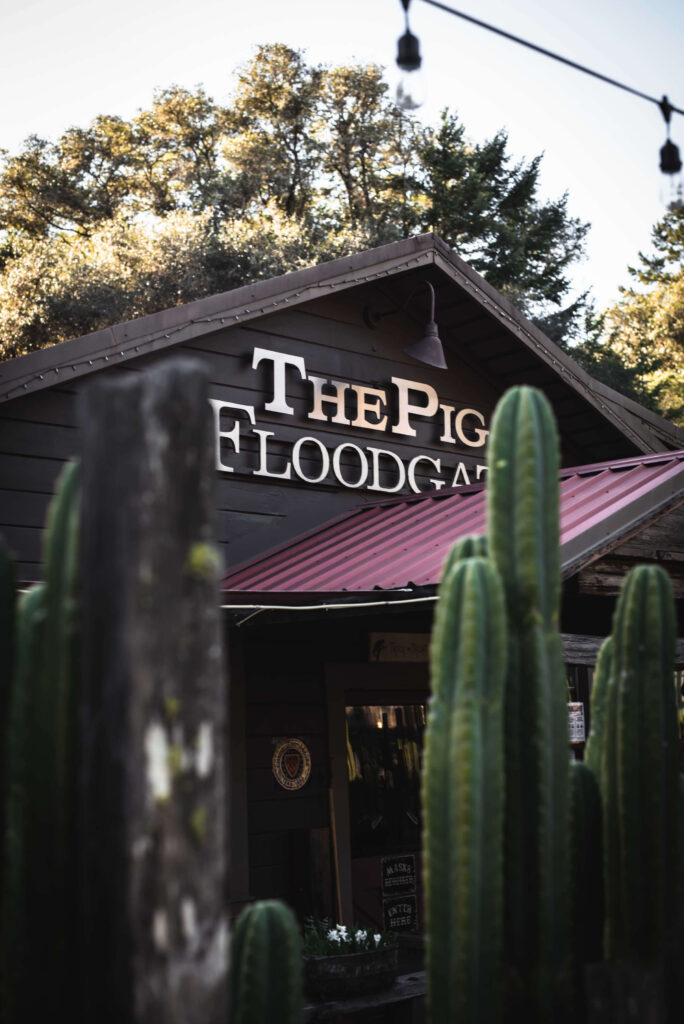 Elevated Dining & Lodging
Not too long ago, options for fine dining and luxe lodgings were scant in the area. Yes, you could enjoy a hearty chicken pot pie—quite tasty!—at locals' favorite Lauren's in Boonville, along with yummy shrimp tacos on Mexican food Mondays.
That changed with the opening of The Madrones, a stylish lodging/restaurant/shops complex in Philo that reflects the personality of owners Jim Roberts and Brian Adkinson, thanks to the stone and metal sculptures scattered around the grounds. 
Jim and Brian became curious about the abandoned property just across Indian Creek from The Madrones—in particular, a redwood grove punctuated by what they call "The Pachyderm," a redwood that's 11 feet in diameter and probably close to 700 years old with an elephant-shaped burl.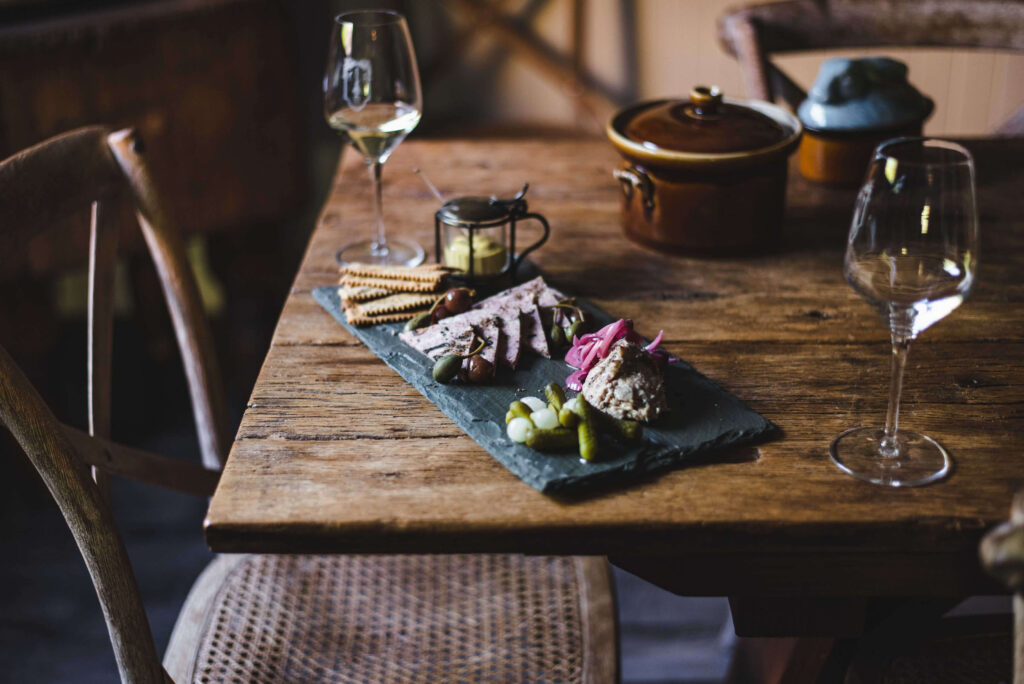 In 2017, the two unveiled The Brambles, a cluster of cozy cabins tucked in the woods. We looked out at "The Pachyderm" from our room, The Front Door. Adjoining rooms are The Back Door and The Perch. All three have a bit of a fun lost-in-the-forest feel.
Wickson is the restaurant part of The Madrones complex. Who knew nettles would make such yummy pizza?
There's also The Bewildered Pig, housed in an old loggers' bar and general store on the outskirts of Philo, opened in 2016 by chef Janelle Weaver and her partner in life and work, Daniel Townsend. It's a feast for the senses, which encompasses the food, along with a magical wonderland of Daniel's creations made from found materials.
The Bewildered Pig offers a seasonally-driven five-course chef's tasting menu with optional wine pairing. It's a good bet you'll also find Janelle's housemade pâté and rillettes in the larder.  
Cider, Beer & Cannabis
Anderson Valley has long been known for its apples and beer, along with its largely-hidden fields of cannabis. 
Six generations have farmed apples at Gowan Orchards. The family planted the rare Sierra Beauty variety in 1906, which is still used to make wine-style hard apple cider. Sweet (non-alcoholic) cider is produced as well. A new experience is cider tasting in Gowan's 100-year-old orchard held Friday, Saturday and Sunday; reservations required.
You're likely to find Anderson Valley Brewing Company's Boont Amber Ale in Peninsula supermarkets. But you'll need to travel there to enjoy its newly-opened, 30-acre dog- and family-friendly "Beer Park" that includes a disc golf course, bocce courts, cornhole and Adirondack chairs for relaxing. The summer brings live music and a new culinary garden.
A note about that elusive cannabis. We saw nary a field. We were told that no retail stores are allowed in Boonville. Billing itself as an "herbal apothecary," The Bohemian Chemist located in The Madrones complex sells edibles, topicals and tinctures. Given that Mendocino County's tagline is "Find Your Happy," we're betting that a little hunting will yield even more discoveries.