If you've glanced at the holiday window displays of Williams Sonoma over the years, you've already seen the artful work of local designer Jennifer Carruthers. 
Handcrafted aromatic bay leaf wreaths. Freshly-cut evergreen garlands accented with crimson pepperberries. Colorful eucalyptus and pomegranate centerpieces. 
"Whenever I make something for the holidays, I make it as if I am creating it for myself and make it as beautiful as it can possibly be," says Jennifer. This mindset is the secret ingredient that sets her work apart as she weaves deep green magnolia leaves and olive branches into festive, eye-catching designs. A Peninsula native, Jennifer's floral creations grace prominent retail displays, deck the pages of upscale catalogs and inspire lines at local farmers markets.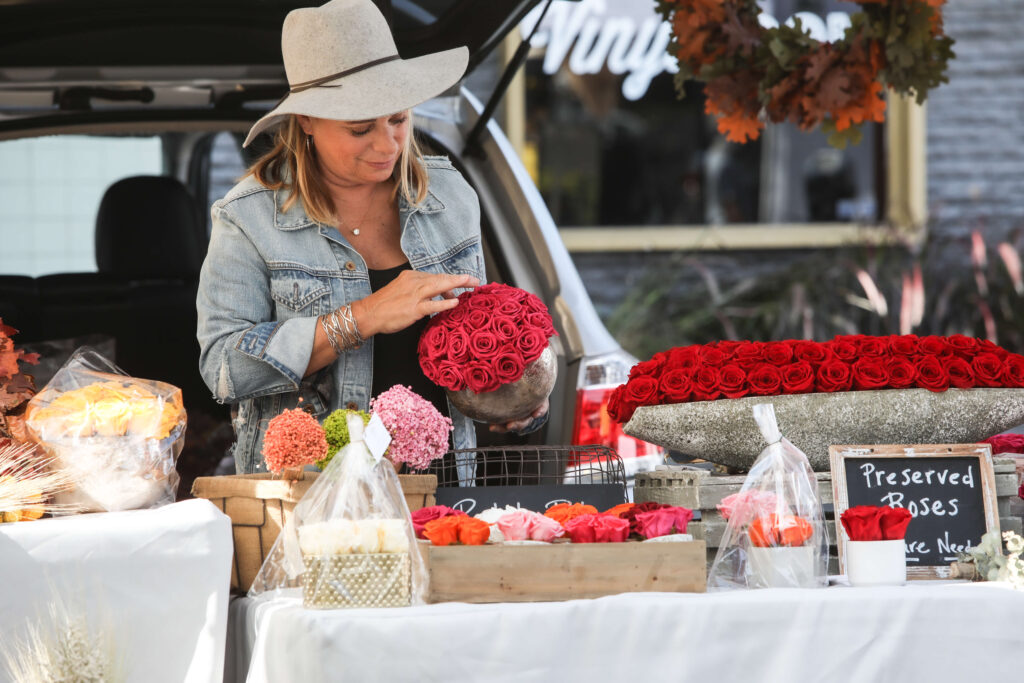 A recent Sunday finds Jennifer in Burlingame, surrounded by hanging natural wreaths and freeze-dried rose arrangements. She looks at home engaging with her customers, as she's done season after season. "It's like a family," Jennifer notes, as a group begins to gather at her colorful booth. "People come here to support local artisans." Rarely missing a market in Burlingame or San Mateo on the weekends, she appreciates the personal connection that keeps her in touch with colors and styles that appeal most.
Growing up in Foster City, Jennifer channeled her early creativity into oil painting with weekly lessons stretching from second grade through high school. "I was the youngest member of the Burlingame Art Society," she recalls. "I would enter my paintings in the San Mateo County Fair and even had a painting in a local museum." The color and texture of oil painting appealed to her but Jennifer eventually replaced painting with floral design. "I am inspired by color and new materials." she explains. "I have always been good with my hands and fell in love with working with flowers."
While attending San Mateo High School, Jennifer honed her design skills working at flower shops and often donated her arrangements to a local church on Sundays. Admirers took notice of her artistic touch with blooms and began hiring her for weddings and parties.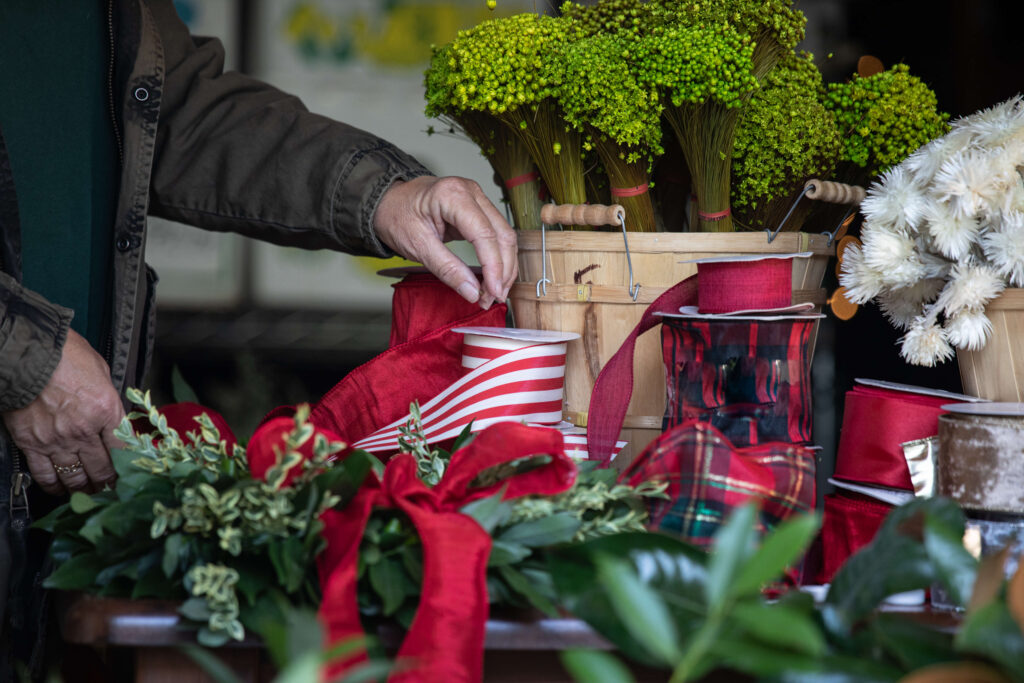 After high school, Jennifer ventured to Southern California where she earned a business degree at Biola College. Determined to make a career out of floral design, she returned to San Mateo and opened her own flower shop and greenhouse on 3rd Avenue. With soft music playing in the background, Jennifer found the solace and space to nurture imagination and experimentation. "I had a lot of time at my flower shop so I started putting dried flowers and wreaths together," she says, which led to a professional epiphany. "People were more interested in the dried wreaths and flowers than fresh," she discovered. "I decided to make appointments at Gump's and Nordstrom. I walked in with all of these wreaths and it was instant orders. People even stopped me on the streets." 
Working solo soon gave way to the demand of Jennifer's growing business and she hired a team to help. With that, J Carruthers Floral was born. Orders came in from large retailers such as IKEA, which had not even opened on the West Coast at that time and Jennifer quickly scaled to needing a warehouse. Today, having perfected her craft over decades, Jennifer beams with satisfaction, noting that dried flowers have come full circle again as the mainstay of home decor and wedding floral design. "Dried flowers are making a big comeback," she says, "and it's exciting to see how people are responding."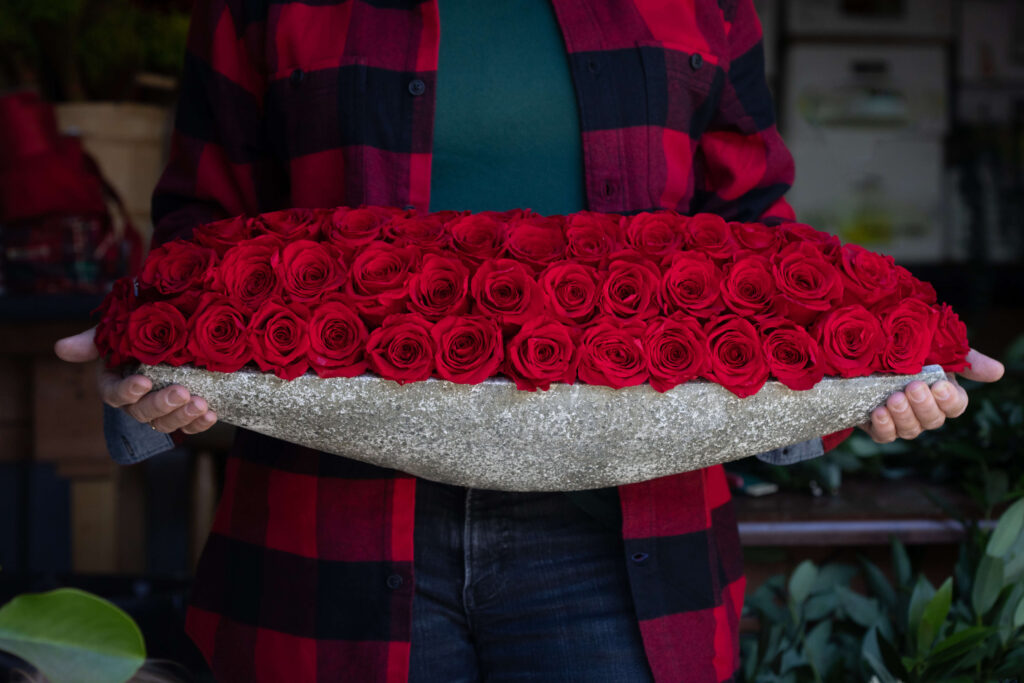 Jennifer also takes pride in the fact that J Carruthers Floral maintains its local roots, with most of the flowers and foliage sourced from small farms in Half Moon Bay or Pescadero. 
"I like to support the farmers and give them a fair price," she says. With such an abundance and variety of flowers grown on the coast, Jennifer regularly hangs and dries yarrow, statice and blue thistle in her workshop. "It's fun to get the fresh flowers and greenery foraged in Half Moon Bay or brought into the San Francisco Flower Market," she shares. "I enjoy spreading it all out and putting everything together to design extravagant wreaths that smell amazing."
When it comes to decorating for the holidays, Jennifer recommends getting outside to find inspiration in nature. "I like to go on hikes and observe the greenery, pinecones, mosses and bird nests—think about bringing the outdoors inside," she suggests. For modern homes, she advocates using foliage with a lot of texture and contrast and in traditional homes, she advises that displaying an arrangement with one pop of color works best. She also encourages visits to the San Francisco Flower Market, which is accessible to non-badgeholders during public hours.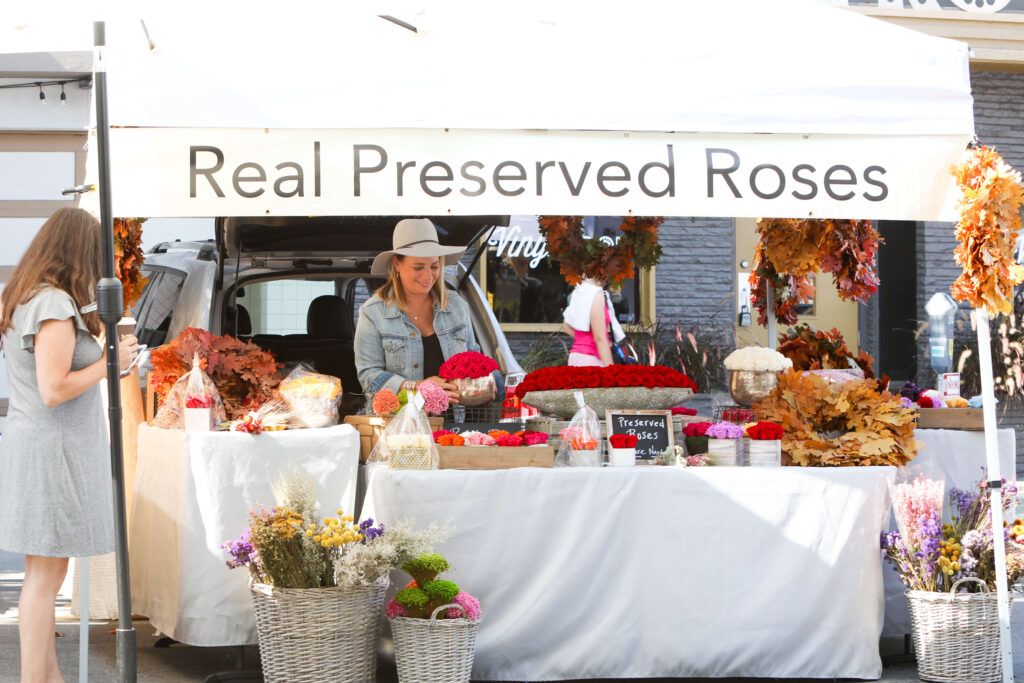 Jennifer continues to stay at the forefront of dried floral design but she's confronted her share of challenges. As a recent cancer survivor, she credits her four sisters with providing invaluable support and help with the business. At one point, Jennifer recounts, her identical twin filled in for her at work and some customers never knew there had been a sibling switch. 
Happily greeting familiar faces in Burlingame, Jennifer meticulously wraps a bow around a rose arrangement as she soaks up the market's energizing spirit. "I just want to be surrounded by my flowers," she muses. "I love the holidays because people enjoy buying gifts for people they care about."