Words by Christina Chahal
It's official: the Peninsula has a hip new cocktail lounge that will tempt you out of your cozy nest and into theirs. Perched on a section of San Mateo's B Street that's permanently closed to cars, Fogbird emerged phoenix-like in early 2022 with a fresh look, menu and logo—a seabird aptly called Buzz.
"If you know us, you know we love to throw a party," say Fogbird's founders, David and Susan Hunsaker. "Our focus is people feeling welcomed and if you're coming into my space, you are my guest." In that spirit, the Hunsakers designed Fogbird to be a warm space where you can connect with your people and, according to Susan, "Feels like ahhhhh."
That ahh feeling is abundant at Fogbird, where you're immediately enveloped by the light and airy ambiance, a look imagined with the help of designers Je Anne Ettrick and Laura Sears. The duo transformed the space from a dark, dusty tiki bar into a comfortably elegant lounge. Fogbird's interior features soaring ceilings, an original brick wall and a nine-foot-high bar flanked by fern wallpaper from House of Hackney. The lounge seating is surrounded by living trees and plants. The Hunsakers get so many compliments on the paint scheme that they have the color on the tips of their tongues—Benjamin Moore's Galápagos Turquoise—a nod to both the Pacific Ocean and the Northern California coast where they found the inspiration for their business.
"We love sitting on the beach in Carmel and watching the mist, that feeling of La Dolce Vita we experienced in Italy," waxes Susan. "Places where time stands still and there's that sense of beauty, both romantic and inspiring." Their goal was to capture the outdoor spaces they love and bring that feeling indoors to Fogbird. "The essence of what we're trying to achieve is respite," notes Susan, "the feeling that you have no cares in that moment, a Fogbird moment."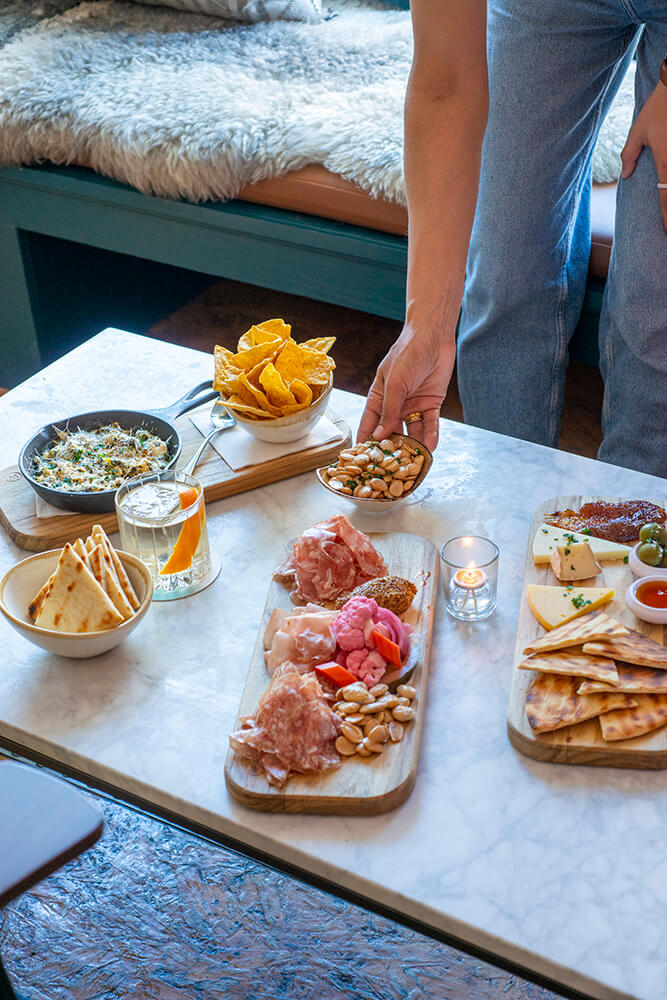 Creating a Fogbird moment starts with one of their signature tongue-in-cheek cocktails, like the Oaxacan After Midnight or the Swan Song. "Of our top sellers, 8 out of 10 are signature drinks; it's a really well-rounded list, including classics too with their own little twists," notes David. "Ultimately, we wanted it to be fun and thoughtful without being overly pretentious."
To create the perfect bar menu, they put together a list of small bites like their top-selling warm artichoke dip and warm pretzel sticks. They also have a mushroom flatbread, everything chosen to go well with their drinks.
Fogbird's cocktail program, created under the direction of veteran Bay Area bartender Nikki Molinari, puts emphasis on the details. With a lot of prep done in advance, the execution is fast so you're not waiting a long time for that first sip. Nikki also utilizes modern techniques to amp up the natural flavors, such as the sous vide grapefruit used in the Fogbird Paloma. "I like the way chemistry has come into the bar scene," notes Nikki. "In order to pull out the flavors you're looking for, like with berries, if you cook them it tastes like jam, but with sous vide you get the freshness and fresh taste."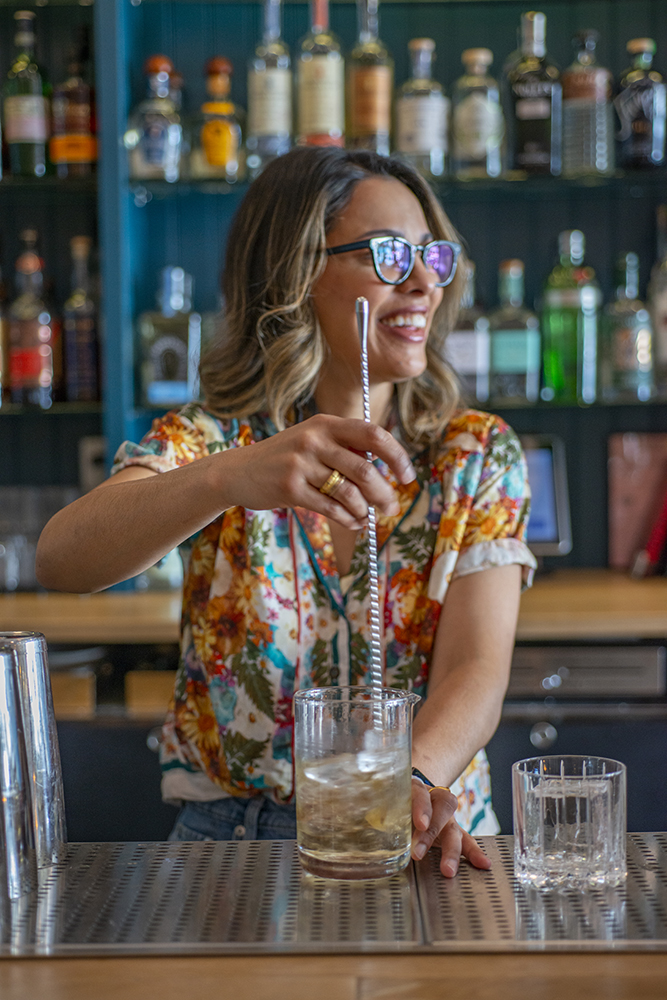 Nikki describes Fogbird's clientele as a broad mix of professionals who've moved to the area and are now going back into the office. "We notice a lot of overflow from the offices, a return to let's-grab-a-drink-after-work, getting back into that routine." Nikki also teamed with the Hunsakers at their previous hospitality venture, the much-loved and now shuttered 31st and Union restaurant around the corner. It was a labor of love that attracted a loyal base of patrons for almost a decade, and when it closed, David and Susan knew they weren't done just yet.
"We realized we don't need a lot of space, but we do need to be connected to our community," relates Susan. "Fogbird's both a business and a passion project." It's also a natural extension for the pair, who deeply embrace their entrepreneurial roots. "David and I are each third-generation entrepreneurs," shares Susan. "Both of our dads owned their own businesses—it's who we are and what makes us tick." They say they learned a lot about business sitting around the dinner table, including the importance of "hiring nice people and treating them like family."
At Fogbird, that entrepreneurial spirit can now be purchased by the can—a line of ready-to-drink versions of its best cocktails rolling out this year. Fogbird also offers both in-person and virtual cocktail classes, which they describe as perfect for corporate team building or as a unique experience to mark a friend or family celebration.
At work, the Hunsakers divide and conquer with David acting as the "front of the house guy" and doing 70% of the operations while Susan executes the marketing. Observes Susan, "We're both wired really differently. Give David a huge checklist and it's done in hours; give it to me and it'll take to the next day."
In addition to hospitality, Susan's background is in education, executive training and coaching, and David worked in sales. They're both California natives—Susan grew up in Belmont while David's from Orange County—who met while at Loyola Marymount University in Los Angeles. The Hunsakers have been together 25 years, living first in San Francisco in their 20s before raising their kids in Burlingame. If they're not with their children or working, they say they love to travel, play golf and are more than a little obsessed with pickleball.
And right now, they're embracing Fogbird's launch and the promise of a successful flight. "It's the culmination of the things that we've been working on for so, so long," emphasizes David. "We feel like this is it, like we've got something really special to share, right here, in our own little corner of the world."