Whether it's Farm-to-Table or Slow Food, the trend is fresh, clean and organic. But what about our fish? How do we know where it's coming from—and if it's even local?
Enter Charlie Lambert and Ian Cole and their joint venture, Ocean2Table.
Charlie (originally from Woodside) and Ian (originally from Palo Alto) grew up with a passion to fish at an early age. Introduced to trout fishing by his father, Charlie started casting a line at a lake by a family cabin in the Mendocino National Forest. Ian credits his fishing prowess to his years as a Boy Scout.
"I was lucky enough to have a troop leader to wake me up at 4AM and fish for trout in the High Sierra," Ian says.
Both have lasting memories of fishing in their youth. Their interest led them to UC Santa Cruz to pursue degrees in environmental studies, where they eventually met and became friends over fishing and surfing.
After graduating in 2010, Ian joined the National Marine Fisheries Service as a fisheries observer. Charlie graduated the following year and began working with the Department of Fish and Wildlife out of Monterey. While Ian monitored commercial fishermen, Charlie helped sample what local recreational fishermen were bringing in. Individually, they began to question the local impact and where the catch ended up. As Ian recalls, "We were having lots of these questions at jobs that were related but run by different departments. Where is all this fish going? Why is it not showing up in local markets?"
The two spent time delving deeper and bouncing ideas off of each other. "A lot of people are really conscious in the Bay Area of where their vegetables are coming from but the fish supply chain is complicated and hard to understand," Ian says. "The main problem we were seeing was that the vast majority of what was being caught locally was being exported overseas. And the vast majority of what we were consuming in California is imported," Charlie adds. "Which doesn't make sense to us. There is all this delicious local fish that is being landed right here."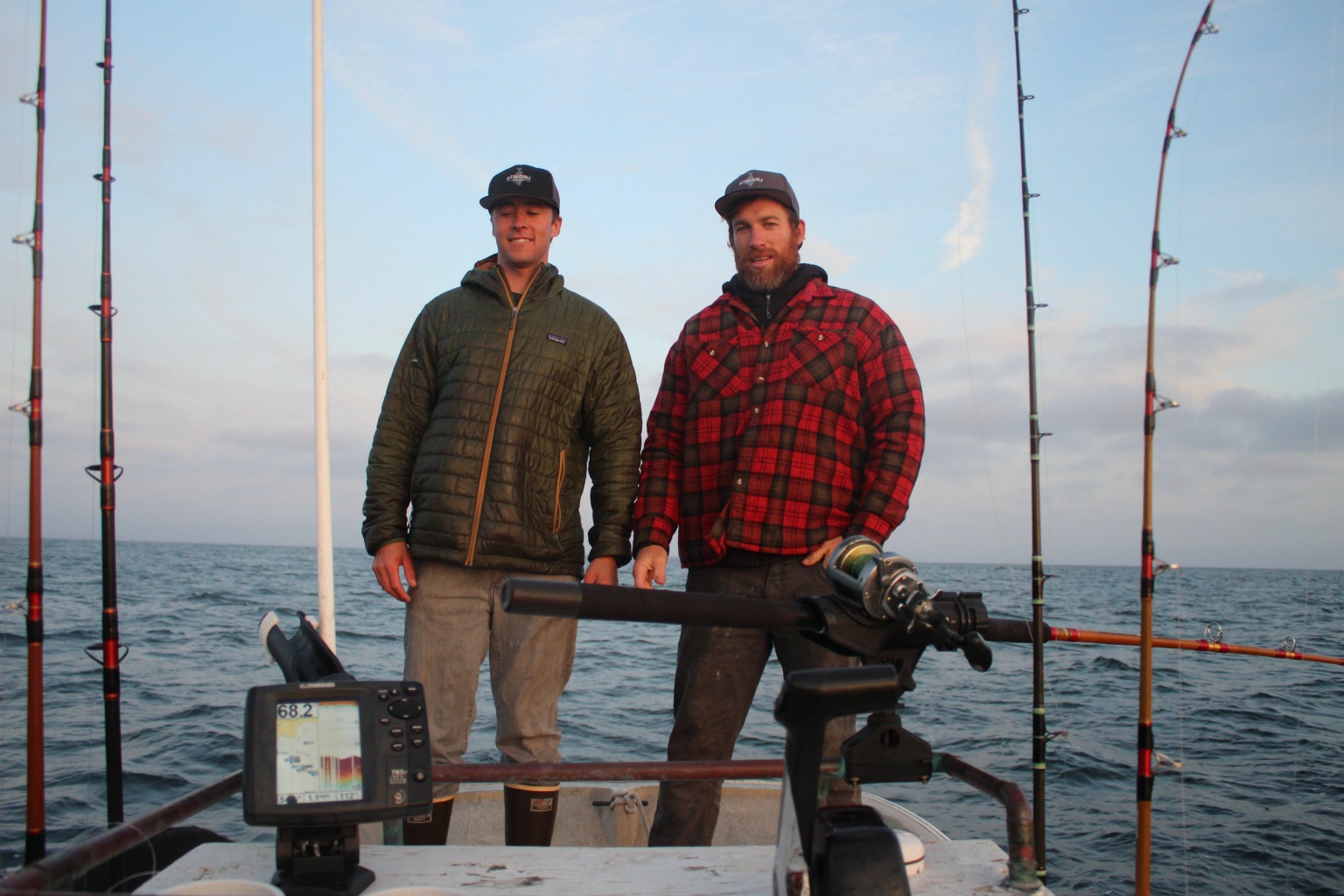 That disconnect—the abundance of locally-caught wild fish with limited local consumer access—triggered an idea. "Charlie and I had the opportunity to bring some change by making this traceable, local, environmentally conscious fish available to the public and increase demand for these species that are under-loved," Ian says. Examples include sablefish, pacific sanddabs, California halibut, rockfish, petrale sole and spot prawns.
To get the plan launched, they connected with Steve Fitz, captain of the Mr. Morgan boat that became the cornerstone of their business. Charlie and Ian credit Steve with bringing the Scottish Seine technique, a lesser-known, sustainable fishing method, to the West Coast. Using a smaller net, the technique is more efficient and less damaging to the ocean floor habitat compared to traditional trawling that grabs anything in its path. This method has resulted in a 0% Rate of By-Catch, or zero discarded catch of unwanted species.
In late 2013, Ian and Charlie began testing interest in door-to-door distribution to 10 friends and family members in Santa Cruz and Palo Alto. Based on the positive response, the duo left their jobs and co-founded Ocean2Table in early 2014. With the motto "From the Boat to Your Table in One Day," the business began to grow steadily. They next introduced an e-newsletter summarizing the latest catch, scaling up from 400 email recipients in 2014 to the current 5,000.
To keep pace with demand, after starting with six boats (including their own 17-foot skiffs), Ocean2Table now has 30 boats providing fresh, wild-caught local seafood. In addition to a healthier Rate of By-Catch, Ocean2Table is staying up with the leading factors of how the sustainability of any fish species is being measured: the gear and methods used, the amount caught and remaining population.
With many locals already familiar with popular Community Supported Agriculture (farm box) programs, Ocean2Table became one of the first CSFs (Community Supported Fishery) in the state. They are regulated by the California Department of Fish and Game with seafood availability determined by what is being harvested during that season. Everything is sold the day after it is caught. "We want people to get the fish as fast as possible," Ian emphasizes. "We don't freeze anything. It's delivered fresh."
Ocean2Table delivers online fish orders direct to doorstep or via numerous pickup locations in San Mateo and Santa Clara counties, including Los Altos, Palo Alto, Menlo Park, San Carlos and Belmont. Their business has also caught on with top chefs on this side of the hill at notable restaurants such as Taverna in Palo Alto, Flea Street Cafe in Menlo Park and Manresa in Los Gatos.
The net-net is a win-win: a healthier ocean ecosystem, a more reliable marketplace for local fishermen and fresher seafood options for the Peninsula.
get hooked
make it
Ian's Famous Miso-Marinated Sablefish
Ingredients
¼ cup red or white miso paste
¼ cup sake
2 Tbl mirin
2 tsp soy sauce
1 Tbl vegetable oil
⅛ cup sugar
4 black cod (sablefish) fillets, 5 to 6 ounces each
Directions:
Whisk together miso, sake, mirin, soy sauce, oil and sugar. Rub mixture over every surface of the fillets. Transfer to a sealable plastic bag or container. Proceed immediately to the next step, or for best results, marinate for about 30 minutes or up to two days.
Adjust broiler rack to 4 inches from heat source and preheat broiler or toaster oven broiler to high. Cover a small broiler pan with aluminum foil. Place fillets skin side down on pan. Broil until top surface is well charred and a thin skewer inserted into fish shows no resistance at all when piercing through layers of flesh, about 10 minutes. If any areas of fish threaten to burn, shield with small pieces of aluminum foil.
Alternatively, cook on mediumhigh heat in a non-stick pan.
When fish is cooked, carefully remove pin bones with a pair of tweezers (there should be no resistance), and serve immediately.