Words by Sheri Baer & Ana Picazo
As Peninsula gardens come alive with a splash of spring colors, don't be concerned if you see a silver Prius casing the neighborhoods of Palo Alto.
"I drive up and down every street looking right and left," says Dee Gibson about her seasonal ritual. An avid gardener herself, Dee has a clearly-defined mission: Identify five beautiful, show-stopping gardens to spotlight in Gamble Garden Spring Tour, the primary fundraiser for the historic two-and-a-half-acre property.
Free and open daily during daylight hours, Gamble is a go-to spot for relaxation, inspiration and education as well as a spectacular photography backdrop for every imaginable milestone.
However, back in 1981, when Elizabeth F. Gamble, the granddaughter of the co-founder of Procter & Gamble, bequeathed her house and garden to the City of Palo Alto, the local landmark's future was rooted in uncertainty. The gift came with minimal guidance and no plan for how to fund its upkeep. In 1985, after lengthy debate, the decision was made to turn Gamble Garden into a nonprofit public garden, with restoration and maintenance to be entirely supported by private donations. The idea for the Spring Tour germinated that very same year.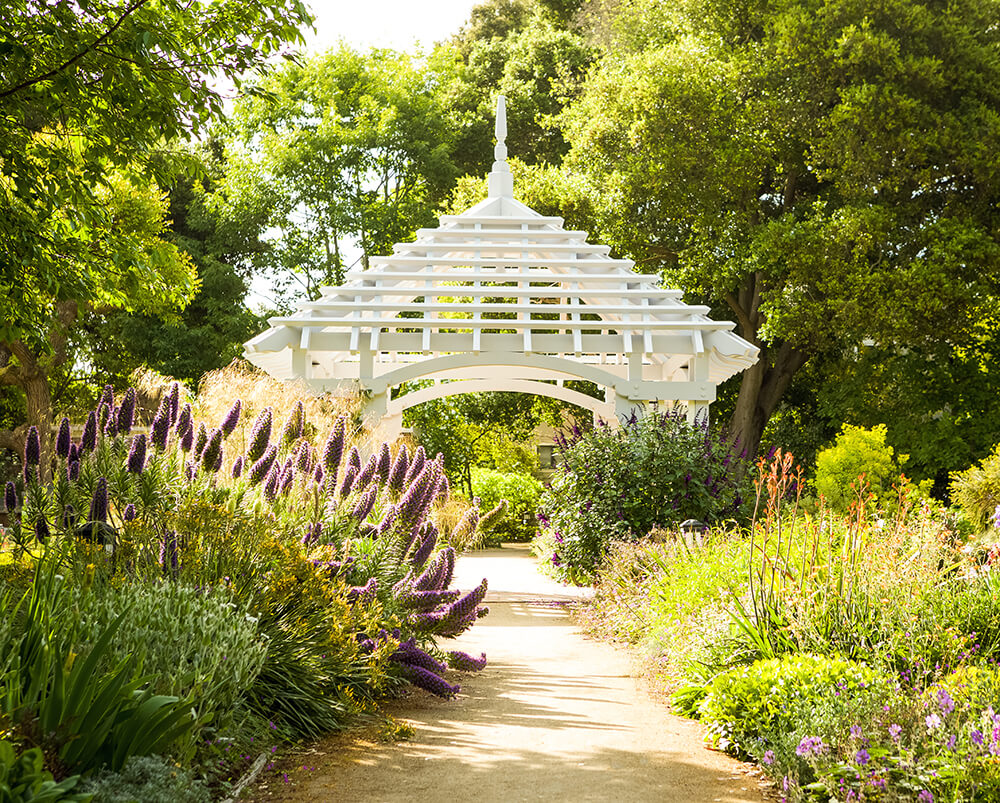 Closing in on four decades now, the ticketed event includes access to five private Palo Alto gardens, along with a host of free community, shopping and horticultural activities at Gamble Garden. "The stewardship of the property is taken very seriously by this group—we're committed to keeping our garden thriving as a place where people can go 365 days a year," says Spring Tour co-chair Debbie Bensen. Debbie's Spring Tour counterpart, Robin Allen, echoes the sentiment: "We think of ourselves as a hidden gem in Palo Alto."
Representing the Spring Tour selection committee, Dee explains what happens when she spots a potential candidate. "I knock on the door, and I say, 'You have a lovely front yard. Now may I see your backyard?'" Partnering with homeowners eager to support Gamble's cause, the highly-curated result reflects a mix of styles—traditional to contemporary to drought-tolerant—and a diverse selection of plants, many available for purchase back at Gamble Garden. "If you see something you like and think, 'I wonder where they got that?' you'll be able to buy it," shares Dee, who will be hitting the road again soon, with an eye out for 2023.
"I'll be looking as soon as the tour's over," she confirms. "Since the tour is in the spring, it's very important to see what gardens look like in the spring." For a sampling of what to expect, enjoy this PUNCH preview.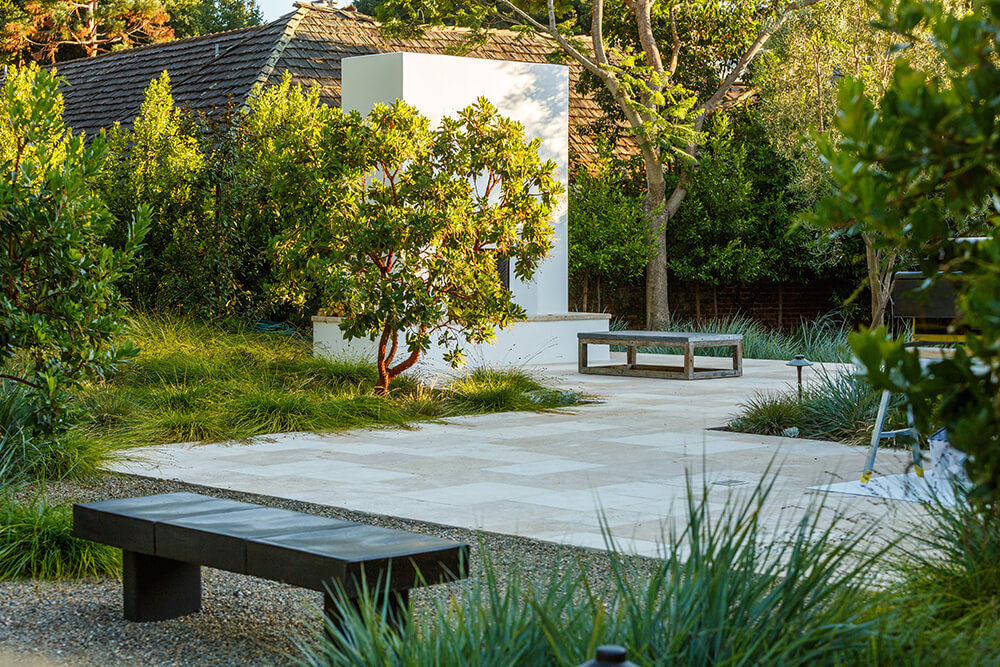 A Sense of Place
Arterra Landscape Architects
This sophisticated garden was designed to complement a historic 1930s Spanish home while reflecting the homeowner's modern lifestyle. The updated landscape preserves its park-like beauty through a sequence of outdoor spaces that progress from formal to informal, moving outward from the house. Highlights include a courtyard garden with a central reflecting pool, a meadow of native no-mow grasses and a woodland garden with a heated bench under the shade of a 100-foot-tall coast redwood. A cool, neutral palette extends throughout the garden, which features California native plants and Mediterranean plants suitable for our climate. Low-maintenance, drought-tolerant plants emphasize form and texture over floral display. The lush, natural landscape offers a strong sense of place and a calm refuge for family and friends.
Entertaining Haven
Thomas Klope, Thomas Klope Associates
This historic home features a majestic deodar cedar, gnarled old oak, manicured front lawn and allée lined with agapanthus and boxwood. Despite the home's formal lines, relaxed family living is celebrated and cherished, as evidenced by the tree swing and mini-obstacle course hanging from the branches of the giant cedar, and the treehouse with a fireman pole and pulley system nestled in the branches of the oak. Magnolias and pittosporum shield a side yard from the din of busy neighboring streets, creating an oasis that invites recreation and enjoyment. Within the yard, a solar-heated pool and pool house provide all the amenities for adult gatherings and teen hangouts. French doors connect the main house to an outdoor terrace and nearby fire pit, allowing for seamless indoor/outdoor living and entertaining.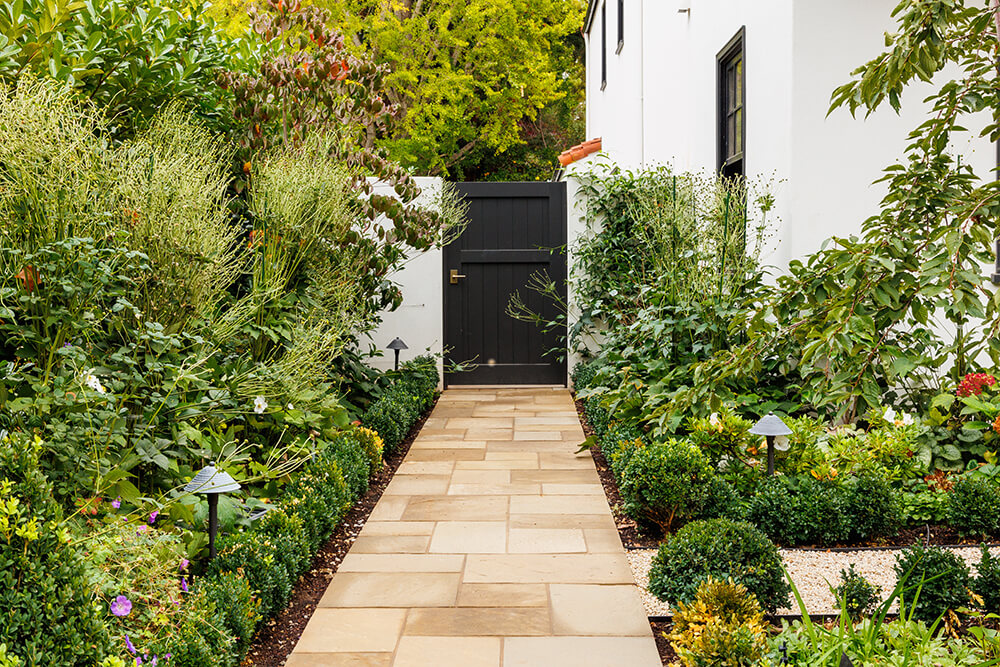 Palo Alto Classic
Catherine Garber, Fergus Garber Architects, Katsy Swan Landscaping
A sense of sanctuary, a love of nature and an appreciation for classic style are reflected throughout this recently remodeled 1920s Birge Clark home. English laurels and stucco walls, softened by Virginia creeper vines, surround the property and give it the feel of a secluded private getaway. A custom-built gate at one corner reveals a cozy seating area featuring cushioned chairs and a stone fire pit. An old flowering cherry tree serves as a picturesque backdrop to this enchanting space. A pool and fountain serve as focal points for the backyard, drawing friends and family outdoors to gather and relax. New plantings blend in perfectly with existing landscaping, giving the property a refreshed atmosphere while maintaining its original character. An abundance of flowers including roses, camellias, azaleas, lavender, winter daphne and star jasmine provide heavenly scents all year round.

Whimsical Cottage:
John Black, Verdance Landscape Architecture
A winding path makes its way throughout this garden, connecting multiple gathering areas with playful touches and eye-catching gems at every turn. A terra cotta path and Provence lavender at the front of the property pay homage to the family's Gallic heritage. Style meets function in curving planter boxes, a grape stake fence and bicycle rack sculpture. Points of interest include a repurposed Talavera tile birdbath, a back wall filled with driftwood sculptures and graffiti art and a custom-built steel pergola with cutout designs that cast gorgeous patterns of sunlight. Natural elements—ranging from columnar apple trees and creeping fig vine to giant ferns and giant redwood trees—offer an abundance of beauty. It all adds up to a garden that's as pleasing to look at as it is to spend time in.

Zen Palette:
Sutro Architects, Ground Studio Landscape Architecture, Fox Landscaping
Sleek, modern simplicity, a monochromatic palette and free-flowing spaces characterize this garden designed for family living. The homeowner's modern aesthetic is reflected in the home's custom-made steel gates, open floor plan and clean, simple lines. Plant variety is kept to a minimum but repeated in abundance to maintain a consistent look and feel. This repetition of elements is evident in the paved pathways that traverse the property and in the undulating kurapia grass that anchors the front and backyards. A contoured hillside with a dramatic slice-through defines the property and provides separation for a tranquil retreat amidst the hustle and bustle of Silicon Valley. An in-ground trampoline and zip line are seamlessly incorporated into the landscape, making this a place where children can truly play, while still staying true to the homeowner's minimalist style.
Website: www.gamblegarden.org/springtour