Whether muddling, garnishing or infusing, use the flavors and colors from your garden to enhance and balance your summer cocktails. PUNCH photography director and food editor Paulette Phlipot spotlights delicious concoctions you can make at home or order from your favorite local establishments. And be sure to check out Paulette's book picks for even more ways to bring your garden into your glass!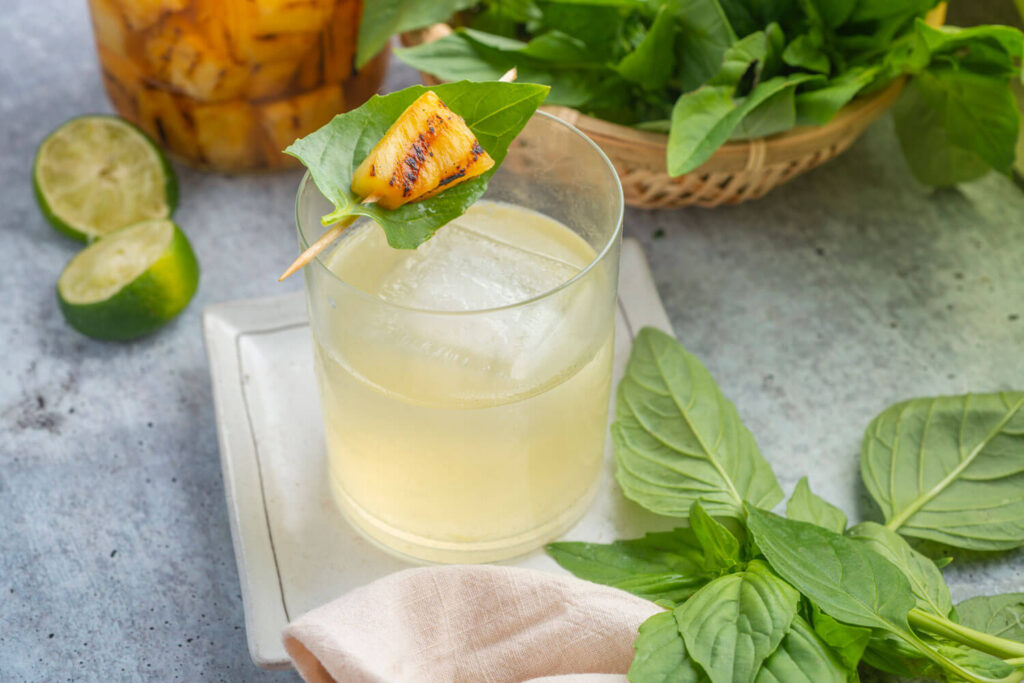 Vina Enoteca
vinaenoteca.com
Vina Enoteca is a full-service Italian restaurant and bar located at the Stanford Barn in Palo Alto. Bringing the rustic charm of Italy to Silicon Valley, Vina Enoteca currently has a range of offerings including outdoor dining, curbside pick-up, delivery, Zoom wine tastings and cocktails to go.
Pineapple Tommy's Margarita
Created by: Vina Enoteca mixologist Massimo Stronati
A refreshing twist on a classic margarita using fresh ingredients and fresh basil.
Serves 1
1⁄2 oz lime juice
1⁄2 oz agave syrup
2-3 basil leaves
2 oz pineapple tequila*
Large ice cube
In a shaker, shake lime, syrup, pineapple tequila and two basil leaves. Strain and serve in a double old fashioned glass with a large clear ice cube. Garnish with a fresh basil leaf and pineapple.
*Pineapple Tequila
3 cups blanco tequila
1 fresh pineapple
Air-tight container, like a mason jar
Remove the skin and core the pineapple, cut it into chunks. Place the pieces into an airtight container like a mason jar and cover with tequila. Seal the container and place in the refrigerator for at least one week. For a hint of smoke, grill the pineapple prior to soaking. When ready to use, strain the tequila.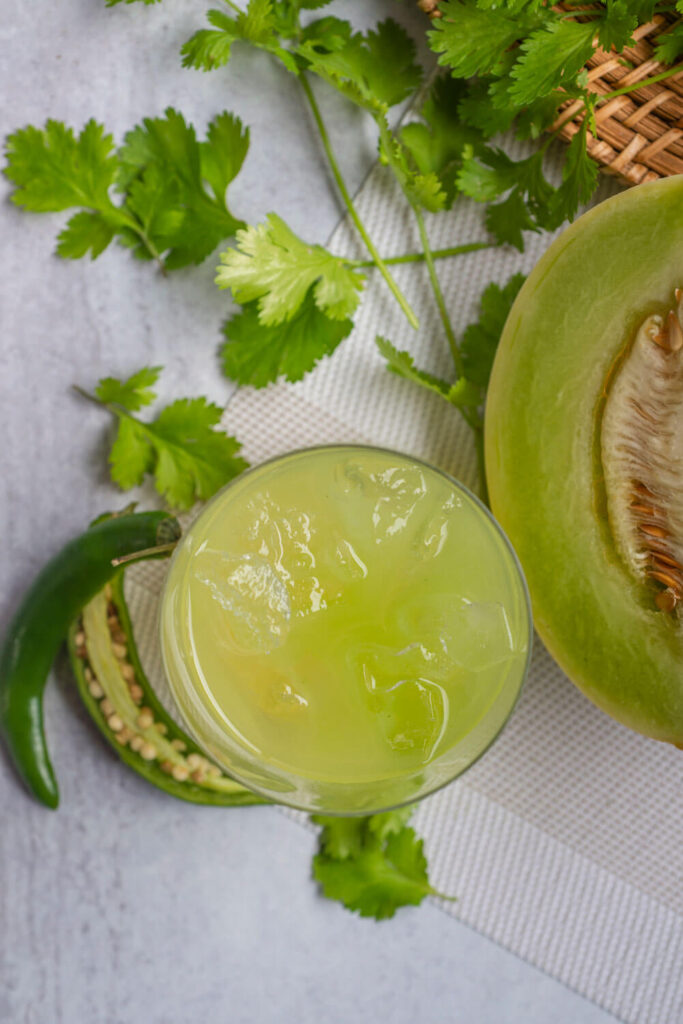 Barrelhouse
barrelhouseburlingame.com
Welcome to the Peninsula's neighborhood bar! Located in Burlingame and specializing in craft cocktails, Barrelhouse boasts one of the largest selections of beer, wine and spirits you'll find locally—with charcuterie and a carefully curated cocktail menu available for patio dining and to-go orders. 
El Jardin
Created by: Barrelhouse co-owner Juan Loredo
Serves 1
1 1⁄2 oz blanco tequila infused with
serrano pepper*
1 oz melon, cucumber,
cilantro purée/juice
3⁄4 oz agave
1⁄2 oz lime juice
1⁄2 oz  lemon juice
Ice
Add all ingredients into shaker and shake with ice. Double strain into glass filled with ice.
*Place 1⁄2 serrano peppers (including seeds) into a 750ml bottle of blanco tequila. Infuse for two days. Strain peppers and seeds.
Honeydew, Cucumber and Cilantro (puree/juice)
Save the rest for later.
2 1⁄2 lbs honeydew melon, cut into one-inch pieces
1 English cucumber, peeled and cut into pieces
1⁄3 cup (packed) cilantro
3 Tbl fresh lime juice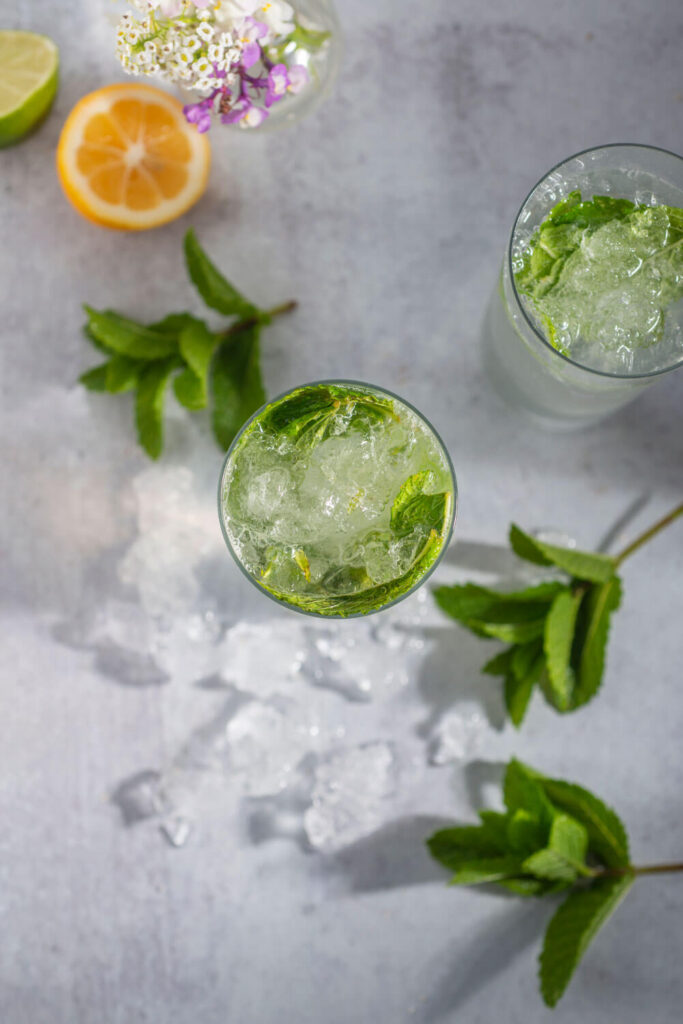 La Bodeguita Del Medio
labodeguita.com
Taking inspiration from the legendary original in Havana, La Bodeguita del Medio in Palo Alto offers neighborhood hospitality combined with a vibrant Cuban influence. Currently providing outdoor dining and a to-go menu based on the availability of fresh seafood, meat and local produce, La Bodeguita also offers cocktails, beer and wine for purchase with meals.
The Mojito
Variation created by: La Bodeguita del Medio co-owner Michael Ekwall
The classic Cuban cocktail… when made properly it is excellent and refreshing! Along with the daiquiri, this is probably the most famous cocktail from Cuba.
Serves 1
12 clean mint leaves (picked higher than a dog's legs!); smaller stems are okay
1 tsp bar sugar
Add to a tall collins glass, gently muddle to release the essential mint oils, then add the following ingredients and gently remuddle to stir:
1 1⁄2 oz Bacardi Limon Rum (For a mojito with a bit more flavor kick, I like Plantation 3 Star Rum.)
1 oz Mojito Mix (This is a bar mix that we make daily with 1 part fresh lime juice and 2 parts fresh lemon juice.)*
3 oz sparkling water
Finish with crushed ice.
Hint: If you don't have crushed ice at home, use a kitchen utensil to break down cubes in a bag.
*The classic Mojito uses only lime juice, but we taste-tested about 20 different recipes when we opened and our citrus mix was the clear preference.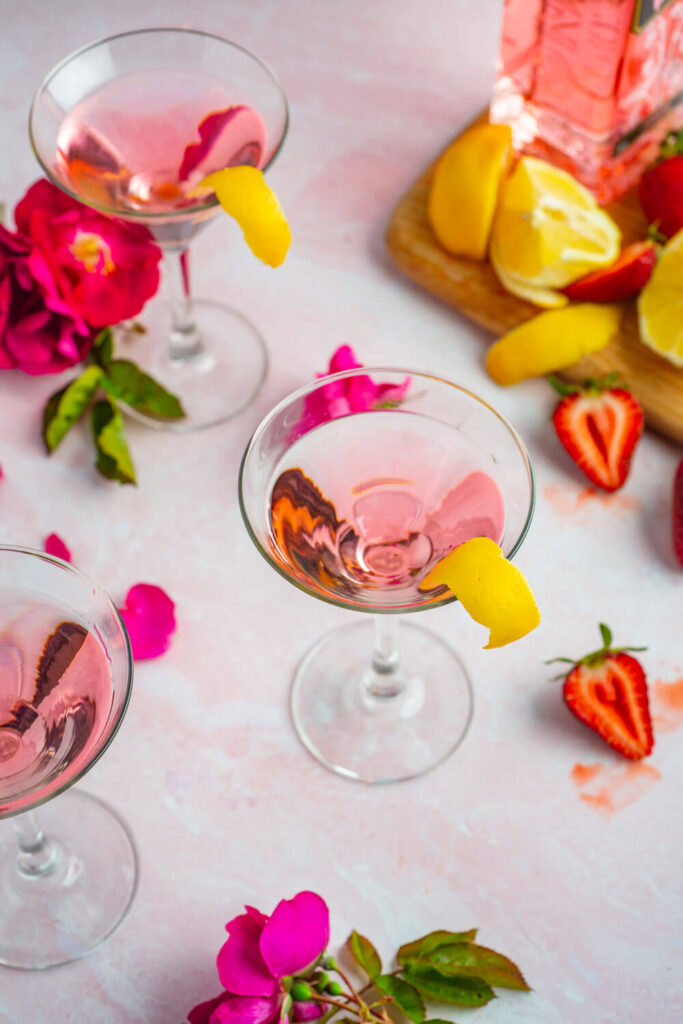 Pink Martini
There are plenty of occasions that call for a fun, flirty pink drink, so here is a classic, reinvented with a dash of fruity strawberry gin.
Serves 1
2 1⁄2  fl oz Lola & Vera Strawberry Gin, or similar strawberry-forward, fruity pink gin
2 tsp dry vermouth
Lemon zest, to garnish
Ice cubes
Put a martini glass in the fridge to chill. Add all the ingredients to a cocktail shaker filled with ice cubes, shake sharply and strain into the chilled glass. Garnish with a lemon zest and serve immediately.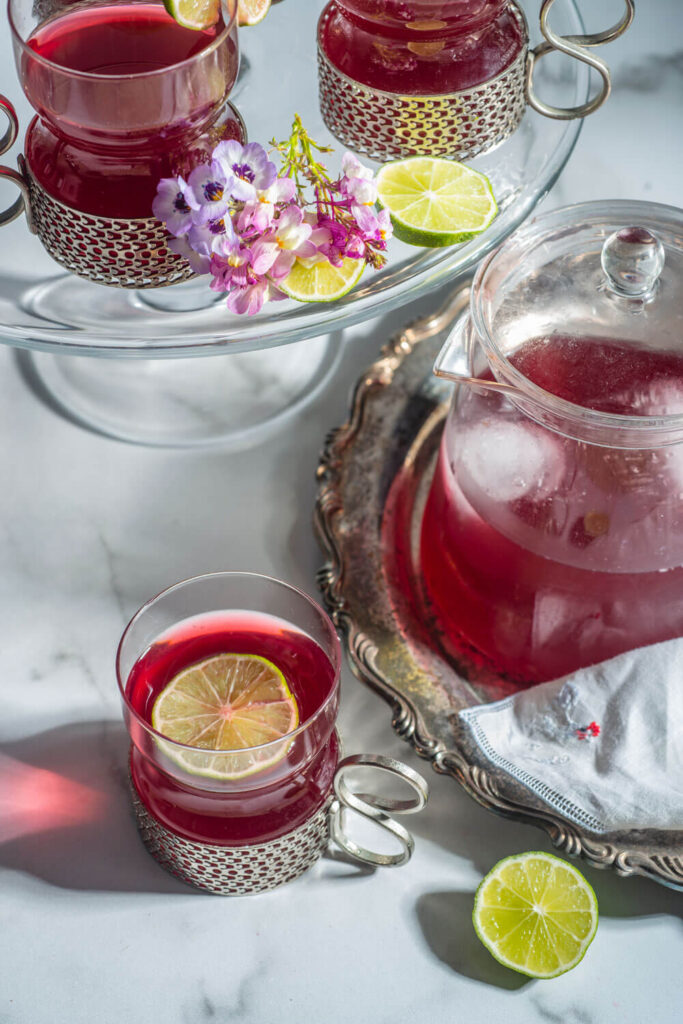 Rosie Lea
Is it a classy cocktail? A refreshing sweetened tea? Or a fun drink perfect for an afternoon tea party? Yes, yes and yes.
Serves 4
4 fl oz Beefeater London Pink, or
similar strawberry-forward,
fruity pink gin
2 fl oz triple sec
11 fl oz cranberry juice
Freshly squeezed juice of 1 lime
4 lime slices, to garnish
Ice cubes
Add the gin, triple sec, cranberry and lime juices to a large clean teapot or a jug/pitcher filled with ice cubes. Stir well and pour into tea cups or tumblers, garnish each one with a slice of lime and serve.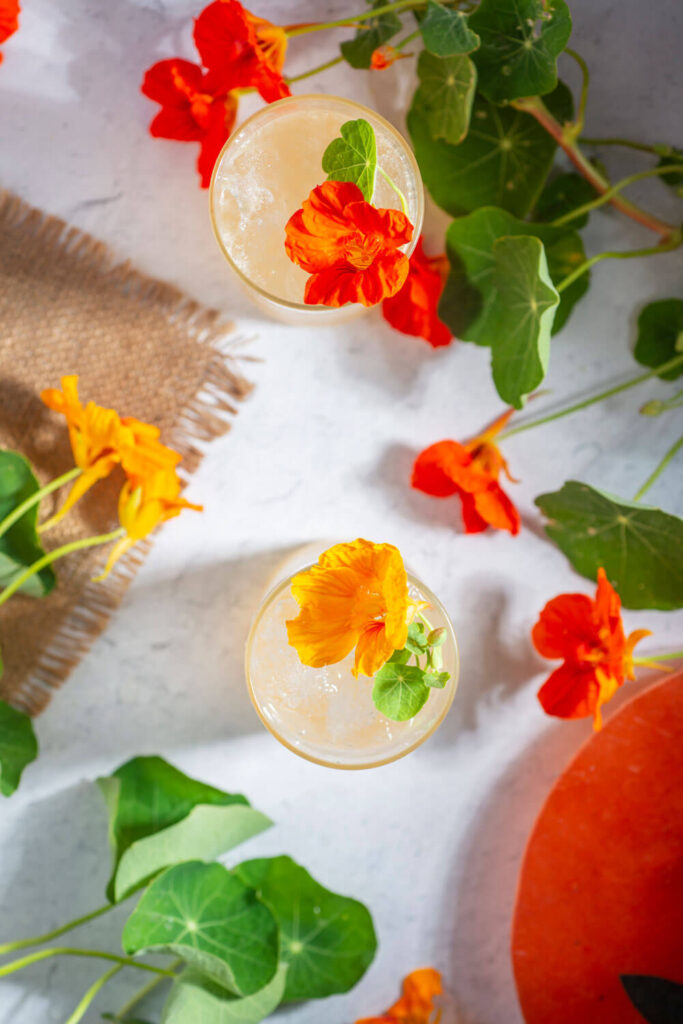 Nasturtium Collins
Throughout summer and into the fall, nasturtiums grow out of control in the garden at Midnight Apothecary, so I feel no guilt about harvesting huge amounts to keep a semblance of order. They not only look glorious but they also taste wonderful. Both the leaves and flowers have a pepperiness that works particularly well with rum and tequila. We use Nasturtium Rum made with golden rum, not just for its flavor but also for the dramatic amber color you get once it is diluted against the yellow, orange and red flowers.
Serves 1
1⁄2 oz  Nasturtium Rum*
1 oz   Ginger Syrup**
1⁄2 oz  freshly squeezed lemon juice
4 oz  soda water
Ice cubes
*Nasturtium Rum
Many flowers look fantastic but taste insipid. However, nasturtiums are bold in appearance as well as flavor. The sweetness of the molasses or sugarcane juice in rum needs a punchy, spicy flavor to team up with, and the pepperiness of nasturtium is ideal.
Makes approximately 1⁄  pints
Enough nasturtium flowers (about 40) to fill the jar loosely
1 liter bottle of golden rum, 80 proof/40% ABV
1 quart wide-mouthed, sealable jar, sterilized
Sealable presentation bottle(s), sterilized
Gold rum is a good halfway house in terms of flavor and price, but if you are feeling flush, splash out on a good-quality rhum Agricole (agricultural rum) from Martinique. Made exclusively from sugarcane juice, it is almost clear and bursting with natural flavor.
Once your infusion is ready, a fresh nasturtium flower will look stunning in the finished cocktail and, if you eat the whole blossom, you'll get the sweetness of the nectar alongside the spiciness of the pepper. The leaves are also deliciously peppery.
Pick over the nasturtium flowers and remove any wildlife. Pack the unwashed blossoms gently into the jar and pour the rum over the top, making sure the flowers are completely covered. Seal the jar, upend it gently a couple of times, and leave in a cool, dark place. The pepperiness takes a while to really work in this infusion, so check after seven days and wait a maximum of three weeks—certainly no longer.
Strain the infusion into a wide-mouthed pitcher, then funnel into the sterilized presentation bottle(s) and seal. Store in a cool, dark place and consume within six months.
**Ginger Syrup
This syrup will come in handy, not just for your cocktails, such as the Nasturtium Collins, but also for a variety of gastronomic delights like marinades, stir fries and desserts.
Makes approximately 1 pint
2 cups superfine (caster) sugar
2 cups water
2. oz fresh ginger, fairly thickly sliced
1 Tbl lemon juice or 80 proof/40% ABV vodka (optional)
Sealable presentation bottle(s), sterilized
Place the sugar and water in a nonreactive pan and slowly bring to a boil. Add the ginger and let simmer for 5 minutes. Remove from the heat and let the ginger steep for another 10 minutes.
Strain the syrup into a wide-mouthed pitcher and then funnel into the sterilized presentation bottle(s) and seal. Store in the refrigerator and consume within two weeks. A tablespoon of lemon juice or high-proof vodka added just after removing the pan from the heat will increase the shelf life of the syrup for up to a month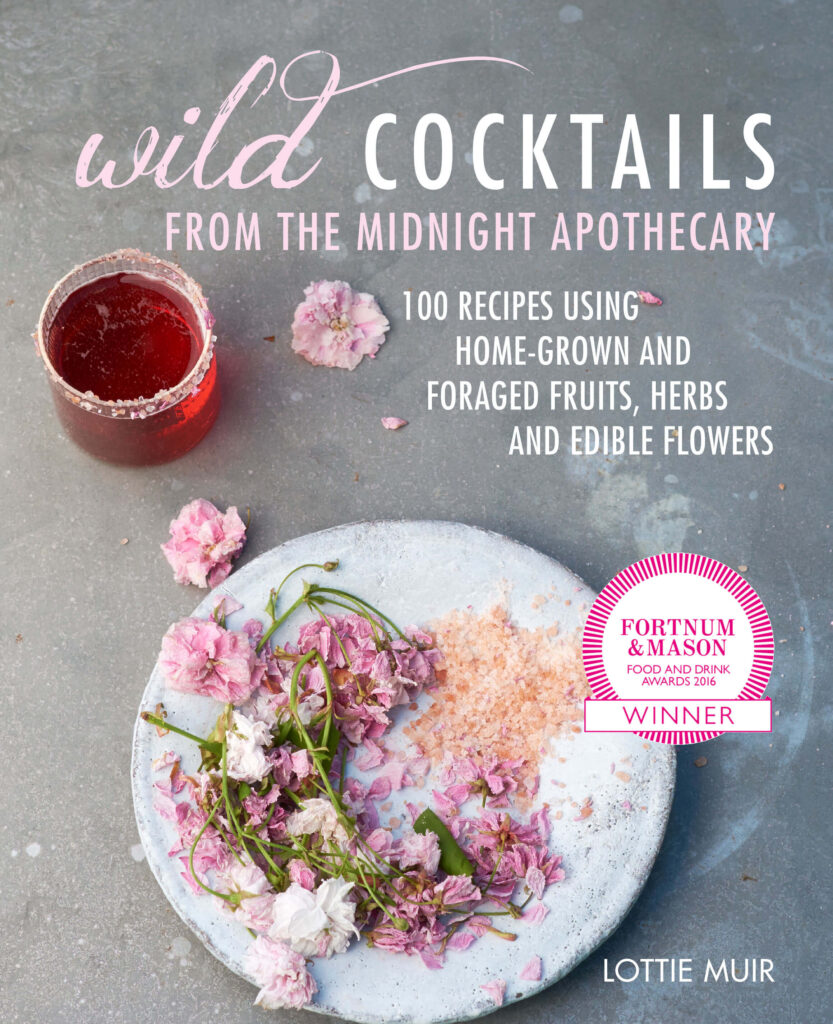 From Wild Cocktails from the Midnight Apothecary: 100 Recipes Using Home-Grown and Foraged Fruits, Herbs and Edible Flowers
By Lottie Muir • CICO Books, 2019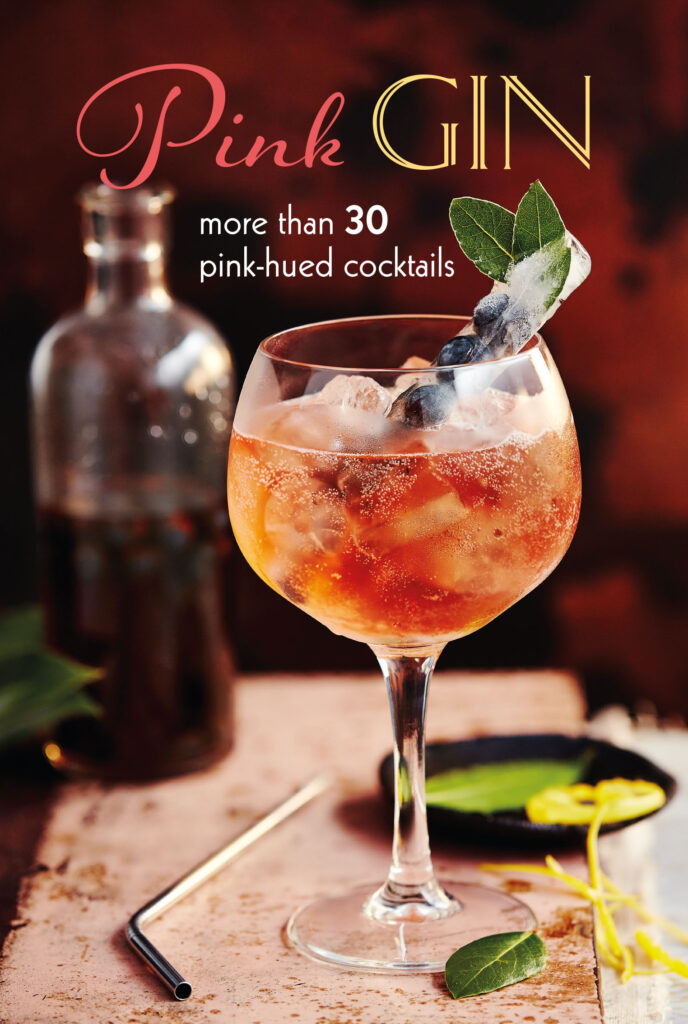 From Pink Gin: More than 30 Pink-Hued Cocktails
Ryland Peters & Small, 2020