Words by Sheri Baer
As Georgie Gleim gestures to a vintage Victorian brooch in a display case, the melodic jangling of her bracelet strikes the ear like a wrist-sized wind chime. One charm in particular catches the eye—a gold circle with five engravings: 11/17/41, 12/7/41, 12/30/41, 2/15/42 and 10/2/45. 
For Georgie, the numbers on that small disc translate into treasured milestones. "The first date is the day my mother went to work in the store, followed by my mother and father's first date, which was Pearl Harbor Day, and then the date they got engaged, which was shortly after," she narrates. "February 15 was when they got married and then the final date is when my oldest brother was born."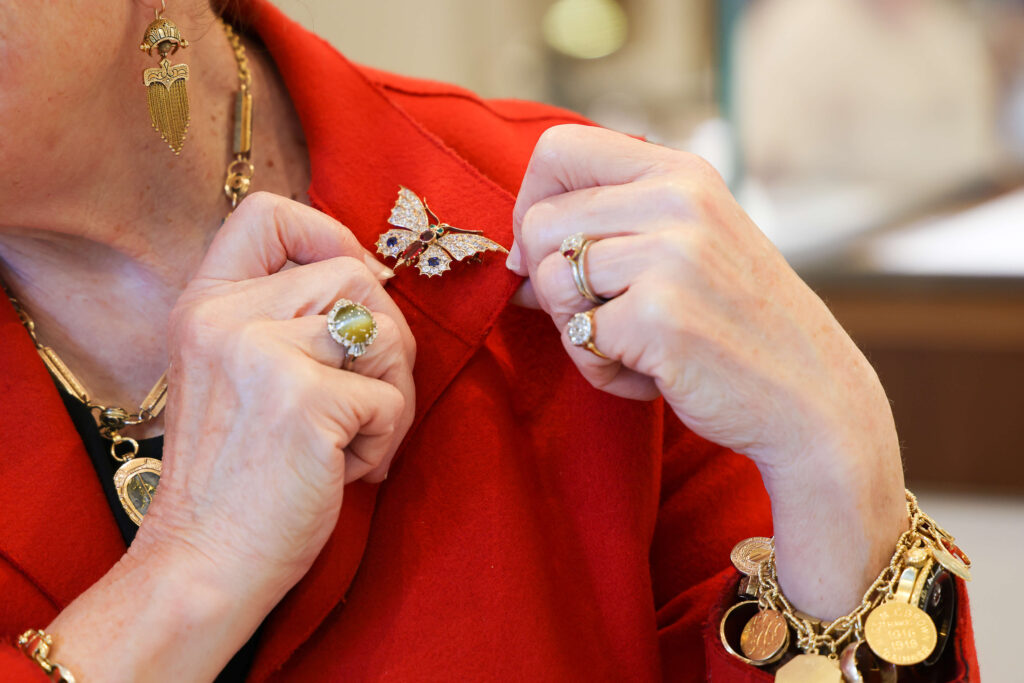 Georgie is referring to her parents—Arthur and Marjorie Gleim—both Paly grads, whose courtship sparked when her mother was working as Christmas help at Gleim the Jeweler in Palo Alto. Founded 90 years ago by her grandfather, Frederick Gleim, the store represented a family's hope for a brighter future when it opened in 1931. A trained jeweler and watchmaker from the Midwest, Frederick borrowed money to buy a bankrupt inventory in the middle of the Great Depression. Georgie still has the original ledger showing the first day's earnings of the fledgling business: $.00 
Thankfully, Alfred began to record entries—small jewelry pieces, a watch selling for $5, a lot of repairs. "The fact that he was a craftsman made the difference," Georgie says. "He was able to do that work himself and he taught my dad how to do a lot of that work as well." Four months after opening, a ledger notation in all capital letters signaled that Frederick's gamble was starting to pay off: DIAMOND. The little shop not only survived, it ultimately thrived, and nine decades later, Georgie represents the third generation in the family assisting Gleim the Jeweler customers.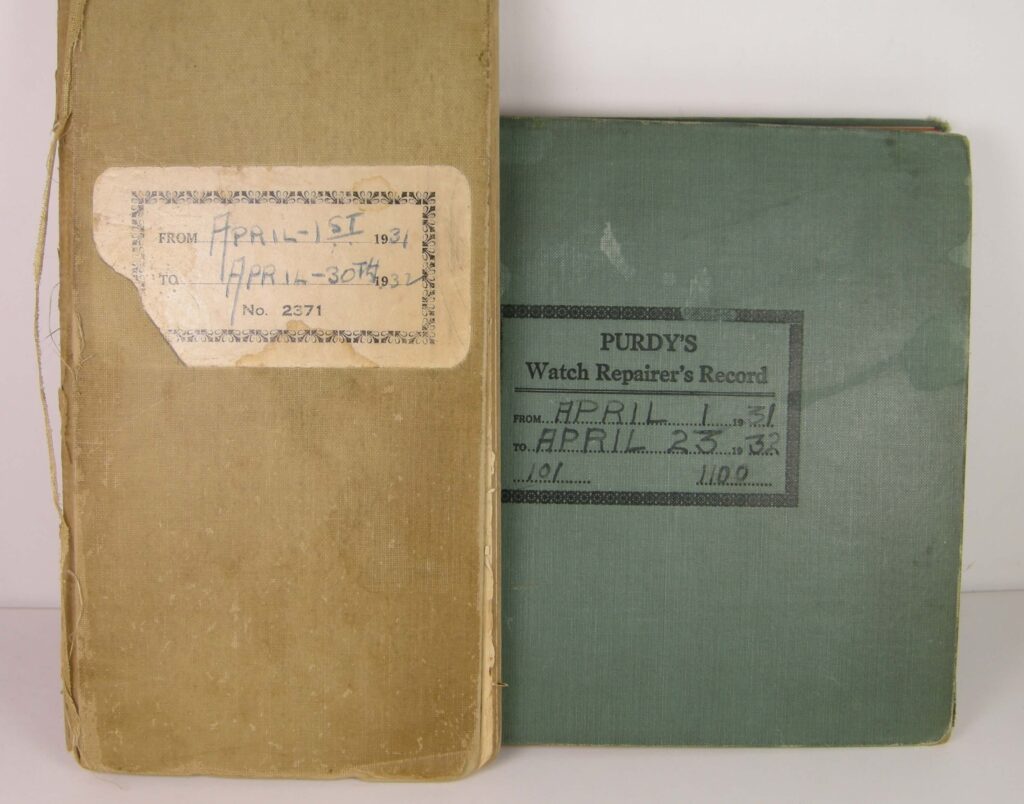 The Castilleja alumna admits that following in her father's and grandfather's footsteps wasn't always her plan. "The jewelry business was just what my dad did," she says, recollecting that she personally viewed it as short-term work in her early 20s. Until her perspective changed. "My oldest brother was planning to take over the business," she shares, "and he was killed in Vietnam, so I felt like I needed to give it a try." 
Like her father before her, Georgie pursued a graduate gemologist degree through the Gemological Institute of America. In her coursework, she learned gem origins, qualities, history, identification and diamond grading. She layered on seminars and conferences and the day-to-day lessons she gleaned working side-by-side with Arthur, a nationally-recognized leader in the jewelry industry. As Georgie gained appreciation for the business, she realized she was a rarity in her own right. "Women wear the jewelry," she observes, "but it certainly wasn't what the industry looked like at all, which never quite made sense." 
Georgie became an industry trailblazer in her own right—as the second female to be president of the American Gem Society and a board chair of Jewelers of America. "I had the advantage of being introduced as Art Gleim's daughter," she acknowledges proudly. Georgie became Gleim the Jeweler's third president in 1985, with her father continuing to have a presence in the store until his passing in 2007.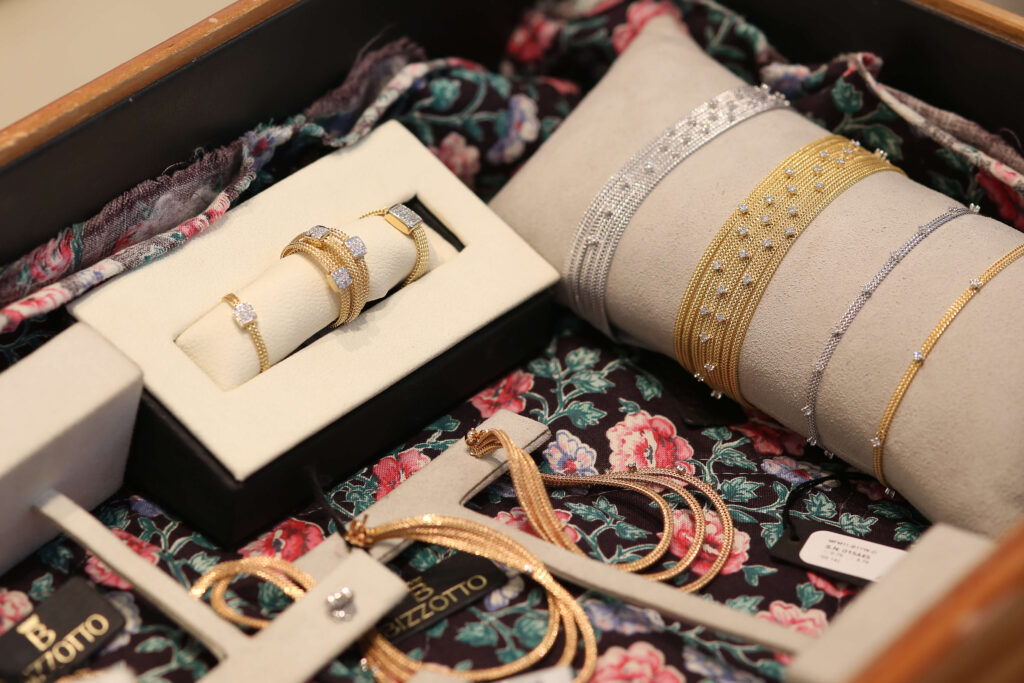 It was Arthur who had the vision to open a Stanford Shopping Center location when the brand new mall opened in 1956. Today, Gleim is one of only two original tenants left—the other being See's Candy. Just as the landmark shopping center has evolved over the years, Georgie has witnessed many dramatic shifts in precious gem trends. "It was opals for a while. Then emeralds. And when Princess Diana had a sapphire engagement ring, everyone wanted sapphires," notes Georgie. "And fancy colored diamonds have become more popular in the last couple of decades—that's a huge change, especially the rare colors like pinks and blues."
In addition to carrying fine gemstone jewelry, including the store's own collection, Gleim specializes in estate and antique jewelry. "My grandfather used to buy jewelry from private clients, and my dad was always interested in vintage pieces as well," she recounts. "Jewelry that has survived all those decades tends to be jewelry that is well-made with beautiful workmanship you can appreciate."
Georgie estimates that about 95% of Gleim's estate jewelry is bought or consigned from private individuals in the area. Period styles include Art Nouveau (1890-1915), Edwardian (1901-1915), Art Deco (1920-1935) and Retro (1935-1949)—with each day yielding new surprises. "You never know when something fabulous is coming in the door," Georgie says. "You see some wonderful heirlooms or just pre-owned jewelry that we can sell at a great value." Given the unique qualities of vintage pieces, Georgie also sees different attributes appealing to customers: "People are drawn by a piece's story or history or some just like the style."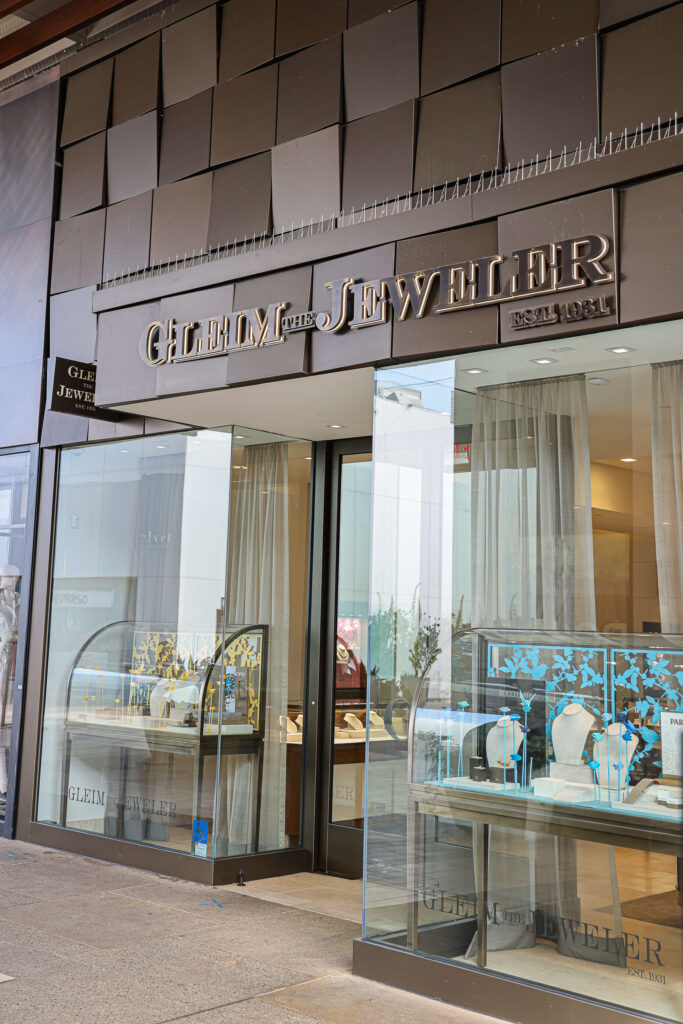 In Georgie's case, it's all of the above. On this particular day, she's sporting Victorian earrings ("They are castles, a classic Victorian design."), a gold and quartz equestrian-style necklace ("This probably dates back to the Gold Rush—my mom used to wear it to horse shows.") and a late Victorian butterfly pin ("I'm trying to get people to appreciate brooches again because not enough people wear them these days.")
And then there's the added factor of sentimental value. The third-generation jeweler views her livelihood as the perfect tangible expression of a family's history. "There's nothing else that connects the generations that you can wear all the time—that every time you look at it, you think of the spouse, parent or grandparent who gave it to you," she reflects. 
Which harkens back to Georgie's dangling bracelet, each charm bearing its own rich story. "This is my dad's cufflinks with his initials. This was my dad's wedding ring," she describes, as she lovingly handles each piece in turn. "This was a jade charm of my mother's. This is a little coin my mom put in her shoe when they got married…"